There's no getting around the fact that Red Rocks is the most iconic music venue not just in Colorado, but potentially the world. People travel far and wide to catch outdoor shows at the Morrison, Colorado venue, a natural geological wonder that many music fans inaccurately believe produces ideal acoustic conditions for concerts (it's simply not true, folks. Look it up).
But while Red Rocks has dominated Colorado's music reputation since it started hosting concerts back in 1941 and will probably continue doing so until the end of time, there are plenty of other incredible venues around the state that are worth getting excited about. From a gritty, PBR-soaked punk mainstay to an intimate mountain club that showcases massive artists in front of small audiences, here are 15 fantastic 100% non-Red Rocks Colorado music venues you should consider catching shows at.
Here are some of the best concert venues in Colorado, in no particular order:
1. Fox Theatre, Boulder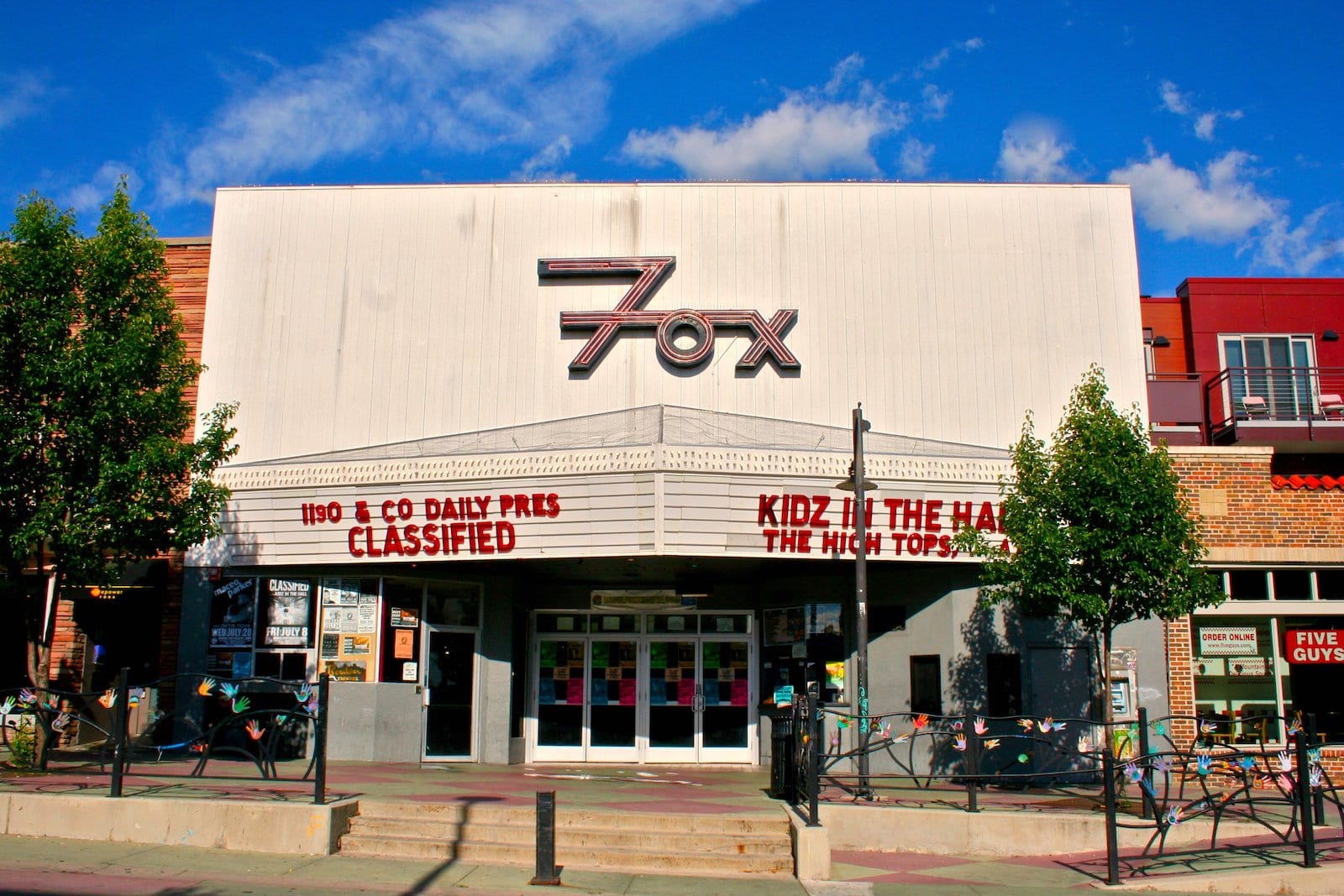 Boulder gets quite a bit of criticism these days for trading in authenticity and accessibility for insanely expensive living costs that only rich hippies and well-funded tech startups can afford, but the Fox Theatre still boasts an unpretentious atmosphere and uncompromising energy many feel have gone missing from the city.
With a 625-person capacity, the Fox blends a big-budget venue feel with small club intimacy. And unlike other comparable Colorado venues, the Fox heavily invests in not only its sound system, but also the expert sound engineers it staffs.
It's a perfect place to hear burgeoning Colorado local musicians open for exciting national and international headliners. In fact, Rolling Stone loved this venue so much that it voted it the 4th Best Club in America in 2013. 
Built in 1926, the building that now houses the Fox Theatre was called the Rialto Theatre before changing owners and taking on many different identities throughout the years. The building has served multiple purposes in its near century of use, from dance club to movie theater to "Boulder's most modern eating house" when it operated as a cafe back in 1954.
The building was tragically ravaged by a fire in 1960, but it bounced back and was remodeled into a movie theater that largely resembles the Boulder venue beloved by Coloradans today.
2. Black Sheep, Colorado Springs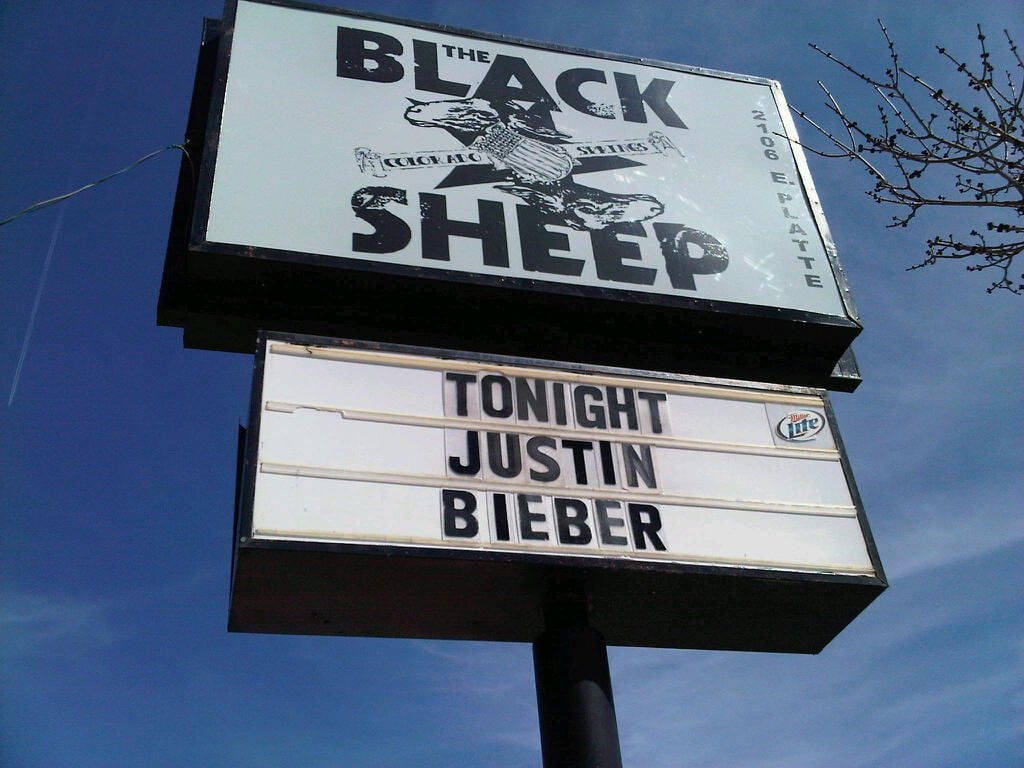 Like the Fox, the Black Sheep is another venue that throws a great deal of passion and and thought into its space. The Colorado Springs music staple isn't big by any means, but it's hosted a wide range of famous acts ranging from hitmakers like Macklemore and Imagine Dragons down to obscure metal bands with cult followings like Gwar, despite only being able to accommodate an audience of 450.
Voted "Best Live Music Venue" by the Colorado Springs Independent every year since opening in 2005, Black Sheep delivers some much needed artistic boldness through modern music to a part of Colorado some view as more favorable to mega churches than musicians.
Black Sheep is a decidedly alternative venue, with shows featuring metal, hip hop, EDM, and indie acts. It's a place that strives to be welcoming to audiences and good to its staff. In 2015, the Colorado Springs music community was devastated by the death of Black Sheep's sound engineer, Chris Forsythe.
The venue hosted Forsythe's memorial, an event that brought a crowd so massive that people spilled into the parking lot, according to venue owner and concert promoter Mike Barsch. Open seven nights a week, Black Sheep is the warm, inviting, and adventurous neighborhood music venue Colorado Springs residents deserve.
3. Hi-Dive, Denver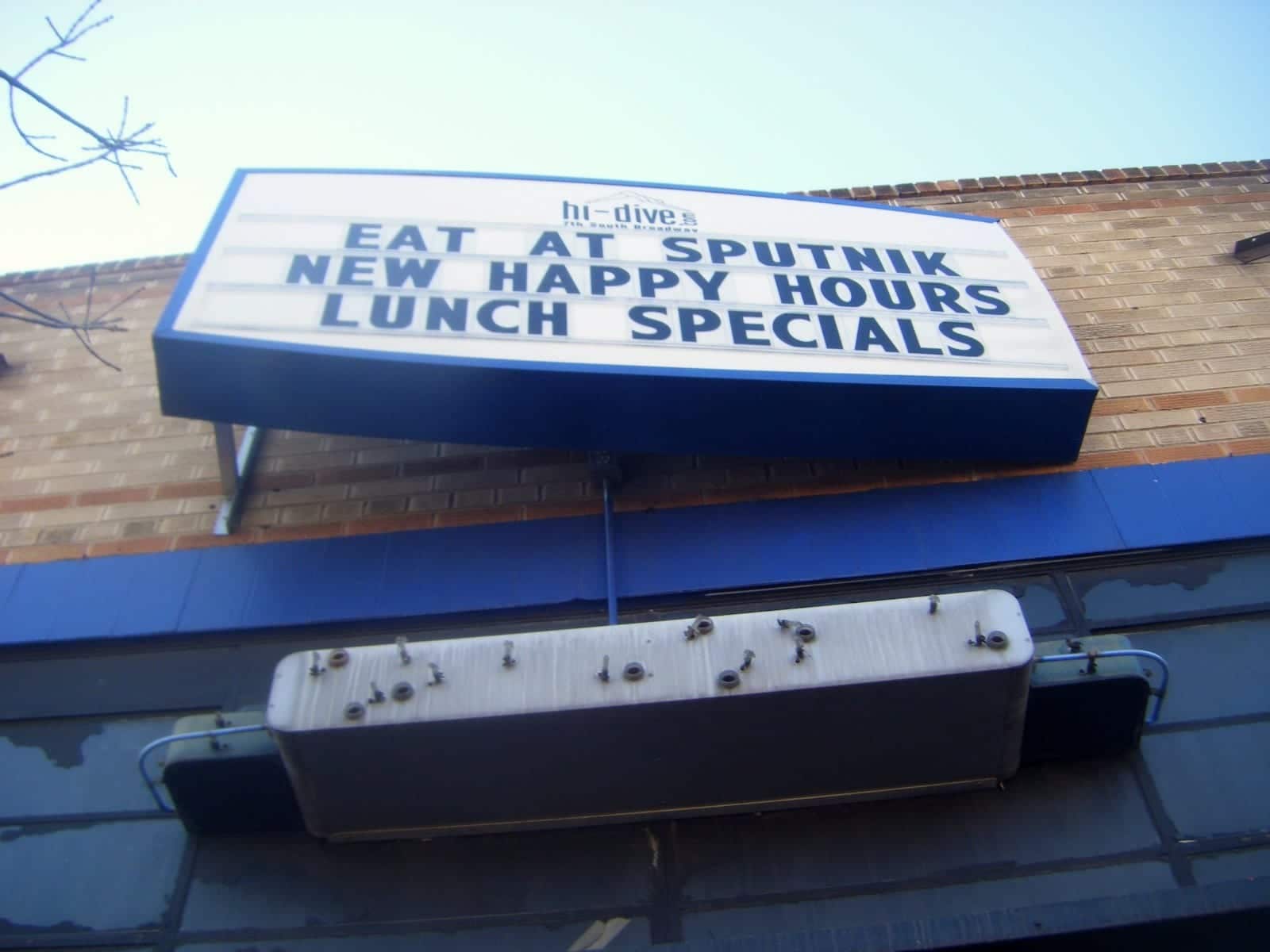 Denver's South Broadway neighborhood hasn't been the same since Hi-Dive moved in back in 2003. The 285-capacity venue is synonymous with intrepid alternative music and hosts artists spanning genres ranging from dream pop to bluegrass. Hi-Dive prides itself on featuring artists at early stages in their careers that go on to become well-known national and international acts, and it's a great spot to catch talented Colorado musicians.
According to Hi-Dive's website, "If there is an award for 'Best Rock Club,' 'Best Independent Music Venue,' 'Best Venue Other Than Red Rocks,' 'Best Venue Owned By Musicians,' etc. in Denver then the Hi-Dive has more than likely won it."
South Broadway, a neighborhood that used to be defined by eccentric book stores and dingy dives, is undergoing a sweeping transformation driven by corporate restaurants and colossal apartment complex expansions. If you grew up in Denver or have even only lived there for a decade, large swaths of South Broadway are unrecognizable from what they were even a few years ago.
But by continuing to bring great small artists to Denver, Hi-Dive serves both as a reminder of what the neighborhood once was and a steadfast bastion of fun, authenticity, and creative independence.
4. Belly Up, Aspen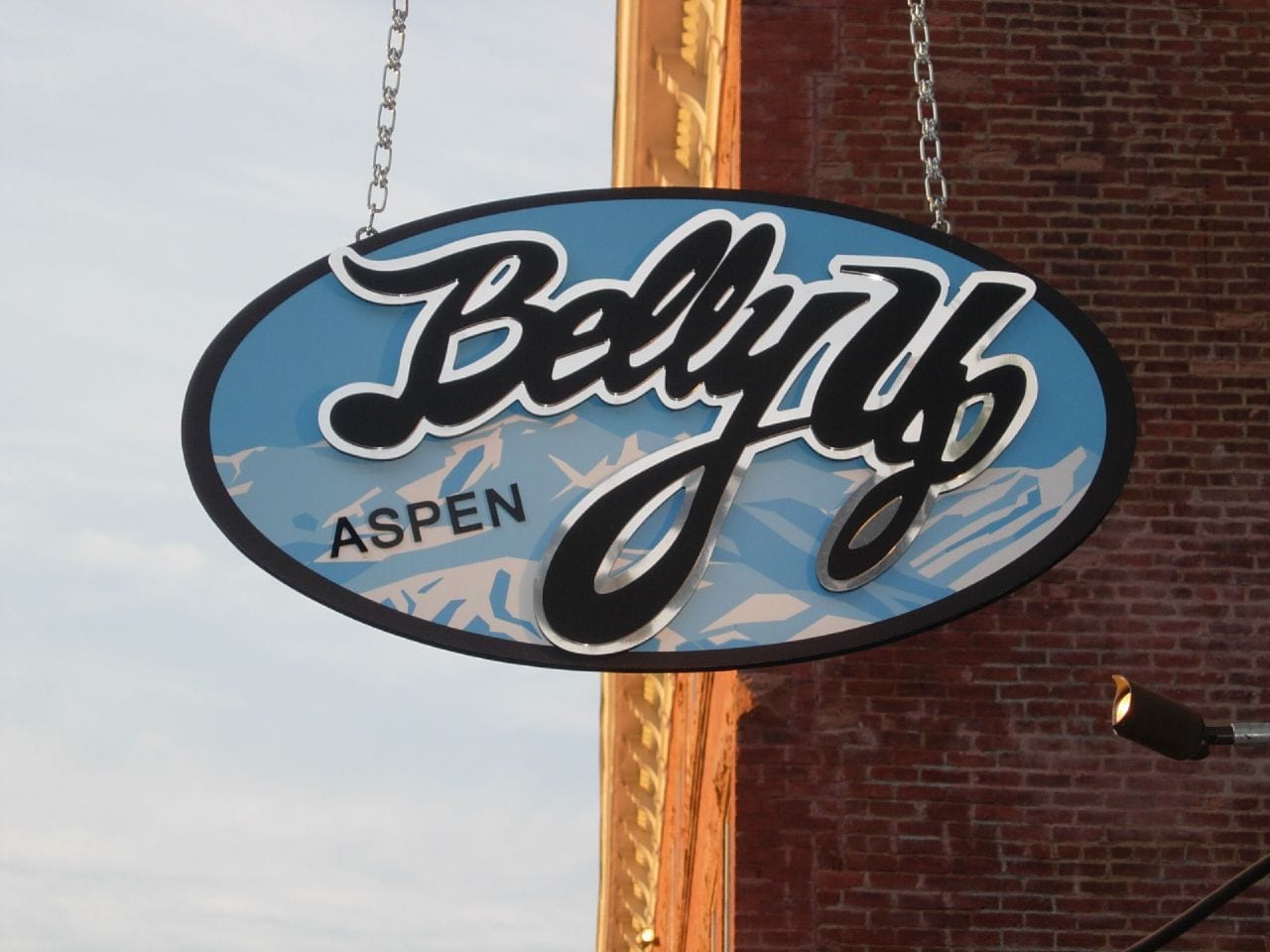 Yes, Aspen is a place best suited for the absurdly wealthy, but all music lovers should consider trying to catch a show at the Belly Up. Named one of Rolling Stone's Best Venues in America in 2013, Belly Up is a spot where you can catch a band you'd normally see playing at Red Rocks or Ball Arena in a cozy, intimate setting.
This 450-capacity venue has hosted some of the most beloved musical artists on the planet, including LCD Soundsystem, The Killers, Widespread Panic, The Chainsmokers, Jack White, Lil Wayne, The Avett Brothers, Joe Walsh, John Legend, Snoop Dogg, Bassnectar, B.B. King, Phoenix, Twenty One Pilots, The National, Kygo, Justice and Jimmy Buffet. And while ticket prices for Belly Up shows aren't cheap, they're well worth the cost for dedicated music fans angling to see their favorite bands up close in a small club.
Belly Up's sound system is designed to accommodate the diverse needs of the world-famous artists it hosts on its stage, so don't expect a poor-sounding show just because it's a small venue. Opened in 2005 at the base of Aspen Mountain, Belly Up offers a truly unique Colorado music experience that shouldn't be missed.
5. Lulu's Downstairs, Manitou Springs

If you're looking for another unique Colorado music experience but can't swing Belly Up's ticket prices or the steep cost of staying in Aspen, allow me to direct your attention to a charming little venue called Lulu's Downstairs. Located in Manitou Springs, Lulu's serves up delicious cocktails and great music-focused shows in its listening room.
Many venues operate more as bars than spaces that listeners can truly appreciate live music in, but everything about Lulu's setup is designed to prioritize unique, crystal-clear listening experiences above everything else.
It's a place where talking over a band's set isn't tolerated by the staff or audience, which is bad for obnoxious people but great for hardworking artists and avid music fans. Attend a show at this Colorado gem, and you're likely to hear a great mix of talented Colorado bands and burgeoning national talent.
But unlike spots like Hi-Dive or Black Sheep, Lulu's gears more towards quieter acts than ones you'll need ear plugs for.  With its location in a laid back mountain town, this is a venue that merits a trip all in its own if you don't live in the area, but it's also a great spot to explore if you're traveling through the central region of the state.
6. Fillmore Auditorium, Denver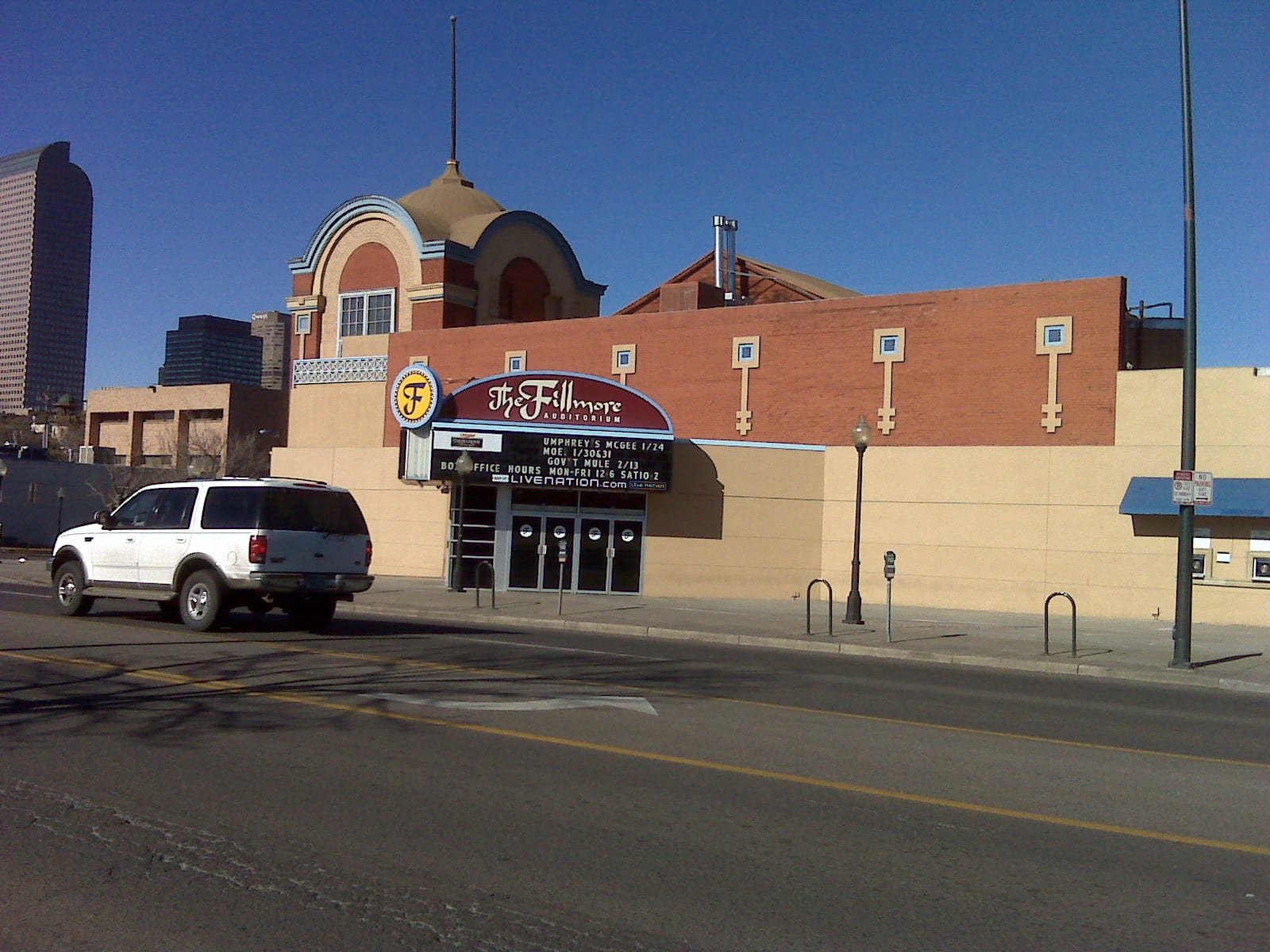 Colfax's Fillmore Auditorium is one of Denver's oldest and most historic buildings, and its impressive size makes it the largest venue for general admission seating in the entire state. Today, Coloradans flock to the Fillmore to see iconic acts like Lizzo and Snoop Dogg, but the 3,900-capacity club hasn't always been a stellar concert venue.
Opened in 1907, the building was originally constructed to be a massive roller skating rink and local hangout for kids attending nearby East High School, but it only managed to stay open for three years. It had a short-lived stint as an auto manufacturing plant––Titanic survivor Molly Brown purchased the first car off of its line––before becoming the city of Denver's first recreational center under the name Mammoth Garden Roller Club.
In 1960, the venue hosted James Brown in its first concert before closing down and becoming the Colorado Mercantile Company, only to again shut its doors five years later. In 1968, concert promoter Stuart Green bought the building, renamed it Mammoth Gardens, and began working with national music promotor legend Barry Fey to bring exciting national artists to Denver.
Despite having only been open for eight months, Fey brought Jimi Hendrix, The Doors, The Who, The Grateful Dead, and Joe Cocker to the venue, and its legacy was born.
The club closed during the 70's at the behest of Denver officials worried about what it was doing to the neighborhood, and, bizarrely, it was used as a farmer's market for a few months. Luckily, Mammoth Gardens was resurrected in 1981 before undergoing many much-needed renovations and adopting the Fillmore moniker we all know today.
7. Mishawaka Amphitheater, Bellvue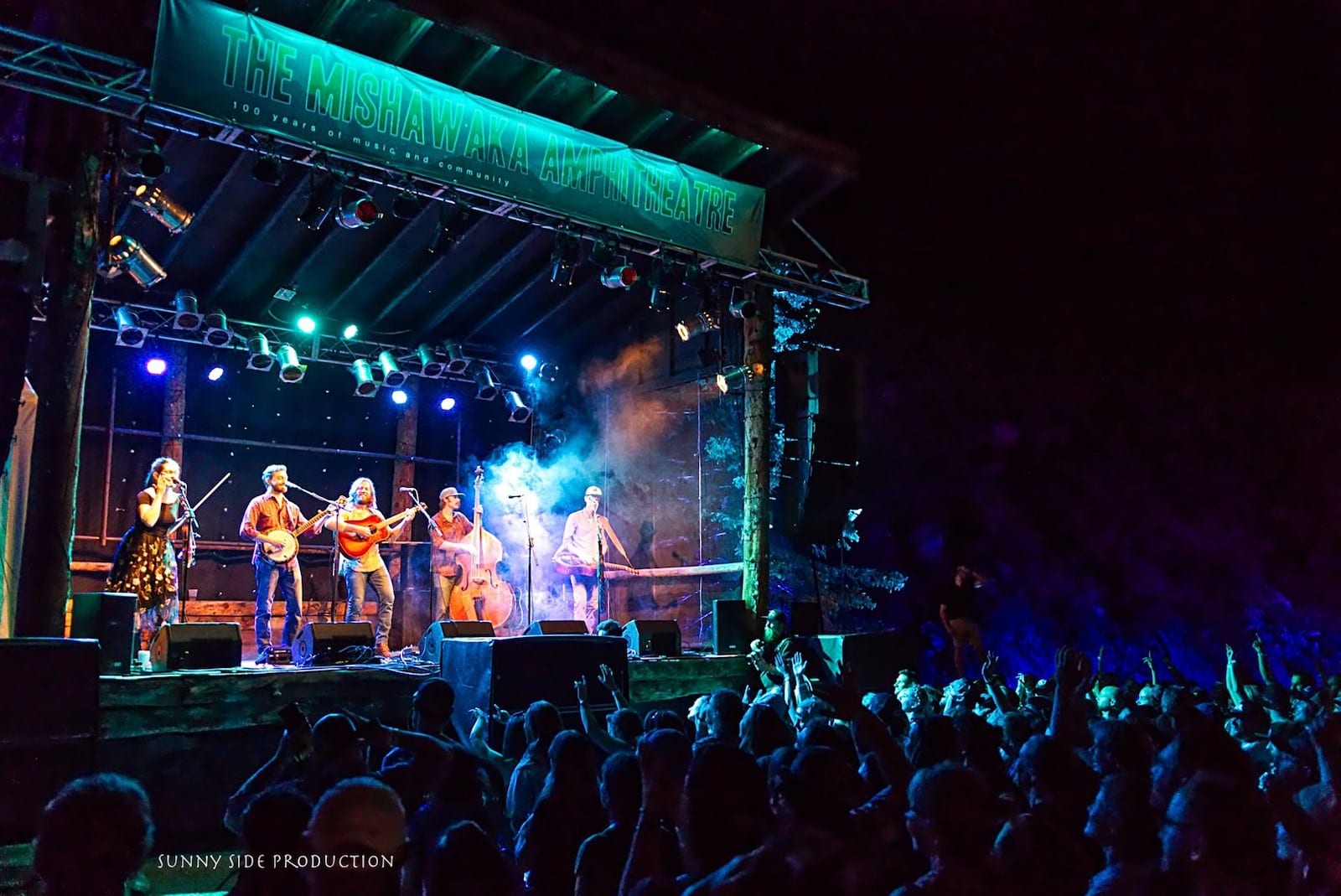 The part of Colorado north of Fort Collins isn't a place you'd typically associate with incredible music, but it happens to host one of the most exciting outdoor concert venues in the US. Surrounded by charming campgrounds and picturesque mountain views, Mishawaka delivers gorgeous, surreal concert experiences that stick with music fans long after the shows wrap up.
Nestled deep in the Poudre Canyon outside the small town of Bellvue, Colorado, Mishawaka's hosts two different stages, each with its own unique purpose. The 200-capacity SpokesBUZZ Lounge is an indoor stage that hosts local Colorado bands as well as national artists in a warm, low-key setting. But while their indoor venue is a nice touch, what really draws audiences to this part of Colorado is Mishawaka's amphitheater, a 1,000-capacity outdoor venue that flanks the Poudre River.
Catching a summer show at the amphitheater while sun goes down is something that could be a life-changing event for you if the music that night lives up to the setting. Luckily, it often does. In 2019, artists like Phantogram, Built To Spill, Real Estate, and Jenny Lewis played Mishawaka, and many big shows are opened by Colorado locals.
It might be tempting to think of this venue as a more intimate Red Rocks, but Mishawaka delivers an unforgettable outdoor mountain concert experience that stands up completely on its own.
8. Dazzle, Denver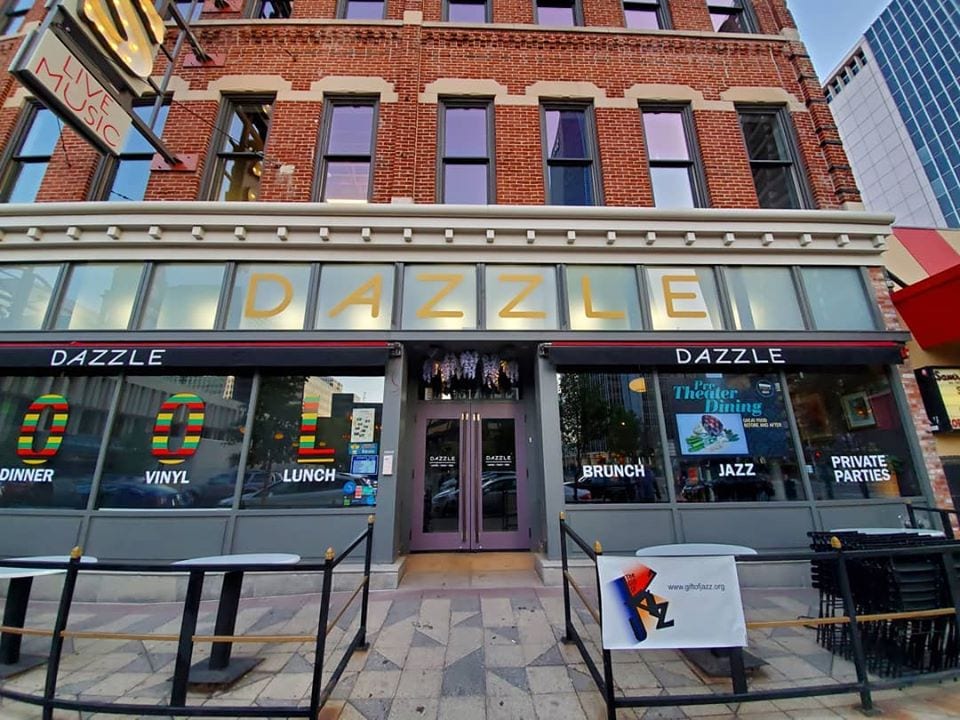 More than just a jazz club, Dazzle is one of the most important cultural hubs in Denver. If you dig meandering jam bands, drug-laced EDM shows, and gnarly sludge metal, you can find that sort of stuff at most other Colorado music venues, but not Dazzle. Dazzle just does jazz, but it does it really well.
This is an ideal place to catch internationally acclaimed jazz veterans and exciting new players alike in an inviting setting your Tinder date or elderly parents would be comfortable in. The antithesis of a raucous bar venue, Dazzle's music and atmosphere harken back to a forgotten era when people dressed up for a nice night of dinner and music.
KBCO's Brett Saunders called the jazz club "like nothing else in the region," and it was named one of the Top 100 Jazz Clubs in the World by Downbeat Magazine. Not bad for Denver, a city not particularly linked to jazz in the minds of most music fans.
Established in 1998, Dazzle moved from its 930 Lincoln location in 2017 to its current home in Downtown Denver at 1512 Curtis Street. Dazzle's new location is quite a bit larger than the 100-capacity spot it formally occupied, but its owners went to great lengths not to sacrifice the club's intimate character during the transition.
9. Lion's Lair, Denver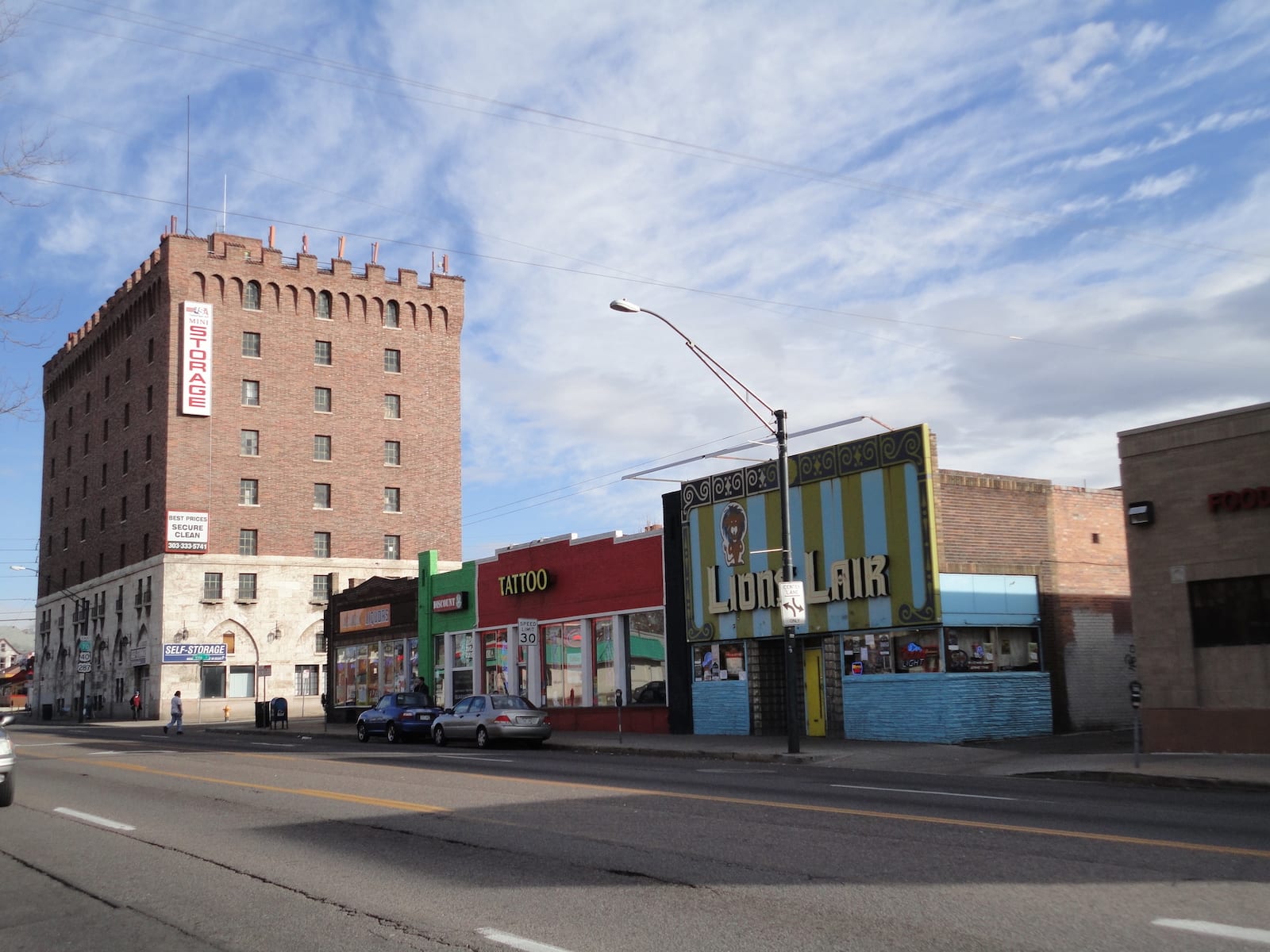 We're going to stay in Denver for this venue, but our next spot couldn't be anymore different than Dazzle. Lion's Lair is a place your elderly parents or Tinder date would be potentially hugely uncomfortable in, but what this bar lacks in comfortable seating, fancy drinks, and overall sophistication it more than makes up for by being the funnest, least pretentious concert venue in Denver.
You could describe Lion's Lair as a punk venue and you wouldn't be wrong, but the Colfax-based institution does much more than just punk shows these days––it hosts all manner of alternative acts. Lion's Lair brims with an undeniable energy that inspires some of its performing musicians to do things they'd never dream of doing at a conventional venue.
The Lair is less popular than other alternative clubs, but it happens to be Denver's oldest consistently operating independent music venue. Opened in the 1930's, it was originally called the Playboy Club before adopting the Aladdin Lounge moniker in 1936 and then assuming its current identity in 1967 when Jim Lyons bought the place.
This is a venue where it's completely possible, and maybe even likely, that pre-World War 2 beer stains remain untouched and are now a part of the club's dive-y aesthetic.
Massively influential musicians have graced the Lair's stage, including The Black Keys, Mike Watt (Minutemen, Secondmen, fireHose), John Doe (X), Jonathan Richman (Modern Lovers), Jello Biafra (Dead Kennedys), and Andrew Bird. If Lion's Lair ever closes up shop, Denver will be a great deal quieter and a whole lot less interesting.
10. Washington's, Fort Collins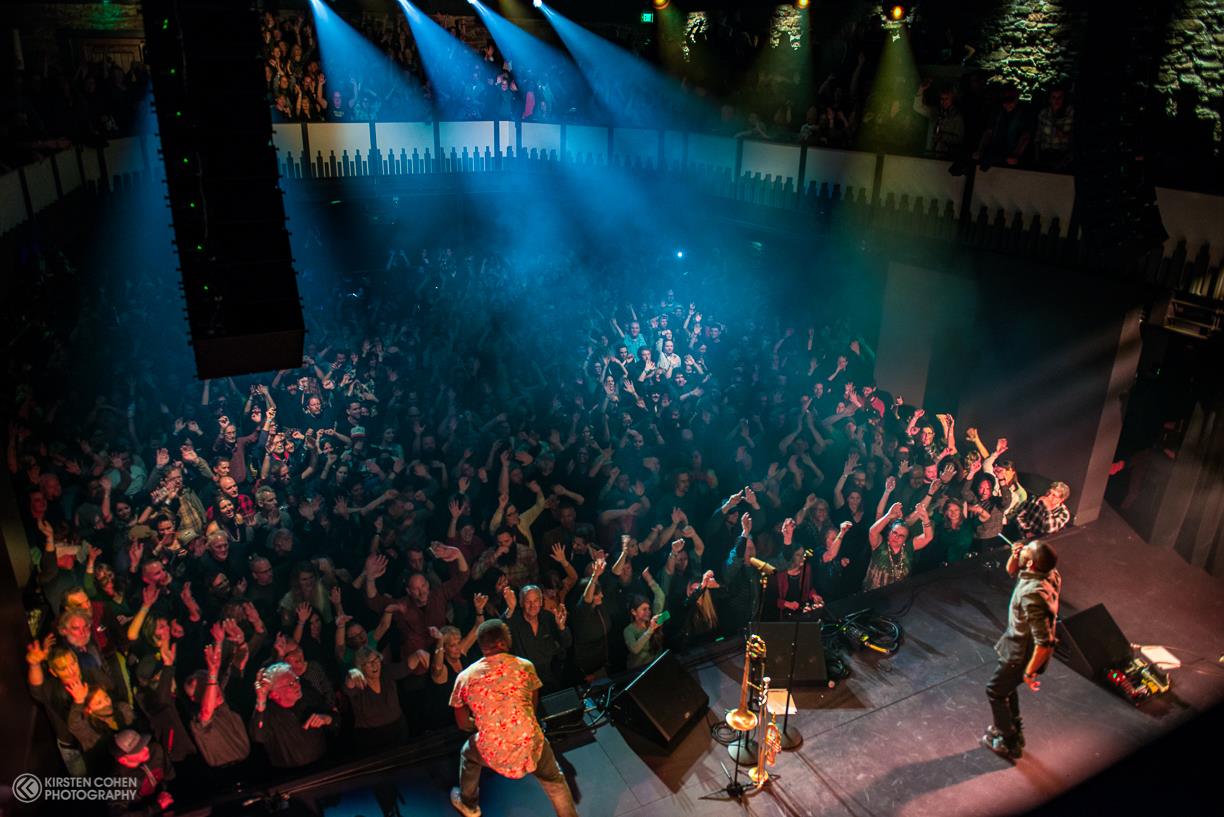 Washington's is a relatively new spot, but it's already doing some big things for Fort Collins' music scene. From Cursive to Dr. Dog to the Wailers, Washington's is making a name for itself with its ability to bring a diverse set of beloved artists to the northern Colorado college town in ways comparable local venues haven't been able to.
Located deep in the heart of Fort Collins' Old Town district, this 900-capacity venue boasts sleek sound and lighting systems, a tiered balcony level, and two full-service bars located outside of the stage room. The bars don't get in the way of the performances, unlike a similar Colorado venue I won't specifically name with the words "Blue" and "Bird" in its title.
Before Washington's was a stellar music venue, it was a sports bar and restaurant that went by the same name until 2016 when the Bohemian Foundation helped sponsor the space's transformation. Spots like Washington's aren't just making Fort Collins a more rewarding place to be for college students, but also for anyone in the city with an interest in live music.
11. Bluebird Theater, Denver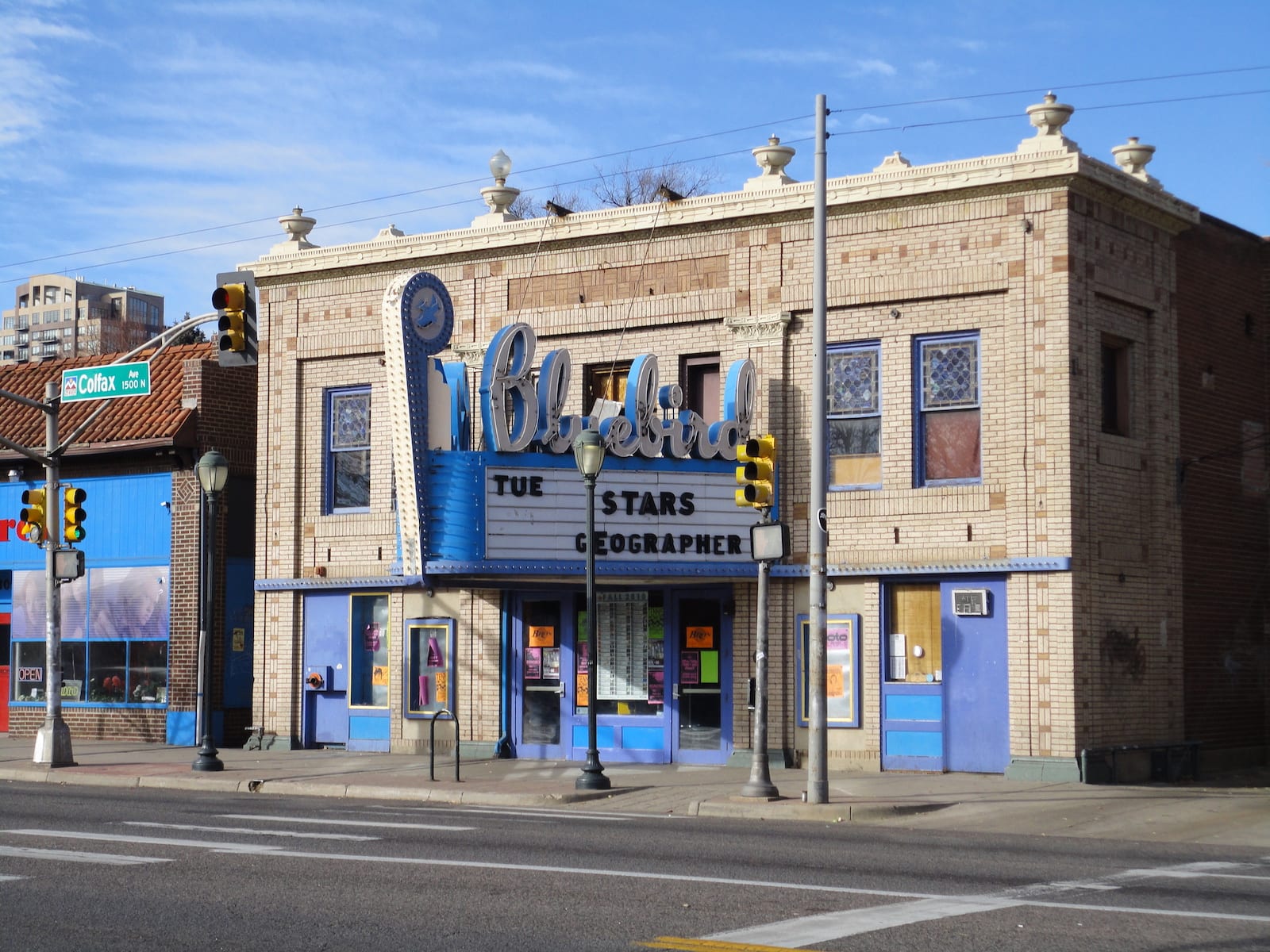 Despite the unfortunate location of its main bar, Bluebird is still one of the most exciting, iconic venues in Colorado. An uncountable number of internationally, genre-spanning artists have graced its stage, and it also serves as an exciting transitional venue for Colorado bands who are moving out of the local scene into vaster, more exciting waters.
If you can think of a now-famous Colorado artist, they've probably played a couple of shows at the Bluebird. Compared to other venues that boast impeccable sound, Bluebird falls a bit short, but it makes up for that and its other shortcomings with its charming art deco trappings and consistently solid lineups.
The building was constructed back in 1913, and was originally a movie theater before taking on a couple of other identities throughout the decades. In 1994, it was converted into a music venue, and it quickly became a beloved spot for live music experiences among Denver residents and stayed that way for 25 years. You'll find every kind of band you can think of at the Bluebird, but the venue shines when it comes to hosting young alternative acts.
12. Telluride Town Park Stage, Telluride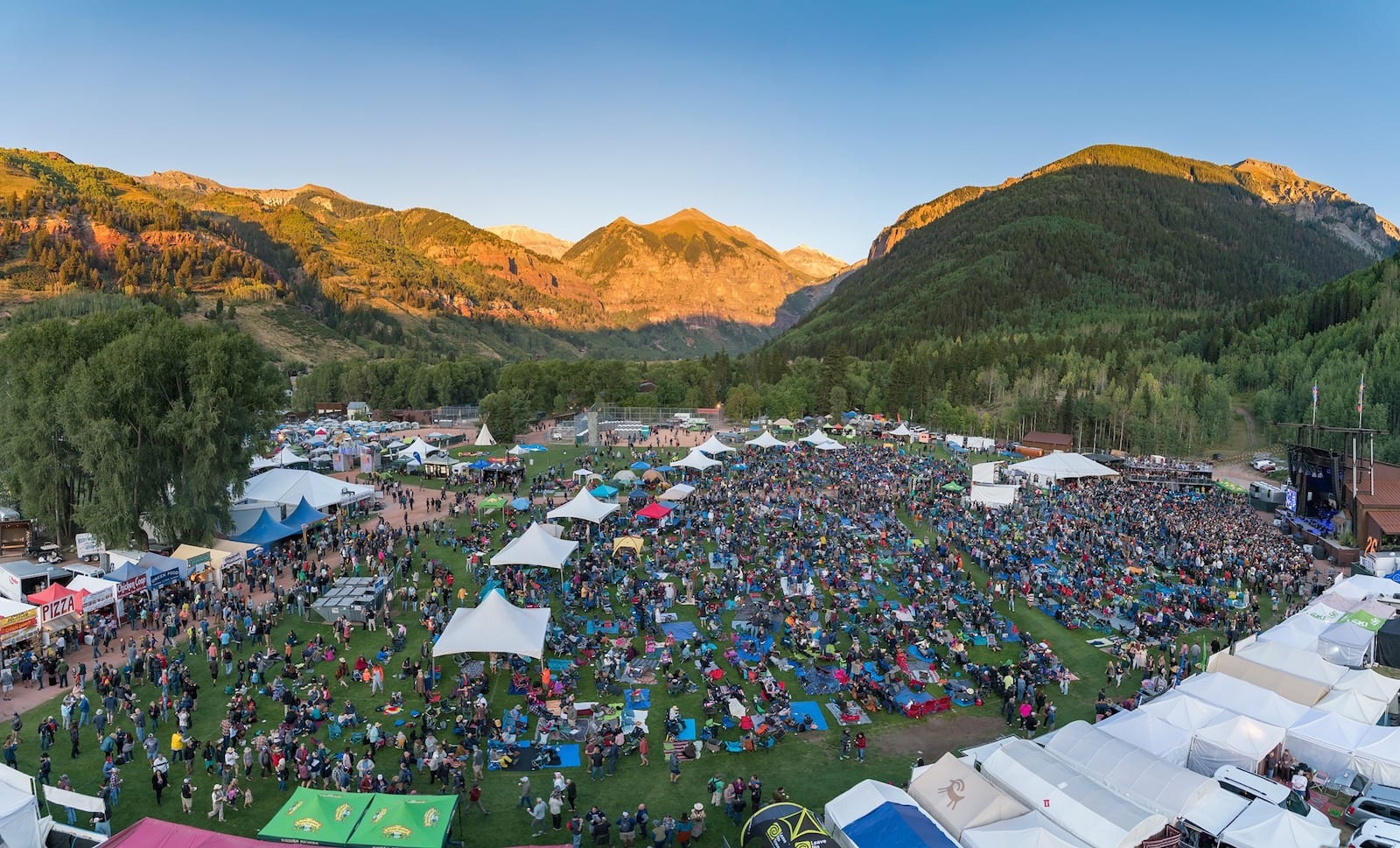 Telluride's Town Park Stage hosts some of Colorado's most rewarding concerts and festivals, with the Telluride Bluegrass Festival being chief among them. Former headliners include Brandi Carlile, Emmylou Harris, Yonder Mountain String Band, Nickel Creek, Ray Lamontagne, Andrew Bird, Steve Martin & The Steep Canyon Rangers, and loads of other internationally fawned-over artists since launching in 1974.
Set between the town of Telluride and pristine southwestern Colorado mountains, Town Park Stage offers audiences a more intimate experience than they can get at Red Rocks in a remarkable outdoor setting.
Recent renovations have transformed the outdoor venue into an impressive stage able to handle the needs of large-scale festivals, but the new structure was built to honor and incorporate Town Park's humble origins (despite being completely rebuilt, today's venue still features original siding from the 1975 stage).
Red Rocks' unique, world-famous location actually makes producing great-sounding concerts a massive challenge, but the new Town Park Stage doesn't have to fight its setting to deliver solid sound for its shows.
13. Mission Ballroom, Denver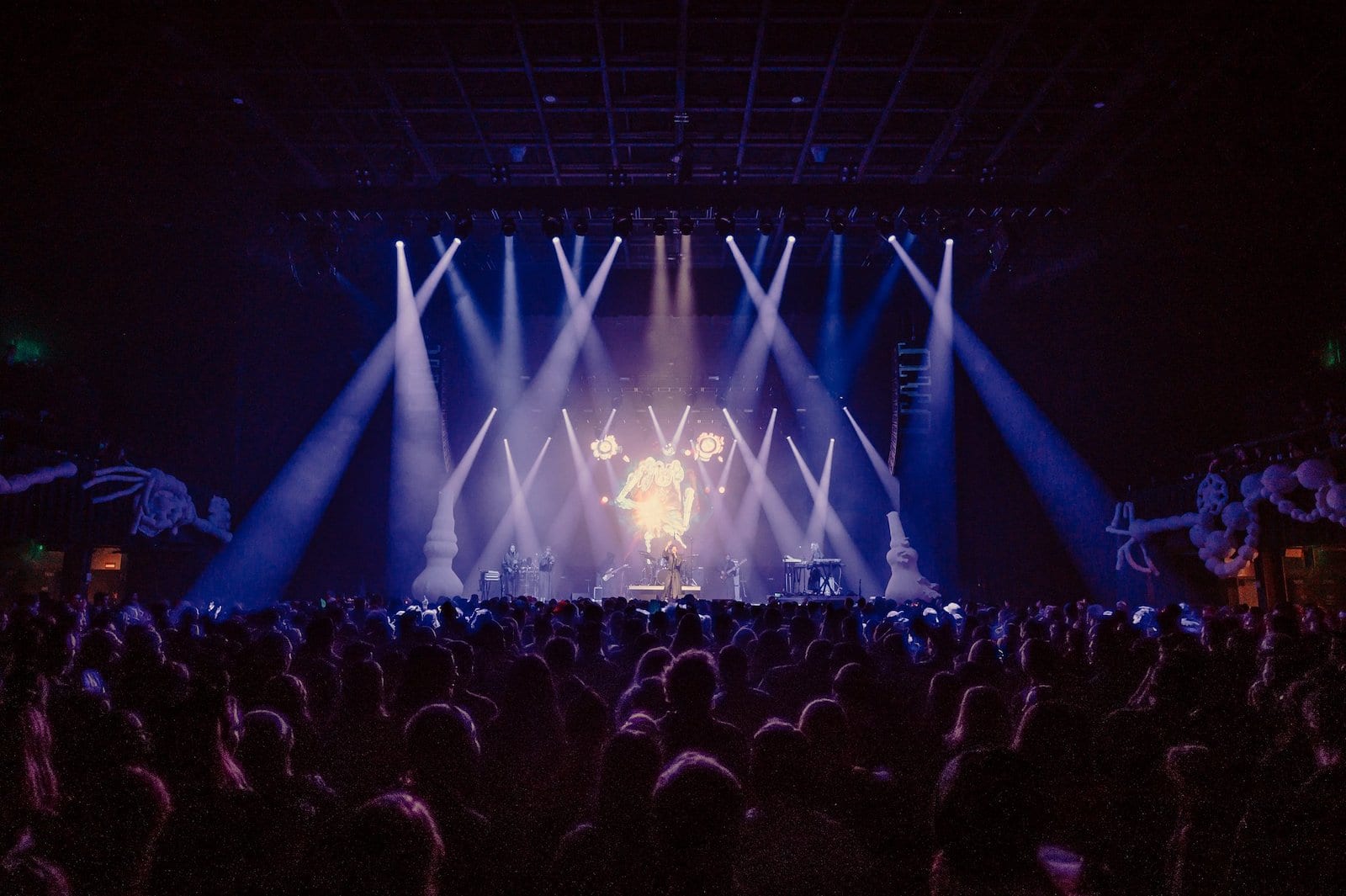 When Denver's Mission Ballroom opened in the River North Art District this year, the 60,000-square-foot venue became one of the largest indoor venues in Colorado, edging out the Fillmore Auditorium's audience capacity by a mere 50 guests (Mission's capacity is 3,950, while the Fillmore's is 3,900).
However, one of the most impressive things about this new venue is that it's designed to shrink or expand in order to meet the needs of crowd expectations. The stage was engineered to be movable, which gives the venue the power to contract down to fit a crowd of only 2,200 to make shows more intimate for smaller audiences.
Similar to the Fillmore, Mission Ballroom's promoters are attempting to host major international artists who aren't big enough to fill the Ball Arena or Red Rocks, but also major acts searching for an intimate venue to perform in. With bands like Phantogram, Ween, Ludacris, and Wilco already hosted or slated to play soon, Mission Ballroom is off to an impressive start, and the Denver Post recently raved that "Denver finally has the concert venue it deserves," when it was featured in July.
14. Chautauqua Auditorium, Boulder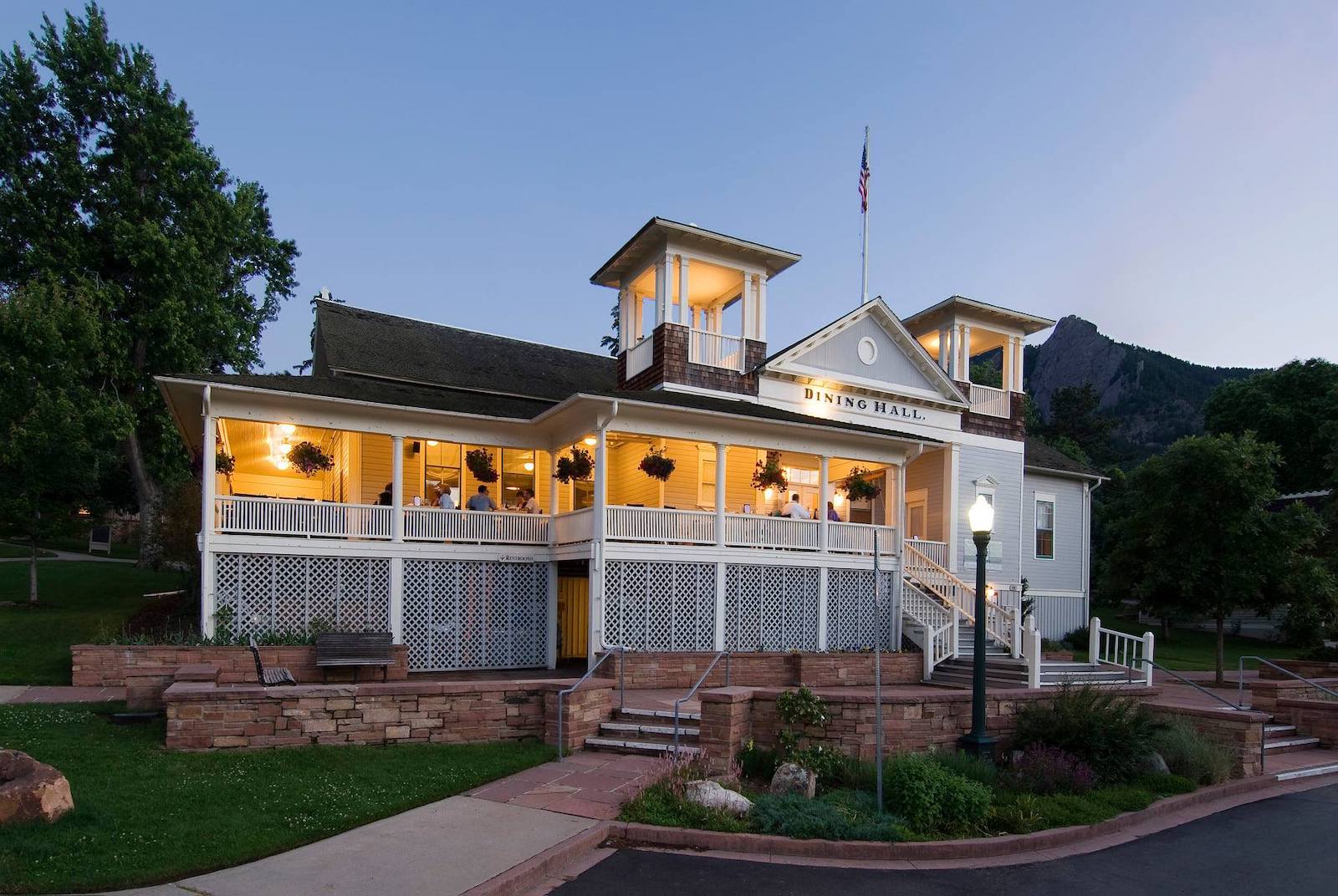 For whatever reason, Chautauqua doesn't enjoy as large of a reputation as other Colorado venues, but it's a spectacular place to see music. Resembling a massive old barn, the 121 year-old auditorium has a warm, folksy feel, and attending a show there sort of feels like watching a show at summer camp.
Greats spanning many eras and genres of music have played Chautauqua, including Wynton Marsalis, Lyle Lovett, Joan Baez, Mary Chapin Carpenter, BB King, Chris Isaak, The Indigo Girls, John Hiatt, Los Lobos, and Ziggy Marley. The auditorium's natural acoustics make it a favorite for artists, but it's somewhat limited by being heated and cooled naturally, and is usually only open for performances May through September.
Located within Chautauqua Park at the base of the flatirons, the Chautauqua Auditorium was placed on the National Register of Historic Places in 1974, and it's undergone a minimal amount of changes since its construction in 1898. The space used to be able to hold a crowd of 6,000, but bleachers were removed to make way for dressing rooms in 1905.
Today, the venue holds far less people (1,300), but the change allowed audiences to enjoy concert experiences that were markedly less crowded and noisy. Chautauqua might not be pulling in trendy artists every summer, but it offers a gorgeous, authentic experience unlike anything else in Colorado, or the rest of the country for that matter.
15. Ogden Theatre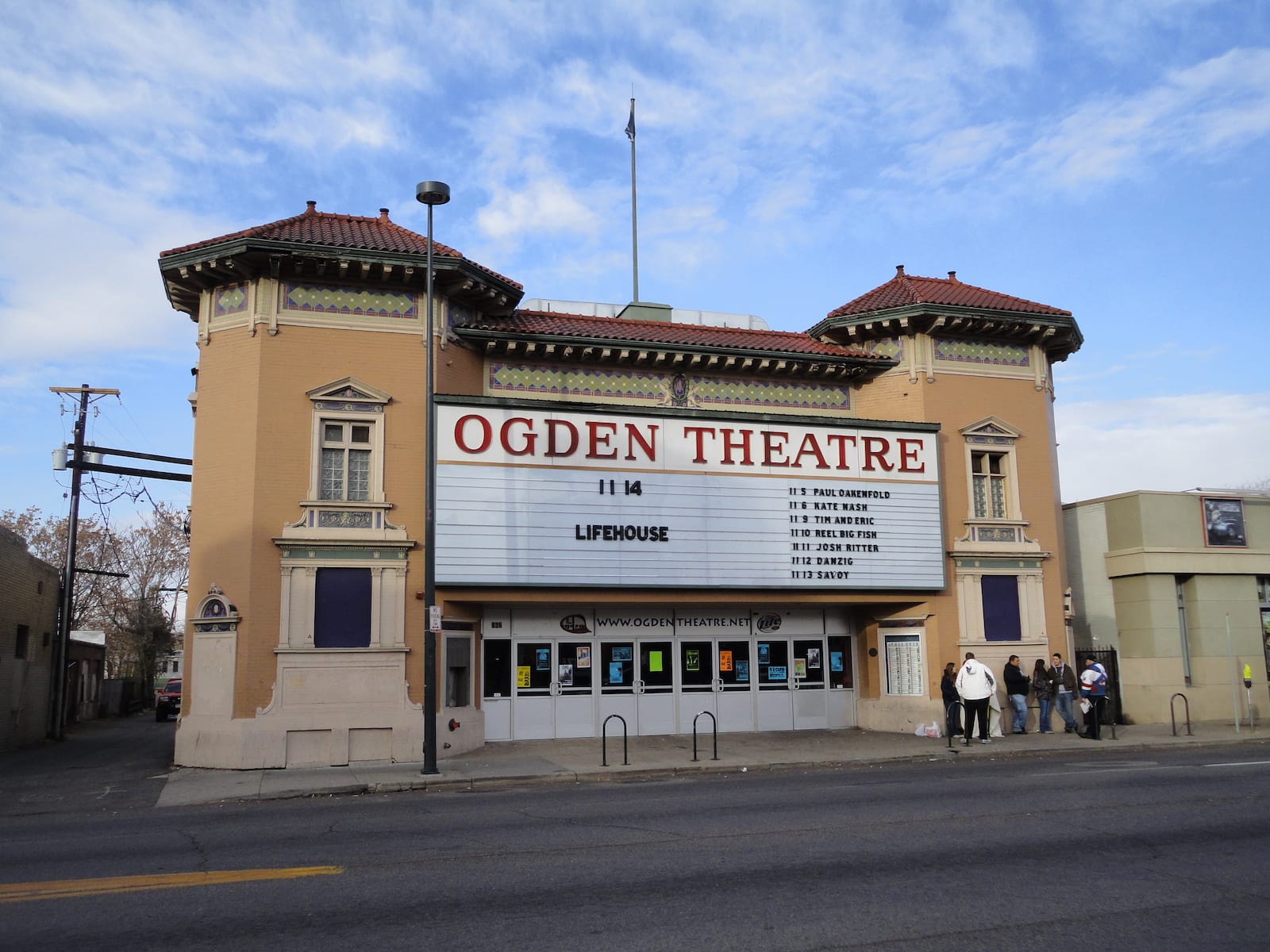 Denverites love the Ogden Theatre for its charming atmosphere, solid sound system, and reliable show offerings. But before its life as a mid-sized concert venue, the Ogden was a spot that hosted organ recitals, dances, lectures, and vaudeville acts. World-famous illusionist and stuntman Harry Houdini performed at this venue, which was constructed in 1919 and built by the same architect who designed the Bluebird Theater.
In the late 30's, it was converted into a movie theater, and it was one of Colorado's favorite places to watch The Rocky Horror Picture Show Saturday nights during the 80's. In another parallel to the Bluebird, the Ogden was renovated into a concert venue in the early 90's.
Now both an official Denver Landmark and a National Historic Landmark, the Ogden Theatre hosts 150 shows annually and has solidified its reputation as one of Colorado's best venues. With its 1,600-capacity, local Colorado musicians have a considerably harder time landing opening spots here than at places like the Fox and Bluebird, making it a desirable bucket list item.
Before national bands get big enough to play large Denver venues like the Fillmore, Red Rocks, and Ball Arena, they usually take the Ogden's stage.
These represent fifteen of Colorado's best concert venues, however, they are far from the only cool places to hear live music. From festivals to dive bars, there are countless places to catch concerts in Colorado. Giant modern venues include Pepsi Center and First Bank Center, and smaller historic theaters include Paramount and Park. The list of venues goes on an on…
In fact, we've curated a list of just Denver's top concert venues to help Mile High music fans find cool new spots. There are so many great stages to choose from.