Many music fans don't realize it, but Colorado boasts a dramatic musical legacy involving multiple generations of bands, music venues, and promotors captivating enough to serve as inspiration for a concept album. Long before jam bands and EDM rose to define Colorado's music scene, musicians and the industry surrounding them transformed music locally and beyond through moments of tragedy, intrepidness, or by pure luck.
If you're interested in learning more than you can glean from a night at Red Rocks, we've compiled fourteen moments that helped shape Colorado music. So next time you're out for a show at one of Colorado's epic concert venues, you may be part of enduring history in the making.
Highlights of Colorado's Music History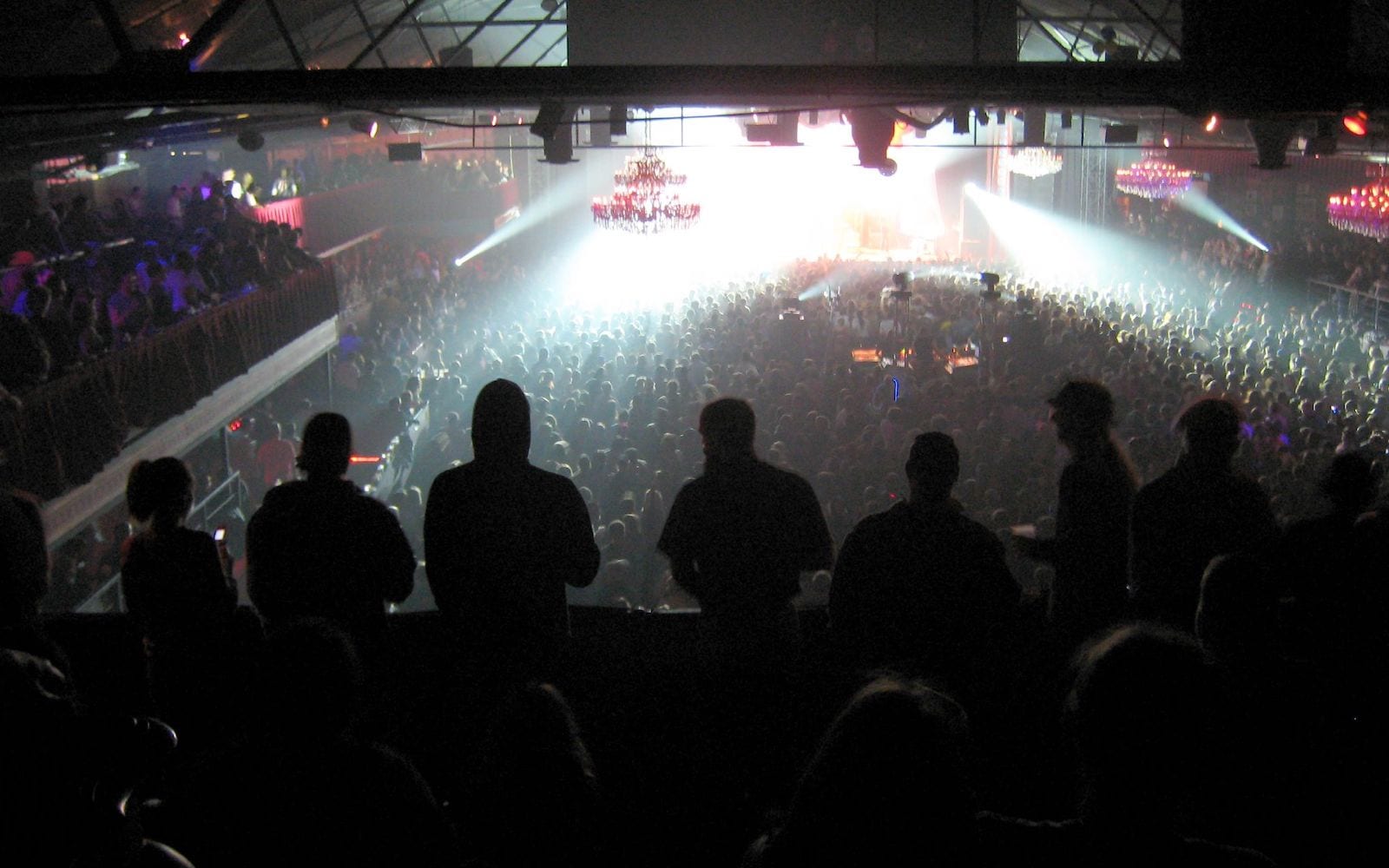 The history of music in Colorado is full of events that are fascinating, tragic, and inspirational. These moments helped mold many of the famous bands from Colorado that we know and love today. From legendary bands to venues and everything in between, Colorado has its heaping share of stories both on and off the stage. Let's explore some the most legendary musical moments.
Here are among the most notable events in Colorado music history, in no particular order:
1. Denver hosted Led Zeppelin's first North American concert
Even for devout rock fans, late 60's Denver seems like an unlikely place to host a band as important as Led Zeppelin for their first North American performance, but the Mile High City did just that on December 26, 1968. The British rock legends opened for Vanilla Fudge at the now-defunct Auditorium Arena, a large Denver venue that was later torn down and born again as the Ellie Caulkins Opera House.
But what's even more surprising that Led Zeppelin's first North American show was held in Denver is that iconic Colorado music promoter Barry Fay first refused to let the band perform, and only allowed them to when headliner Vanilla Fudge paid him $750 out of their own pockets.
Led Zeppelin's seminal debut album hadn't hit stores at the time of the concert, which meant their Denver performance was played for an unfamiliar crowd in an unfamiliar country. Rocky Mountain News critic Thomas MacCluskey was taken by Jimmy Page and John Paul Jones, but had less nice things to say about the rest of the band, calling called Robert Plant's vocals "a cut above average in style, but no special appeal in sound."
By the next time the band played Denver two years later, they'd become one of the world's most revealed and influential music groups, and MacCluskey's review of their second performance was more positive.
2. A man was shot at Colorado musician Slim Cessna's first show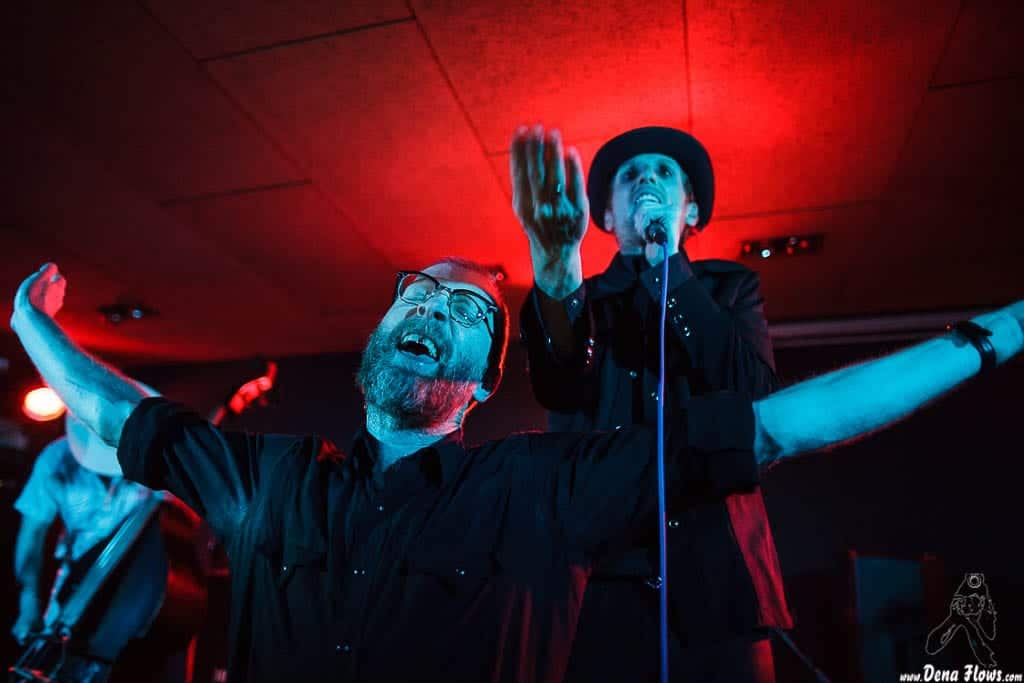 Slim Cessna is a Denver-based musician credited for helping to build Colorado's gothic country-fueled music scene, a unique genre that is now known as the "Denver sound" internationally. Typically, dark themes like ghosts, infidelity, and all manner of criminal misdeeds that the Denver sound is known for remain confined within song lyrics, but Cessna witnessed a real-life vivid, life-threatening act of violence on stage during his first show.
Recently chronicled Denver Westword's Denver Bootleg comic, Cessna recounts the truly bizarre and horrifying event that took place at the first concert he played with his band Slim Cessna's Auto Club:
"It was a lovely and perfect Lion's Lair evening. Then there was a short scuffle and a BANG! Some dude came stumbling in and collapsed at the front of the stage. The show and the party were over. That guy was shot!"
Cessna went on to say that he encountered the man-months later, who eagerly showed him the scar in his side where the bullet had entered. Luckily, not every Slim Cessna Auto Club show is dangerous, but the shooting illustrates the misbehavior that often goes hand in hand with gothic country music.
3. Garth Brooks had the "greatest day of his career" in Denver
Since Garth Brooks is one of the world's most famous and beloved musicians, he's played an unfathomable amount of concerts in front of an unfathomable amount of people. In 2019, Brooks' sold-out show in Minneapolis drew an astounding crowd of 140,000 people.
A cynical person would ask whether the country music superstar says this every night regardless of where he's playing, but at the Denver concert he played that same year, he told the crowd at Broncos Stadium that the night was the "best" of his career. Maybe Brooks was caught up in the moment, or maybe he meant it. But regardless of how genuine Brooks was when he made that flattering remark, the sold-out concert and his enthusiasm show that Denver is a can't-miss destination for major artists.
4. U2's wet and historic Red Rocks performance
Name a world-famous band, and they've probably played at Red Rocks at some point. A venue as internationally loved and known as Red Rocks is used to hosting memorable concerts, but the Irish rock band U2 played a show at the Morrison, Colorado venue that is now widely thought of as one of the most iconic performances in music history.
A torrential rainstorm nearly canceled the band's concert, but the June 1983 performance was slated to be an important night for U2, so they decided to play through the bad weather. The band invested in a film of the concert with Island Records and Colorado music promoter Barry Fey, and what made conditions bad enough to almost cancel the show ended up giving the footage a surreal quality marked by bursts of color and images of a soaked but undeterred band.
U2's gut instinct to move forward with the show ended up paying off in a remarkable way. U2 Live at Red Rocks
(affiliate link), the band's first video release, was an astounding success that solidified the band's legacy and re-introduced Red Rocks into mainstream popular culture. Rolling Stone called the band's Red Rocks performance of "Sunday Bloody Sunday" one of the "50 Moments that Changed the History of Rock and Roll".
5. A former Colorado governor's love Affair with Colorado music
It's now expected for politicians to feign enthusiasm over the local culture of their constituents, but former Colorado governor John Hickenlooper's showed love and specific knowledge of Colorado music that would be almost impossible to fabricate. In 2015, the Denver Post created a timeline of Hickenlooper's Colorado music moments, and his involvement competes and, in many ways, exceeds that of an average Denver-based music fan.
The recent Democratic presidential candidate has played banjo with Old Crow Medicine Show at Red Rocks, enlisted famous Colorado bands like OneRepublic, The Lumineers, and Big Head Todd and The Monsters to play his inaugurations, and introduced the Avett Brothers at their first-ever Red Rocks show just because he was a fan.
But while Hickenlooper's credibility and enthusiasm gave him access to Colorado's biggest bands and venues, he was also a fan of local band Snake Rattle Rattle Snake and was known to let loose at Denver music events like the Underground Music Showcase.
Regardless of what you think of his politics, Governor Hickenlooper's support of Colorado music was unprecedented during his tenure. His passion for Colorado bands and venues shows that music can be valued and prioritized by a politician.
6. The Fillmore's shaky, made-for-TV origin story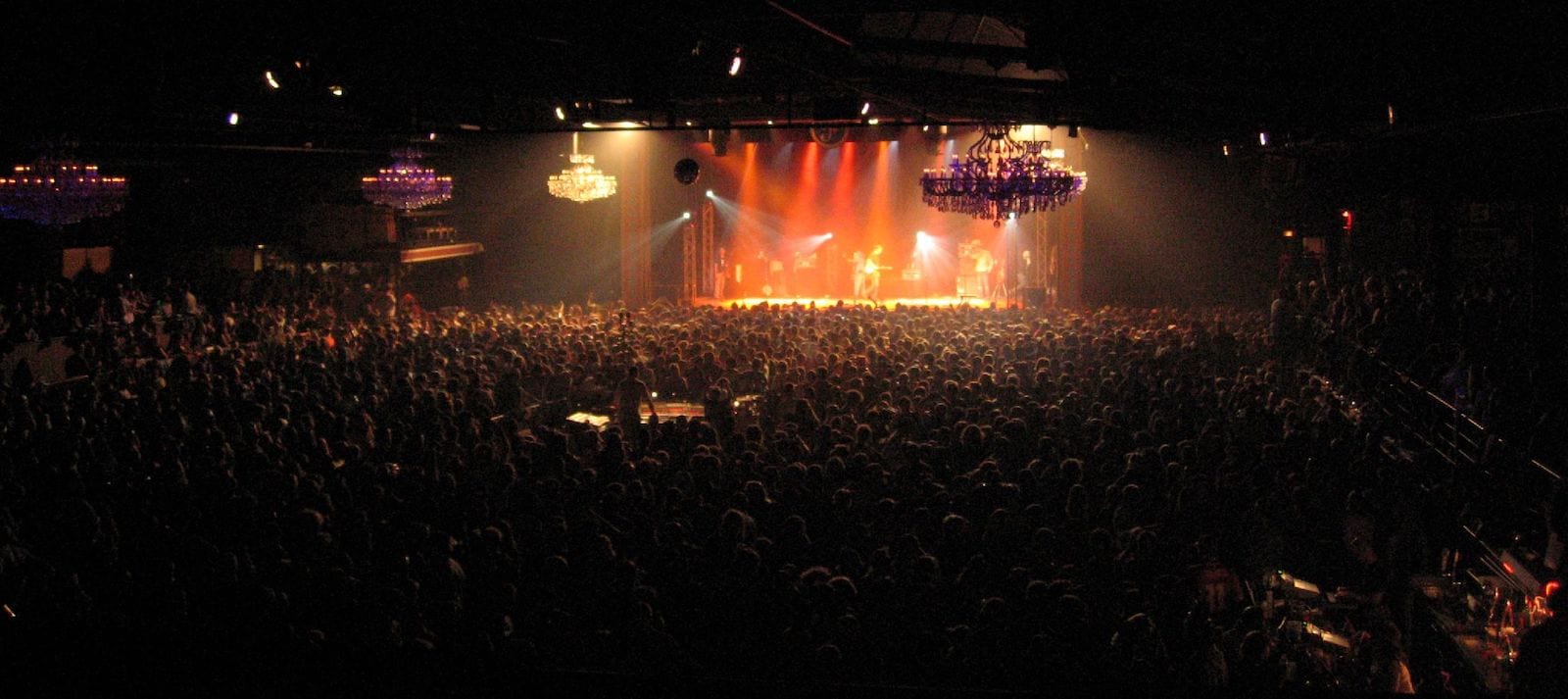 Today, it's hard to imagine what Denver's music scene would be like without The Fillmore. A Colfax music staple, the Fillmore has hosted massive acts like Lizzo, Widespread Panic, NOFX, Morrissey, Foo Fighters, and Bad Religion, but the building that houses the beloved Colorado venue has gone through some notable rough patches in its 113-year existence.
Long, long before The Fillmore hosted bands, it was opened as a roller skating rink in 1907. Before the venue finally got around to hosting its first show more than 50 years later, the building hosted a manufacturing plant, a wedding hall, and Denver's first recreation center.
When the building was purchased by Colorado concert promoter Stuart Green in 1968, it was transformed into a nightclub and managed to host some of rock's greatest artists like Jimi Hendrix, The Doors, The Who, The Grateful Dead, and Joe Cocker within the span of just eight months. However, the venue Green had named Mammoth Gardens closed in 1970 at the behest of local officials who wanted to clean up the neighborhood.
In the 80s, the venue sprang back to life and hosted another batch of musical greats like Ozzy Osbourne, Sublime, and Slayer, and became a national destination for Latin music concerts. The Fillmore transformed into the scrappy venue we all know and love today in 1999 when the building changed ownership and was renovated.
The Fillmore might seem alive and well today, but if its lengthy history is any indicator, it could very well hibernate again for a decade or two only to gloriously reemerge and host future generations of famous musicians.
7. Fire destroys Nederland's legendary Caribou Ranch recording studio
Most musicians daydream about holing up in a quaint mountain recording studio and recording timeless music. In a modest converted barn near the ghost town of Caribou, some of the world's most beloved musicians of the '70s and '80s did just that until a fire tragically destroyed the studio's control room.
In 1971, music producer James William Guercio purchased a ranch filled with more than 4,000 pristine mountain acres and converted a barn on the property into a recording studio a year later. Elton John recorded three albums there and was so fond of the mountain recording studio that he named one of them Caribou.
The Beach Boys recorded the songs "Good Timin" and "Ding Dang" at Caribou Ranch, and Carl Wilson and Bruce Johnston tracked backup vocals on Elton John's song "Don't Let the Sun go Down on Me" there as well. Guercio managed the band Chicago, who recorded five of their albums at Caribou, and Earth Wind and Fire took to the recording studio located ten minutes outside of Nederland to lay down tracks for two of their albums.
If a space heater hadn't sparked a fire that caused $3 million dollars worth of damage to the barn in 1985, it's possible Caribou Ranch would still be around to record today's generation of influential artists. But even with its legacy cut short, the music recorded at Caribou Ranch lives on and continues to entertain, influence, and inspire.
8. Mystery of the Family Dog
Today, 1601 West Evans Avenue looks like your average seedy strip club, but, for a brief two-year period, the building hosted rock and roll greats. Jimi Hendrix, Janis Joplin, and the Grateful Dead all played there back in the late 60s when it was a venue called the Family Dog.
Denver has seen many, many music venues come and go over the years, but the Family Dog is remembered today for the caliber of artists it drew. Plus, the fact that more than 50 years after its demise, music historians still aren't quite sure what happened to it.
A 2017 Denver Westword article written by Michael Roberts lays out why the venue was a crucial part of Denver's cultural status, and why diagnosing what exactly forced the venue to close its doors is challenging. A mounting debt problem and, depending on who you ask, unfair crackdowns by police are thought to have helped kill the Family Dog just two years into its life as a venue, but it's still not completely clear what exactly did it in.
However, despite being around for such a short period of time, the Family Dog remains one of Colorado's most memorable music institutions. In addition to bringing in seminal rock artists, it also elevated Denver's status as a music city through psychedelic poster art designed by world-famous artists like Bob Schnepf. This Dog might not have lived for long, but it certainly made its mark on Denver's music scene.
9. The tragic death of John Denver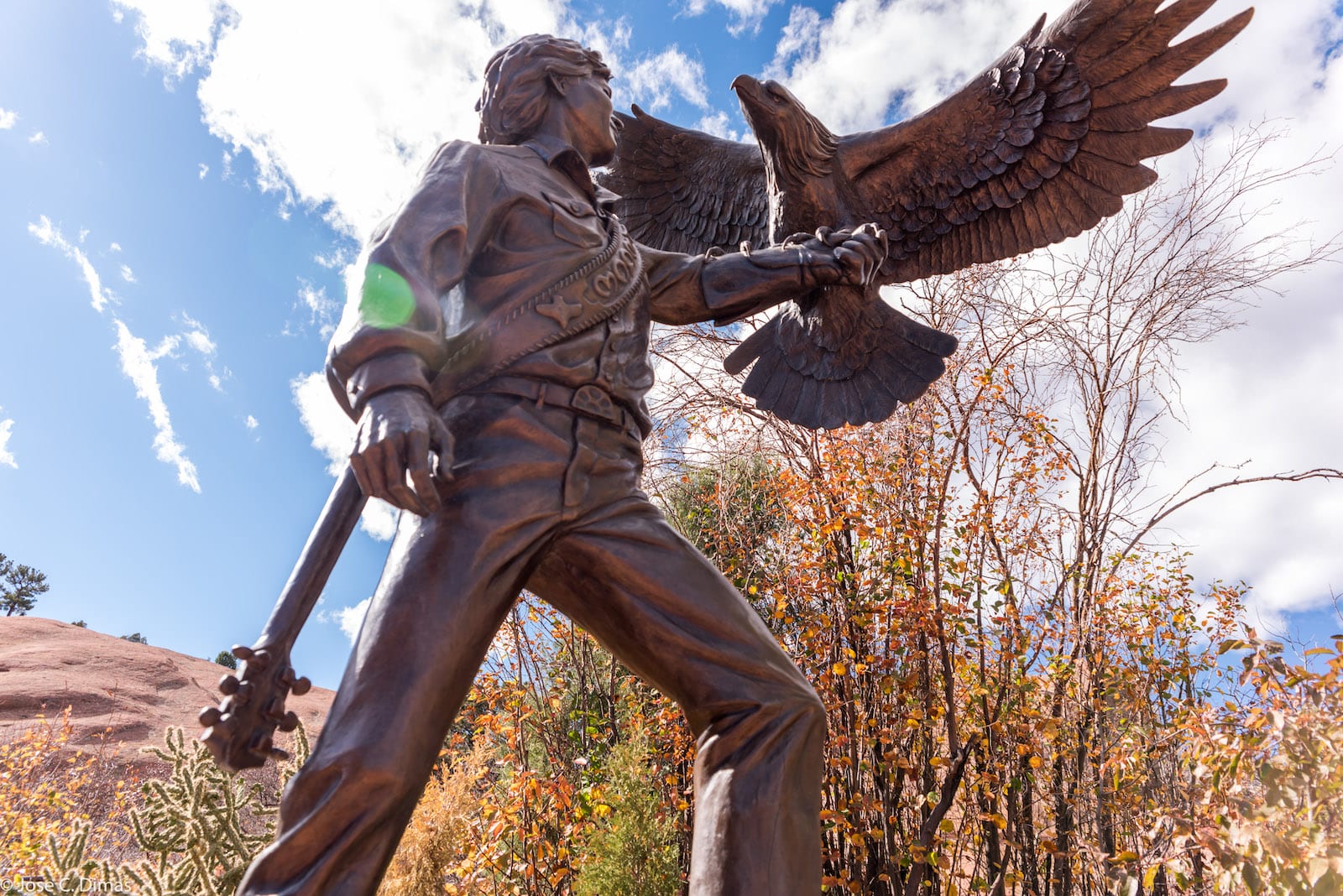 With chart-topping hits like "Leaving On a Jet Plane," "Take Me Home, Country Roads," "Rocky Mountain High," "Sunshine On My Shoulders," "Annie's Song," "Back Home Again," and "Thank God I'm A Country Boy," John Denver's music helped define the sound of the '70s and solidify the folk songwriter as one of the most successful musicians of all time.
Born Henry John Deutschendorf Jr., John Denver wasn't from Colorado, but he loved the state so much that he adopted its capitol for his stage name and settled in Aspen after his career started winding down. Many music fans in Colorado fully reciprocated that love and were devastated when Denver perished in a 1997 aviation accident.
Denver's homebuilt plane crashed into Monterey Bay off the coast of California after he'd taken it out for an "experimental run." Though Denver was a pilot with over 2,700 hours of experience, he wasn't legally allowed to fly because the Federal Aviation Administration had removed his medical certification a year prior out of worries that the legendary musician couldn't maintain his sobriety.
Experts agree that Denver had no traces of alcohol or drugs in his system at the time of the crash. What's now widely believed to have caused the tragic accident was Denver's unfamiliarity with the plane and his inability to switch out tanks of fuel mid-flight. Denver's death shocked the state he was so famously fond of and music fans around the world.
10. Barry Fey established Denver as a "must-play market" in the 60s, 70s, and 80s
Barry Fey is an inescapable music figure in Colorado music. Fey, who is mentioned multiple times throughout this article of famous Colorado music moments, is credited for putting Denver on the musical map. Though Fey was initially dead-set against them playing, he was the first concert promoter to bring Led Zeppelin to North America, and the first show of the band's US tour was in Denver. In 1969, he threw the Denver Pop Festival, which hosted The Jimi Hendrix Experience's final concert.
As booking agent at the Family Dog venue, he brought acts to Denver like the Grateful Dead, The Byrds, The Doors, Buffalo Springfield, Van Morrison, Canned Heat, Jefferson Airplane, Frank Zappa, and Cream. And in 1983, he produced U2 Live at Red Rocks: Under a Blood Red Sky, a film that transformed U2's career and elevated Red Rocks' legacy as a world-class venue. No single person has done more to bolster music in Colorado than Barry Fey.
In addition to the concerts he promoted, Fey is also credited for stepping in to save the Paramount Theatre and transforming the Denver Symphony into the Colorado Symphony Orchestra to keep it from going bankrupt. In a devastating turn of events, Fey underwent hip-replacement surgery in 2013 and committed suicide shortly after. Fey's efforts continue to make Colorado a rewarding music destination for artists and fans alike.
11. Jazz pioneer Glenn Miller hit rock bottom only to change music forever shortly after
Though Glenn Miller hasn't been alive since 1944, his rags-to-riches story of music success is one that all modern musicians can relate to. Inducted into the Colorado Music Hall of Fame in 2016, Miller spent the latter part of his childhood in Fort Morgan, Colorado before enrolling at the University of Colorado.
Like many musicians, Miller dropped out of school in 1923 to pursue a career as a musician and arranger. He played trombone in multiple bands, married his college sweetheart, and decided to form his own band in 1937. Before the end of that year, it was clear Miller's new project was a disaster. Saddled with debt, Miller broke up his band soon after.
Thankfully for jazz fans, Miller tried forming another band a year later that featured a clarinet-led reed section, and the group became so popular that their music became known as the "Miller sound." By 1939, Miller's band was one of the most popular in the US, and it produced the first-ever gold record in 1942 with more than one million copies of "Chattanooga Choo Choo" sold.
But, like many brilliant musicians, Miller met an untimely death. After joining the US Army, a plane he was traveling into the recently liberated city of Paris disappeared over the English Channel and was never seen again.
12. When LSD and the Grateful Dead took over Denver's City Park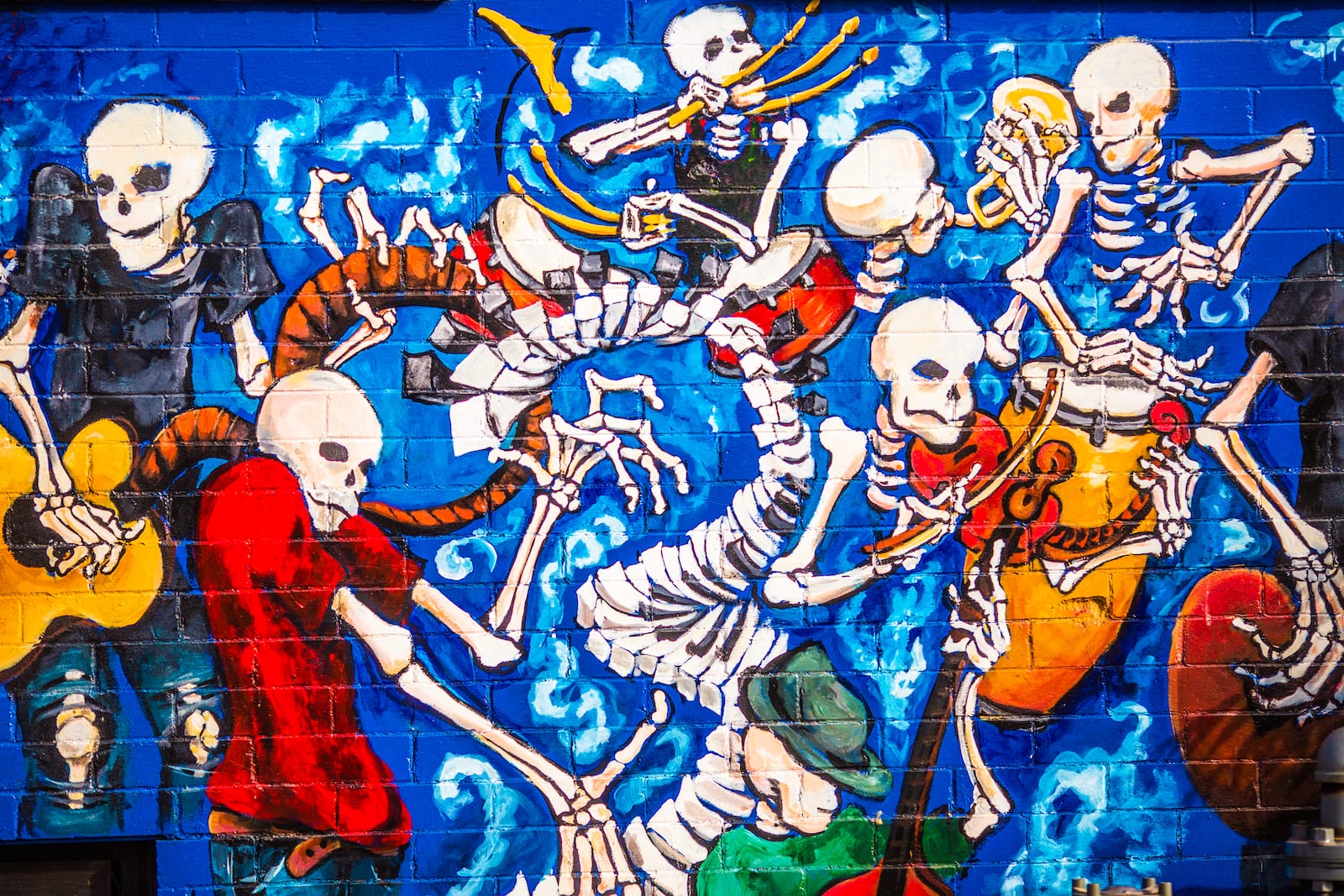 Today, City Park is a posh Colorado destination that's home to a zoo, a world-renowned museum, and an IMAX theatre, but it briefly hosted a massive, psychedelic drug trip. Timothy Leary, a writer, and psychologist who publicly advocated for the therapeutic potential of psychiatric drugs announced in September 1967 that the Grateful Dead would perform in front of the Natural History Museum.
According to a Grateful Dead fan, part of the motivation for the concert was that there was an LSD shortage reported on the news and that a large underground lab that produced it was located near City Park.
According to the Denver Post, 5,000 people gathered for the event, which was billed as a "Human Be-In." It's unclear how many music fans took acid that day, but when attendee Steve Rubick gave an interview for Westword about it in 2017, he described an idyllic day at the park with
"a lot of naked people frolicking in the fountain and everybody having a great time."
The US Federal Government formally outlawed LSD a year later. Grateful Dead's drug-laced "Be-In" portrays a peace-loving side of Denver that probably sounds unbelievable to residents living near City Park today.
13. Beatles Red Rocks mania
It can't be understated how insane it was when The Beatles played Red Rocks on Aug 26, 1964. If you're skeptical, consider these facts. When the band landed at Stapleton Airport that day, an estimated 10,000 fans were there waiting for them.
That's about 500 more people than the entire capacity of Red Rocks. When the Fab Four made their way downtown to the Brown Palace, 5,000 fans were waiting for them there too, a crowd that far exceeded the hotel's previous public gatherings for celebrities and presidents. A massive traffic jam ensued.
But, oddly, despite having sold out the rest of their shows, the band only sold 7,000 tickets for their Red Rocks show. Some music historians blame a lack of public transportation to the venue, and others point to the venue's gate agents as the culprits. Even stranger, the band had received death threats before the show and were apparently nervous when they took the stage, according to George Martin.
"I remember going to one of their concerts at the Red Rock Stadium in Denver where Brian and I climbed up on a gantry overlooking the stage, and we looked down at the boys below during the performance; and the amphitheatre is such that you could have a sniper on the hill who could pick off any of the fellows at any time – no problem. I was very aware of this, and so was Brian, and so were the boys."
But even without the show selling out and the threats, The Beatles' 1964 Red Rocks show set a box office record for the venue, and the performance was its first rock 'n' roll show.
14. A riot breaks out at Red Rocks in 1971
Things like not being able to get into a concert or being unimpressed with an opening act miff most music fans, but they briefly caused a dangerous riot to break out at Red Rocks in 1971. When Livingston Taylor, younger brother of James Taylor, strolled out on stage and started playing inoffensive folk music, the crowd that had gathered for Jethro Toll became unruly.
Just as the audience started booing Taylor off stage, tear gas and flashing lights filled the venue. The audience didn't know it, but a police car had been lit on fire outside of the venue.
As the crowd inside the venue grew more agitated, Jethro Tull's band members weren't able to get inside and were told the show was canceled. When they finally managed to get inside, flautist, singer, and bandleader Ian Anderson went on stage and told the crowd the band would start playing if they would settle down.
"If we hadn't gone on stage, they would have had 10,000 people rioting,"
Anderson said in an interview with the Denver Westword. Remarkably, the band ended up playing but later said the tear gas made it an especially challenging performance. In the end, 28 police offers and music fans were hospitalized and dozens more were treated at the venue.
These are just a few of the moments in local history that had a lasting impression on music. They helped turn Colorado into a must-play destination for famous bands around the world. Next time you're in the Mile High City swing by one of Denver's top concert venues and let loose.