For Denverites, one of the best perks of living in the city is having access to both "city life" and nearby hiking trails. But schedules can get busy, I-70 is always busy, and sometimes you just don't want to spend half the day getting to your hiking destination.
Whether you are looking for an easy morning stroll, an after-work hike, or just an excuse to get outdoors during the weekend, check out these day hikes near Denver under 3 miles. These hikes are also great for those out-of-town guests that want to experience the "mountain life" but aren't ready for a 14er.
Denver Metro's Top Short Day Hikes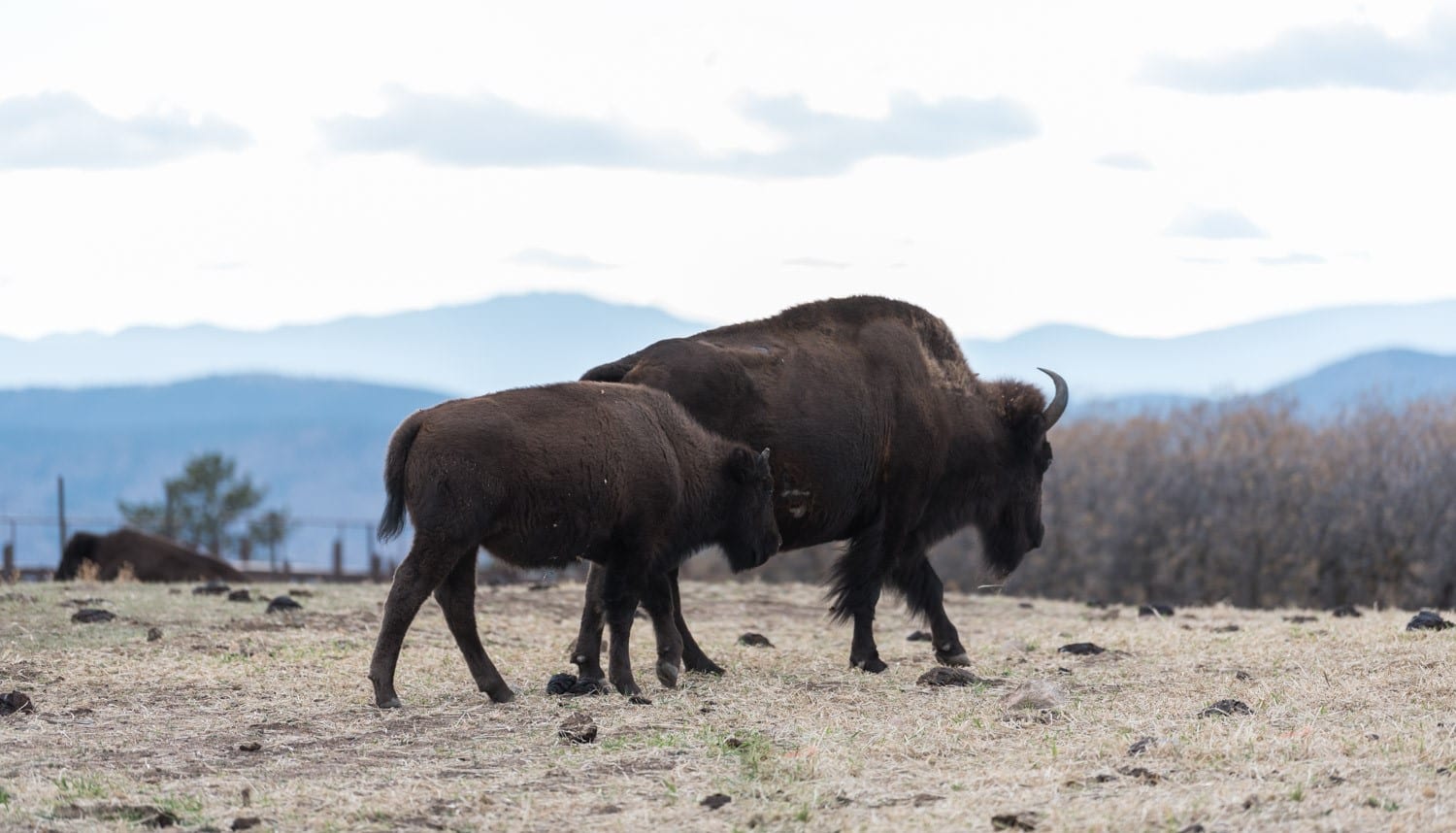 Adding a daily or even weekly nature hike to your routine can really help ease the stresses of modern city life. Luckily, we live in the Mile High City, which takes its outdoors seriously. Whatever city or suburb you find yourself in, there are open spaces and parks with nature hiding in plain sight. There's no need to drive all the way west on I-70 into the Rockies just for a healthy stroll.
Here are some of the best short day hikes near Denver, CO, in no particular order:
Fountain Valley Trail at Roxborough State Park
While there are several hikes in Roxborough State Park in under three miles, Fountain Valley Trail packs in plenty of scenery with its short distance trail. Beginning at the main trailhead near the Visitor Center, Fountain Valley Trail meanders through the Fountain and Lyons rock formations in the park. During your hike be sure to stop at the trail's two overlook points – the Fountain Valley Overlook and Lyons Overlook.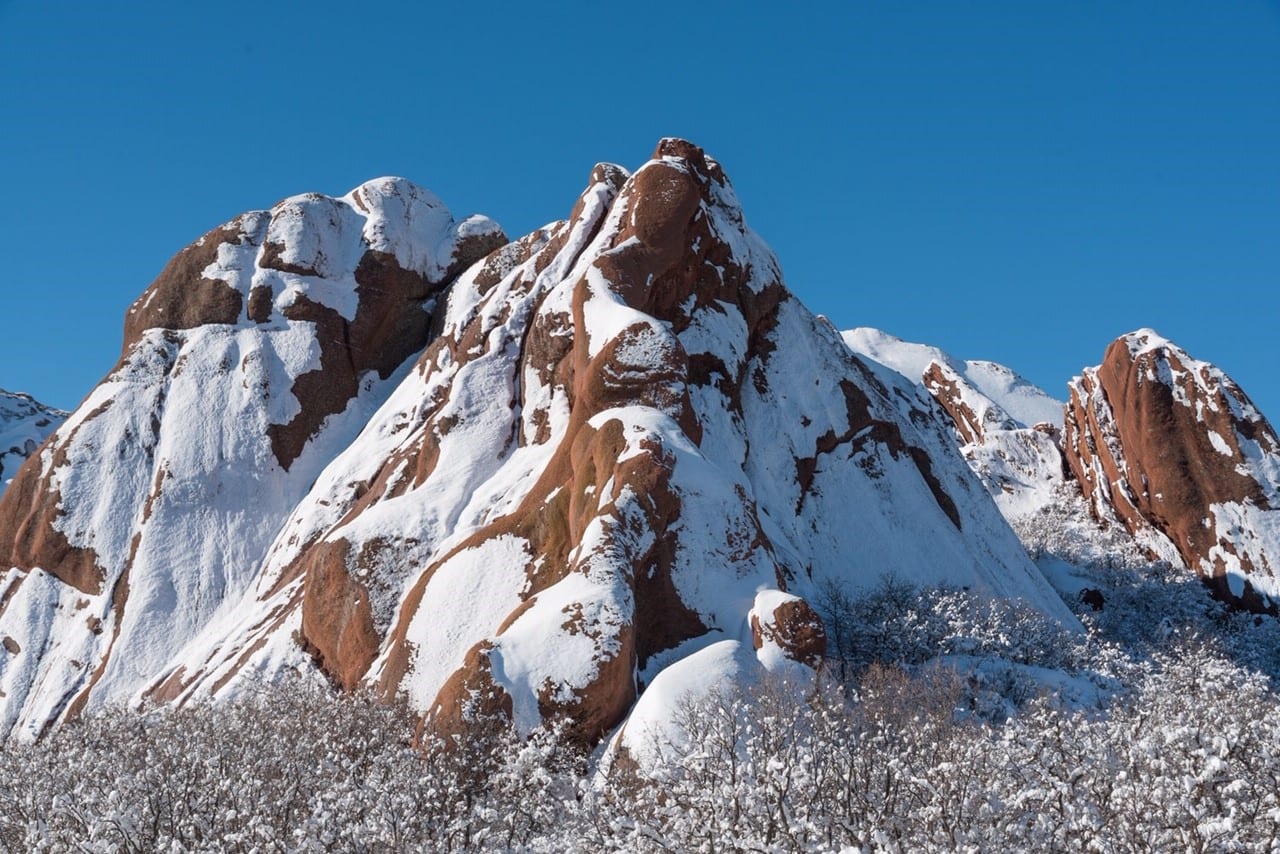 The Fountain Valley Overlook features a viewing platform, perfect for taking in the stunning rock formations of the Dakota Hogback, Lyons formation, and of course the Fountain Formations. The overlook is at the beginning of the trail, 100 yards from the Visitor Center.
The Lyons Overlook is located a little further down the trail (approximately 1 mile) and rests on top of the Lyons Formation, offering views of the Fountain Formations. Read here for more information regarding other trails in Roxborough State Park.
Tip: Visit in the winter, just after a snowfall, for dramatic scenes of the rock formations blanketed with glistening snow.
Location: Roxborough Park, CO
Distance from Denver: 24 miles
Distance: 2.5 miles
Difficulty: moderate
Trail Type: loop
Dogs: no dogs allowed
Trading Post Trail at Red Rocks Park
Red Rocks Park and Amphitheatre isn't just about its world-famous concert venue; it also boasts some of the Front Range's best day-hiking options near Denver. Explore the red rock Fountain Formations of the park plus eastern views of Denver and beyond from the Trading Post Trail. The trail guides hikers around 10 of the park's largest rock formations, wildflowers in the summer, and plenty of opportunities to spot local wildlife.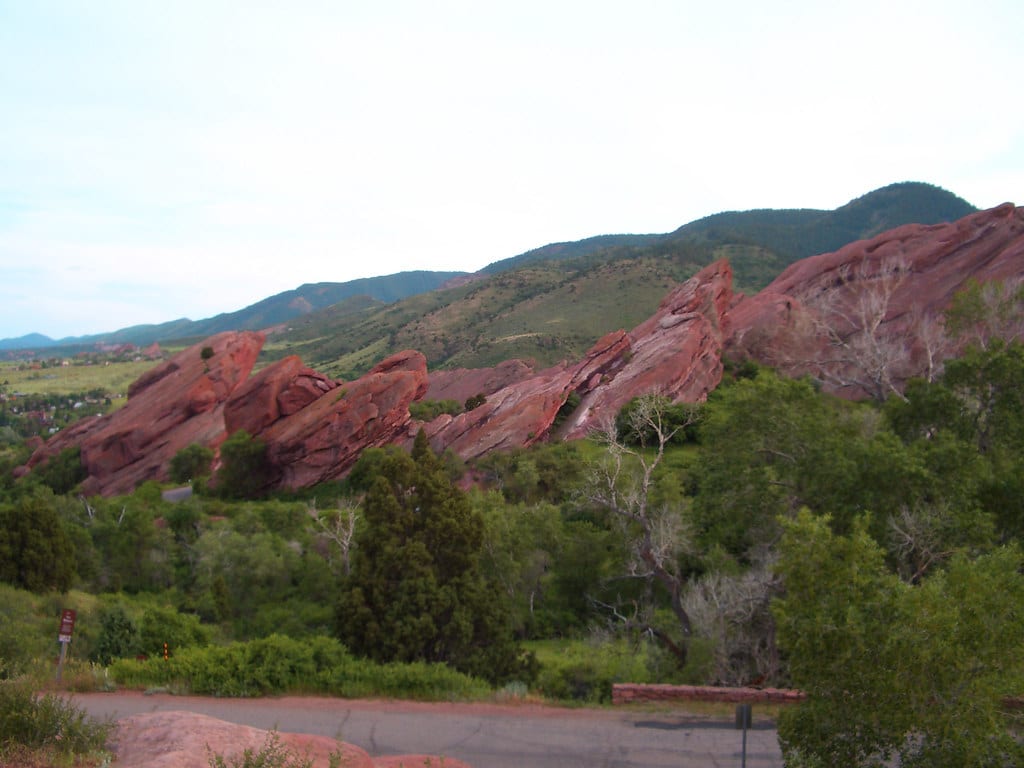 Location: Morrison, CO
Distance from Denver: 15 miles
Distance: 1.4 miles
Difficulty: easy
Trail Type: loop
Dogs: on a leash
Chief Mountain
Traverse through spruce and fir forest, alpine tundra, and colorful wildflowers on the Chief Mountain trail. Located near Idaho Springs, this moderate trail brings hikers just above the treeline for 360-degree sweeping views. At the summit, take in views of Rocky Mountain National Park to the north all the way to Pikes Peak in the south.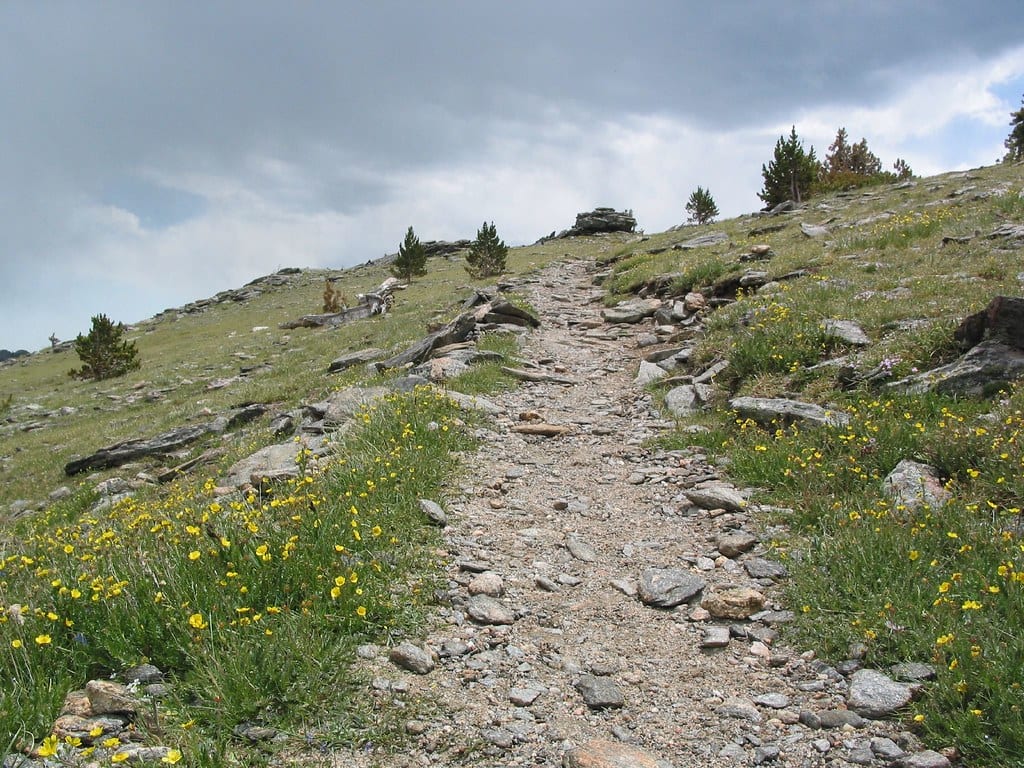 Location: near Idaho Springs, CO
Distance from Denver: 36 miles
Distance: 3 miles
Difficulty: moderate
Trail Type: Out and back
Dogs: on a leash
Bluff's Regional Park Trail
You don't have to go too far out of the city to enjoy Colorado's trail system and gain incredible mountain views. Open sunrise to sunset, this trail is best used early in the morning or later in the evening as it is a highly exposed trail. As hikers make the climb to the top, views of Colorado's Front Range, Denver Metro, and wide-open grasslands are available at every turn.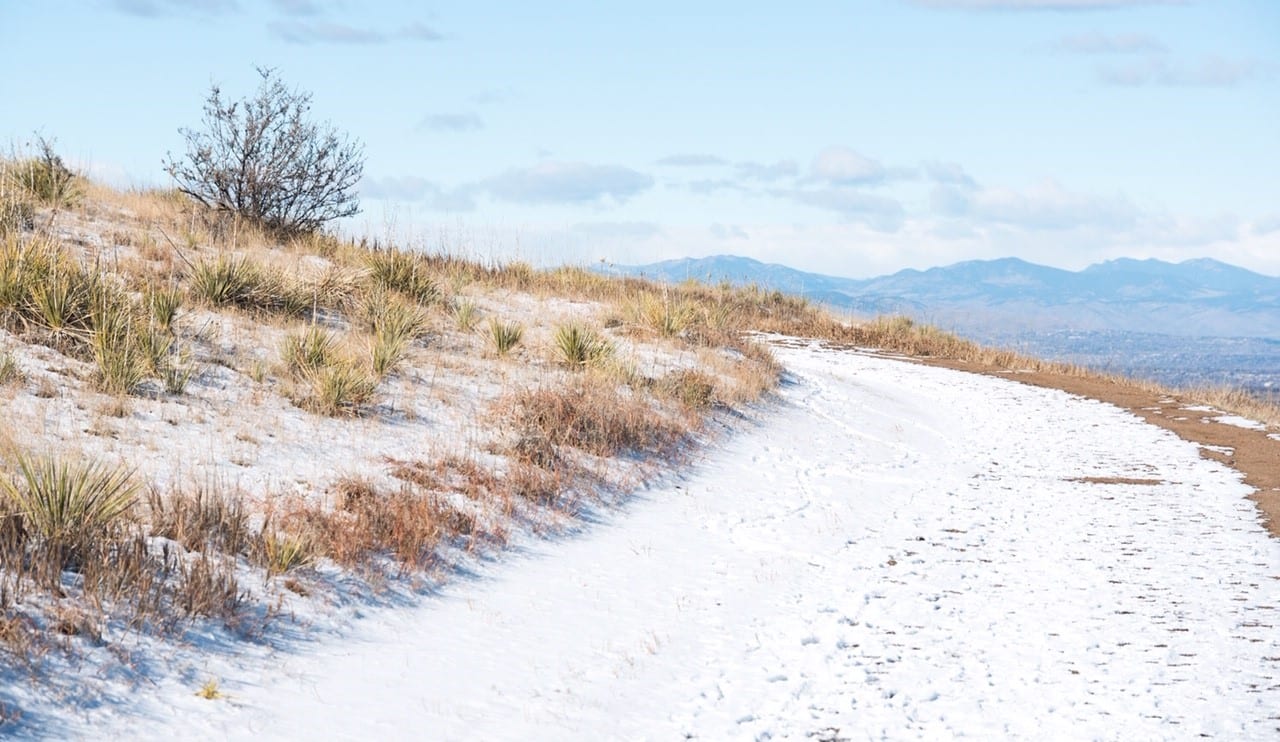 While there are some short steeper sections, the Buff's Regional Park Trail overall is an easy climb and is good for all skill levels. Hikers will find several park benches located along the trail, ideal for watching an early sunrise or sunset.
Location: Lone Tree, CO
Distance from Denver: 27 miles
Distance: 2.7 miles
Difficulty: easy
Trail Type: loop
Dogs: on a leash
Daniels Park
Arguably offering the best sunsets in Denver, Daniels Park is the ultimate lookout point for expansive views of Colorado's Front Range. Set on a high mesa, the 1,000-acre park is mostly closed to recreational activity but does provide an intimate trail system for visitors to explore. While the trails are more like smaller connecting social trails, the nice pathways provide ample opportunities to get your feet moving while admiring some of the best mountain views in town.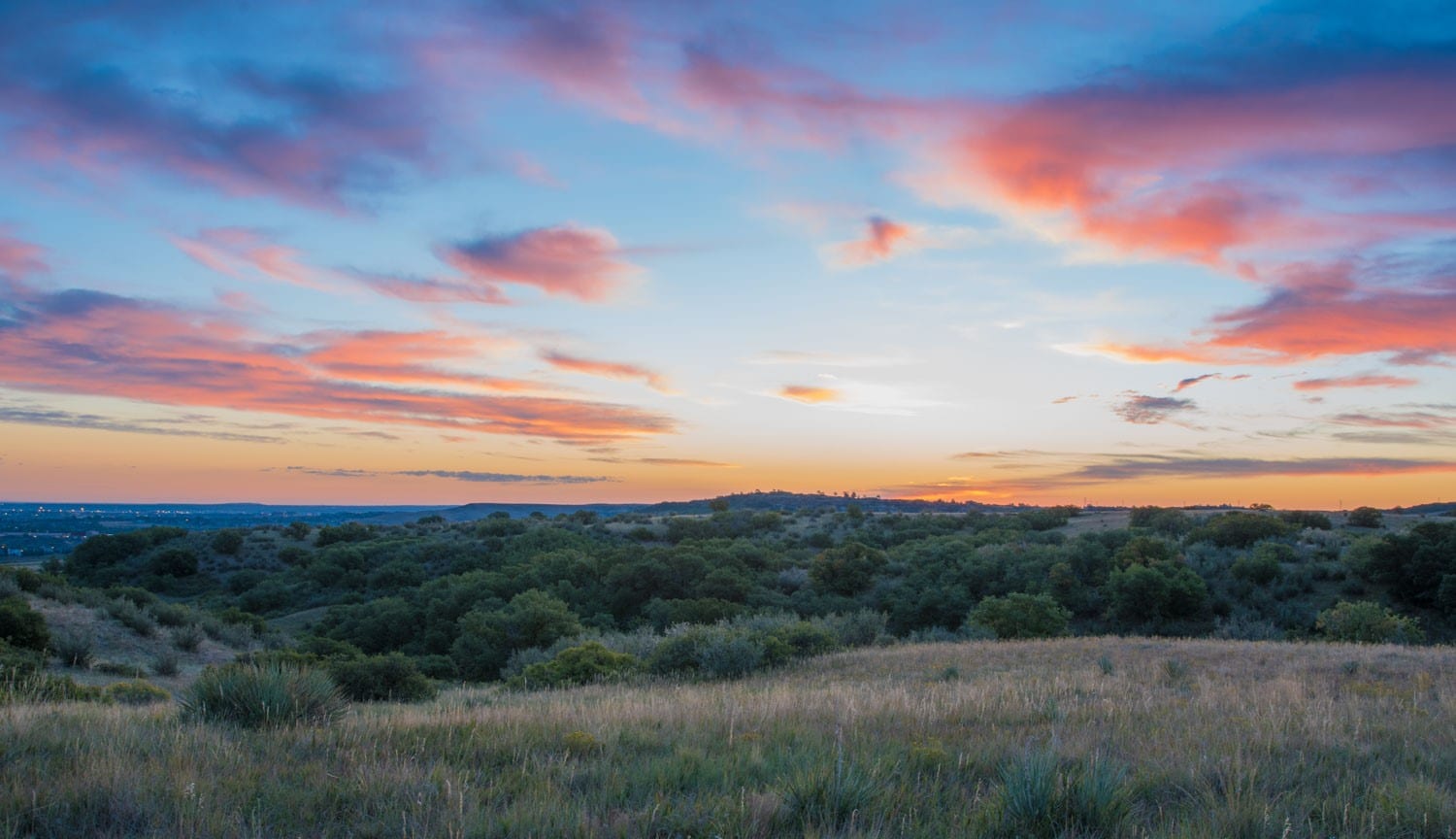 And as a bonus, Daniels Park is home to a large herd of roaming bison. With the park's latest renovations, viewing the bison is one of the park's main attractions. Adjacent to the Highlands Ranch Backcountry Wilderness Area, hikers have a chance to add on additional mileage for a bit more of a challenge.
Location: Sedalia, CO
Distance from Denver: 28 miles
Distance: 0.5 miles
Difficulty: easy
Trail Type: Out and back
Dogs: on a leash
Bear Creek Trail at Lair O' the Bear Park
What's not to love about Lair O' the Bear Park? Easy access from Morrison, beautiful drive, multiple trail options, the beautiful Bear Creek, excellent parking, and convenient park facilities. For an easy day-hike, try out Bear Creek Trail, located inside the park.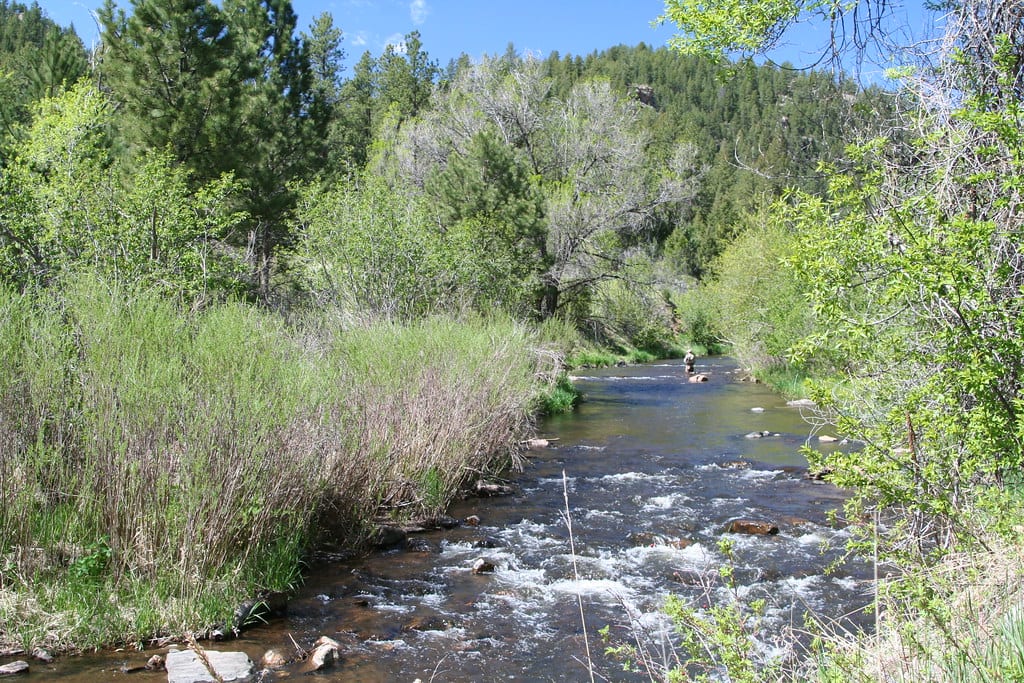 The park's multiple trail options, ranging in length and difficulty, are what makes Lair O' the Bear Park ideal for anyone who is looking for hiking trails near Denver. Due to the park's popularity, the trails can become a bit crowded during the weekends. So, plan ahead or try to visit during the week.
Location: Idledale, CO
Distance from Denver: 23 miles
Distance: 1.6 miles
Difficulty: easy
Trail Type: Out and back
Dogs: on a leash
Dinosaur Ridge
Step back in time into the Jurassic era with a hike along Dinosaur Ridge. The trail is located in what is designated as a Morrison Fossil Area National Natural Landmark. Passing through hundreds of dinosaur tracks, hikers almost feel as if they are walking amongst the Dinosaurs that once roamed this earth.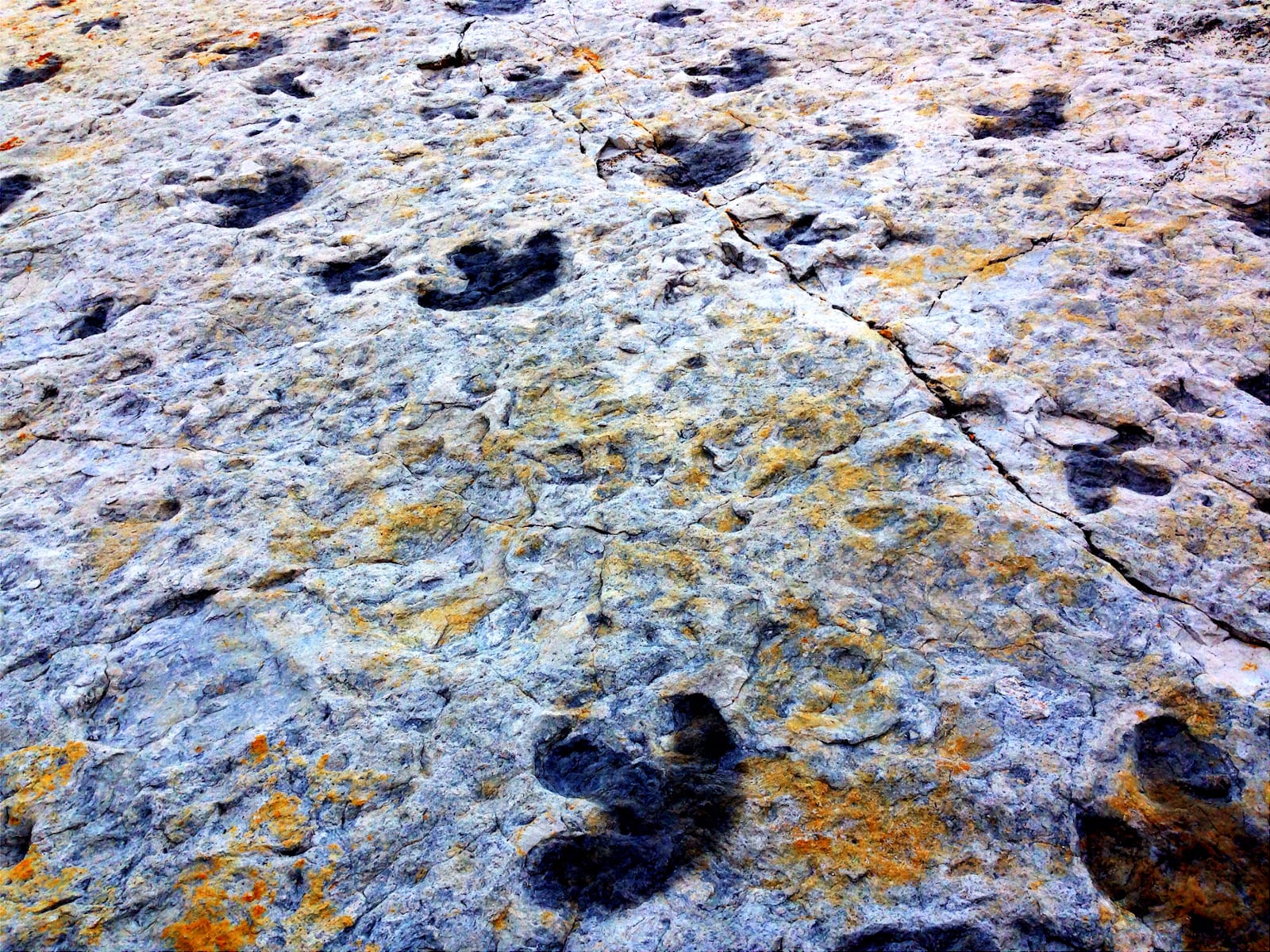 Location: near Morrison, CO
Distance from Denver: 14 miles
Distance: 1.5 miles
Difficulty: easy
Trail Type: Out and back
Dogs: on a leash
Now it's time to grab your hiking boots, get outdoors, and enjoy one of these easy and accessible trail options near Denver! Happy Trails!