Grand Teton is the highest mountain in Northwest Wyoming at 13,775 ft. The Teton Range can be seen from nearly the entire park, although it's only one highlight in this magnificent region of the earth.
Park admission includes access to Yellowstone, so there are a lot of sights to see. Both parks are combined in a seven-day pass and border each other. There are numerous mountain lodges, stores, visitor centers, lakes, campgrounds, and wildlife to enjoy.
This video contains just a few clips from the Grand Teton National Park.
It costs $25 per vehicle for access to Grand Teton, which is good for seven days, or $80 for Interagency Annual Pass, which is good at all national parks and forests. This PDF park map showcases the park's main attractions.
Grand Teton
This jagged peak is the 2nd largest in Wyoming, behind Gannet Peak. It's a world-class destination for mountaineering and even skiing on its western slope at Grand Targhee.
Jackson Lake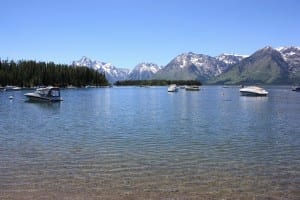 Jackson Lake, to the north, is even bigger and open to motor boats, with rentals available. It's the largest lake in the park with four marinas: Leeks Marina, Colter Bay Village Marina, Signal Mountain Lodge, and Spalding Bay.
Jenny Lake
Jenny Lake sits at the bottom of the mountains and offers swimming, fishing, and non-motorized boating. A shuttle boat will take you across the lake to a nature trail, and back. Or you can rent a kayak or canoe.
There is a fantastic tent-only campground, with sites that are fairly spread out (more than at Yellowstone). It's first-come, first-serve, and fills up quickly. Lizard Creek Campground is another non-reservable campground with walk-in tent sites.
Signal Mountain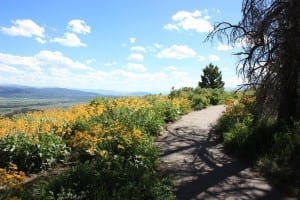 Another gem, and a way to sneak off the main road. This narrow mountain pass rises through a stunning forest, on its way to a more stunning overlook of Jackson Lake, Grand Teton, and the surrounding wilderness.
Craig Thomas Discovery Center – Visitor center with gift shop and exhibit hall.
Wildlife – Jackson and Grant Teton are known for their moose and grizzly bears.
Camping
There are six campgrounds in the park and even more to the north in Yellowstone. Jenny Lake is probably the nicest for tents.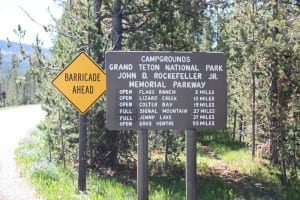 Flagg Ranch – 175 sites, full hookup, camper cabins, showers, laundry
Lizard Creek – 60 sites, north end of Jackson Lake near Yellowstone
Colter Bay – >350 sites, 11 group sites, showers, laundry, good for RVs.
Signal Mountain – 86 sites, by Jackson lake
Jenny Lake – 49 sites, tent only, no pop-up or trailers
Gros Ventre – 350 sites, 5 group sites, closest to Jackson
Follow more of our wild travels outside of Colorado at La Vida Nomad!