Yellowstone is a massive and remote national park secluded in the mountains of Northwest Wyoming. There are five entrances to the park, north, northeast, east, south, and west.
The south is from Jackson, the east is Cody, the north is Montana, and the west is Idaho. Both Jackson and Cody are 9 hours from Denver, plus pit stops.
This video shows a few highlights from Yellowstone, including Yellowstone Lake, Old Faithful, and numerous geysers.
It does get crowded during summer, but the sights are spectacular. The wilderness rolls on for as far as the eye can see. Although, unless you're hiking, chances are you'll be following the other cars around the pavement. But driving around Yellowstone is a treasure.
The campgrounds do fill up, but many sites are first-come, first-serve, so you have a chance if you show up early (no later than late afternoon during peak times). In addition to camping, there are numerous lodges and cabins of nearly every kind for rent.
The park shares an entry fee with Grand Teton National Park, located just south of Jackson. Fishing is permitted but only with a Yellowstone fishing license, not a Wyoming fishing license. Entrance is per vehicle for access to Yellowstone, which is good for seven days, or opt for the Interagency Annual Pass, good at all N.P.S. This PDF map shows the park layout.
Yellowstone Lake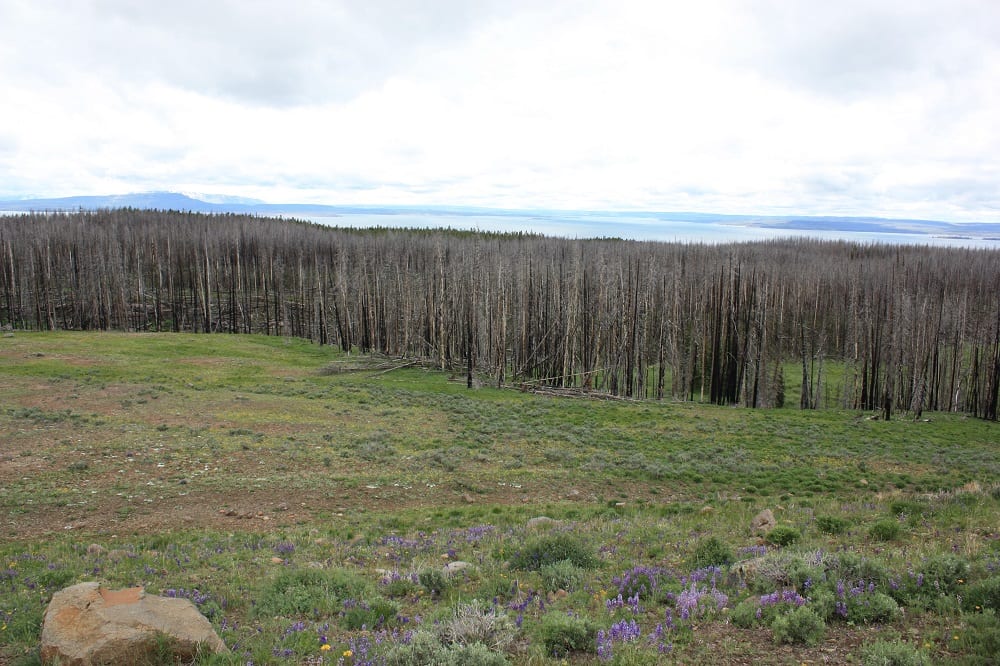 Just wow! This is a massive alpine lake.
Firehole River and Boiling River Swimming Area
If you like cooling off on a hot summer day, then take a dip in the Firehole River. Enter just upstream and float down the, surprisingly warm, river. The other popular safe soaking spot is the Boiling River, aptly named of course.
Old Faithful and Other Geysers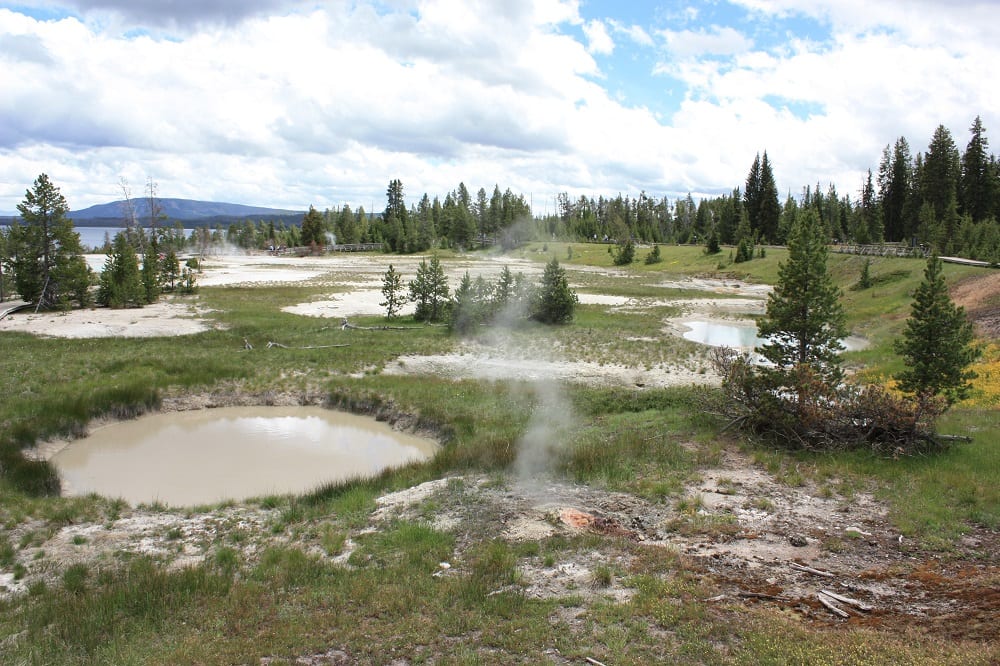 The most known park feature erupts every 91 minutes. Many geysers are located around the park, in addition to Old Faithful. Check out all the thermal springs around Yellowstone, some of which you can soak in outside the park.
Waterfalls
Another common attraction while driving around Yellowstone are waterfalls. There are many to see, just be on the lookout for them or stop by the Visitor Center for the downlow.
Lodges
Numerous lodges, visitor centers, restaurants, and stores are located around the park. The Yellowstone Lake Lodge is a beautiful place to stay with an edible breakfast.
Wildlife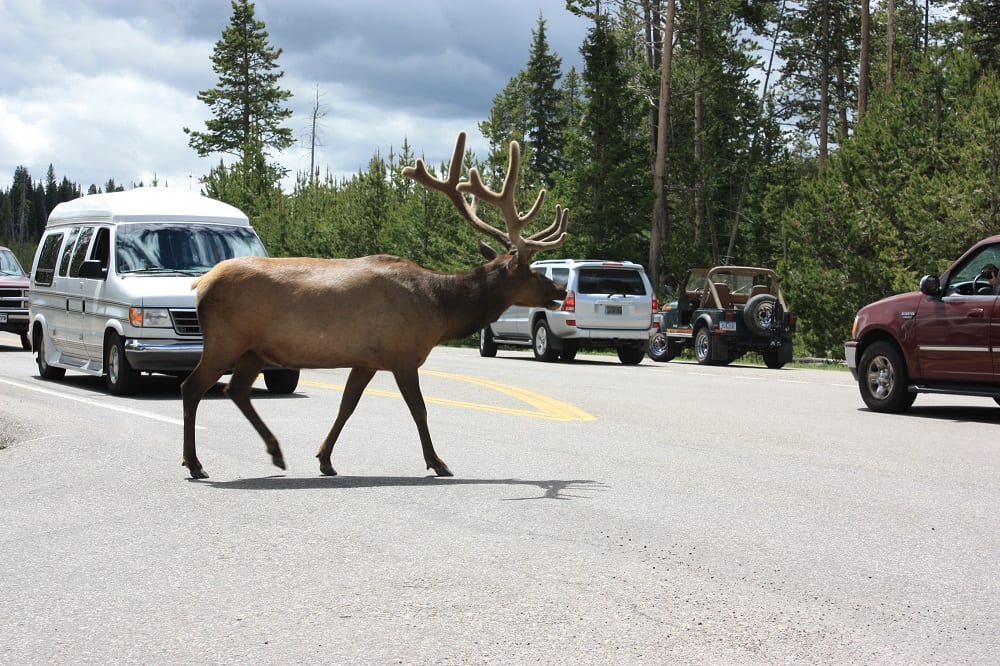 It's easy to spot wildlife while driving because people gather around sightings. Elk, moose, and grizzly bears are common.
Camping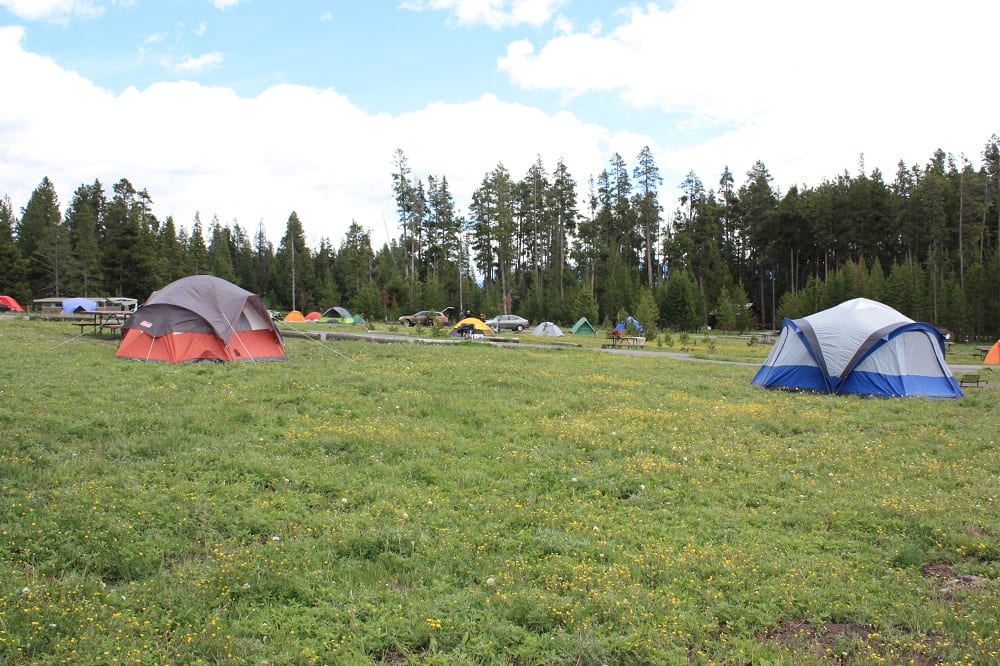 There are a slew of campgrounds in and around the park, as well as on the way if coming from Colorado and need to break up the drive. Douglas is 3.5 hours north of Denver and has a great free campground on the North Platte River downtown, with free showers.
If entering from the east side of the park, Buffalo Bill State Park makes a great place in Cody. If entering from Jackson, any of the campgrounds in Grand Teton National Park are located north of Jackson and before Yellowstone. Below are the twelve campgrounds in Yellowstone, five are reservable.
Bridge Bay – 432 sites, 5/24-9/2
Canyon – 273 sites, 5/31-9/8
Fishing Bridge RV Park – >325 sites, 5/10-9/22
Grant Village – 430 sites, 6/21-9/22
Madison – 278 sites, 5/3-10/20
Mammoth – 85 sites, year-round
Norris – 100 sites, 5/17-9/30
Tower Fall – 31 sites, 5/24-9/30
Indian Creek – 75 sites, 6/14-9/9
Pebble Creek – 27 sites, 6/15-9/30
Slough Creek – 23 sites, 6/15-10/31
Lewis Lake – 85 sites, 6/15-11/3
Follow more of our wild travels outside of Colorado at La Vida Nomad!