Passed down from the previous generation, Stoney Mesa Winery in Cedaredge, CO has been producing flavorful wines since 1989. The award-winning winery prides itself on sustainable agriculture – a low environmental impact method of farming.
Nestled beneath the southern slopes of the Grand Mesa, their winery is situated in the center of their 10-acre vineyard, which resides on their 50-acre farm. Here they produce some Merlot and Chardonnay.
But they also have another vineyard in Grand Junction, situated in the Grand Valley American Viticultural Area (AVA). This older, yet smaller, vineyard produces their Riesling, Cabernet Sauvignon, and Merlot. The original planting for this vineyard was done in 1982, making it one of the oldest commercial vines in the state.
Tasting Room
Their rustic indoor tasting room in Cedaredge is one that offers both charm and character, which is also met with an outdoor area overlooking the vineyards and grounds. It's perfect for enjoying your tastings or a glass of wine.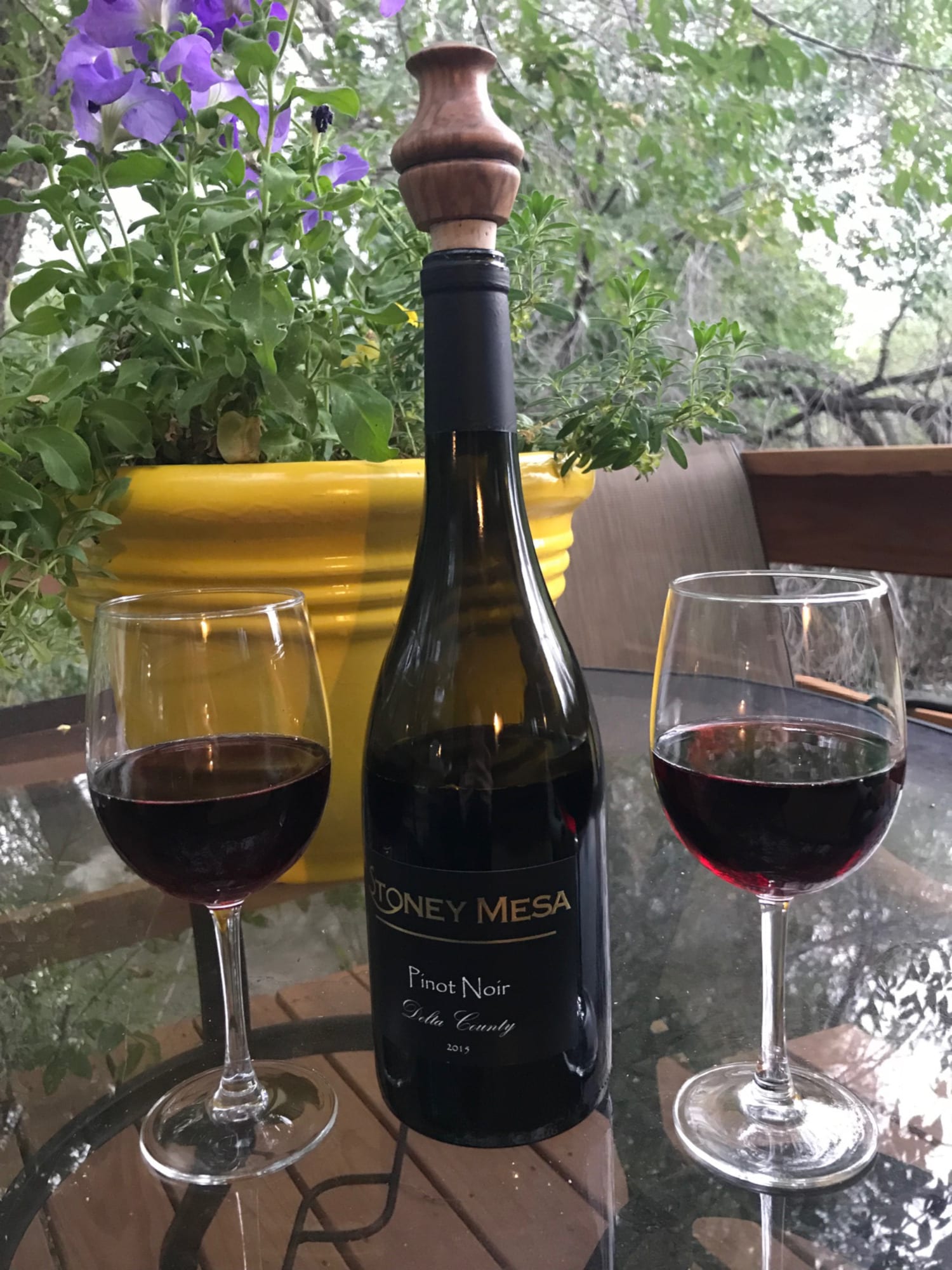 The tasting room, a true blast from the past, still stands today as it once did in the late 1800s. The structure itself was once an original homestead house, built at the turn of the 19th century. Although modern touches have been added, it's the family's goal to keep its original charm by decorating it with the materials that were found on the property.
Tasting room locations:
They have two tasting rooms located on Colorado's Western Slope. They do not charge a tasting fee at either of their tasting rooms.
Stoney Mesa Winery –
Cedaredge, CO
Monday – Saturday 11 AM to 5 PM and Sundays 12 PM to 3 PM
Ptarmigan Vineyards –
Grand Junction, CO
Call for hours
Varietals
Handcrafted from a family who admires and loves the beauty of Colorado wine, Stoney Mesa offers several different varietals that are sure to please all pallets. Offering mostly white wine, they also mix it up with their Cabernet Sauvignon, Merlot, and their single blush.
ARTcoop
Find a gift for yourself or a special someone at their on-site shop. Transforming the space inside the tasting room, local artists formed the ARTcoop and offer a beautiful display of local artists' talent. Visitors can shop a variety of art such as cards, jewelry, photographs, paintings, and metal art are all on display.
Winery Tours
Tours of the winery are offered at the Stoney Mesa Winery. While they are happy to provide impromptu tours, it is best to call and schedule a tour ahead of time.
Details
Address: 16199 Happy Hollow Rd, Cedaredge, CO 81413
Phone: 970-856-9463
Season: Year round
Website: stoneymesa.com