Like many Coloradans, Matt Feeney was an avid skier, mountain biker and all-round athlete. Then, in 1988, a cliff diving accident at Lake Powell paralyzed him from the waist down.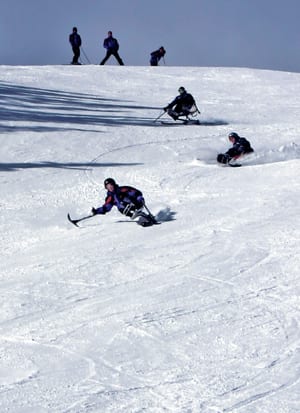 The incident, while tragic, did not interfere with his perception of himself as an athlete. He went on to found Adaptive Adventures, win two US National Downhill Mountain Bike Championships. In 2008, he achieved the title of Colorado Adaptive Athlete of the Year.
From Adaptation to Celebration
Three years after his life-changing accident, Feeney quit his lucrative financial industry job in Denver. He moved to Winter Park, Colo, to pursue adaptive ski racing, and develop his expertise in outdoor recreation. After training and competing with the Winter Park Disabled Ski Team, The National Sports Center for the Disabled hired him to coordinate the Sit-Ski Program.
Under Feeney's direction, the organization grew to over 300 volunteers. They now teach thousands of ski lessons annually. The photo on the left features a Breckenridge Outdoor Education Center (BOEC) ski race. Feeney teaches mono-skiing for the organization.
 Skiing Into the Light
Frosty Woodbridge, author of >How to Live a Life of Adventure: The Art of Exploring the World
(affiliate link), writes:
After breaking his back, Matt didn't sit on his back and die of depression. He refused to feel sorry for himself. He got back up from the bed and jumped into a wheelchair. In fact, he started racing wheelchairs…Instead of accepting his condition as a failure, Feeney engaged metanoia, which means a total consciousness change. He moved from fear and defeat to courage. He moved toward the light.
Speaking of light, the above video features Matt Feeney at a Ski for Light event at the Terry Peak ski area in South Dakota. Later, Feeney spoke to the KOTA TV news team about teaching adaptive ski turns:
If they (the skiers) start leaning like they feel like they have to lean to make a turn then they'll fall. So we create rotary movements by looking in the direction we are turning and pointing the outriggers and the ski will start turning.
His teaching method works for most disabled skiers, especially Rick Finkelstein.
The Movement: One Man Joins an Uprising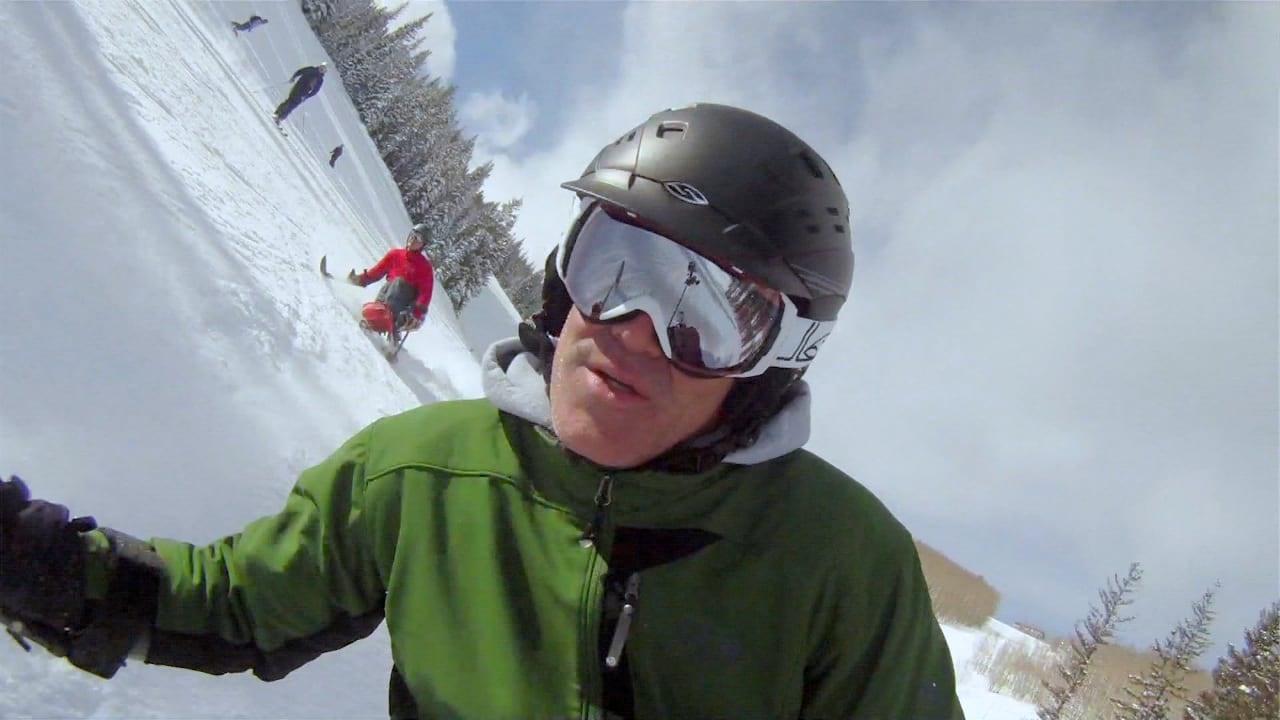 The Movement, One Man Joins the Uprising, follows a former skier who returns to the slopes years after an injury-induced paralysis. Kurt Miller, son of famed ski filmmaker Warren Miller, produced and directed the film.  The plot revolves around Rick Finkelstein, a Hollywood executive paralyzed from the waist down, as he learns to monoski at Snowmass.
For six years after his injury Finkelstein refused to return to skiing, a sport he once enjoyed. Kurt Miller offered him an opportunity to return to the slopes. Finkelstein's instructor: Matt Feeney, of course. During the film, Feeney says:
In your wheelchair, there's stairs, narrow doorways—you get in a monoski, and the sky's the limit, you can go virtually anywhere.
Warren Miller and Robert Redford narrated the film.
Read about a previous Colorado ski instructor or see them all.