The daughter of the co- founders of Stratton Mountain Ski School, former extreme skier and ski racer Kim Reichhelm embodies the spirit of the word "determination." Her tenacity began at age five, when she insisted she was old enough for ski racing camp.
After all, she reasoned, she had been skiing solo from the top of Stratton Mountain since age three. The camp managers disagreed. Kim bugged them for three years in a row, until she was finally accepted. This video shows Kim skiing at age four.

Kim Reichhelm's Racing Career
At age 13, Kim won the Vermont State Ski Championships. During her teenage years, she raced for the US Ski Team, then skied for the University of Colorado for four years while earning her bachelor's degree. After college, Kim joined the Women's Professional Ski Racing Tour. Aside from her impressive racing accomplishments, she is the only skier  — male or female — to have won the South American, US and World Extreme Championships in the same year.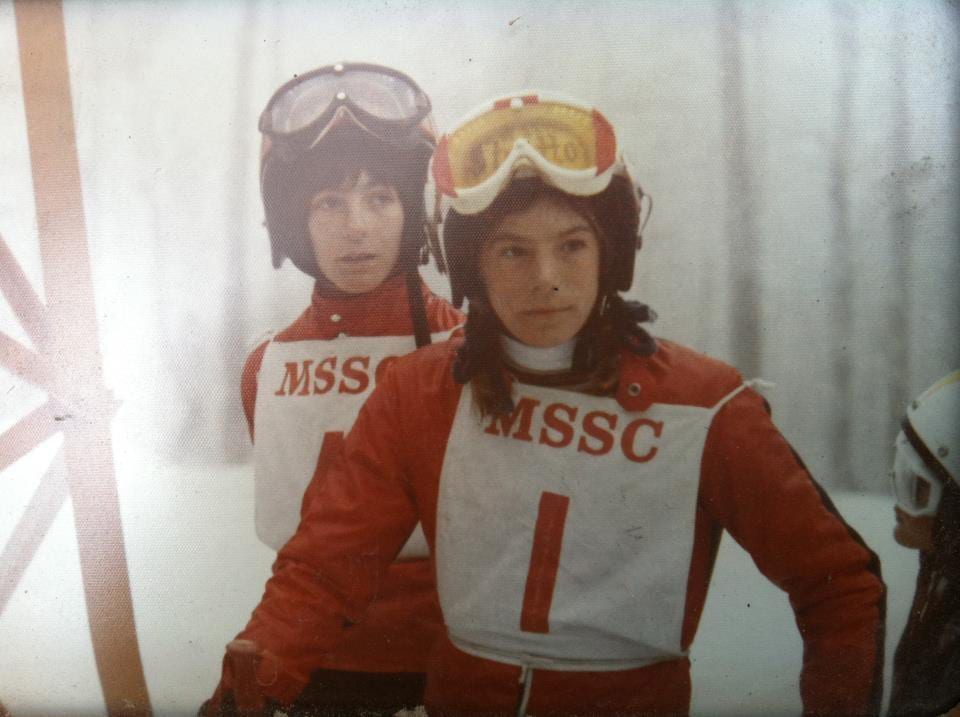 After three years on the tour, she quit racing and found work in the marketing and promotional factions of the snow-sport industry. ESPN hired her as a broadcast analyst, which allowed her to travel with the tour.  In 1996,  while working with the broadcast team in Squaw Valley, she took a break to ski a few runs. It was here that she realized that she missed the challenge. Groomers no longer thrilled her. She wanted to ski off piste.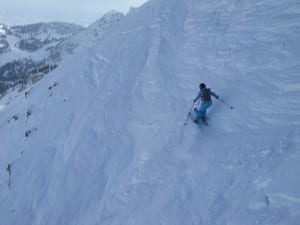 Kim told Freeskier Magazine how she joined a group of guys who were ripping lines on the Headwall and KT-22.
I positioned myself so that I was a single when they came up. They were in the lift line and I just happened to be there to ride the chairlift with them. I jumped on the lift and it happened to be Rob Des Lauriers. I didn't know who he was. I asked him, "Are you guys skiing that powder up there? How do you get up there?" And he checked me out with my racing gear. We got to the top and he goes, "Hey guys, this chick wants to ski with us." They onced me over and were like, "Well, we're hiking,"  all super cocky. I said, "Well I know how to hike. I've been hiking slalom courses my whole life. So I followed them up this ridge to the top of a cornice. It was all super fresh powder and they were all standing there kind of snickering like,  What's she gonna do now? And I stepped into my bindings first, jumped off the cornice first and skied the whole thing top to bottom. They all skied down and were like, "Yeah, you can hang out. What's your name again?
One of the guys in the group was Greg Stump, director and producer of the extreme ski film, Licensed to Thrill. He asked Kim if she would like to be featured in his film.
The Girl Who Hit the Tree
The camera whirred as Kim Reichhelm ripped through a maze of rocks. Suddenly, she has a close encounter of the worst kind with a tree. The impact sent her tumbling across the rock field, while her gear produced the iconic "yard sale."
The incident inspired Kim to create Ski With Kim, a ski clinic for women with fear issues. She now conducts ski adventures in Colorado and around the world. Some of the trips are for men and women.
Advice from Kim Reichhelm
Kim believes that many women choose skis that are too short for them. She told On the Snow:
1. Unless you are beginner, the ski should at least come to your nose.
2. If you are an advanced skier, it should come to your forehead.
3. If you like to go fast and make bigger turns, go longer.
4. If you like to ski bumps, ski slowly and make a lot of turns, go a little shorter.
5. The fatter the ski gets, the longer it should be.
Advice to women: 
Don't let some shop guy talk you into short skis.
Read about a previous Colorado ski instructor or see them all.