Cranor Hill Ski Area opened in 1962 and is still operating most seasons in Gunnison. There are four runs and one Poma lift. The season runs from January to March, Saturday and Sunday.
Support this local ski gem if you'll be passing through Gunnison County, perhaps while on your way to Crested Butte.
Terrain & Village
Cranor Hill Ski Area has a vertical drop is 305 feet across its 45 acres. Relying on natural coverage, Cranor is open an average of once in three years. By mid-January, if they do not have enough snow, which is roughly 16 inches, they call it a season. Started by a local businessman in the 1960s, he took a loan to buy a lift and place it on land donated by a rancher.
Unfortunately, due to snow issues, it was unable to open and was offered to the city a few years after purchase. On-site, there is an old-school lodge with concessions and ticket sales. The same poma F 12 single platter pull is still in operation and has a 1972 snowcat to pack the hill.
The ski area operates at an approximately $15,000 loss each season we open. However, their goal is to pay for the employee wages and concession items and the City supplements the loss out of general fund reserves.
Details
Address: County Road 10, Gunnison, CO 81230
Phone: 970-641-4655
Season: December – March | Depending on conditions
Hours: Saturday & Sunday | 10:30 am – 4 pm
Latest in Cranor Hill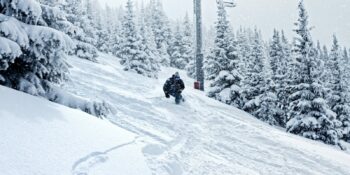 The list and map of Colorado ski resorts are jam-packed with gems in all corners of…