South Suburban Taxi is likely closed. Their website is down and their phone number re-routes you to Metro Transportation Planning and Solutions Group.
If you're around Castle Pines, Castle Rock, Centennial, Greenwood Village, Highlands Ranch, or Parker, South Suburban Taxi is one of the more relatively reliable car services in these areas.
Though other ride-hailing app services have become popular in Colorado, South Suburban Taxi has a loyal consumer base. However, it is important to note that they have a smaller fleet than the alternatives in the region.
South Suburban Taxi has an app available to commuters in the Denver Metro Area. The app is distinguishable because of its green logo and interface. Though they have a mobile app service, it's only said to be available on iOS.

If you're booking via the app, they have coverage around the Southern Denver Metro Area, South of Belleview Avenue, Douglas County, and nearby towns.
The booking is clean and straightforward. Just like other ride-hailing apps, you input your current location and ideal destination, and it will show you the estimated fare.
Castle Rock is one of the most significant areas of service for the company. Since there's limited public transport available in town, Castle Rock funds services like taxi vouchers and the Castle Rock Senior Center Shuttle. These vouchers are accepted in all South Suburban Taxi rides.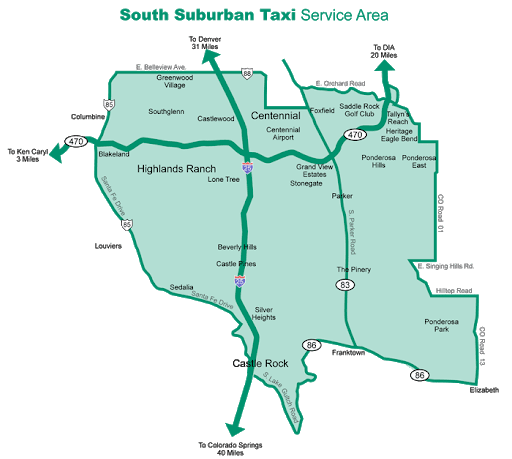 South Suburban Taxi reservations can be made 24/7, 365 days per year by calling 303-888-8888, but if you want to skip the queue, you can also book via their app.
The app shows you where your taxi is and how far away it is from your current location. It has an "on approach" feature to alert you when it's close. If you have other concerns, there's also a direct dial feature from the app so you can connect to their customer service.
Since this service is more traditional than other options, you can book your ride days in advance. This is ideal if you have a group trip or an event around these areas.
Details
Coverage:
Phone: 303-888-8888
Season: Possibly closed