Adjacent to the Blue Mountain Elementary School, Blue Skies Park is a small, 11-acre public space that's located about 6 miles southwest of downtown Longmont. Named after a popular airline pilot phrase and designed with an aviation theme, the park is just south of the Vance Brand Airport.
Filled with educational images and information visitors can walk along the "flight path" to explore various bits of air and space exploration history. Connected by a network of paved walkways, Blue Skies Park is found along the Dry Creek Community Park #1 Greenway, which features additional sports fields, playgrounds, and an 18-hole disc golf course.
Activities at Blue Skies Park
With ample shade, benches, a bird and butterfly garden, and a beautiful Rocky Mountain backdrop, Blue Skies Park is a great place to sit back, relax, and enjoy the outdoors. Thanks to its proximity to the Vance Brand, sometimes referred to as the Longmont Municipal Airport, visitors are often able to watch both planes and skydivers in the air nearby.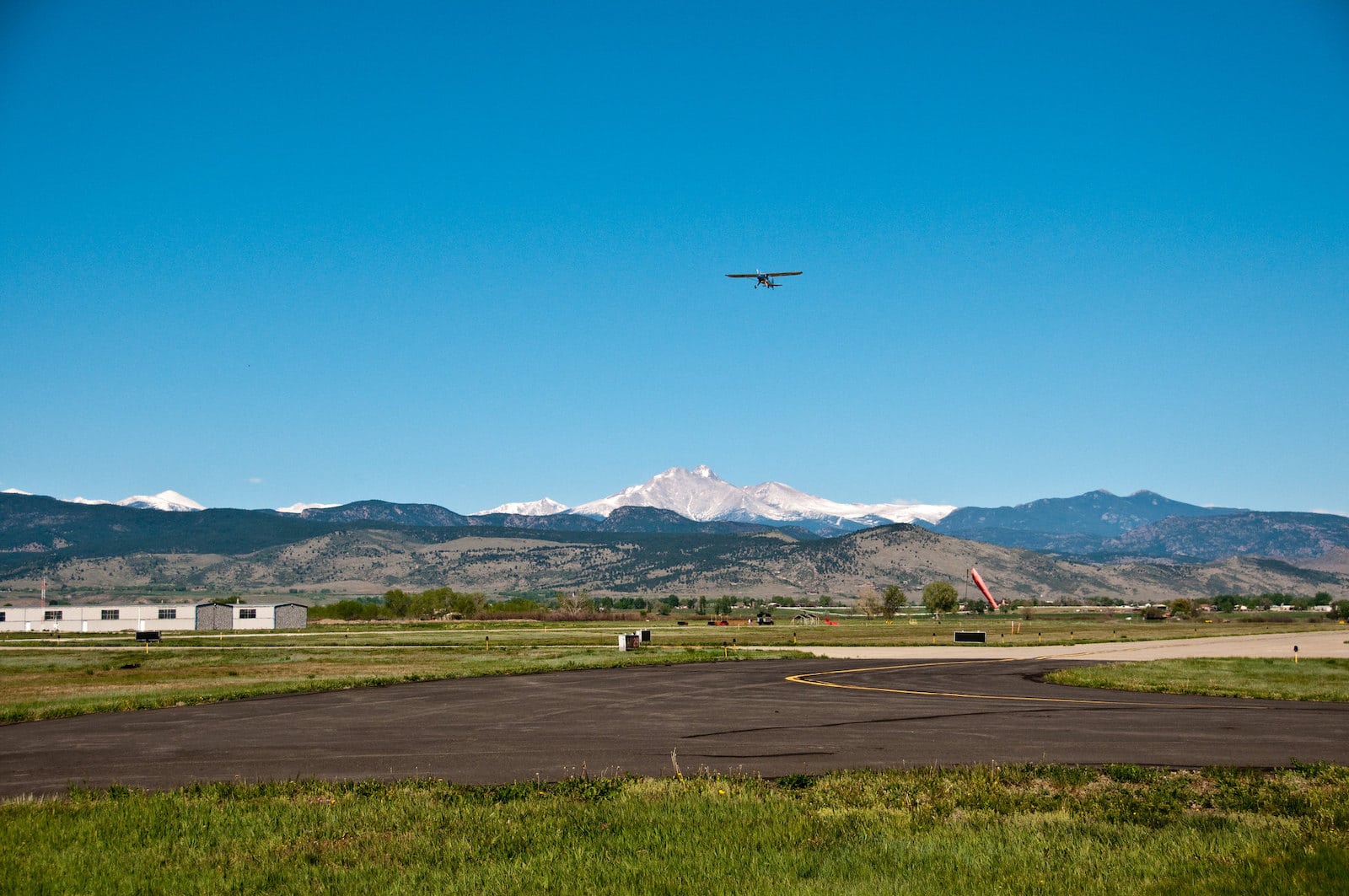 Off-leash dog park: There is a small, fenced-in, off-leash dog run near the center of Blue Skies Park with benches and minimal shade coverage. Due to the presence of prairie dogs and other possible wildlife, pets must always remain on-leash outside of the dog park.
Picnicking: Blue Skies Park features two first-come, first-served shelters with a total of six covered picnic tables, BBQ grills, and trash facilities.
Sports: In addition to the large, multi-use green spaces, Blue Skies Park is home to a full-sized basketball court, sand volleyball area, concrete roller hockey rink, and a small, beginner-friendly skate park.
Near the corner of Turin and Mountain Drive, there is a small parking lot on the south side of Blue Skies Park with room for about 25 vehicles. If the lot is full, additional street parking is also available in the area. Blue Skies Park is free, open daily, and has restrooms open seasonally.
Details
Address: 1520 Mountain Drive, Longmont, CO 80503
Phone: 303-776-6050
Season: Year-round | 5 am – 11 pm
Website: longmontcolorado.gov…