Another example of former industrial mining pits being restored to a lovely nature area, the Golden Ponds Park & Nature Area in Longmont, Colorado is a diminutive oasis for anglers and birders. Restoration work completed after a major flooding event in 2013 has made the Golden Ponds area even more accessible, with an improved pedestrian bridge over the repaired spillway.
Activities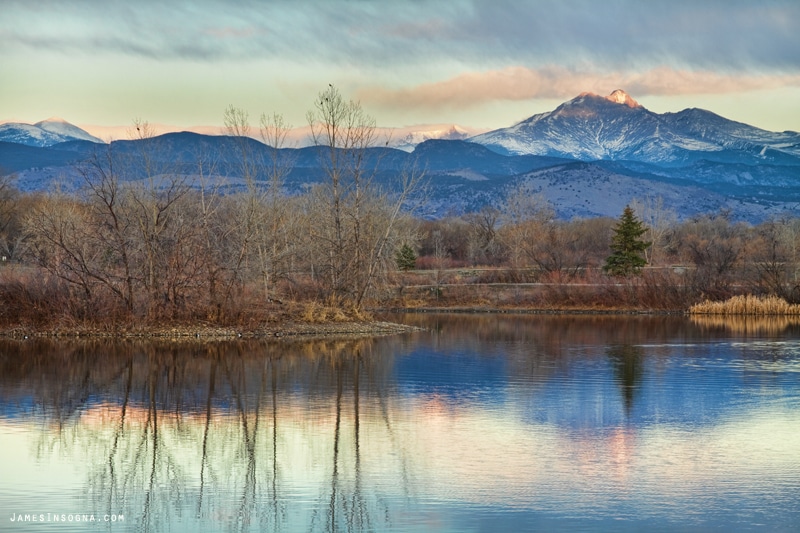 Fishing & Belly Boating – The four ponds at the Golden Ponds Nature Area are stocked with bass and perch, and belly boating is permitted. Anglers of all ages are sure to enjoy casting their line in these peaceful ponds and there is also an ADA-accessible fishing pier.
Bird Watching – Avid birders will be pleased to find a variety of duck species in winter, several swallow species in spring, and migratory birds in summer and fall.
Nature Trail – Dog walkers, cyclists, and joggers share the 2.5-mile trail that meanders through the Golden Ponds Park and Nature Area. With plenty of benches and opportune spots for a picnic, it's easy to spend a morning strolling through the area and appreciating the beautiful mountain landscape.
For sweeping mountain views, excellent fishing opportunities, and plentiful birding opportunities, Golden Ponds Park and Nature Area is well worth a visit.
Directions
Address: 2651 3rd Avenue, Longmont CO 80503
Phone: 303-651-8416
Open: Year-round | 1 hour before sunrise to 1 hour after sunset
Website: longmontcolorado.gov/….