A stunning beauty nestled inside the San Isabel National Forest, Mt Antero is primarily known to have the highest gem field and high concentrations of aquamarine within the conterminous United States. Named after Chief Antero of the Uintah band of the Ute tribe, this 14,269 ft peak is near Nathrop and Buena Vista. It hosts one of the highest roads within the United States.
Trail Routes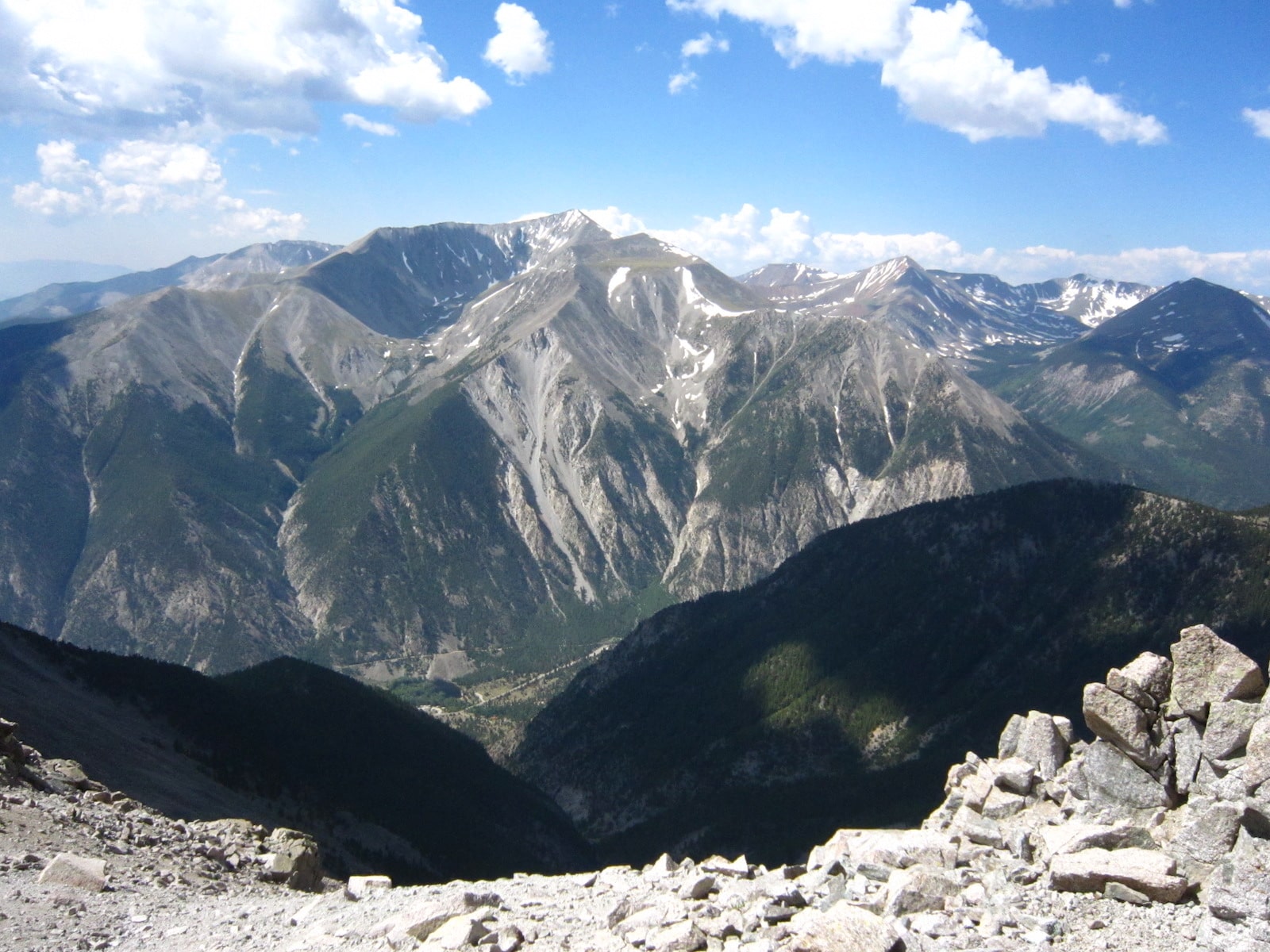 Mt Antero has three trailheads, two being a Class 2 while the Cascade Campground leading into the North Face is highly advised as a snow-only winter route specifically for extreme skiers and snowboarders.
The West Slopes is a roughly 16-mile roundtrip from the 2WD parking area, and a 7-mile roundtrip if able to reach the 4WD accessible trailhead. It can be found by taking U.S. 285 south of Buena Vista and turning right onto Chaffee County Road 162. Continue for roughly 12.5 miles (the road switches from pavement to dirt about halfway) to Baldwin Gulch Jeep Road (277 Road) on the left.
Plenty of parking spots are available in this area and those with 2WD vehicles are urged to park here and hike the rest of the way up. If in a high-clearance 4WD, continue up 277 Road and above the river crossing to find parking, dispersed camping, and the trailhead.
Browns Creek is roughly 14 miles roundtrip and has wheelchair-accessible bathrooms at the trailhead. From Highway 285 go west on County Road 270 which eventually turns into Forest Road 272. Keep an eye open for a cattle guard and sign that shows entry onto Nation Forest lands. After about 2 miles, turn left at the intersection and continue straight until reaching the trailhead.
Cascade Campground trailhead begins going south of Buena Vista on Highway 285 until reaching County Road 162 and turning right. Continue on for roughly 9 miles until reaching Chalk Creek Road (County Road 162) where an old grade on the south side of the road can be found – this is the trailhead.
Activities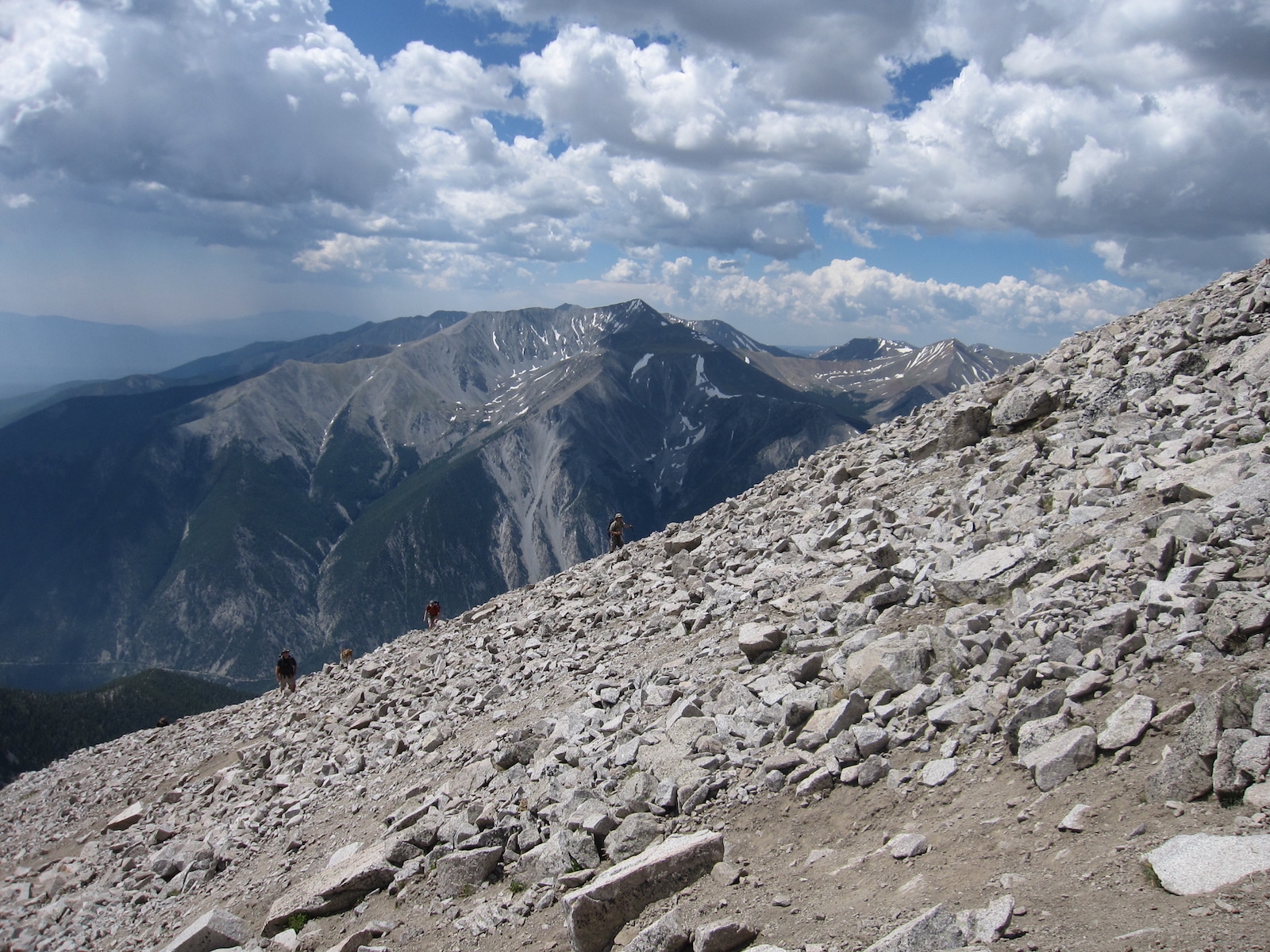 Camping – Dispersed camping is found along 277 Road, though it's advised to camp at least 3 miles into any trail away from the trailhead, and 150 feet or farther from trails, lakes, and streams. There are a few campgrounds in the area that accept RVs and have a fee.
Read about the camping near Buena Vista and Nathrop.
Hiking – The paved trail at Mt Antero is very family-friendly, but be cautious of motorized vehicles and horseback riders. Sweeping views and lush flora make the long hikes worthwhile. Stop for a picnic or snap some memorable shots as you ascend. This is a popular mountain, especially during warmer months, so please be courteous to other visitors and remember to bring plenty of water, snacks, and proper clothing for sudden weather changes.
Horseback Riding – Take a peaceful ride through incredible surroundings on horseback. Most parking areas are large enough for equestrians to bring in their own horses. For those visiting, multiple outfitters are located in both Salida and Buena Vista for hourly or full-day riding. For pricing and availability, be sure to call ahead.
Rock Climbing – Whether ascending or descending, Mt Antero has amazing views from the top to bottom. Venturing into the beautiful wilderness during the summer months is the ideal time to climb, while winter climbing will need additional skills and equipment.
Winter Sports – Experienced thrill-seekers can tackle the North Face in the winter months for extreme snowboarding and skiing. Those who prefer snowshoeing and cross-country skiing will find the terrain is easy to navigate, flat, and perfect for cold morning excursions in the Browns Creek area.
Details
Address: San Isabel National Forest, Chaffee County, CO
Nearby Towns:
Elevation: 14,269 ft (4349 meters)
Pets: Yes – on leash
Season: Year-round
Sources for additional trailheads:
https://www.summitpost.org/mount-antero/150372
CASCADE (COLORADO), Colorado Campground Images, Info & Reservations

https://www.fs.usda.gov/recarea/psicc/recreation/recarea/?recid=12639&actid=34