North of Lyons, Hygiene, and Longmont, the Ron Stewart Preserve at Rabbit Mountain, formerly Rabbit Mountain Open Space, is a Boulder County public park open daily from sunrise to sunset. Boasting about 5,000 acres, the preserve is a great location for short, scenic hikes with several options to choose from.
Nestled into the easternmost foothills of the Front Range, the park offers expansive views of the Rocky Mountains and Great Plains as well as dozens of seasonal wildflower varieties. In 2016, the Rabbit Mountain Open Space was officially renamed the Ron Stewart Preserve at Rabbit Mountain to celebrate the retirement of the eponymous Boulder Parks and Open Space Director.
Activities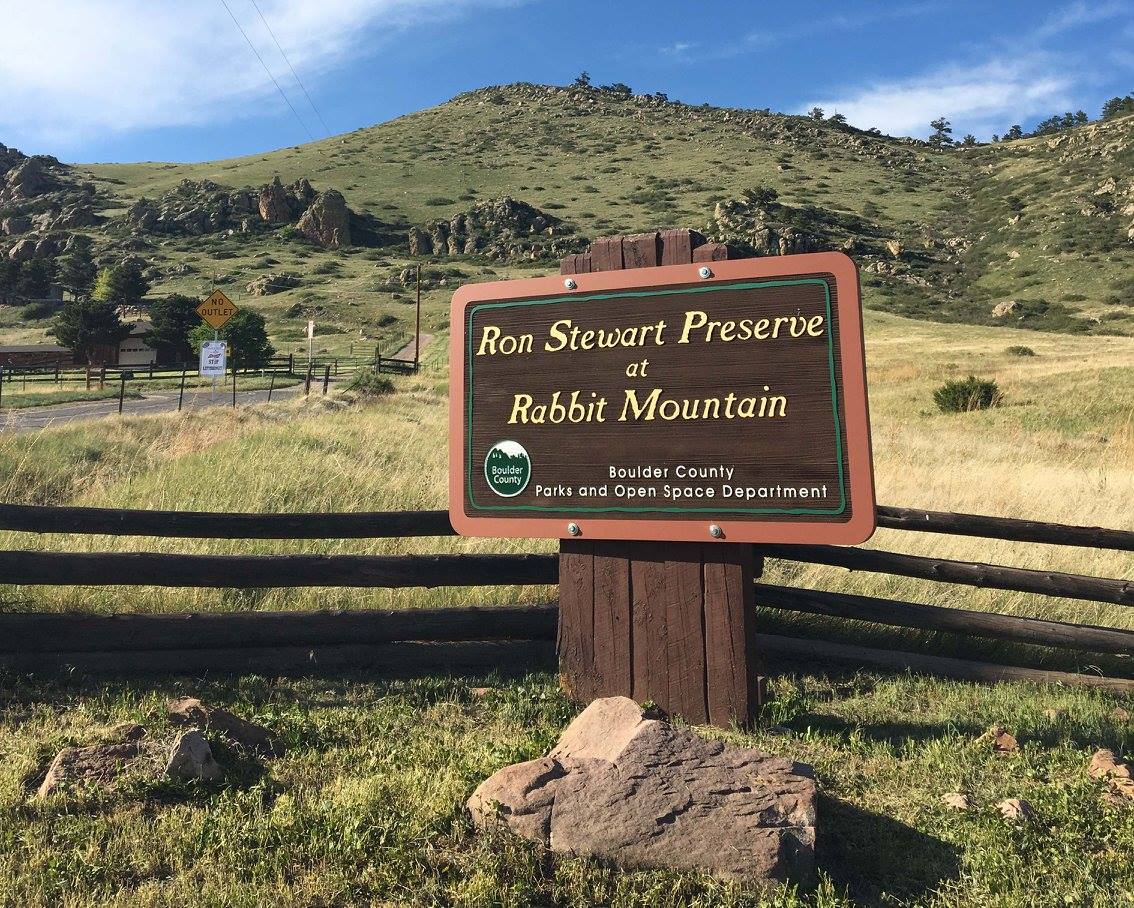 Birding: A great place for birdwatching, Rabbit Mountain is home to many different species including falcons, kestrels, hawks, owls, golden eagles, bushtits, poorwills, wrens, and jays. By taking the aptly named Eagle Wind Loop, birders can hed to the end end of the park, which acts as a seasonal nesting ground.
Hiking: With relatively easy trails throughout, Rabbit Mountain is very popular for family-friendly hiking and trail running. Although there are a few steep and rocky sections, visitors have the choice of 3 unique trails, suitable for all ability levels.
As the most popular trail, the Little Thompson Overlook Trail is a 1.5-mile uphill hike (3 miles out and back), with about 350 ft of elevation gain along the way. The overlook provides expansive views of the area. Alternatively, hikers can enjoy the 2.2-mile Indian Mesa Trail (4.4 miles out and back), which has less elevation gain, or the easier Eagle Wind Trail, which is a mild, 2-mile loop.
Horseback Riding: Equestrian travel is permitted on all three trails within the space. Horseback riders should note that any feed brought to Rabbit Mountain must be weed and weed-seed free.
Mountain Biking: In addition to foot traffic and equestrian travel, non-assisted mountain bikes are also permitted at Rabbit Mountain. However, due to the popularity of the area, heavy trail use may make it difficult to enjoy a fluid mountain biking experience.
Picnicking: Next to the parking lot and restrooms, there is a large covered shelter and BBQ grill, with shaded picnic tables and room for about 30 people.
Wildlife Viewing: Rich with wildlife diversity, Rabbit Mountain is home to prairie dogs, lizards, snakes, mule deer, elk, mountain lions, and many other Rocky Mountain species. And while visitors may see some hares and cottontails scattering around, the space is said to have been given its nickname for the shape of its foothills resembling a sleeping rabbit.
Primarily composed of grass and scrubland, Rabbit Mountain has minimal tree coverage, and visitors should be prepared for sun exposure. Popular in the winter, the heavily trafficked trails typically dry fast and can be used year-round. Accessible with any passenger vehicle, parking is available on the west side of the property in a large lot with room for 38 cars and 4 horse trailers.
The area tends to be very busy on weekends and during peak hours, with overflow parking available along the road when necessary. On-site, there are well-maintained restrooms. Dogs are welcome within the park on a leash, and owners should keep a constant lookout for rattlesnakes, mountain lions, and other potentially dangerous animal encounters.
It should be mentioned that camping, campfires, and firearms are all strictly prohibited at Rabbit Mountain. Drones are also not welcome unless pilots secure an approved permit before their visit.
Details
Address: 15140 N 55th St, Longmont, CO 80503
Phone: (303) 678-6200
Season: Year-round | Sunrise to sunset
Website: bouldercounty.org…