With a rich history that dates back to the Roaring 20s, Viestenz-Smith Mountain Park, in Loveland, provides visitors with ample space to explore Colorado's great outdoors. This park is perhaps best known for its variety of hiking trails and unique kids' play area, but all visitors are sure to find something to enjoy here.
History
When it first opened in 1925, the Viestenz-Smith Mountain Park looked significantly different from what it is today. It was built near the new light and power plant before expanding greatly in 1926, encompassing 400 acres of land and offering opportunities for activities such as hiking and picnicking.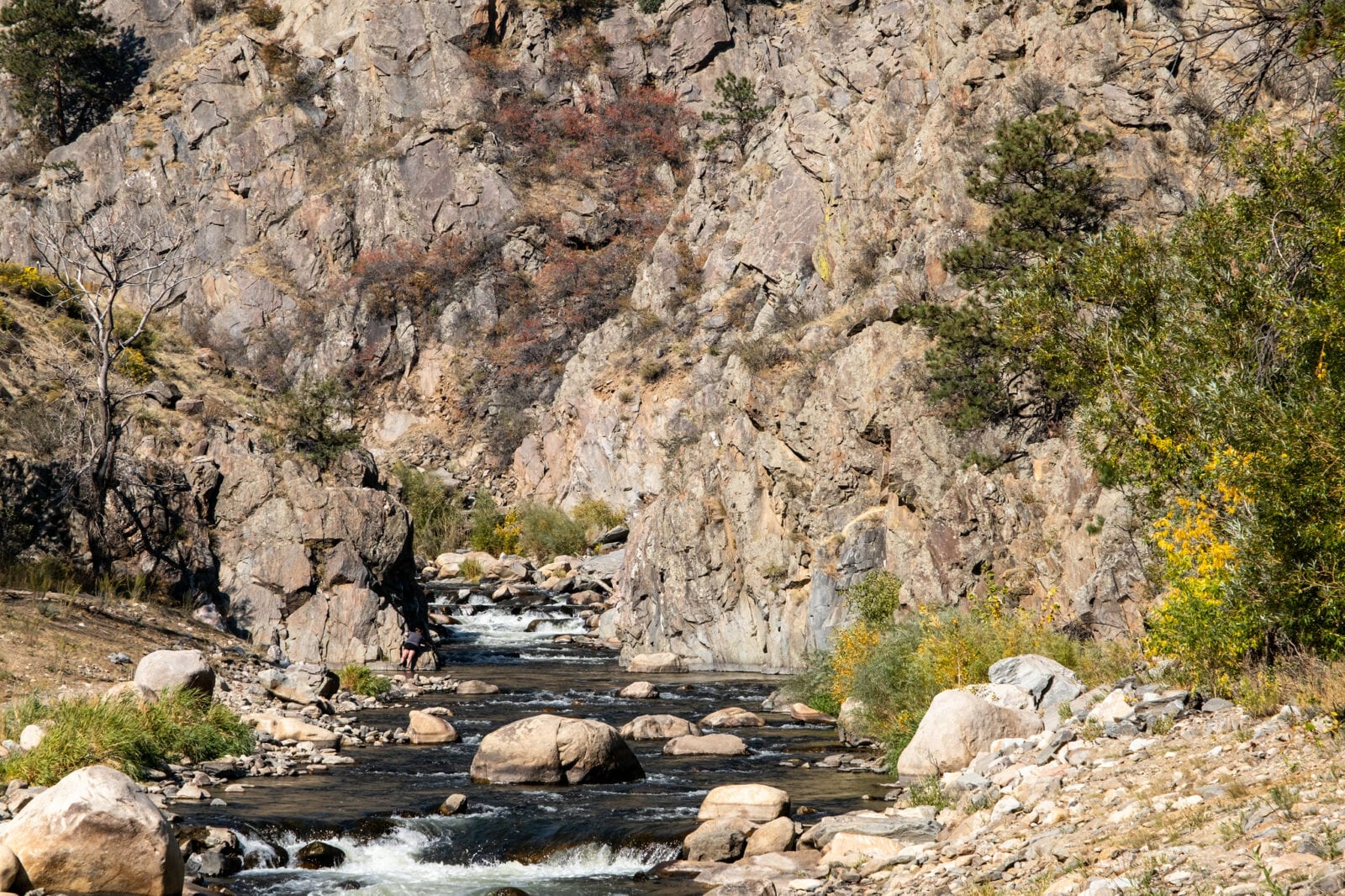 In 1926, a flood of the Big Thompson River washed out the dam, destroying the pipeline and temporarily closing the power plant. Despite the new flood-resistant dam, in 2013, the Big Thompson flooded once again, destroying much of the park, including the Civilian Conservation Corps structure and all other amenities.
For the next five years, various partners worked on a highly detailed reconstruction plan for the area. The park finally reopened in 2018 after approximately four million dollars of reconstruction were put into it, which included realigning the river and ensuring that the property would be resistant to future flooding.
Activities
Viestenz-Smith Mountain Park is a great place to spend the weekend with family. Boasting play areas for kids, multiple hiking trails, and ample space to get some fresh air, you will have plenty to do while visiting.
Kid Zone
One of the newest additions to the Viestenz-Smith Mountain Park is a children's play area known as the Exploration Zone. This unique playground consists of logs, boulders, and other materials that were found on-site. It was designed to remain natural and consistent with the rest of the park, while also encouraging children to use their imaginations as they play.
Hiking
Hiking is another very popular activity at this park. There are multiple hiking trails that vary in length and difficulty, meaning you will always a trail that suits your hiking needs. Popular trails in the area include Sheep Mountain Trail, Round Mountain Nature Trail, and Dome Mountain Trail.
Exploring
Due to the park's history, the entire property is a great place to explore. While a few pre-flood historical elements still remain, there are new sculptures that have been installed in the area. Take a stroll on the paved, winding path and cross the two pedestrian bridges, all while paying attention to all the interesting elements around you.
Whether you want to take your kids out for an exciting adventure, go on a long, hard hike, or just enjoy the beautiful views of the Colorado Rocky Mountains, the Viestenz-Smith Mountain Park encompasses all of this and more.
Details
Address: 1211 W. Highway 34, Loveland, CO 80537
Season: April – October | 8 AM – Dusk
Website: lovgov.org…