740 Front is the last saloon out of the original thirteen that lined Louisville's Front Street. Together with the famous Del Monte Bar, made of cherry, birch, and mahogany cut to fit design, the saloon gained its popularity because of its very rich history.
Each artifact and original material has been repurposed to be part of the renovated and restored establishment- each with a story to tell.
An American Dining Saloon
In 2015, 740 Front building was designated as a Historical Landmark. At present, this American diner is a haven of food, drinks and history, providing a variety of delicious food options for all.
They have a wide diner style menu, ranging from appetizers, entrees, pasta and salad, as well as sandwiches, burgers, and certified Angus and Kobe/ Wagyu beef steaks. They also offer a gluten-free Hamburg Steak that you can pair with three choices of gluten-free salads- a healthy option in their delectable menu. To complete your meal at 740 Front, the restaurant also has artisan beers and quality wines.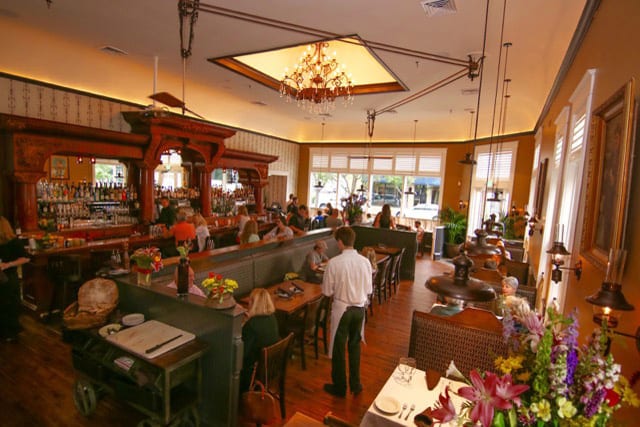 Private Dining Rooms for Reservation
For private dinner parties and gatherings, 740 front has four classic-designed rooms that you can choose from. First is the "Coal Miners Room", which is best for corporate meetings. This 1904 original, exposed brick room can accommodate 30 standing or 24 seated guests and has a 50-inch flat screen with visual and audio for laptop connection.
The second room is the semi-private "Upper Loft Dining" that overlooks the main dining saloon. This airy room welcomes guest with its high original wood finished ceiling and can warmly accommodate 40 standing or 32 seated guests.
For a more intimate gathering of 9 to 14 people, "The Parlor Room" would be the perfect fit. It has a fancy décor of wall paper, chandelier and a lot of natural light to make you feel like you are in your own home. Finally, the "Main Dining Saloon", located in the middle of the restaurant, is best fitted for bigger events of 40 to 50 guests. It features the famed 135-year-old Del Monte Bar.
740 front is open daily except for Thanksgiving, Christmas Day and New Year. Lunch starts at 11:30 AM from Tuesdays to Fridays while brunch on Saturdays  starts at 11am and Sundays at 10 AM. Call 720-519-1972 for reservations.
Details
Address: 740 Front St, Louisville, CO 80027
Phone: 720-519-1972
Website: 740front.com