In the great ski town of Crested Butte, the historic Wooden Nickel is the perfect spot to dine, drink, and mingle after a day on the slopes or explore the surrounding Elk Mountain Range. Patrons are welcomed by its charming purple exterior with green and blue trims, while a classic lamp post illuminates the doorway.
Inside, the ambiance is just as inviting, with warm floor-to-ceiling mahogany, a cozy rustic atmosphere featuring a fireplace, outstanding service, and delectable dishes.
A Night at Crested Butte's Wooden Nickel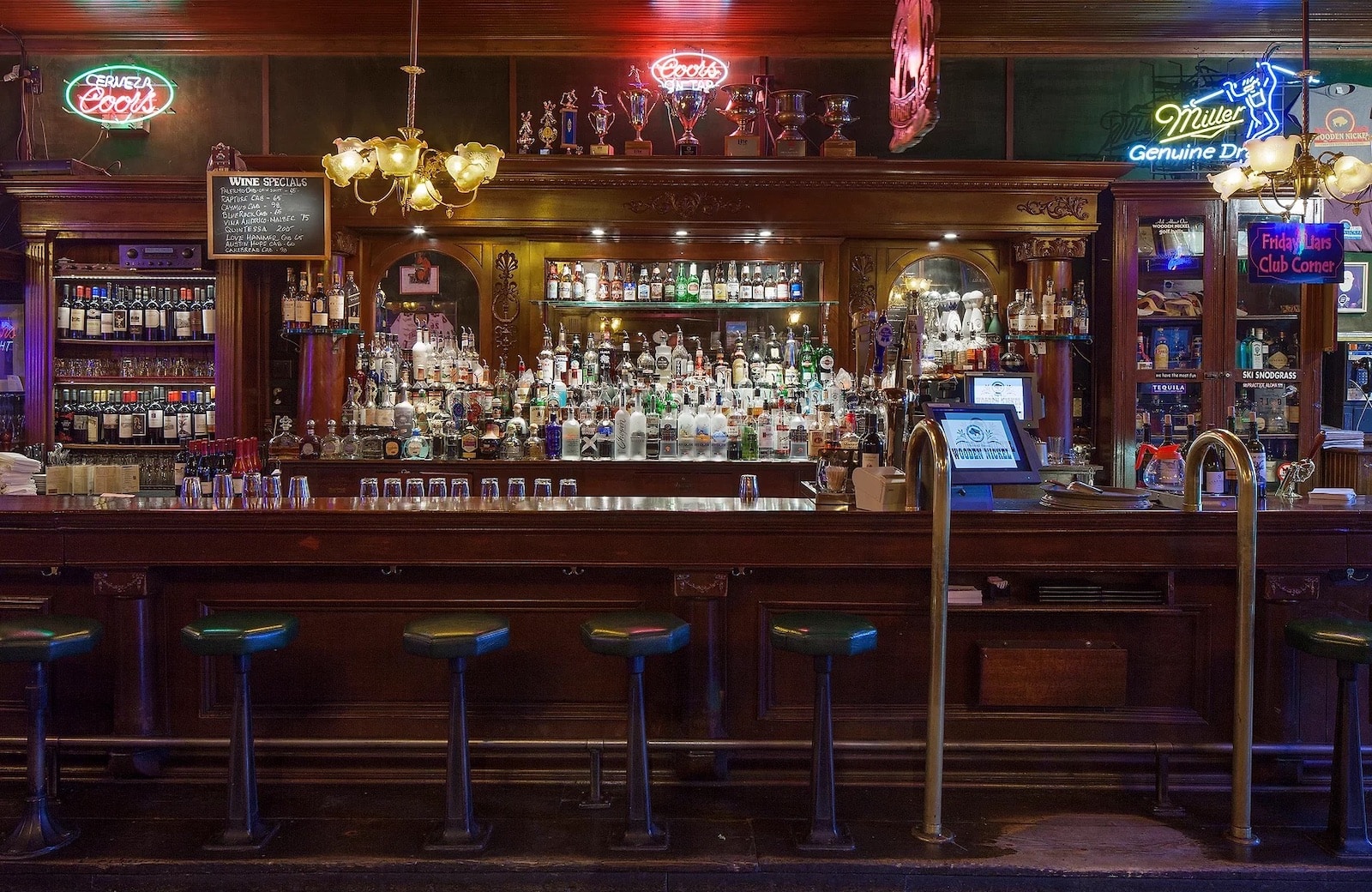 This lively saloon doubles as a top-end steakhouse that has an extensive menu featuring an array of American regionally inspired cuisine including elk tenderloins and buttery lobsters. Their drinks are equally impressive, serving a variety of creative cocktails, top-shelf liquors, full-flavored brews as well as rich wines that perfectly compliment their steaks and seafood.
Between 4 pm and 6 pm and 9 pm to 11:45 pm, visitors can take advantage of their happy hour menu, with significantly discounted drinks available at the bar. Patrons can also enjoy late-night live music on Friday nights, with performances from talented local and touring musicians.
Centered in Crested Butte's colorful downtown, just outside of the Wooden Nickel there are endless opportunities for fun, with an array of shops, galleries, cafes, lodging options, and stunning 360º views of the Rocky Mountains.
History
The Wooden Nickel is one of the oldest standing establishments in town and remains a staple amongst the Crested Butte community. In 1880, the location boasted a popular tavern that transformed into a pool hall during prohibition. In 1929, the building was sold, demolished, and rebuilt, eventually becoming Bill's Tavern, more commonly known as Sharky's.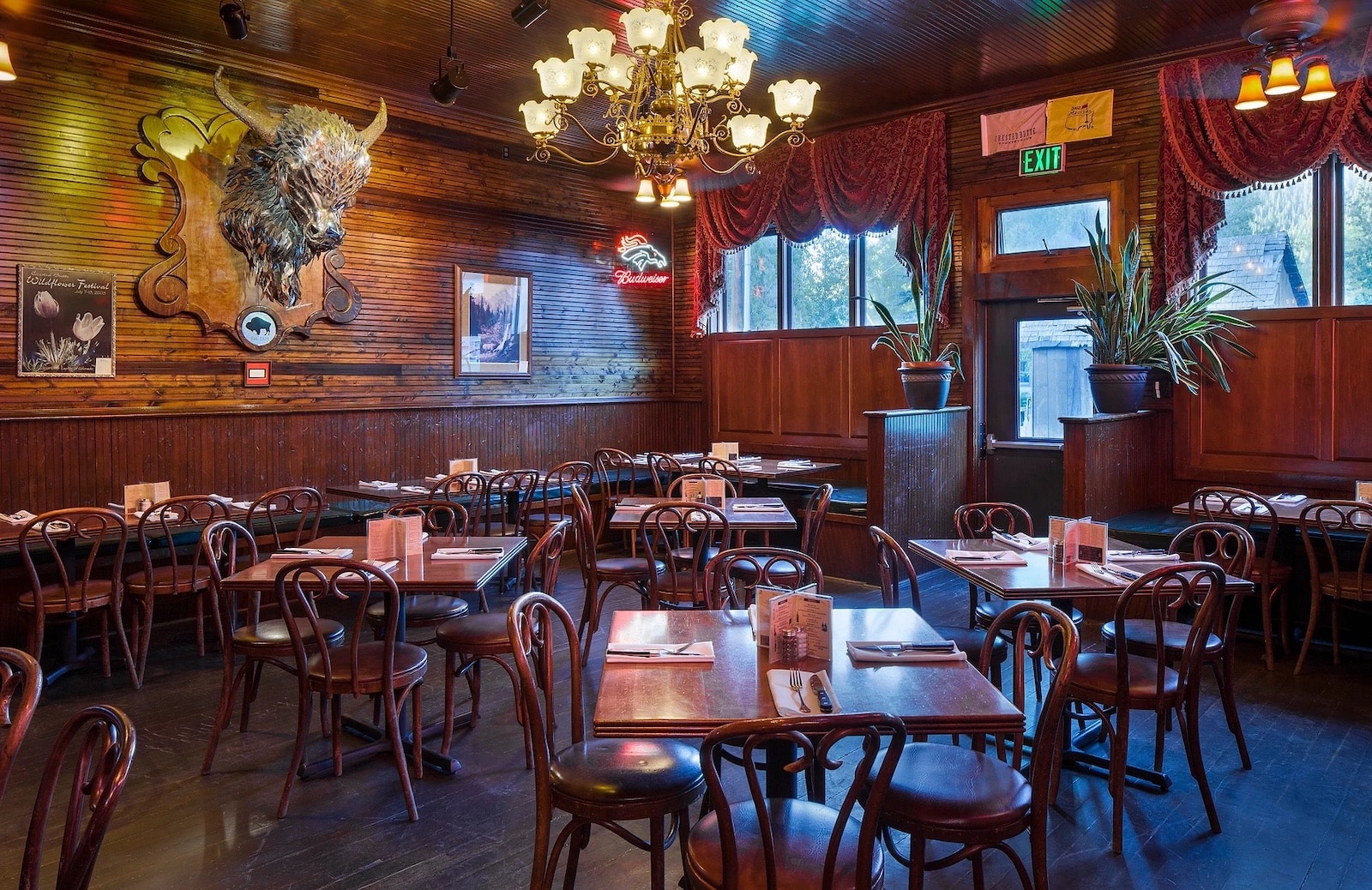 The new structure, where the Wooden Nickel sits today, featured many aspects of the original building, including the bar. Throughout the 20th century, it changed ownership and names many times, while consistently maintaining its small town feel and appeal, collecting many treasures along the way like the elk head on the wall which was hunted in 1939.
In 1971, the tavern became The Wooden Nickel. A little over a decade later, a devastating fire ignited in the front of the building, though the original bar remained virtually unscathed. In a testament to its value in the community, local construction workers banded together to rebuild their favorite saloon in just 10 weeks.
Today, the bar remains true to its many traditions and is highly recommended by generations of Crested Butte residents, along with visitors to this cheery town nestled in the mountains. The Wooden Nickel is the perfect spot for large celebrations, intimate dinners, post-work (or play) drinks, and everything in between.
Details
Address: 222 Elk Ave Crested Butte, CO 81224
Phone: (970) 349-6350
Hours: Tuesday – Saturday (open at 5 pm/close time varies daily) | Closed Sunday & Monday
Website: woodennickelcb.com