Camping out in nature is one of the most rewarding experiences you can have. So it's important to do what it takes to make it as effortless as possible. Turn your night camping into a luxurious wilderness escape, with the best glamping gear and accessories.
Some people need a few more creature comforts than others though in order to get out there camping. You probably know a non-camper, talking about needing a real bed to sleep in at night. Perhaps they just need to enhance their camping with some glorious glamping accessories. Maybe consider renting an RV in Denver, if you'll be road tripping the Rocky Mountains.
Luxury Camping Gear for Glamping
Glamorous camping, or glamping, means you still get to enjoy a nice night around the campfire with friends and family, rather than a forgettable night in some hotel room. And whatever your level of camper is: a rustic minimalist or five star glamping royalty, there are always a few accessories that can elevate the level of luxury for you and your crew.
Camping is available nearly everywhere in the U.S. It's also usually awesome wherever you go, especially with luxury camping gear. The right glamping equipment will turn even the most die-hard hotel-loyalist into a summer car-camper, eager for their next overnight journey into the great outdoors.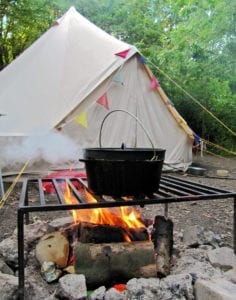 Glamping accessories run the gambit from cheap, thoughtful items, which are just enough to keep things interesting and pleasant, to "holy-cow I can't believe Jon brought that…it's insane!". We cover all the ranges of camping equipment, going beyond a tent, sleeping bag and flashlight. It's time for a true glamp out.
Here's how to turn your camping into glamping:
(This section contains referral links. If you click through and take action, we may receive a commission, at no additional cost to you.)
Luxury camping gear for a great night's sleep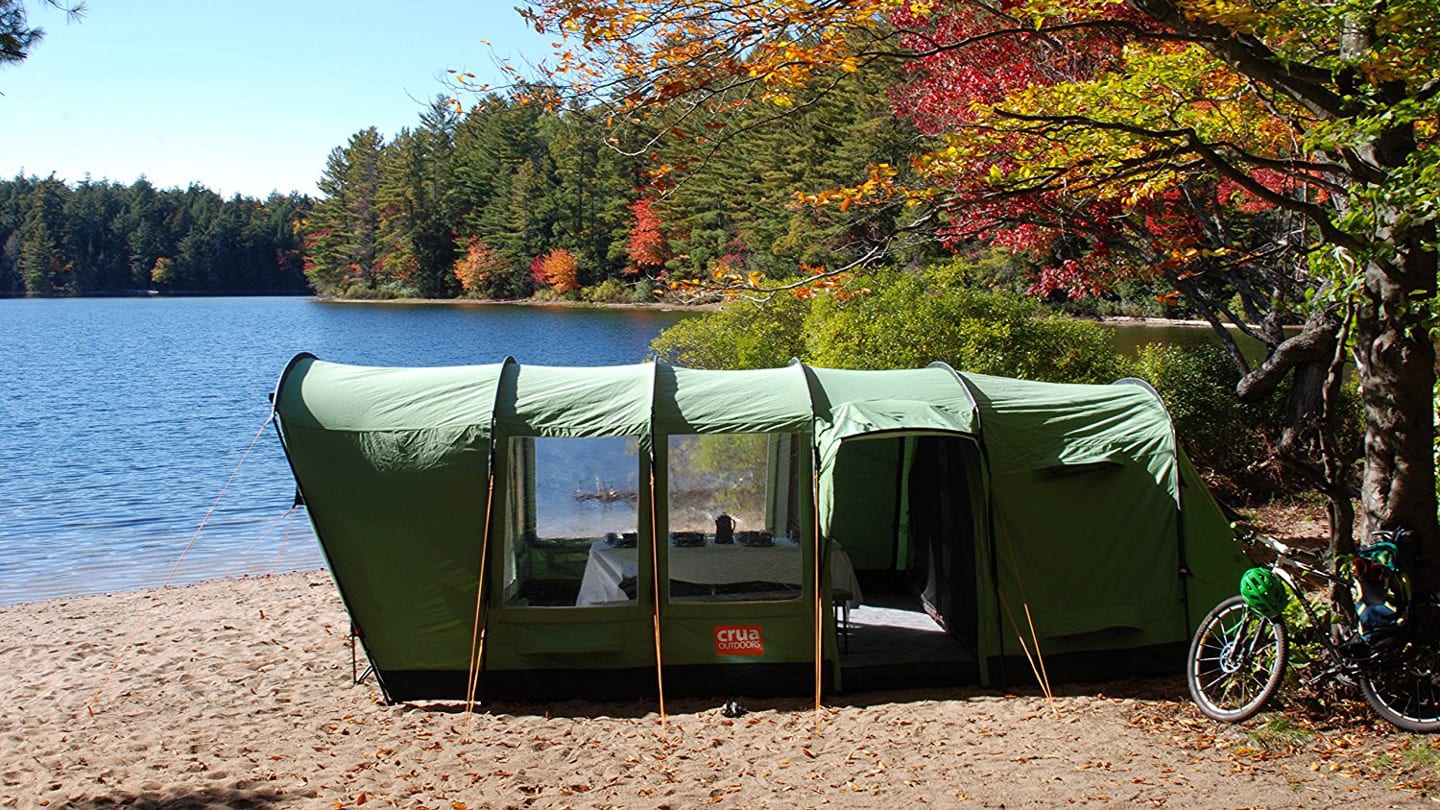 Whether you have work in the morning or just a leisurely day around the campsite, a restful night's sleep is of the utmost importance. And although you're away from your queen size mattress at home, you can still surprise yourself with how well you sleep under the stars.
1. Crua Loj 6 Person Luxury Tent
A house is a basic necessity. A luxury tent for glamping, perhaps not, however life's about having fun. A high quality tent is an investment for years to come, so it's important not to skimp on something that might lead to wet nights and pitching frustration. You want something that can be set up easily, within 20 minutes, and ideally with only one person.
Do you need a dining room table inside your tent? Sure you do. This extravagant thermo insulated, waterproof family tent for six, is a four seasons palace. Unlike other glamping "tents" with stakes that stretch twenty feet away like a festival canopy, the Crua Loj is indeed a tent, just a very expensive one. Everything is built for tough performance and true luxury glamping. The walls use a patented TT Insulation layer, which keeps you warmer in cold weather and cooler in the summer. It can even fit two queen size beds, has three doors and a huge living space.
Other option: If you want to cut the price in third, and still impress your friends with a glorious fortress, opt for the Crua Tri 3 Person Luxury Tent
. It's got the same special thermo insulated design, perfect for glamping in all seasons. It's also got a cool porch area.
2. Coleman Queen Airbed Folding Cot
Okay so the number one complaint I hear from non-campers unwilling to join in the fun, is that they need a real bed to sleep in at night. Well that's really no problem if you pick the right portable mattress. Then I bet you'll probably sleep better camping with the soothing sounds of nature at your tent door than at home.
This Coleman cot is probably the next best thing to bringing your home bed with you. In addition to its lavish queen size mattress, which rolls up nice for storage, and fold-up frame, it comes complete with side tables and a 4D battery pump. The rugged, yet lightweight steel frame holds up to 600 lbs. Remember you'll probably need at least a three or four person tent to handle this glamping bed.
Other option: Okay, so the above bed may take up too much space, especially for the solo glamper. At least get yourself proper body support with a lightweight, fast-inflating Klymit Static V Sleeping Pad
. It comes in a variety of sizes and shapes, including one that even fits in a hammock!
3. Teton Sports Double-Wide Sleeping Bag
Being warm at night is tantamount to a comfortable camping trip. Sleeping bags range in size, shape and thickness. Some are mummy shaped, which are lightweight, perfect for backpacking, and extremely efficient at trapping in body heat, however, they are a bit restrictive, and glamping means freedom, and car camping so you have space.
If you want to snuggle with your partner, you gotta go double wide. The Teton Sports Mammoth sleeping bag is rated to 0°F, so it can handle the coldest summer camping you'll probably encounter (and you can always add long johns). It fits ideally on a queen size cot or big blowup mattress. The lush inner lining will keep you feeling lavish, while separate side zippers ensure flexibility for each body.
Other option: If you are sleeping solo, save the space and increase efficiency with the TETON Sports Celsius XXL Sleeping Bag
. It's also 0°F rated and features a smooth mountain-man red flannel lining. Plus you'll get no cold spots because of the thermal enhancing, double-layer offset stitch construction.
Luxury camping gear for eating right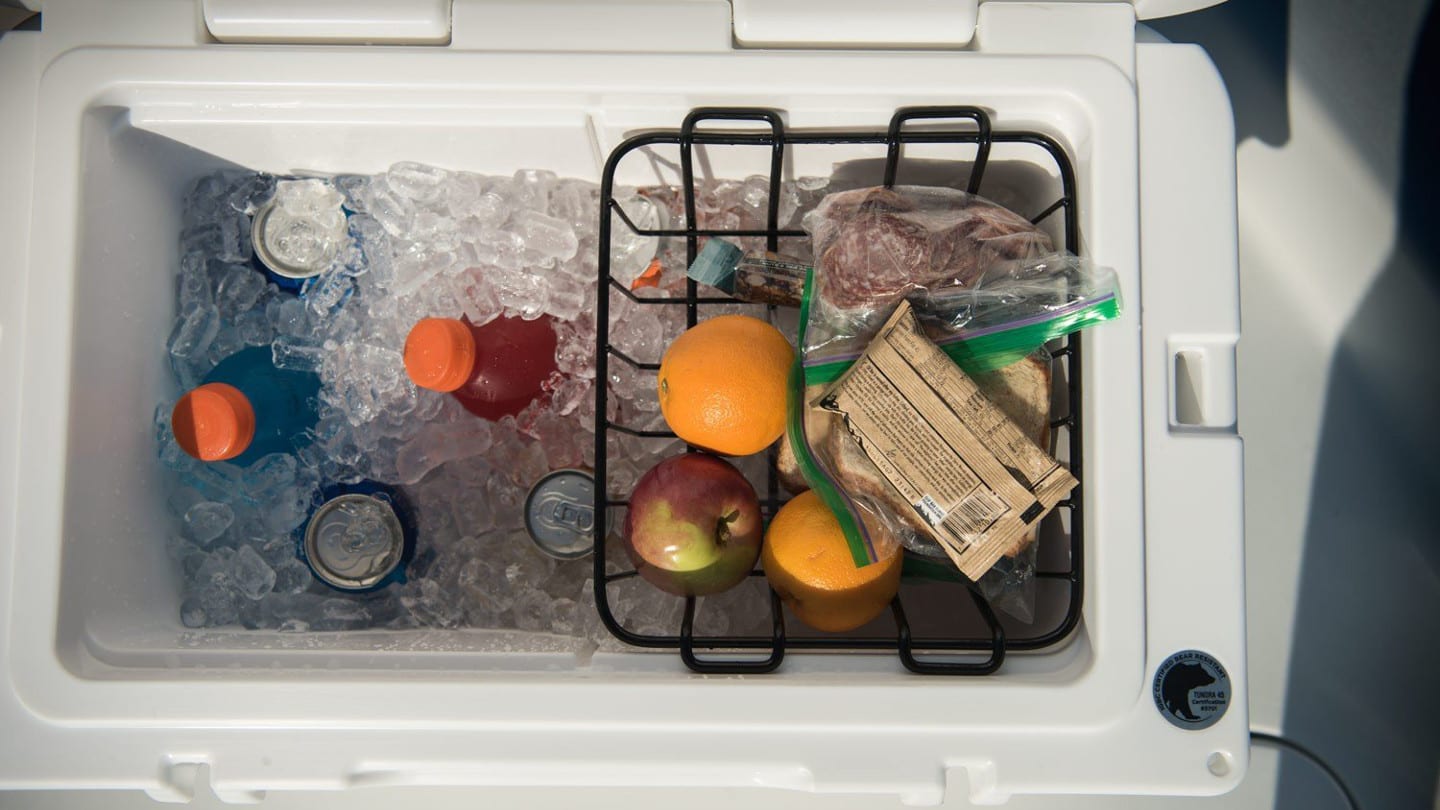 Glamping means you're eating more than a can of tuna for dinner. Warm, three course meals are entirely possible and easy with a few basic accessories, such as a cooler, grill and the right ingredients. Make sure you and your friends are well fed on your next camping trip.
4. YETI Tundra 45 Cooler
Every car camper needs a quality cooler…hell anybody with a car needs one. What's the point of buying ice, if your cooler can't keep it from melting as fast you pour it in. Since you're car camping, you might as well have a nice sized cooler. With a big cooler you'll have no problem storing food, drinks and helping your friends out because effective, cold coolers are precious commodities at the campsite.
YETI Cooler's are "wildly stronger, keep ice longer" and "the cooler you've always wanted, the last cooler you'll ever need". Those are two meaningful slogans right there. YETIs are on the pricer side, however, they are top of the line and you get what you pay for. Rest assured it will quickly rise to be one of your most used and cherished outdoor accessories. In addition to the extra-thick walls for insulation, this cooler has rotomolded construction, meaning it's virtually indestructible.
Other option: The YETI Roadie 20
is a little less than half the size of its larger cousin featured above, so it's portable and YETI strong. Another smaller option that's a favorite of mine is the AO Coolers Soft Canvas
. It features high-density insulation, so it does indeed work, and ranges in four sizes: 12, 24, 36 and 48 cans. All are collapsible, so you can smush and cram them in some unusual, tight places, like behind a seat, where a rigid YETI would not fit.
5. Coleman Road Trip Grill LXE
Cooking directly over the fire often leads to smokey, burnt meals. It's highly convenient to be able to grill out when you're camping, away from the campfire. Cook veggies, burgers, you name it, with a nice portable propane grill.
The Coleman LXE Grill sends 20,000 BTUs of heat across 285 square inches of grilling surface…sounds cool huh? The grill plates are interchangeable so you can swap out the standard grill for griddle and stove grates. Its push button start means no fussing with a lighter or matches. And its two wheel design is collapsable, so it folds up nicely into your trunk. Plus it works like a charm, every time!
Other option: Another portable grill from a trusted manufacture is the Cuisinart Petit Gourmet Tabletop Gas Grill
. Due to its smaller size, it's even more portable. It has short little, foldable legs, so it works best when accompanied with a higher table. It also uses the smaller propane tanks you can buy it packs at your local outdoor store. The 5,500 BTU stainless-steel burner has an even-heating porcelain-enameled grate and 145-square-inch grilling area.
6. Lodge Cast Iron Deep Camp Dutch Oven
A true cast iron dutch oven is a pot that will last a lifetime! Use it at home or by the campfire. You can roast everything from your favorite vegetables or famous chili, to a whole chicken in a dutch oven. It's heavy, but portable and easily cleaned out with water and sanitized with heat.
Made in the USA since 1896, the Lodge Deep Camp Dutch Oven is built for the outdoors. It features raised legs to keep it off the ground, ideal for a campfire. You can place hot coals on the flanged lid, and even invert it for use as a griddle. It's pre-seasoned with no harsh chemicals, just soy based vegetable oils, so its gets better with every use.
Other option: Want to make the ultimate campfire grill cheese? Pick up a Rome Industries Pie Iron Sandwich Cooker
for extreme versatility and fun. Toast any kind of hot sandwich, or pie, as the name intends, using the original pie iron since 1964. Season it before use to keep it from sticking and remember cast iron stays hot long after it leaves the fire.
7. Wild Zora Meat and Veggie Bars
Having ready-made or at least quickly and easily prepared meals while camping is essential to glamping. Cooking from scratch has many advantages, it's fresh, fun, calming and nutritious. It's also time consuming, and sometimes you just want something fast because you're hungry, tired, lazy and you're glamping damn it.
Quite delicious and wildly unique, Wild Zora's bars combine high-quality meat jerky with organic vegetables and dried fruits for an incredible energy boost. They're both good-for-you and tasty. They come in a variety of flavors, including free range turkey and grass fed beef to pasture raised lamb and 100% natural pork. Pick up a few packs because they will melt in your mouth.
Other option: Produced in Boulder, Colorado, Backpacker's Pantry makes a myriad of delicious, simple healthy meals where you just add water. They utilize lightweight, flexible pouches filled with premium freeze dried & dehydrated meats and produce. Their best-selling Backpacker's Pantry Pad Thai
is not only high in protein, it's non GMO, vegan and gluten free.
Luxury camping gear for lounging about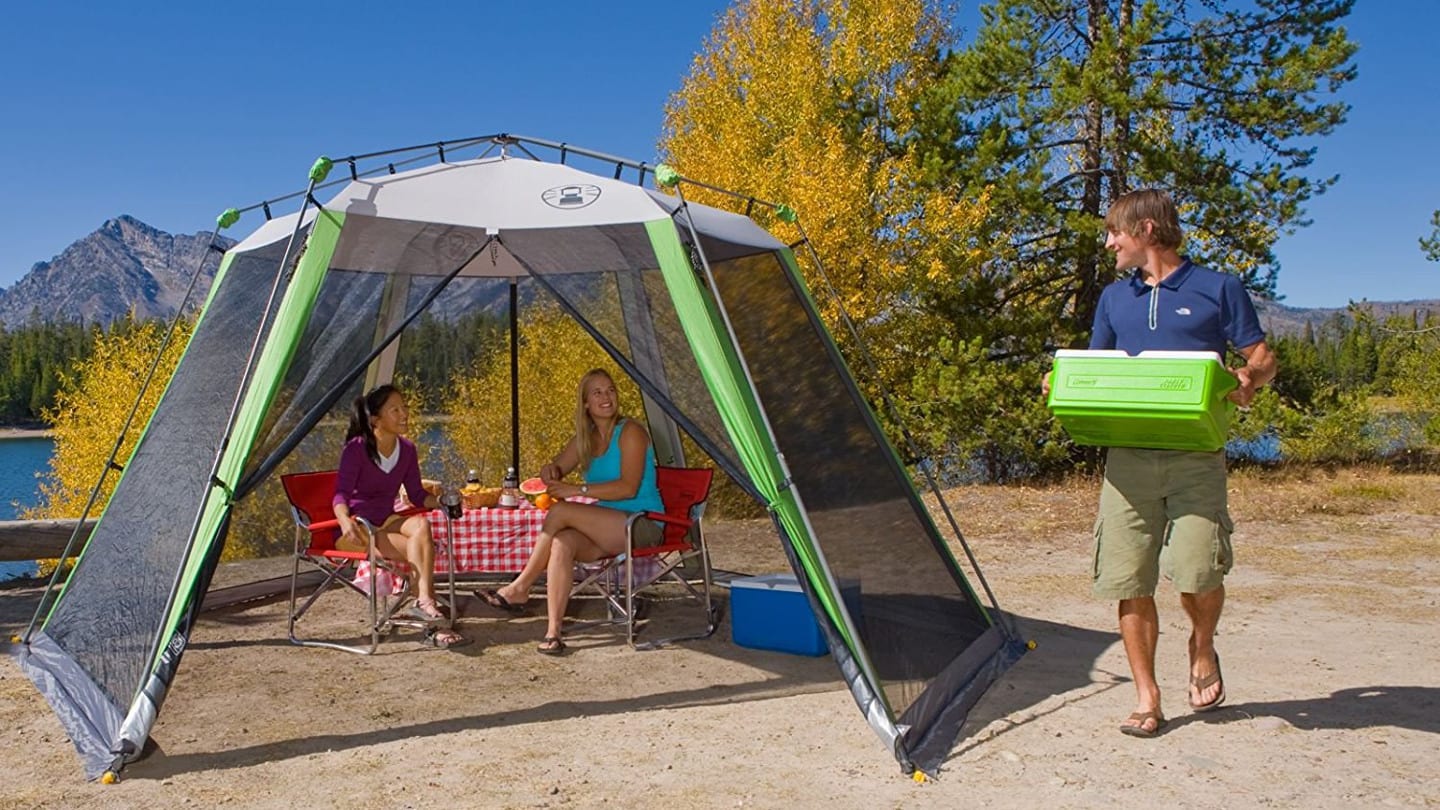 One of the greatest thrills about camping is simply lounging around the campsite, relaxing without a care in the world. When your glamping, it's the same, you just take it up a notch with your lounge ware. Forgo the free giveaway collapsable chair for something truly worth sitting in, and bring a table that stands up to the weight of your five star dinner spread.
8. Lafuma Futura Zero Gravity Chair
You bust your ass all week at work and then more so on the trail on weekends. Take care of your behind and sit like a king. The proper glamping chair creates zero pressure points and will have you feeling like your sitting on a cloud.
The Lafuma Futura camping chair is therapeutic in every way. While this rugged outdoor recliner is quite bulky compared to some collapsable chairs, it's much more awesome. It reclines to zero gravity, allowing you to practically sleep on it. It also raises your feet to just above your head, a prime position for ultimate relaxation. Lafuma chairs are made in France.
Other option: The Lafuma Low Elips
chair should probably be a package deal with the above zero gravity throne. This super lightweight chair sits lower, reclines, and fold-ups for easy transport. It's just as good on the sand by the beach or on the clay by the lake.
9. Beckworth & Co Bamboo Folding Table
Tables are so handy around the campsite that they are almost a necessity. For supporting your portable grill, speaker, laptop, food, drinks, you name it, it's there. It's important to pick a table that folds up nicely and doesn't have drunk wobbly legs at maximum height. Also having more than one reliable table is probably a smart idea too.
This Beckworth & Co. SmartFlip Table features everything you need in a lightweight camping table. Its adjustable legs are sturdy at a range of heights, it has a sweet bamboo top that rolls up nicely, a cargo storage net as a middle shelf, aircraft grade aluminum frame, and a convenient carrying case. The only limitation is surface area, so you should probably get two.
Other option: The foldable aluminum table is a mainstay at dispersed campsites across the U.S. Pick up the tried and true ALPS Mountaineering Dining Table
for a reliable jack-of-all-trades camping table. Its aluminum x-frame is designed for maximum, lightweight stability and it comes in three sizes.
10. ENO DoubleNest Hammock
Even the thought of a hammock makes stress melt away. Whether you're lying at the beach or in the forest, gently swaying back and forth in a hammock is sure to rock you to bliss. Modern hammocks are extremely portable, especially the ones designed for backpacking and camping. You can even buy a sturdy metal hammock stand for home use.
Eagles Nest Outfitters makes a portable hammock for two, ideal for a couple lounging around. It weighs only 19 ounces and comes with a storage bag. It's made of high tenacity nylon taffeta, which is breathable, quick drying and supports up to 400 pounds.
Other option: Another reliable option with supplied tree straps is the Honest Outfitters Camping Hammock
. It comes in both single and double sizes, the latter supporting 500 pounds. It's made of parachute nylon, so you and your friend or loved one won't rip through to the earth below. It comes with a money back promise too, where you even keep the hammock if unsatisfied.
11. Clam Quick-Set Escape Shelter
Campsites naturally vary in geography and landscape. Some are more barren than others, and sometimes, especially mid summer by the lake, there are a ton of bitey mosquitos around. Bring along a quick-up canopy provides both sunshade and rain protection, as well as a bug net if you get the right model, for a truly relaxing safe space.
The Clam Corporation makes a terrific camping canopy, boasting 94 square inches of interior space and a 90″ center ceiling. The 140 X 140-inch circular shape houses 6 to 8 people. Set up is a breeze in 45 seconds just out of the box. The waterproof roof and mesh screen walls keep you dry and bug free. It stakes to the ground like a tent and collapses for easy transport.
Other option: The Coleman Instant Screenhouse
comes in varying sizes, including its best-selling 10×10′ and 15×13′. Set it up in under a minute with a single person. Then enjoy the shaded, bug free luxury of your canopy. The durable polyguard 2X double-thick fabric with UVGuard 50+ UPF sun protection is legit.
12. Streamlight Compact Hand Lantern
Let be there light! Without it your campsite will be dark and there probably won't be anything to do but go to bed after the sun sets. And if you're in the mountains where the sun sets over the peaks and narrow canyons earlier, then there's a lot more dark hours. A combination of lights works best, including a trusty lantern, ambiance lighting, handheld flashlight, and headlamp.
Streamlight makes a powerful, yet compact at 7.25 inches, handheld lantern that can be hung from nearly anywhere, including inside your tent. It gives off a whopping 540 lumens and uses 3D cell alkaline batteries, so it'll last for a while. There are five output modes for its C4 LED technology, with both red and white LEDs.
Other option: Set the mood with Coleman LED String Lights
. They come in sets of 10 lanterns stringed together, all powered together using only 3 AAA batteries. You can hang them from a canopy, nearby tree, tent, car, wherever. They stretch 80 inches and weigh less than a pound total. And since they are LEDs the batteries will last a while.
13. Snugpak Jungle Blanket
Camp nights can get cold and whether you packed enough layers or not, a cozy blanket is always appreciated. Blankets are a versatile investment that can be used at home and outdoors, and both inside or outside your tent. Use a blanket as the base of your tent to create a comfy, insulated floor, especially if sleeping with dogs who will appreciate the extra warmth. Or use one when lounging around the campfire on those chilly mountain nights.
The SnugPak Jungle Survival Blanket is made of compressible polyester. It's both antibacterial and antimicrobia, as well as windproof and water resistant. It's temperature rated to 45 degrees F and low of 36 degrees. The 25 ounce blanket is large enough to cover nearly anyone's body at 76″x64″ and shrinks down to 6″x6″ for easy storage.
Other option: What's more classic than a durable wool blanket? Even when it's wet, wool retains its ability to keep you warm. The Arcturu 80% Heavy Military Wool Blanket
weighs 4 pounds, so you know it's the real deal. It's also machine washable for easy care. Make use of this large, 64″x88″ blanket as a tent base layer, a picnic place setting or to keep a body warm.
14. Illumiseen LED Dog Collar
Dogs probably love camping more than we do. It can be nerve racking though if you have an explorer-hungry pup who loves to sniff around the campsite at night. Be able to spot Fido easily with a light-up collar or attachable light. It's also a blast to watch a few dogs in the distance play with lights attached to them.
Illumiseen makes a long-lasting, USB rechargeable LED collar for your best friend. They come in six sizes and six colors, including bright orange, cotton candy pink, neon green, royal blue, ruby red and sunburst yellow. Make your dog visible, safe and seen. It's probably the best investment you can make for your dog's nighttime safety and your peace of mind.
Other option: If you prefer to attach an existing light to your dog's collar or harness, The Beacon (Safety Light)
from Ruffwear is ideal. Its high-intensity LED provides a broad range of red light while you're out exploring late at night. It works extremely well, as if you're dog is carrying a flash light for you, especially if they stay by your side. There are three modes, a fast flash, slow flash and always on.
Luxury camping gear for having fun
Sure, roastings marshmallows and telling war stories around the campfire is a blast. And there's always time for that. There's also plenty of time for some quality outdoor entertainment. Make your glampsite feel like an epic Superbowl tailgate party. Most tailgate games play very well while camping, building camaraderie and keeping the party going.
15. ION Audio Tailgater
The sounds of nature sooth the soul. With that said, so does music. After your done hiking around the hillsides all day, relax your mind and stimulate the good times with the proper tunes. Your friend might pull out his tiny portable speaker, perfectly adequate for nature, however, why not bring something completely unnecessary.
My friend has a Blockrocker, which is the cousin to this Ion Tailgater, and loves it! He rolls that puppy everywhere. The only difference is the Tailgater has better reviews and is cheaper. It's a portable bluetooth PA speaker with mic, AM/FM Radio, and USB charge port. You can connect with aux cable or via bluetooth from anyone's phone. There's an off chance too that you could pick up a local radio station (depends how remote you go). The battery should last you all weekend, and charges via AC or USB. Plus you'll look like a damn DJ hauling that out of your trunk, a true glamper.
Other option: JBL Flip 4 Waterproof Portable Bluetooth Speaker
– It's small and thus more portable, suitable for that day trip out to lake. The battery lasts a night or two, and recharges via USB. It's loud for its size, but you ain't rockin the block.
16. Anker Dual USB Solar Charger
With all the glamping you'll be doing, it's imperative you keep that luxury gear up and running. If you're camping in a place like Colorado, you'll be fortunate enough to have high-intensity sunlight for most of the day. Take advantage of this and keep whatever electronics you'll be using charged and prime to go.
What's cool about the Anker 21W solar charger, other than its dual USB outlet so you and a friend can charge two phones at once, is it folds out and attaches to your backpack. So even if you head out hiking for the day, just strap this puppy on to your daypack and you can ensure your tune box is ready to go later. It weighs less than a pound too so you won't sweat it.
Other option: If you buy a cheap solar charger, like under 20 dollars cheap, you really think you can rely on it when it matters?! The Nekteck 21W Solar Charger
will do the trick at an affordable price. As its name suggests it's long and skinny, once fully folded out, and boasts 2-port USB charger with high efficiency solar panel cell for any USB devices.
17. GoSports Wooden Cornhole Set
Everyone has probably thrown a cornhole bag or two in their day. This rewarding activity can be done with a beer in hand, which is always a plus. And either two compete head to head, or teams of two versus two, so it's a great group game.
This premium cornhole set includes everything you need to get started and easily fits in your trunk. The board is 100% wood, with the top 1/2″ varnished cabinet-grade plywood, ensuring a smooth glide. The legs are retractable and the whole board weighs 38 or 33 pounds depending on size, so it's easy to store. The all-weather bags are filled with recycled plastic pellets, which won't rot if they get wet or soaked with beer.
Other option: With its smaller size and price tag, this Wood Washer Toss Game
makes a solid alternative or addition to a cornhole set. Some prefer washer toss for its difficulty and level of precision needed to compete.
18. GoSports Metal Ladder Toss
You've probably seen this game at some corporate event or outdoor gathering. Perhaps you've heard it referred to by its vulgar nickname, "testicle toss", in reference to the two balls tethered together. It's an easy enough game to play that despite its nickname is friendly for players of all ages.
This complete set comes with two steel targets, six bolos, and a premium carrying case. The bolos are soft rubber so you won't injury anybody, and attached with a thick string to prevent tangles. It assembles in minutes and requires a simliar distance to a game of cornhole.
Other option: The game's called Polish Horseshoes. What you'll need are two ski poles and a frisbee
. It's a team game, two versus two. You'll balance an empty bottle of beer (can is preferred because who wants broken glass) on each ski pole. Teams on opposite sides try and throw the frisbee knocking off the can (more points if it hits can versus ski pole knocking off can). Defending team attempts to catch can before it falls. Pros play with a drink in one hand. If you don't live by the mountains and have no skier friends, you can pick up a simliar package called Bottle Bash Standard Game Set
, with everything ready to go.
19. JaeilPLM Portable Projector Screen
Watching movies outside is awesome! It's a double win, you get to enjoy your favorite flick, along with a healthy dose of nature. There's a certain ambiance you get from projection screens too, especially when viewed outdoors. To complete this glamping trifecta, you need a portable projector screen, a projector, and a laptop or device with a few movies pre-loaded.
The 100-inch JaeilPLM 2-in-1 Portable Projector Screen will blow away your friends and nearby campers. It's both indoor and outdoor compatible, instant wrinkle free, has a premium 4K Ultra HD screen with black backing to prevent light from seeping through, and includes an aluminum triangle stand that's sturdy and wind resistant. You can also hang it from one single hook. The screen rolls up and the stand breaks down in less than 15 minutes for easy transport in its storage bag.
Other option: Package your new projector screen with a powerful projector. The DR.J 4-Inch Mini Projector
fits the bill perfectly. It's upgraded for 2018 with +10% lumens, 170″ display and 40,000 hour LED full HD video projector 1080P. It's compatible with Amazon Fire TV Stick, HDMI, VGA, USB, AV, and SD.
Luxury camping gear for taking care of business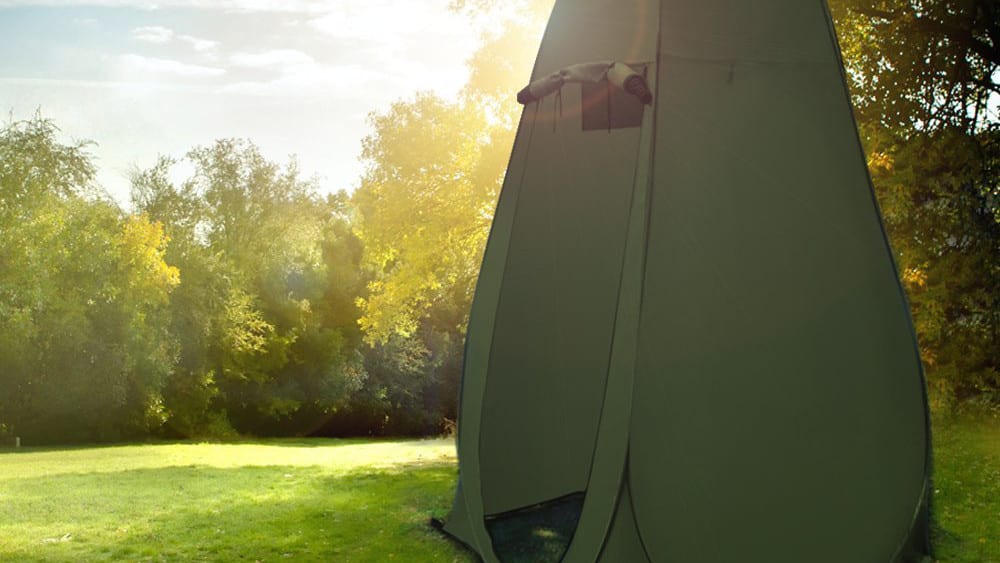 What separates a camper from a glamper, and campsite from a glampsite? Dispersed campers don't shower and they squat in the woods when making dookie (remember to leave no trace). True glampers shower every day and bring a portable toilet with them. Live almost as you do at home with these luxury camping accessories for creating a portable bathroom.
20. Advanced Elements Solar Summer Shower
After a few long, rugged days spent outdoors, usually the first thing people want to do when they get home is take a refreshing shower. It's quite possible and affordable though to take this luxury with you on the road. You can find everything from simple shower bags that heat up under the sun, to portable propane water heaters for the warmest water possible. They also make pop-up shower tents that can double as a bathroom for your portable toilet.
The 5 gallon Summer Shower uses effective 4-ply construction, which consists of a reflector panel, an insulator panel, a solar panel, and a water reservoir, to ensure water heats up quickly. It comes with an on/off shower head, an extra large screw cap valve for fast filling, and a water temperature gauge so you know when it's good to go. It rolls up after you're finished using it for storage.
Other option: Perhaps you'd prefer some privacy for your shower. The WolfWise Pop-up Shower Tent
is lightweight, collapsible, and sets up in seconds. It's made of waterproof taffeta polyester and flexible steel. It has an open bottom design to keep things clean, open top for ventilation, and four stakes for stability.
21. Green Elephant Folding Commode Toilet Seat
The number two complaint (pun not intended) that non-campers make for not camping, aside from needing a real bed, is needing a toilet. When nature calls, it's nice not to have to go running into the woods, looking for a place to do your business. If you are dispersed camping, AKA free camping (which generally comes with much more privacy and space than a standard campground), then there probably aren't amenities like vault toilets. Portable toilets come in a variety of options, including those that store waste in an odor free tank, and others that just keep it bagged up.
Green Elephant makes a foldable commode chair that's great for car camping. It only weighs 3.5 pounds, yet supports up to 250 pounds. Combine it with 8-gallon camping toilet bags
for perfectly fitting compost bags that are biodegradable. You can also pick up Double Doodie Toilet Waste Bags
for storing all the other bags, creating a stinkfree storage system until you reach a place to toss your crap (pun intended).
Other option: If you'd still rather use something that more resembles a toilet you can opt for the Camco Standard Portable Travel Toilet
. It's designed for camping, RV, boating and other recreational activities. The 5.3 gallon holding tank is detachable. Odors are sealed in through a sealing slide valve that also protects against leakage. The top half flush tank holds 2.5 gallons of water and uses a bellow-pump for flushing.
Other luxury camping gear to consider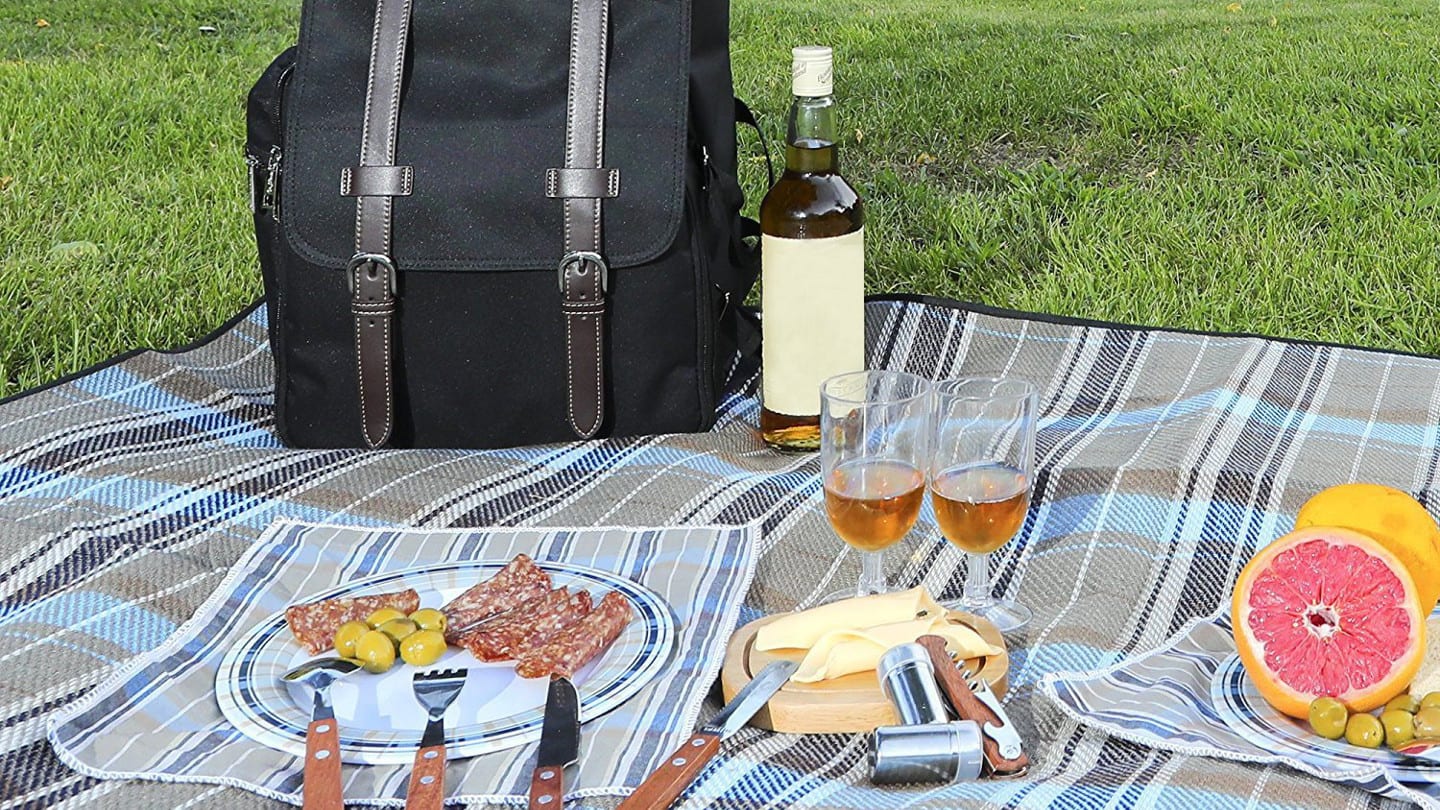 Less is more. Sure, but we are glamping, so let's get ridiculous. Here are a few other glamping items to consider bringing:
Breath in the smell of a crackling, wood fire. Gaze at the bright, twinkling stars. Share the day's adventures over cold craft brew and roasted s'mores. It's time to go glamping!