Denver Climbing Company offers guided outdoor rock climbing trips only minutes away from the Mile High City. They offer courses and guided climbs for both first timers, intermediates and advanced rock climbers.
All climbing equipment is provided or you're welcome to bring your own. They operate all year long, weather pending. The mission of Denver Climbing Company is simple:
make rock climbing accessible to everyone.
Climb real rock cliffs at a number of location close to Denver. No experience is necessary. It's by reservation only. There is a shuttle bus available or you can meet at the location.
Rock Climbing For Everyone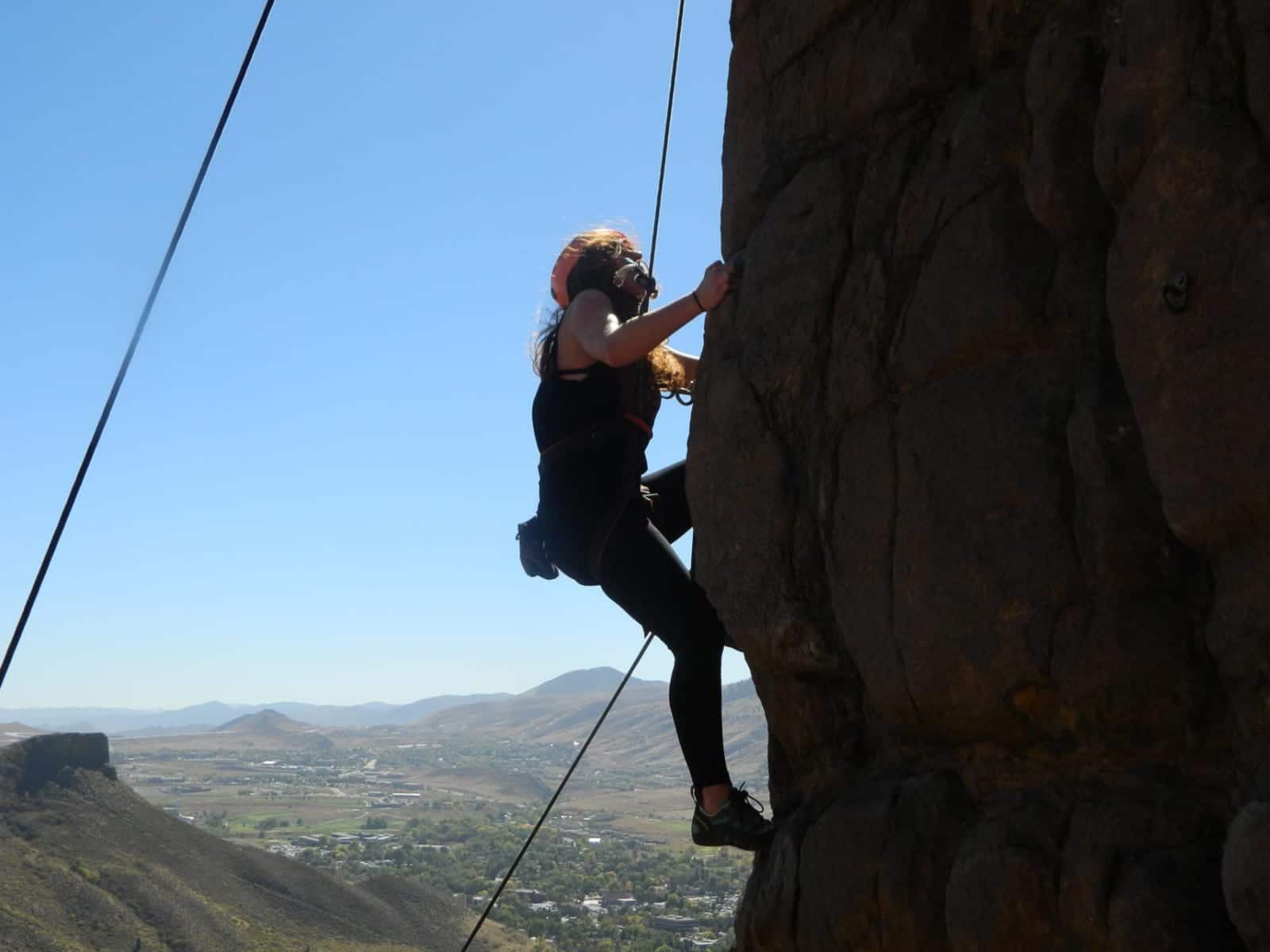 Intro to Outdoor Rock Climbing – This 4 hour rock climbing course is perfect for all levels and ages. The location is 20 minutes from Denver at North Table Mountain Golden.
Private Guiding – Learn and perfect any number of climbing skills with your own guide over 4 hours. Get suggestions from your guide or perfect your single/multi pitch climbing, advanced skills, or bouldering. Climbing locations include:
<ul
North Table Mountain in Golden
Clear Creek Canyon in Golden
The Flatirons in Boulder
Gregory Canyon in Boulder
Lookout Mountain in Golden
Advanced Training
Rappelling – You'll hike up to the top of a 300 foot cliff, then get instructed on how to properly descend it. This is offer daily in Golden for adults 18 and up.
Anchor Building – Get instruction on setting your own climbing rope on a bolted anchor. Learn to set a top rope for a bolted sport route. This is the next step after the basics of outdoor climbing. Instruction at North Table Mountain includes:
Gear Knowledge
Bolt Access
Bolt Evaluation
Various Anchors
Rappelling
Anchor Cleaning
Lead Climbing – Learn to clip bolts and lead climb at North Table Mountain. This skill allows you to climb a wide array of locations and set up a top rope. Instruction includes:
Evaluate Bolts
Clip Quickdraws
Proper Falling
Anchor Setup
Rappelling
Anchor Cleaning
Climb a Flatiron – Boulder's iconic flat faced mountains tower 1,200 feet over the town of Boulder. They provide a steady rock climb for intermediate and advanced skill levels. Once you reach the top of this moderate climb, you'll rappel down and hike out. The 1st or 3rd flatiron are chosen based on season and experience. Instruction includes this and more:
Multi-Pitch Climbing
Trad Climbing
Rappelling
Route Finding
Details
Address: 3300 W Florida Ave #75, Denver, CO 80219
Phone: 888-560-6994
Season: Year round
Website: denverclimbingcompany.com