Saddleback Ranch is a fourth generation, 8,000 acre, actual live working cattle ranch located just 17 miles from Steamboat Springs. Wayne and Luanna Iacovetto purchased Saddleback Ranch from Luanna's father, Jim Thompson, in 1993, and run it today with help from two of their sons and their families.
The booming Colorado agri-tourism business has allowed the Iacovetto family to continue ranching, sharing the traditions and stunning landscape with visitors by offering unique outdoor activities through all seasons.
Winter Fun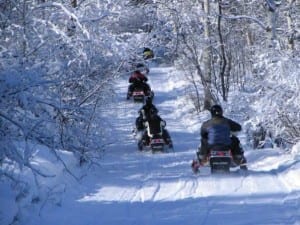 With 8,000 privately owned acres to explore, Saddleback Ranch is able to offer
Snowmobile Tours
affording some gorgeous views of the Flattops, Mt. Werner, Sleeping Giant and the Zirkels. The easy-to-operate Skidoo 4 Stroke machines "leave no smell behind" with their clean fuel exhaust feature. Tour packages vary in length, and some even finish off with a chaser of tubing.
Saddleback Ranch's Yee Haw Tubing Hill provides an exhilarating blast of fun for kids of all ages and sizes. The groomed hill is equipped with a state-of-the-art lift system that transports guests back to the top effortlessly. Inner tubes are provided by the ranch, and they will even shuttle tubers around who stay for 1 ½ hours.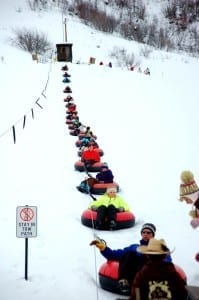 For a longer and most memorable family experience, the Ranch's most popular package features an hour and a half of tubing followed up by a sleigh ride dinner.
Guests have two ways to experience the sleigh-pulling team of Belgium horses at Saddleback Ranch. The Hot Cocoa Sleigh Ride offers a 45-minute ride over the snowy hills of the ranch followed by hot chocolate and cookies in the Longhorn Lodge. Add on a free taste of tubing down the tubing hill.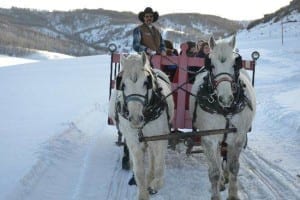 The Dinner Sleigh Ride provides a 30-minute ride to the Double Dollar Lodge where diners enjoy a hearty ranch meal with several protein choices and all the fixings. Personalized roping instructions from the resident cowboys and dancing provide the after supper entertainment.
And for those interested in seeing the ranch on the back of a horse, two-hour winter horseback rides tour the massive property, visiting historic, century-old homesteading points of interest along the way.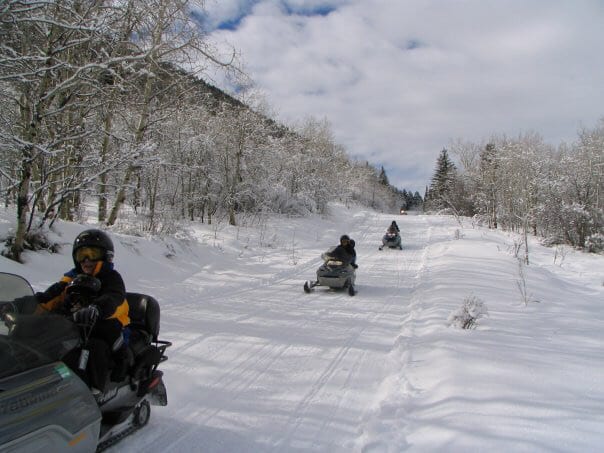 Summer Adventures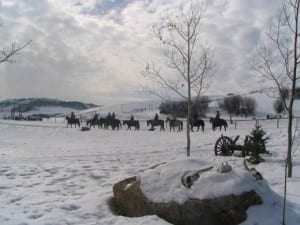 When the snow is long gone, the Ranch swaps out the sleigh for a horse-drawn wagon. The
Wagon Dinner Ride
delivers guests to the Double Dollar Lodge by wagon or horseback for a scenery-laden cocktail hour followed by a sumptuous dinner. Calf roping 101 provides the after-dinner fun before guests ride home, savoring the
Steamboat
sunset.
For those wishing to ride the beautiful terrain without a meal, the a la carte 2-Hour Horseback Ride is the ticket.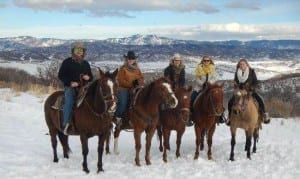 Maybe it's because I shared my life with a crazy Australian Cattle Dog for 14 years, or went on a Dr. Quinn Medicine Woman re-run binge last year — my first pick of Saddleback Ranch activities would be
The Cattle Drive
. What fun to mosey along in the morning, moving the herd of 1,200 yearling Angus cattle, rounding up strays, checking each for health and well-being. A slow pace and "We'll finish in three hours or whenever the job is done" appeals!
Saddleback Ranch makes it super easy to pick the activity or package of your dreams online in one clearly laid out page that includes all rates and times. Winter packages run through March, snow permitting of course, and the summer fun starts on June 1.