For over forty years, Aspen Carriage and Sleigh has been offering year-round horse-drawn rides in the picturesque Roaring Fork Valley. When there's snow enjoy a romantic sleigh ride, and when there's not, take a peaceful carriage through the town's historic silver mining district.
Winter Sleigh Rides in Aspen
Savor the golden past as you immerse yourself in a memorable sleigh ride. There's nothing quite more tranquil than gliding through the Colorado countryside on a sled pulled by giant equines.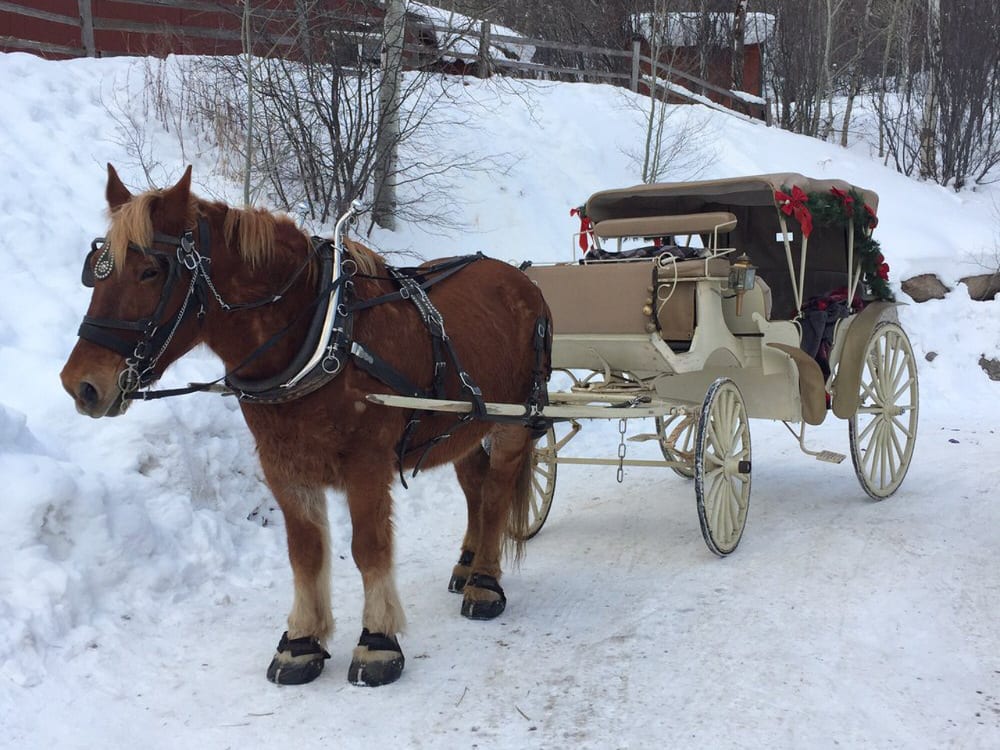 Public Sleigh Ride – Shorter, twenty-minute rides across sparkling fields of snow. Cozy blankets and hot chocolate will keep you warm. Public trips usually fill up 24-48 hours in advance, so please reserve in advance. Trips typically run daily during the season from 1-4 pm.
Private Sleigh Ride – Get picked up in town and whisked away to a secluded sleigh route. The trek takes you through an aspen and evergreen forest, along an open meadow before parking next to a beautiful bridge for hot cocoa and apple cider. Then return to the starting point, about 60-75 minutes in total. They will drop you back off at your hotel or a restaurant of your choosing.
Three sleigh rides are available to accommodate groups of up to seven riders. Daytime and starlit sleigh rides are also possible.
Special Events – Rent a private sleigh for a holiday party or any memorable winter moment. If the weather is not cooperative, small wheels can be attached to a certain sleigh. Have Santa show up on a real sleigh!
Summer Carriage Rides in Aspen
Make your Aspen trip complete with a horse-drawn trip through town. Sashay through the streets in a Victorian-style carriage. A friendly coachman provides an enjoyable narration of the Roaring Fork Valley's history. Delight in the soothing serenity of the rhythmic clip-clop on this romantic journey.
Public Tour – Travel around this historic mining town by horse. Access these tours without reservation at the corner of Cooper and Galena, across from Paradise Bakery, from 3-9pm. Choose from the twenty-minute Town Tour and or forty-five-minute West End Tour.
Private Tour – Have a horse-drawn carriage pick you up and drop you off at a designated location in town. Coachman will provide tours of the town, drinks, and other special requests.
Details
Address: Aspen, CO
Phone: 970-925-3394
Season: Dec-Mar
Website: aspencarriage.com