Saddleback Ranch is not offering sleigh rides this season. Instead, they will be open for winter horseback rides, snow tubing and snowmobile tours. Learn more about their 2021-22 offerings.
---
The following writeup is from last season 2020-21 and not current:
This 8000-acre ranch offers a variety of outdoor activities to its guests like horseback riding, cattle driving and wagon dinner rides during summer; and snowmobile tours, tubing hill and sleigh rides during winter.
Saddleback Ranch is a fourth generation family run business situated in Steamboat Springs. The ranch takes pride in its rich history and way of living; prior to buying the ranch from Luanna's father in 1993, Wayne and Luanna used to run other businesses such as a cattle feedlot, a fishing store, and a grocery store.
Through their combined aspirations and experiences, the ranch has grown to what it is today – a recreational venue that gives happiness to thousands of visitors who come every year.
Dinner Sleigh Ride Tours in the Yampa Valley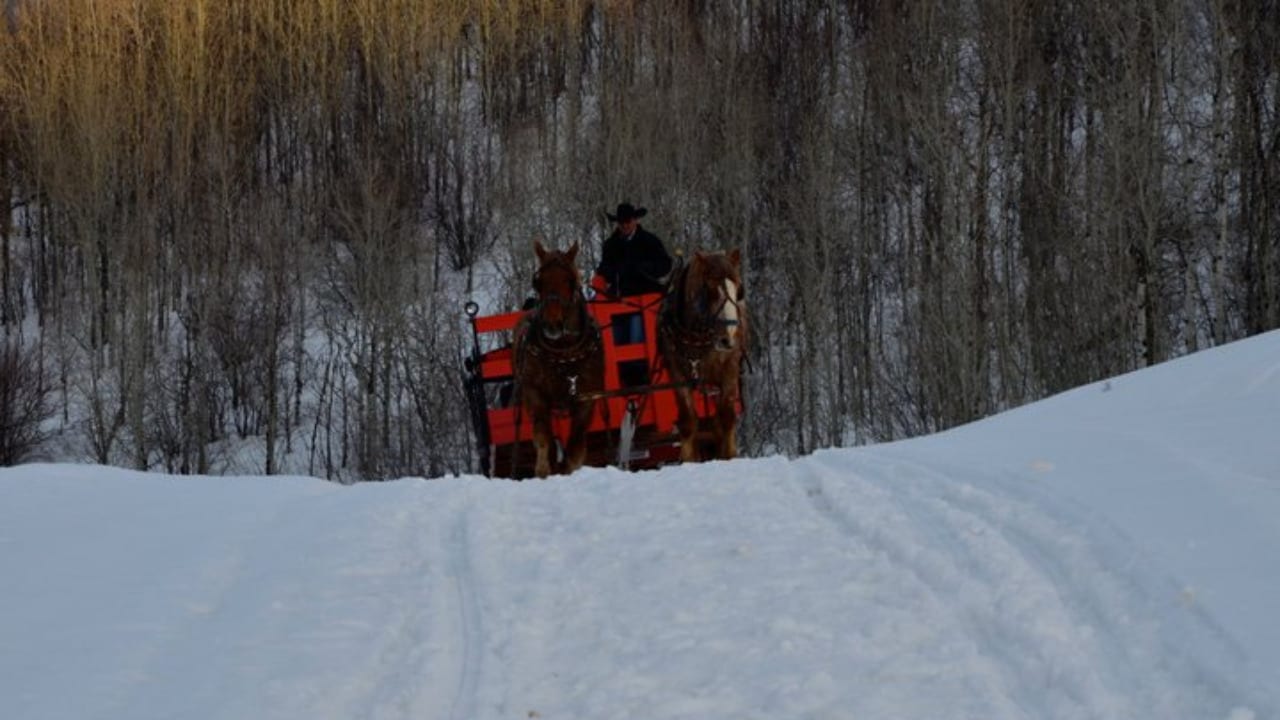 The ranch's luxury vans pick up guests from various locations throughout town before heading off to the ranch, where the sleighs await. Reservations must be booked in advance, and guests can choose the Dinner Sleigh Ride which is a 30-minute one-way ride to the Double Dollar Lodge.
Wool blankets are provided in the sleigh to warm the passengers up. Pickup time is approximately 5:15 p.m.
Another option is the "Yee-haw" Dinner Sleigh Ride which is actually a package offer that includes an hour and a half of tubing at their Yee-haw Tubing Hill before hopping in to the sleighs, and pickup time is approximately at 3:30 p.m. Children below the age of 1 are free of charge for both options.
Delicious drinks such as hot chocolate and apple cider are served upon arrival at the lodge, then dinner is served shortly after. Meals are ordered at the time of booking the tour, and guests can choose from their wide menu beforehand. The lodge is excellently decorated with taxidermy animals, old photographs, and even rifles, so guests' visual senses will surely be pleased.
Entertainment such as roping lessons (stationary calf) and dancing are provided by the cowboys after the sumptuous dinner. After a whole lot of laughter, guests are then brought back by the ranch's shuttle vans to their hotels in the town.
The ranch also offers snowmobile tours during the winter. In the summer there's a whole slew of other adventures to delve into.
Details
Address: 37350 Co Rd 179 Steamboat Springs, CO
Phone: 970-879-3711
Season: Cancelled for 2021-22 Season, normally, December-March
Website: saddlebackranch.net