If you're looking for an unforgettable experience that includes an old-fashioned romantic dinner, sleigh ride, and majestic views of the Rocky Mountains, make sure to check out Breckrndige Sleigh Rides. Booking its rides with Two Below Zero and situated in the town of Frisco, the company has been in the business for more than three decades.
Frisco Sleigh Ride Dinner
Visitors can choose between three Sleigh Ride options as well as vegetarian and gluten free options, for those participating in the inner sleigh rides.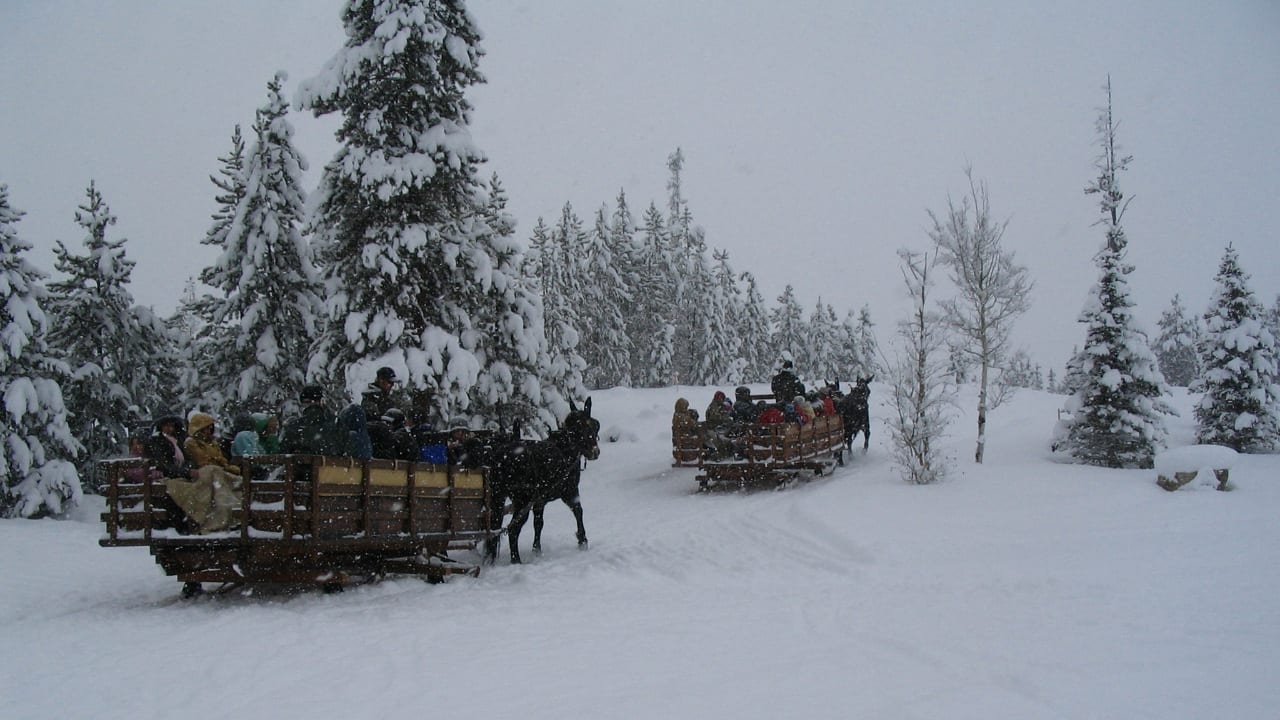 Hot Cocoa Sleigh Ride – Going on an about 50-minute trip aboard their buckboard sleighs to their relaxing tent, where great dinner and hot chocolate are waiting.
Dinner Sleigh Ride – Boating a hearty three-course dinner inside a cozy tent, the sleigh ride is about 1 mile. Guests can enjoy a southwestern soup, assorted rolls, a sirlion steak or marinated chicken, and an array of sides. To finish off the meal, hot cocoa with a peppermint schnapps for adults and warm apple pie are served. The entire experience is about 2.25 hours.
5-course Wild Game and Wine Pairing Dinner Sleigh Ride – For those craving a sophisticated experience starting in mid-January, the Wild Game and Wine Pairing Dinner Sleigh Ride is a must. Taking place on Fridays starting Junary 14th, the menu includes pheasant poutine, bison chii, and elk pasties.
Private Sleigh Ride – Very much like a fairy-tale, will be driven aboard a beautiful horse-drawn red carriage. Embarking on a 45-minute journey, the coachman will stop and tie off the horse to let enjoy the picturesque views for several minutes. Complimentary hot cocoa is also served.
If you're looking for that wonderful experience you will surely remember for a lifetime, Frisco is surely a place not to be missed.
Details
Address: 616 Recreation Way Frisco, CO
Phone: 970-453-1520
Season: Mid-November – mid-April
Website: dinnersleighrides.com