Buffalo Pass, a mecca for backcountry skiing and riding, consistently boasts Colorado's deepest annual snowpack with depths in the 500+ inch range every year. It's also only a quick, 20-minute van drive from downtown Steamboat Springs.
"Buff Pass" serves as point of operations for Steamboat Powdercats, the only backcountry guided powder skiing and snowboarding company in Northwest Colorado, thrilling powder freaks since 1983. The company's three, heated, 12-person capacity snowcats have access to 10,000 acres of the lightest, fluffiest snow in the world.
The cats climb across the hill at 13 miles per hour, terrain that is perfectly matched for all ability levels. 75% of guests are repeat visitors, so they clearly have it going on! Here's a must-watch orientation. Feel your heart accelerate even if you're on the couch?
What to Expect (Besides Fun)
You are guaranteed a full day of action that begins the afternoon prior with a logistics overview. Be ready to go the next morning at 7:30am and you won't stop until 5:30 when you float back into your hotel room (or the local bar to swap stories and brag).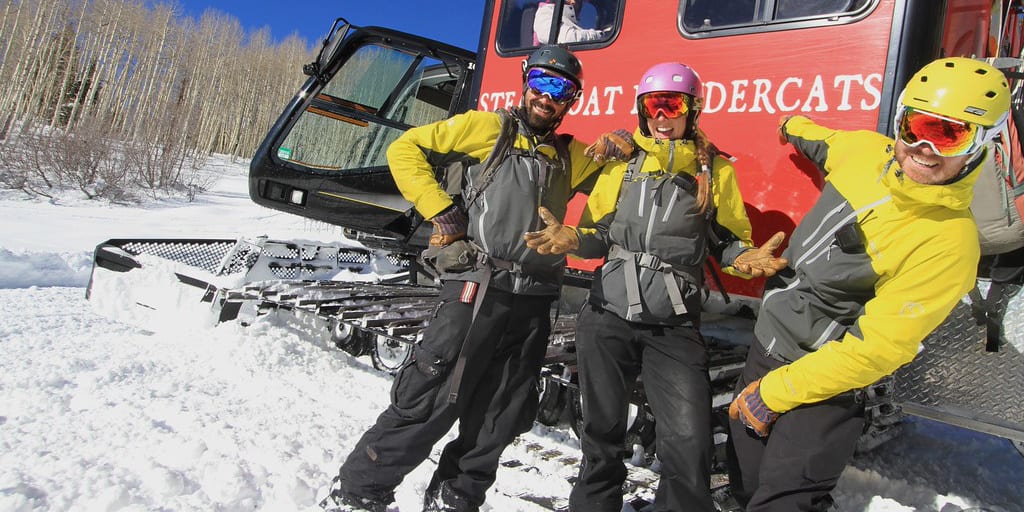 Powdercats provides powder specific gear for guests. The wider Armada powder skis and fatter, longer,
Never Summer snowboards
are the optimal gear for a full day in the backcountry. They also provide tele gear and poles with larger powder baskets, along with shovels, probes, and mandatory avalanche transceiver (BCA Trackers).
Guests can count on 8 to 16 runs regardless of the group's ability level. Runs vary in length from 500 to 1,200 vertical feet and in steepness between 15 and 40 degrees.
Realistically Assess Your Ability Level
Because if you do not, you might spend the day alone in the snowcat! Powdercats makes a tremendous effort at every point of contact to help guests realistically appraise their powder skiing abilities to better group them with others of similar skill.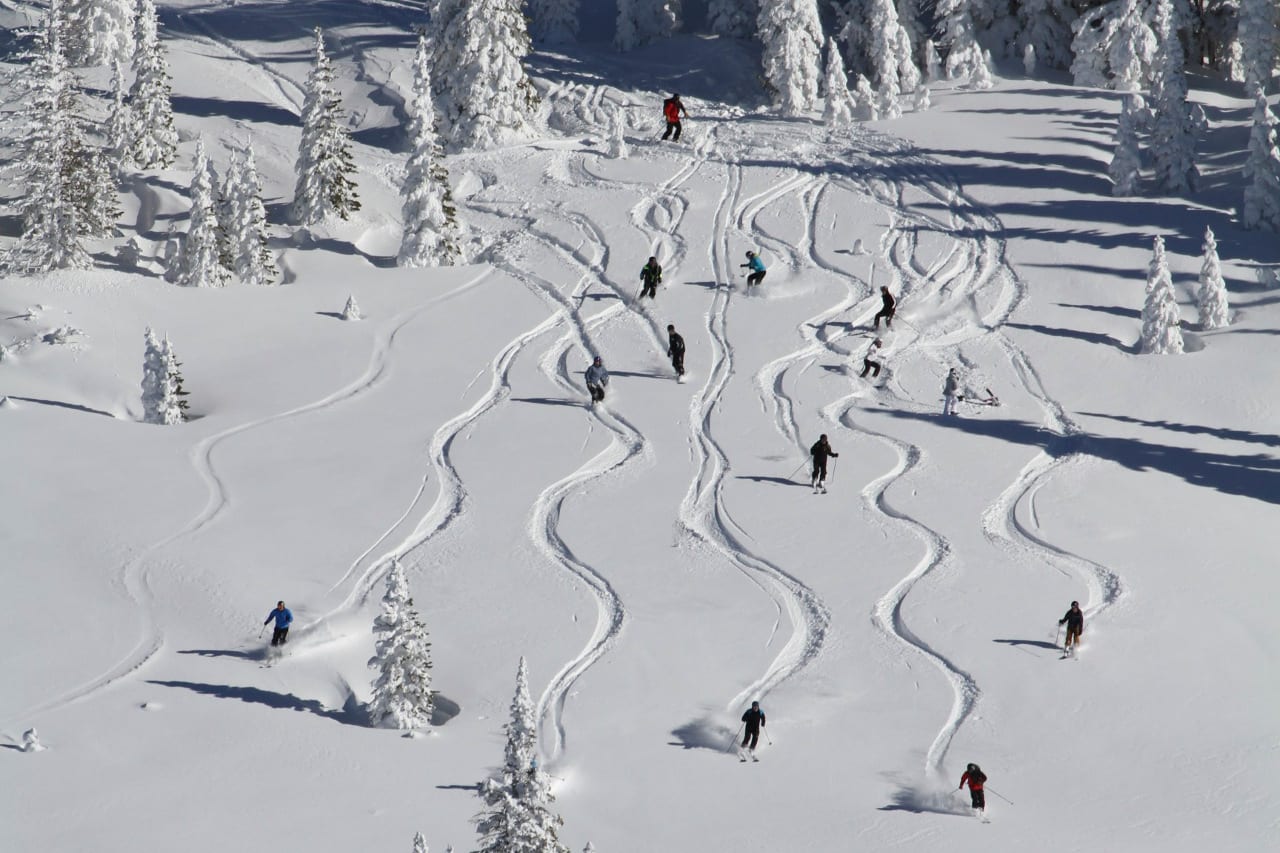 The terrain is then matched to the group's needs. Being a great skier does not equate to being a great backcountry powder skier. Guests are implored to err on the conservative side when determining where they belong.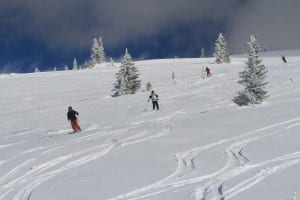 Level I – Intermediate
A good introduction to the backcountry that almost anyone can do. "The terrain is mellow, has zero to very limited avalanche pitch, so your fears of the 'extreme' nature of the trip should be put aside immediately." They do request that if you are not comfortable skiing trees, riding in all depths, and can't pop turns in powder, please ski at Level 1, "where guides will be giving you as much assistance with gear, instruction and picking you up out of the snow as necessary." Ouch.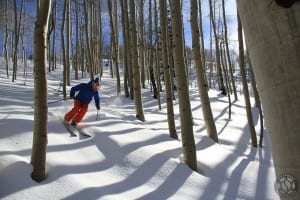 Level II – Advanced
Although Level I and Level II tours access the same terrain, Level II skiers or boarders must be able to navigate the plentiful aspen and evergreen forests. You'll need to be able to link your turns in the trees and ride in big powder with no trouble stopping or traversing. A falling leaf will not suffice as acceptable turning on this tour.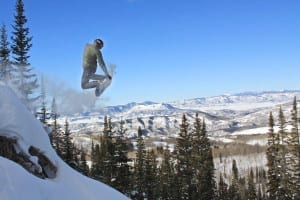 Level III – Expert
Just like it sounds. These guests thrive on the most advanced terrain and deepest powder. Many have prior experience in heli or cat skiing. The runs in this group are fast paced and the adventure is high. It offers terrain similar to the hike-accessed trails on the top of Mount Werner and the gate-accessed Fish Creek Canyon area of Steamboat Ski Resort. The only difference is you get a lot more vertical and way less people trying to steal your lines.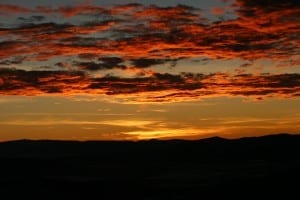 Powdercats offers many custom experiences with tours designed to thrill skiers of all levels and budgets. The Alpenglow tour gives you an extra hour at the end of your day, so that while the sky is swirling gold, orange, red, and pink, you are still swooshing.
Keep the glow on by adding an hour-long after party to the Alpenglow tour, or even linger longer over a three-course dinner at the company's cabin. There are full moon ski tours that include dinner and private cat tours in which you and your chosen companions own all 12 seats on the cat.
Steamboat Powdercat's site offers a very comprehensive FAQ page along with a well-maintained blog and FaceBook page that have a ton of vibrant photos and videos. The authentic love for what they do is obvious and infectious. Spending a few minutes on their site will make you want to jump right out of your chair and spend a day with them in their cats!