Formerly called the Anasazi Heritage Center, the Canyons of the Ancients Visitor Center is Southwest Colorado's prime archaeological museum and the headquarters for the Canyons of the Ancients National Monument.
The museum and facilities of the Heritage Center are owned and operated by The Bureau of Land Management (BLM) since 1988. It was constructed to preserve both artifacts and records in perpetuity. The Canyons of the Ancients Visitor Center is a federal museum, research center, and curation facility, which focuses on the Ancestral Puebloan, Native American, and historical societies in the Four Corners region.
Exhibits
Permanent exhibits on archaeology, local history, & Native American cultures
Two 12th-century archaeological sites
A research collection of over 3 million artifacts and records from archaeological projects in Southwest Colorado
Special exhibits & events
Educational resources for teachers
A research library of archaeology & anthropology resources
There is also a museum shop operated by the non-profit Canyonlands Natural History Association (CNHA), featuring children's literature and books on specialized topics like Native American philosophy, crafts, archaeology, Southwest history, cookbooks and nature guides.
Curation Tours
The Curation Tour is hosted by BLM Canyons of the Ancients National Monument and Canyons of the Ancients Museum during summer. And this year, it's held every Thursday at 02:00 PM from May through October.
Aside from the BLM Canyons of the Ancients exhibit space, visitors can experience and explore the housed artifacts of over 3 million items at the collections area of Canyons of the Ancients Museum.
The curation tour at Canyons of the Ancients Museum is recommended. Reservations are strongly advised and participants must be 12 years of age or older.
Educational Opportunities
Experienced and devoted educators give students of all ages firsthand lessons and activities to increase their knowledge of the history while inspiring further learning. Each year these people work with nearly 2,000 students from all over the country, offering a variety of educational resources plus providing in-school programs for local schools.
Children who visit the museum are also encouraged to join the Junior Explorer program.
Details
Address: 27501 Hwy 184, Dolores, CO 81323
Phone: 970-882-5600
Season: Year round
Website: blm.gov/…
Latest in Canyons of the Ancients Museum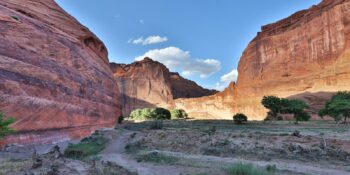 In the late summer and early fall, it's hard to beat a road trip through the…