As the first ever paved road in Boulder, Pearl Street has always been the main thoroughfare of downtown commerce. Also known as the Downtown Boulder Mall, today this area is a northern Colorado hotspot with a thriving community of locals and visitors alike.
Musicians love to play along the brick-paved pedestrian stretch of Pearl Street between 11th and 15th Streets. Wine glasses and coffee mugs clink from locally owned sidewalk cafes. Craft fairs, farmer's markets, and other seasonal events contribute to the inviting atmosphere all year long.
History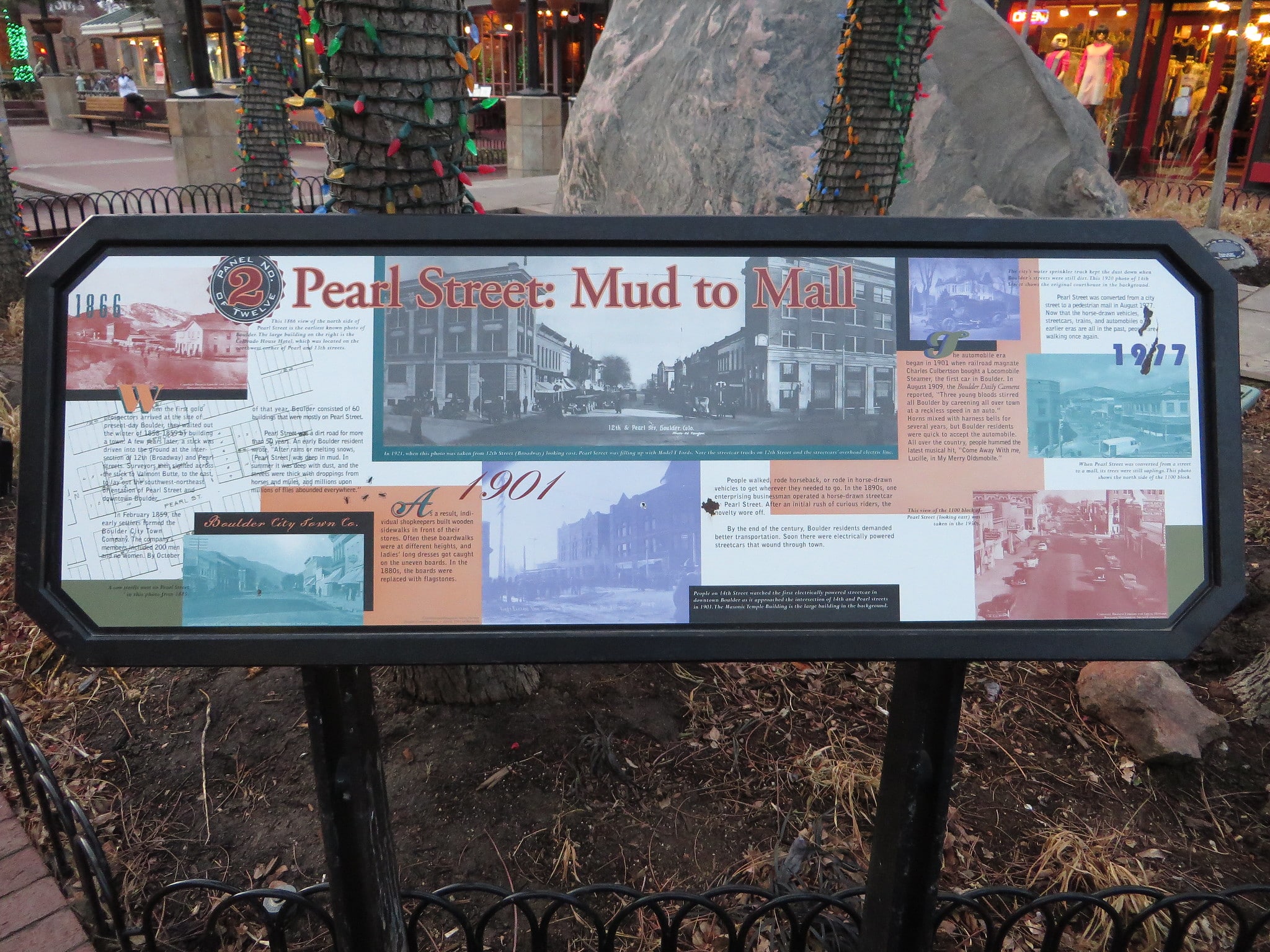 It's believed that Pearl Street was named after the wife of one of the 54 founders of Boulder. The original street was made of dirt (as most were during that time), which caused some unfavorable conditions in the summer and winter. To combat the muddy or dusty conditions, store owners made their own little boardwalks to make it easier for customers to access the stores.
Flagstones eventually replaced the makeshift wooden sidewalks, and the street was the first one in town to be paved. In 1970, construction began to improve over 35 blocks of the street to create a downtown mall.
Four years later, 4 blocks were designated as pedestrian only and many of the area's buildings were restored. In 1976, the Pearl Street Mall was officially opened after years of planning, building, and preserving historic architecture along this promenade.
Today, the street is the cultural core of the Boulder County town, providing a space for the community to eat, play, and shop. Although it's taken on many different forms throughout the years, its historic designations will ensure it maintains its charm and accessibility for the foreseeable future.
Stores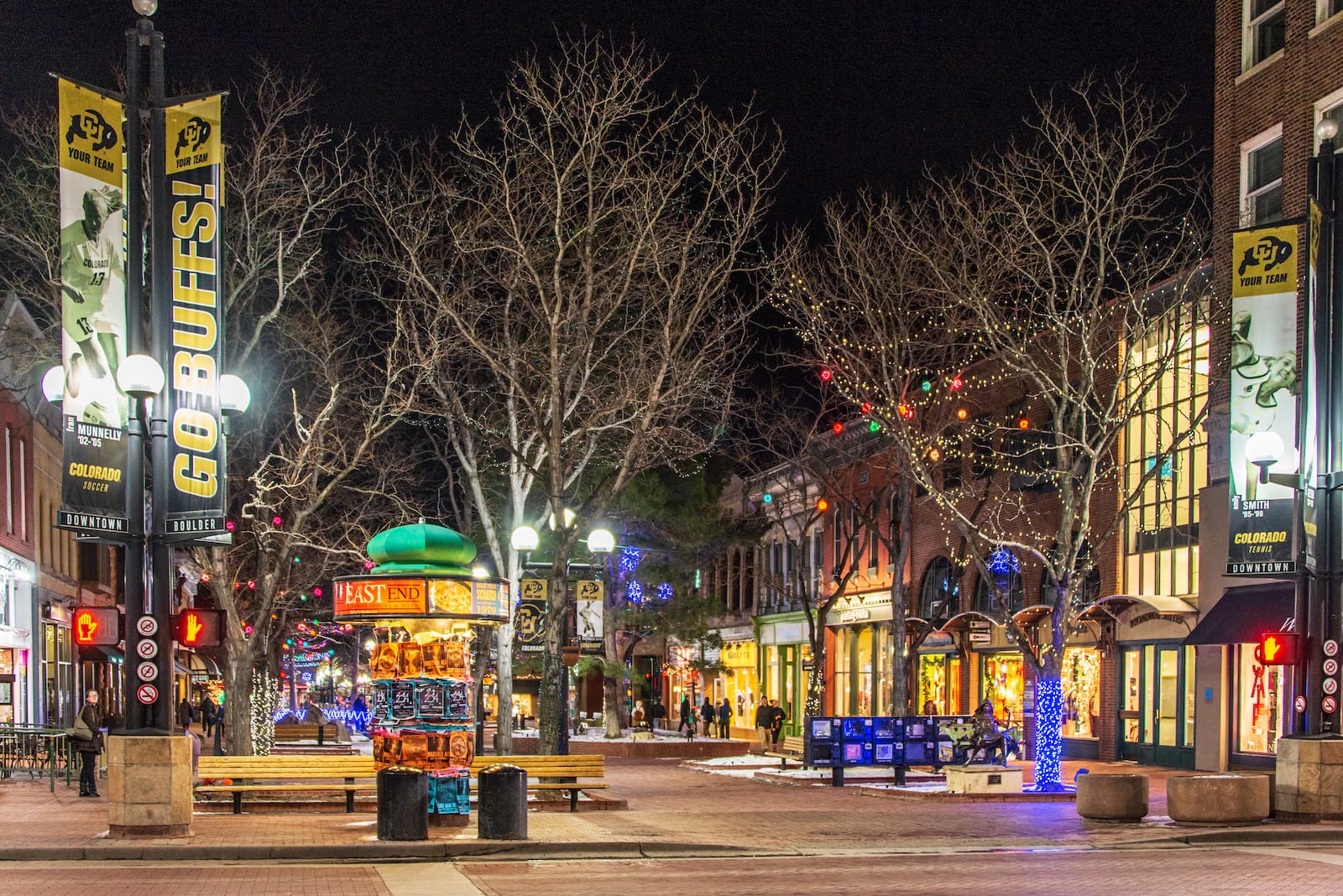 Visitors perusing the retail shops will have hundreds of options in the downtown area and the surrounding promenade. Over 70% of the businesses are locally owned and operated, so you know your money is going back into the community.
The Pearl Street Mall shops are a diverse collection of boutiques, craft stores, art galleries, and even the world's largest kite store. There is sure to be something for everyone, no matter if you're in for a day of window shopping or on the hunt for a unique present.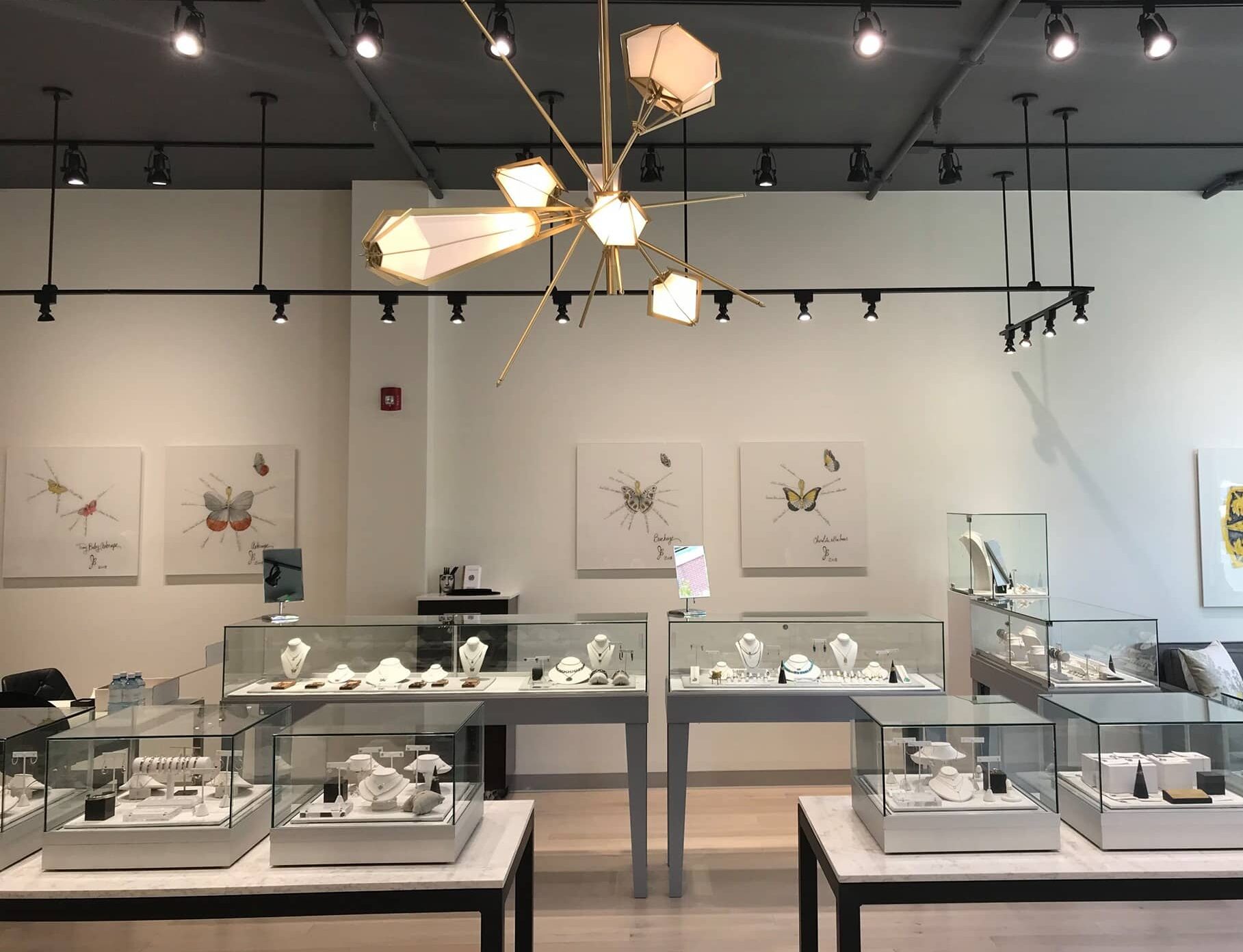 Some standouts include John Atencio, a jewelry store with designs from a Colorado native, the Art + Soul Gallery, Boulder Book Store, and Apocolypse, a woman-owned secondhand store. A number of the shops have been serving the community for decades! Keep an eye out for Hurdle's Jewelry which has been selling designer jewelry and gems since 1947, or Peppercorn, a kitchenware boutique that opened in the 1970s.
Additional districts bordering the mall with great shopping include the East End, the West End, and the 15th Street Design District for home design and decor. These are easy to walk to so you can add them on with minimal extra effort.
Dining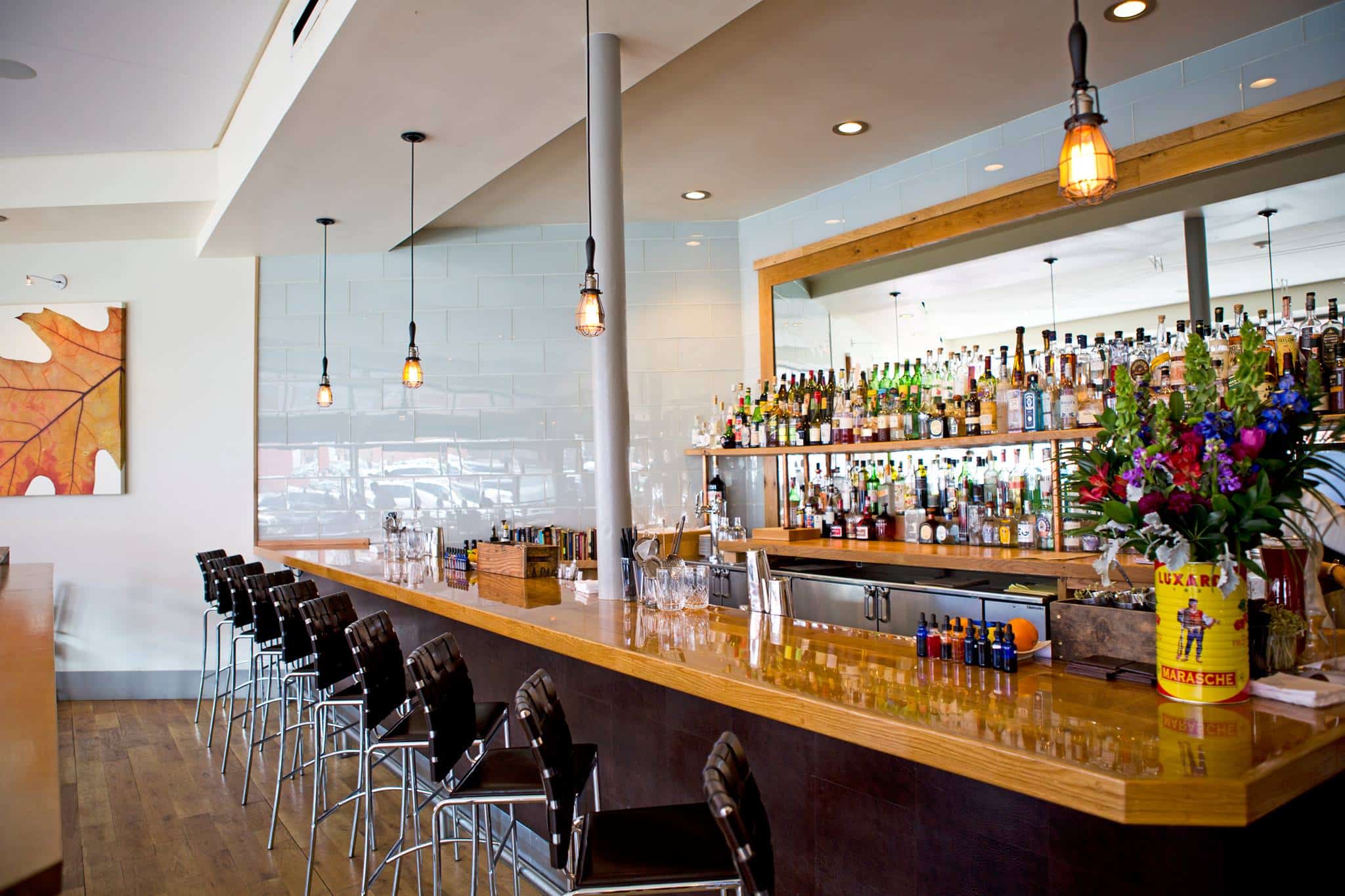 Dining along Pearl Street Mall caters to every palette. There is everything from wood-fired burgers grilled up at OAK at fourteenth and plant-based cuisine at Leaf Vegetarian Restaurant to bakeries like Spruce Confections and even the Ku Cha House of Tea. You'll never leave hungry or parched.
If you're craving a pale ale and some live music, head for Oskar Blues Taproom, a longtime favorite for great jazz performances. Did you arrive before the shops opened? Nestle in at Snooze, an A.M. Eatery for an energizing breakfast before all the shopping ahead.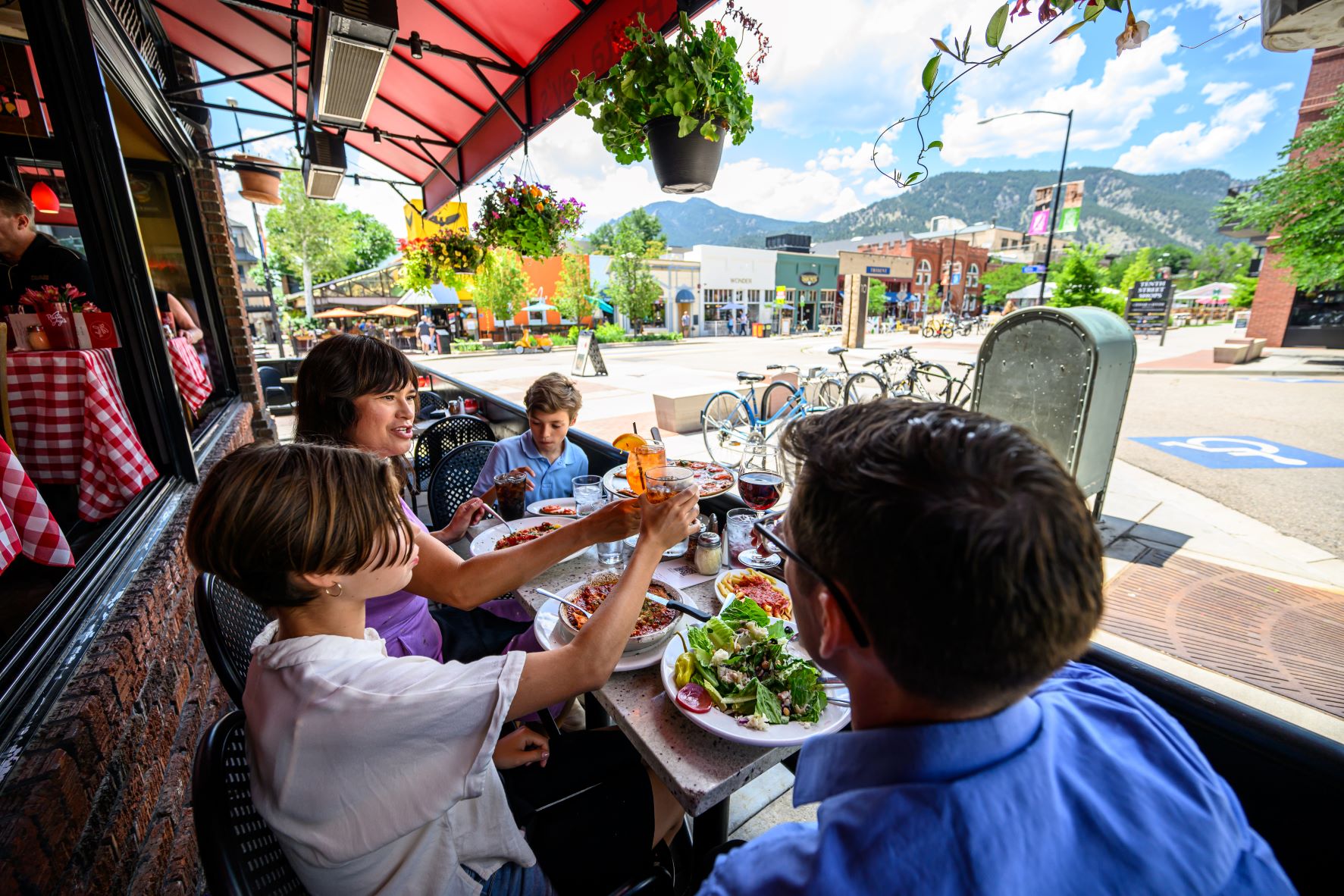 There are two "trails" if you're in the mood to sample several eateries. The Sweets Trail works its way from the East to West End and features 10 spots to satisfy your sweet tooth. Highlights include freshly made gelato from Gelato Boy, rich chocolate from Piece, Love, and Chocolate, and a food hall with 10 different cuisines worth of dessert options at Rosetta Hall.
If you're more in the mood for a caffeine fix, the Coffee Trail has you covered. 11 stops ranging from the budget-friendly Capital One Cafe and a rooftop patio at Avanti to specialty mochas at OZO Coffee Co. and over 55 locally-roasted coffee options at Brewing Market Coffee. If you want to keep it going, check out more of the best coffee shops in Boulder.
Accommodations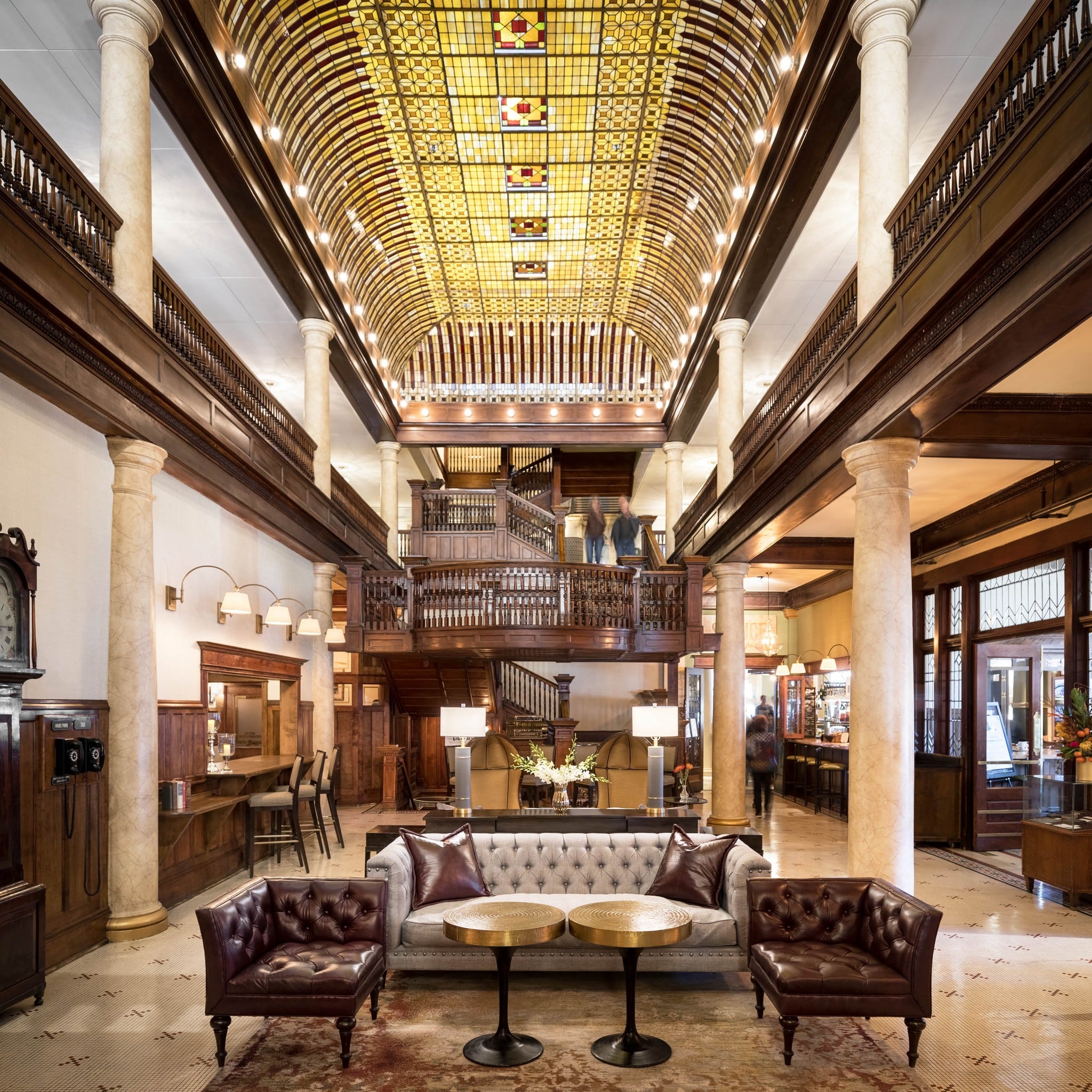 This section contains referral links. If you click through and take action, we may receive a commission, at no additional cost to you. 
There are several lodging options throughout the city of Boulder, but Pearl Street has 3 unique ones within a block of the pedestrian mall to check out if you're staying in town.
Bradley Boulder Inn – This small boutique hotel only has 12 rooms, making it a tranquil place to rest after a day of exploring. Each stay comes with complimentary parking, access to One Boulder Fitness Center, a crisp glass of wine each night, and a light breakfast. Rooms include a private bath and some feature balconies or fireplaces for extra luxury.
Hotel Boulderado – With sweeping views of downtown and the surrounding mountains, Hotel Boulderado is a great spot for any type of traveler. The rooms are decorated with Victorian-inspired furnishings, and there are 3 dining options located conveniently in the building.
St Julien Hotel & Spa – A sophisticated yet simplistic option for those looking for a little bit of extra luxury. There are over 200 rooms and suites to choose from, each with an oversized bathroom and warm-toned, relaxing decor. All guests have access to a pool, hot tub, and fitness center, and can opt for spa services like a massage or facial.
Read about the best hotels in Boulder.
Events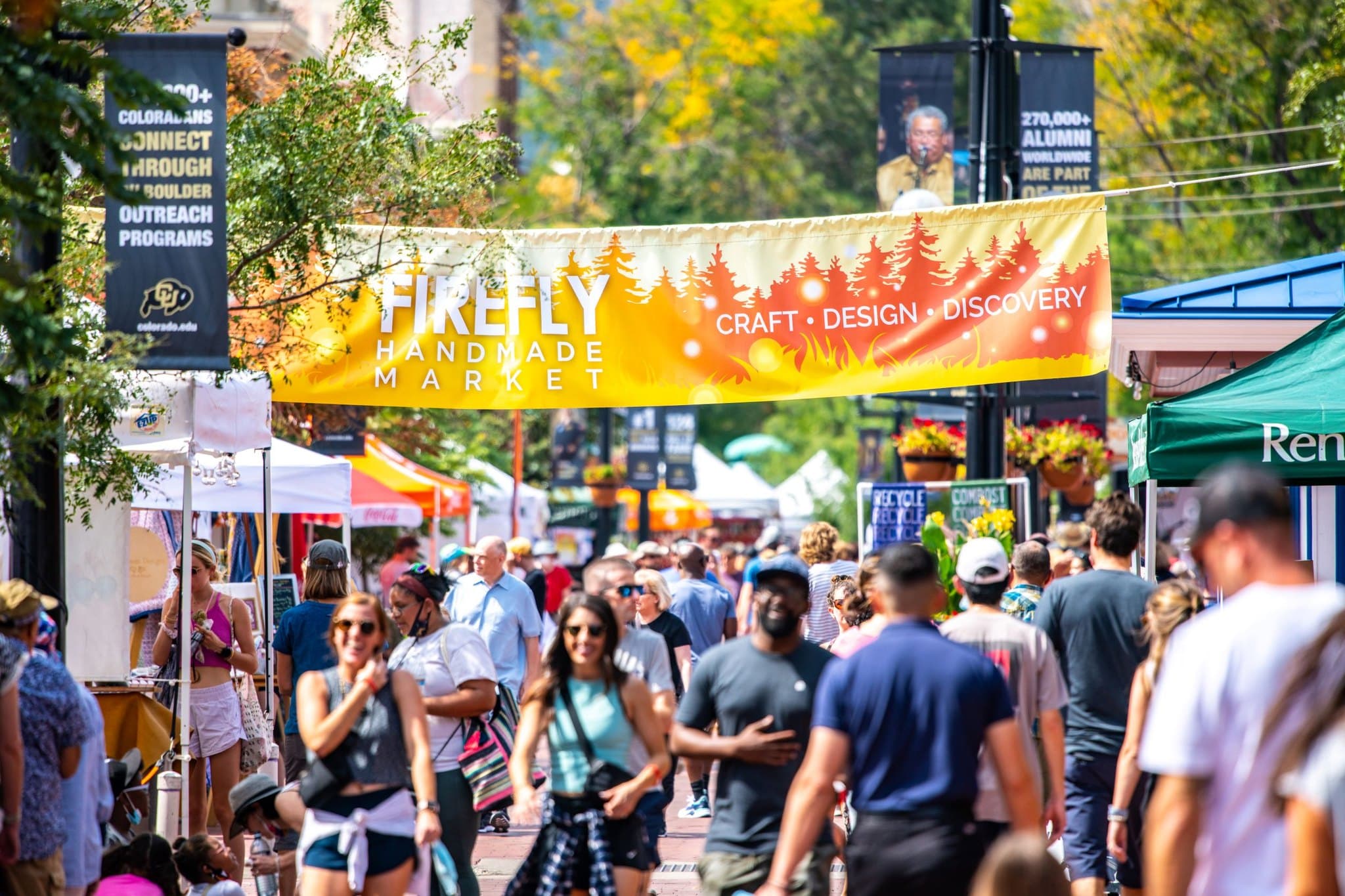 May – Tulip Fairy and Elf Festival – A magical springtime tradition to "wake up" over 15,000 tulips that bloom on Pearl Street. Fairies and elves wander around the mall sprinkling a little bit of magic and color over downtown.
Jun-Aug – Bands on the Bricks – 8 weeks of free local music performances spanning all genres once a week. There is a beer garden that opens 30 minutes before the opening band plays, so grab your friends and enjoy some tunes under the summer stars.
Jul – Pearl Street Arts Fest – This weekend-long event turns the pedestrian mall into an interactive art gallery. Meet the artists behind all different types of artwork and maybe even pick up a few pieces to take home.
Sep – Downtown Boulder Fall Fest – Celebrate the changing seasons with this 3-day festival complete with food vendors, live performances, and a handmade market. There is also a beer garden and several children's activities including a huge inflatable slide.
Oct – Munchkin Masquerade – Put on your best costume and head to Pearl for some family-friendly trick-or-treating. Local organizations and shops will be handing out candy and other treats.
Nov-Dec – Light up the Holidays – Boulder goes all out for the holiday season, celebrating with fun activities and events for an entire month. Highlights include St. Nick on the Bricks, a meet and greet with Santa himself, and the Firefly Handmade Holiday Craft Market that takes over Pearl Street each November.
Check out the top events in Boulder.
Tips for Visiting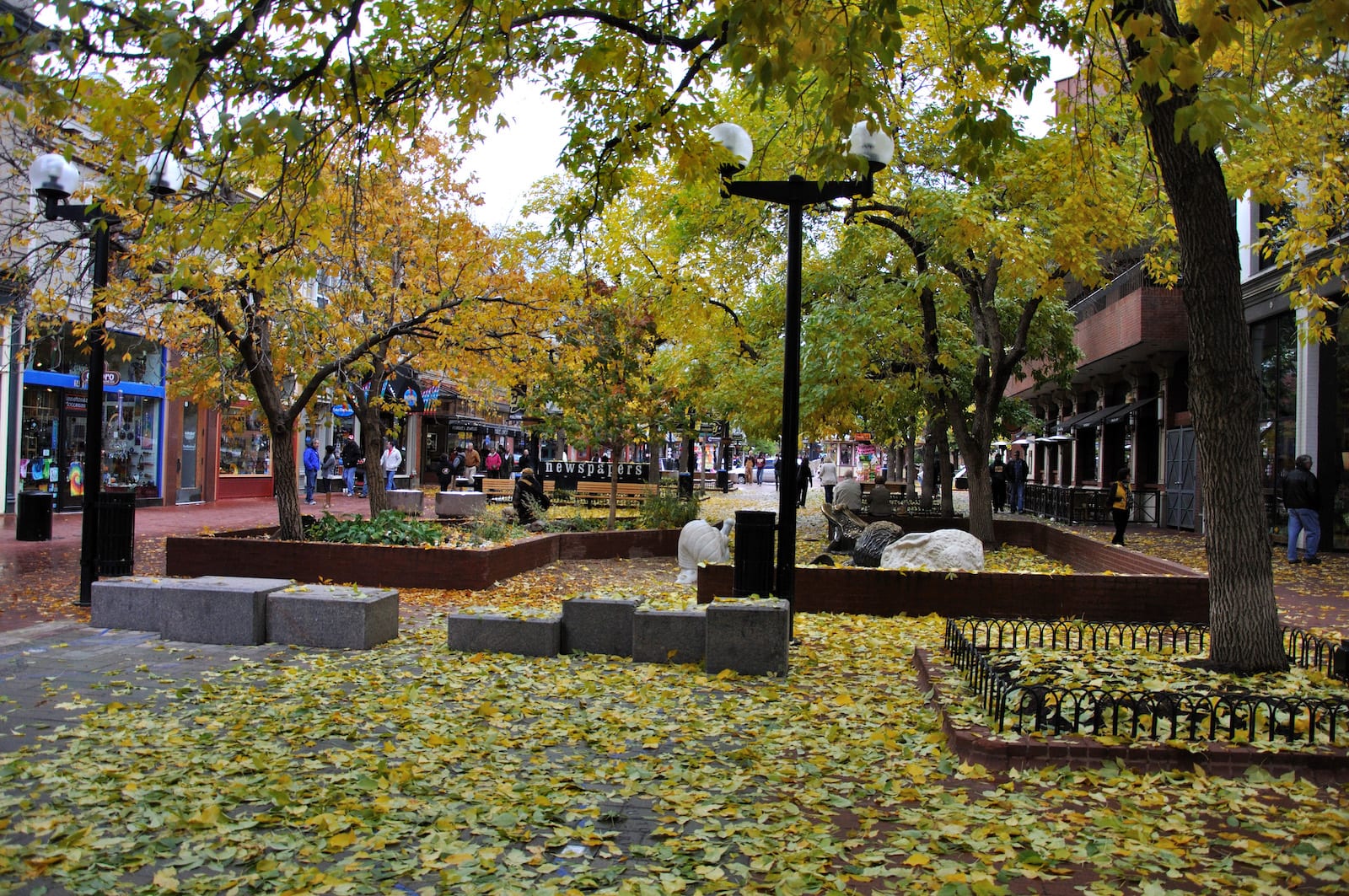 Although it may seem like just a stroll down the street, the unique conditions of Colorado require just a bit of extra preparation no matter what you're doing.
Bring plenty of water to stay hydrated. The mall sits at an elevation of 5,328 feet, which may have an effect on those visiting from sea level. Be sure to take it slow and sit on a bench to people-watch if you need a break.
Dress in layers! Colorado is known for its sunny weather, but that doesn't mean the odd rainstorm doesn't sneak up sometimes. Don't let the rain get you down and keep you from enjoying all that downtown has to offer.
There are two public restrooms, one at 9th & Canyon Blvd and one at 13th & Pearl Street.
Downtown Boulder Ambassadors wear blue polos and are a great resource if you need recommendations or have any questions. There is also a visitor's center at 1303 Pearl Street.
Pets are not allowed on the 4 pedestrian-only blocks of Pearl Street.
Getting There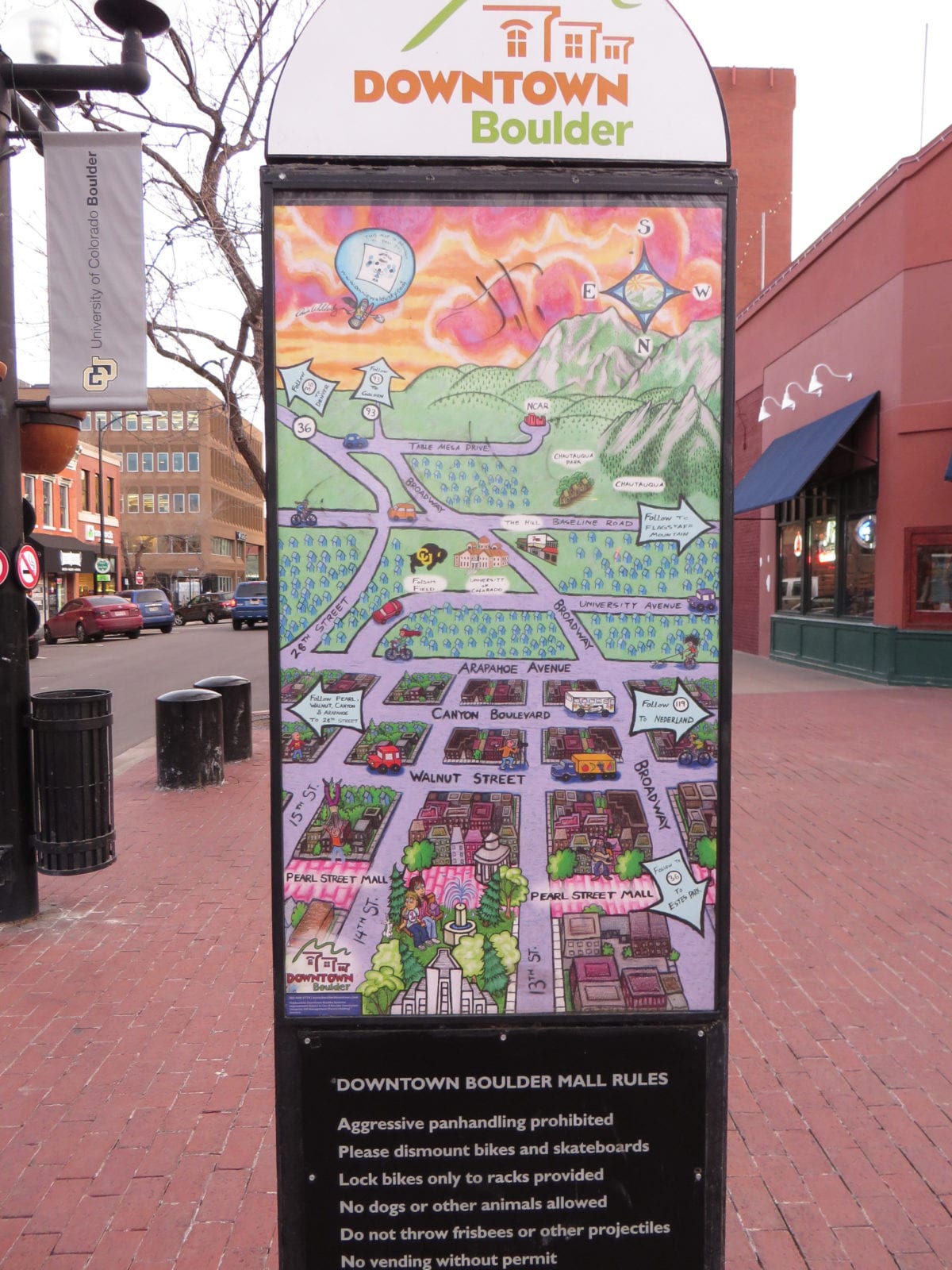 The designated pedestrian area of Pearl Street runs between 11th and 15th Streets. If you're heading to town through Denver, take 1-25 north onto Highway 36 straight to Boulder, where it eventually turns into 28th Street. Continue on this route and it will intersect with Pearl Street, with the mall to your left.
There are over 3,700 public parking spots downtown, whether you prefer parallel street parking or a covered garage. Some businesses will validate parking, but be sure you jot down your license plate number as it is required whether you are validating or purchasing time at a kiosk.
Details
Address: 1942 Broadway #301, Boulder, CO 80302
Phone: 303-449-3774
Season: Year-round
Website: boulderdowntown.com