Are you in the mood for a little bit of retail therapy in the shadow of Pike's Peak? If you're looking for some of the widest variety of scenic shopping centers in southern Colorado, you'll fall in love with the selection in Colorado Springs.
Because of the Springs' unique size and shape, there's plenty of space for sprawling shopping complexes and malls to continue to grow. Whether you're closer to the east end of town with a view of the plains or you're in the heart of downtown, there are dozens of shopping centers to choose from within a few-mile radius. Plus an hour north there are more top malls in Denver Metro.
From the upscale Promenade Shops at Briargate to a more casual plaza like the Broadmoor Towne Center, there's a location for whatever kind of shopping you crave. Check out the selection below to make the most informed decision before you waste your gas driving all around town.
Here are the top shopping centers in Colorado Springs, in no particular order:
The Promenade Shops at Briargate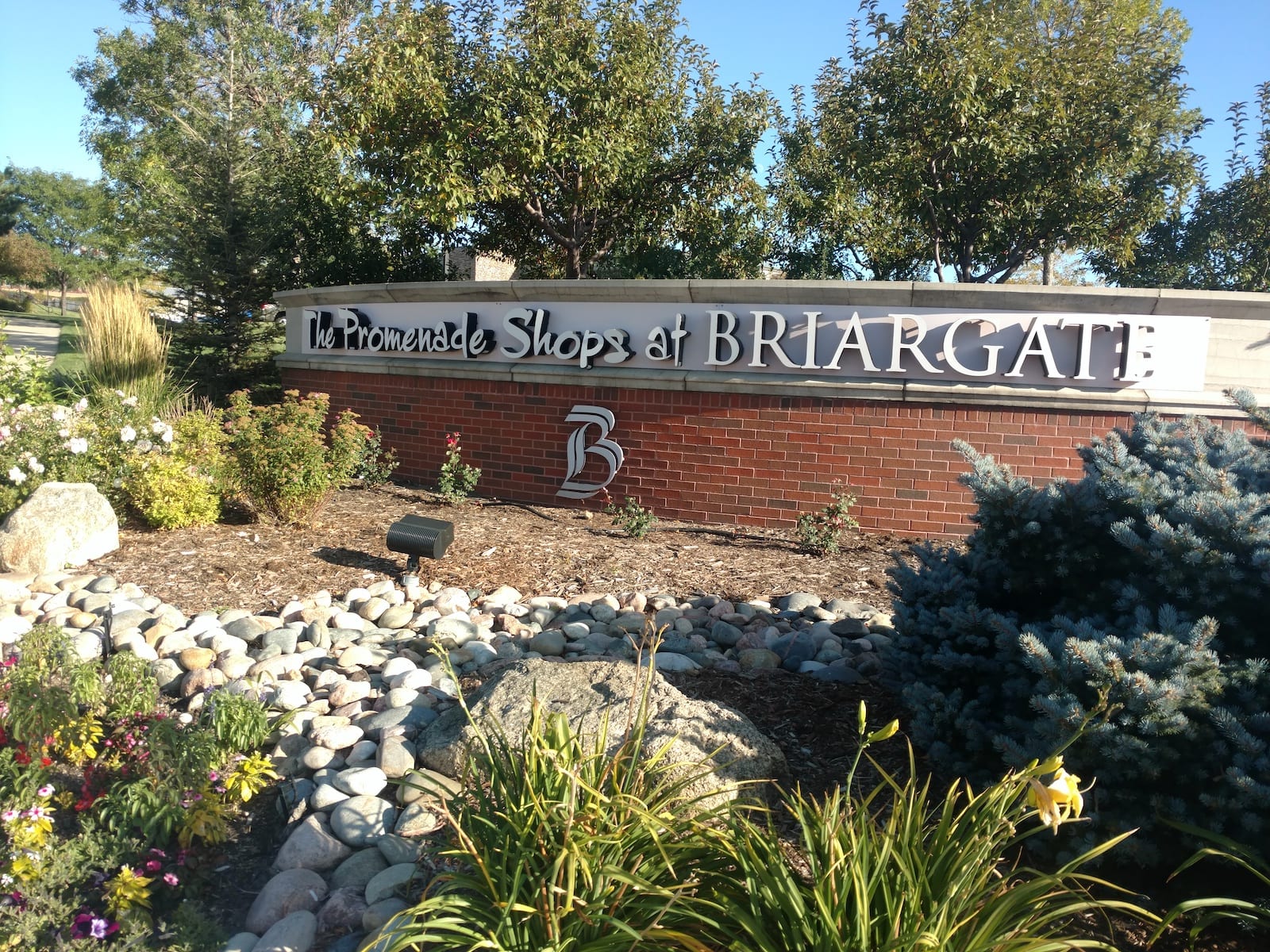 Come visit one of the most modern complexes in Colorado Springs. This upscale open-air mall has everything you need–from PF Changs to the Apple Store to Starbucks, all packed tightly into one space.
The Promenade Shops sits at the top of a hill on Briargate Parkway, on the north end of Colorado Springs, and offers incredible views of the mountains. Be sure to stop by around sunset to see some incredible colors in the sky.
During the summer, this complex is home to a Saturday farmer's market, which boasts a pet-friendly atmosphere and many stalls lining the parking lot. It doesn't matter if you're a resident of the neighborhoods in the surrounding areas or just traveling through, with shops ranging from Sephora to Express to Rocky Mountain Chocolate Factory, your high-end shopping, and dining needs will be satisfied.
If you enjoy an open-air atmosphere and just as much selection as a high-end mall, you should pay The Promenade Shops at Briargate a visit.
1605-1925 Briargate Pkwy, Colorado Springs, CO 80920 | 719-265-6264 | thepromenadeshopsatbriargate.com
Chapel Hills Mall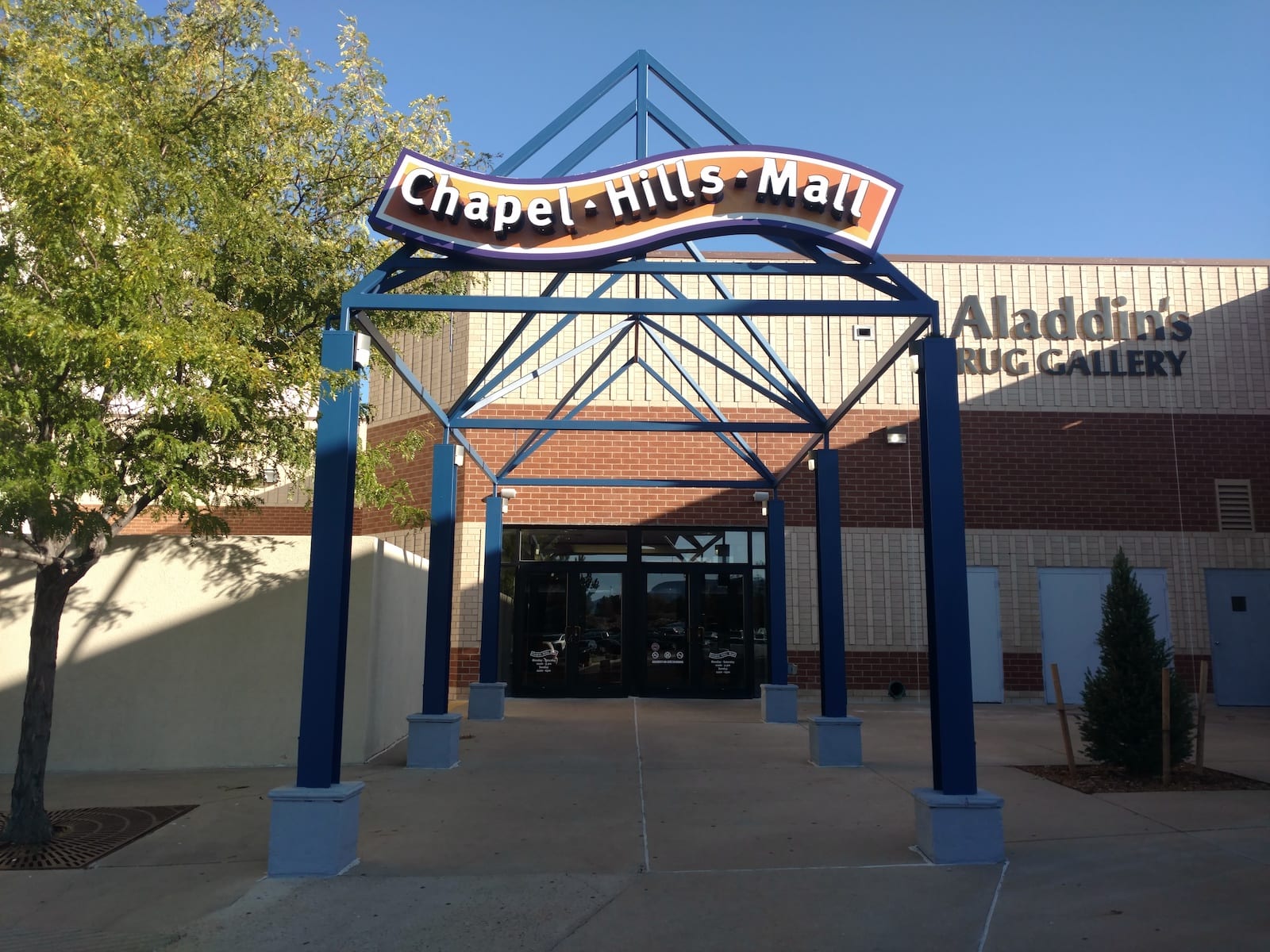 The Chapel Hills Mall is, by far, the best mall in Colorado Springs. With two stories full of a large variety of stores, both upscale chains, and local businesses, you're sure to find whatever retail therapy your heart desires. If you're the type that prefers department stores, there are Dillards, Burlington Coat Factory, Macy's, and Dick's Sporting Goods.
Want to stock up on souvenirs? The My Colorado Store will be to your liking. Its shelves are filled with any and every kind of Colorado-related gift to give your friends and family when you get back home.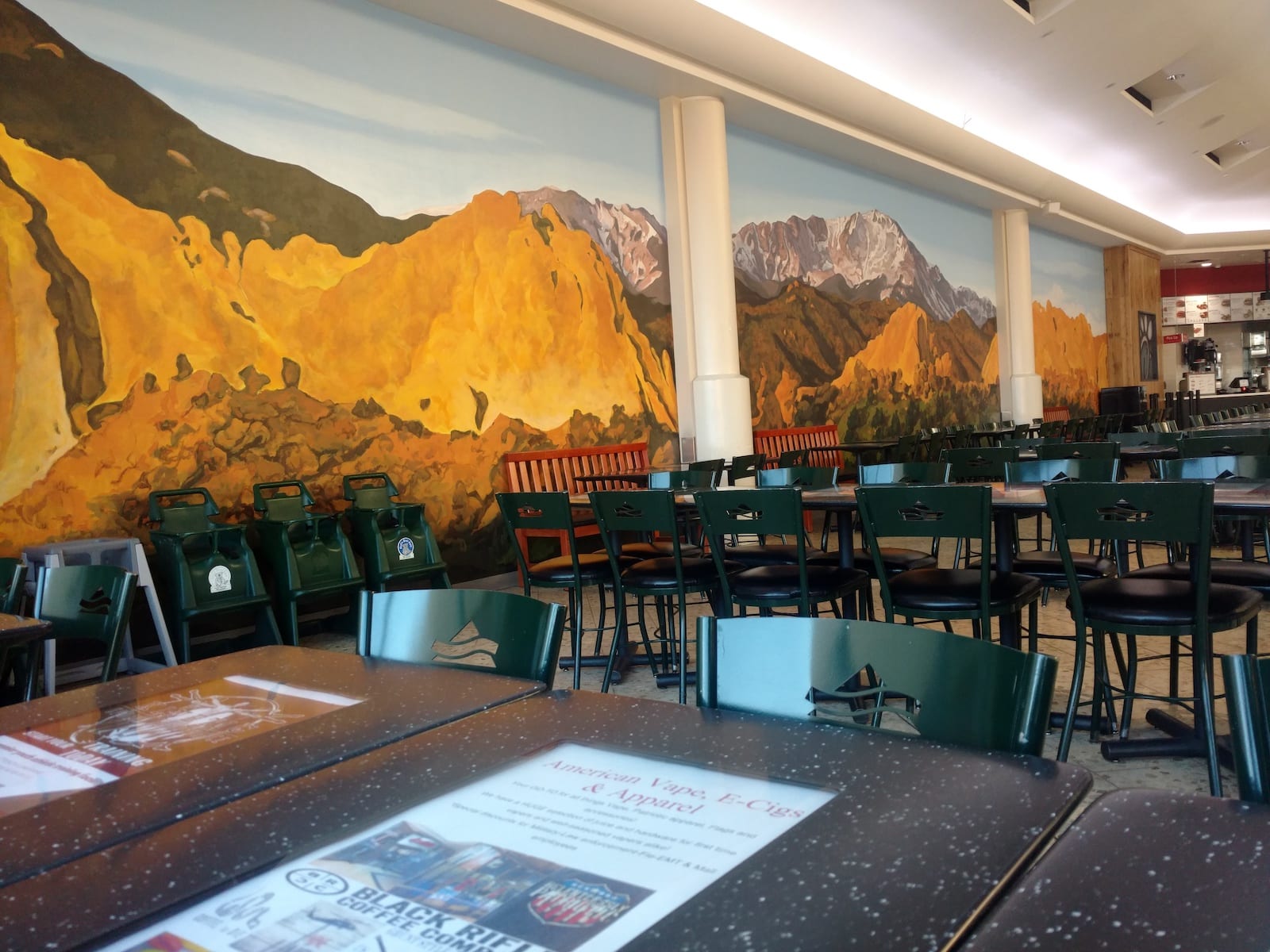 If you're on the hunt for a more unique store, look into Alladin's Rug Gallery, which sells beautifully intricate hand-woven rugs.
The food court has a large mural of the Garden of the Gods painted across one wall that you can gaze at as you chow down on your Chick-Fil-A or Famous Wok. Best of all, there's a large AMC theater located at one end, so you can end your tiring day by escaping into a dark theater to watch a movie.
1710 Briargate Blvd, Colorado Springs, CO 80920 | 719-594-0111 | chapelhillsmall.com
The Citadel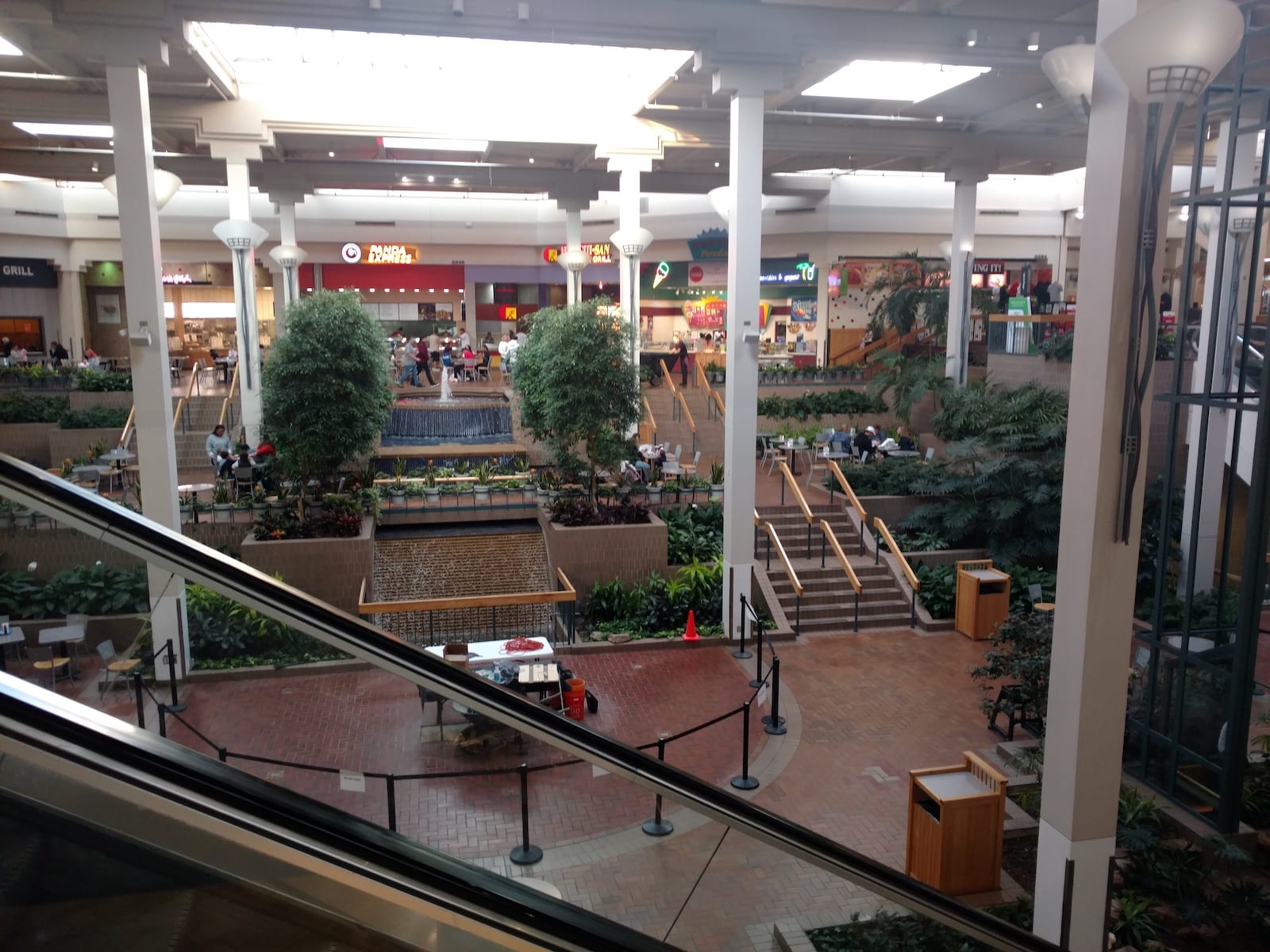 If you're looking for a mall that will bring you back to your teen years of hanging out in the food court, then The Citadel Mall should be your top choice. It is a bit more casual than the Chapel Hills Mall, with fewer chain stores and more unconventional businesses, such as a dance studio and a vape shop.
The food court itself is an architectural spectacle leftover from the 80s that features a gorgeous glass elevator. With a ton of different levels surrounding indoor trees and a bubbling fountain, be assured there's somewhere peaceful to relax after hitting all the shops.
Citadel also features the typical department stores, like Burlington Coat Factory, Dillards, and JCPenney, but it's also filled to the brim with unique and interesting stores. One of the coolest is Epic VR, which allows you to experience virtual reality without shelling out tons of money for the equipment.
Spend a relaxing day in a nostalgic environment at the Citadel Mall.
750 Citadel Dr E, Colorado Springs, CO 80909 | 719-591-5515 | shopthecitadel.com
First & Main Town Center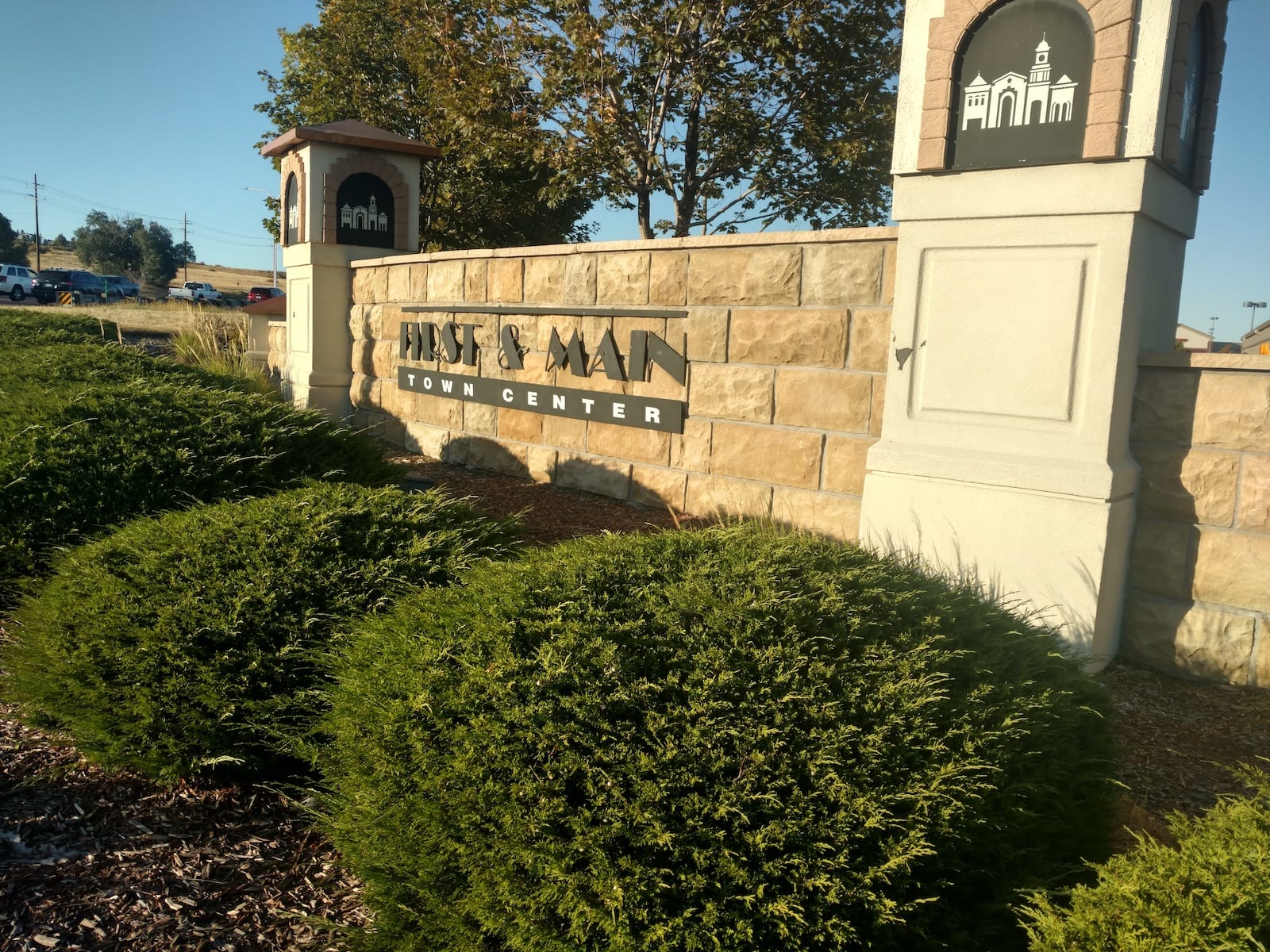 Do you need to get a ton of shopping done in a short amount of time? The First and Main Town Center is perfect for you in that case. If you're located on the east end of the Springs, you'll want to visit just to witness how large it is.
This retail center is located just off of Powers Road, stretching out from North Carefree down to South Carefree. It's a great place to shop, featuring stores such as GameStop, Big Lots, JCPenney, and more. During the summer there are free local concerts held in its center as well as Saturday car shows for auto enthusiasts in the gigantic parking lot.
If you're looking for great dining, there's Red Lobster, Old Chicago, Five Guys, and more. Like many of the other shopping centers on this list, First and Main also features a Cinemark with state-of-the-art seating to luxuriate in after a long day of hitting the stores.
Last but not least, First and Main is home to service-based businesses to help make your life easier, like a Chase Bank and Massage Envy. Not only will you be able to fulfill your retail needs in this huge shopping plaza, but you'll also be able to take care of your errands as well.
First and Main Town Center is one of the most unique shopping centers in Colorado Springs and it's worth checking out, no matter what your needs.
3650 New Center Point, Colorado Springs, CO 80922 | 719-550-4660 | firstandmaintowncenter.com
Cheyenne Mountain Shopping Center
If you're on the west end of town, the Cheyenne Mountain Shopping Center shouldn't be too far from you. This sprawling complex features a Cinemark Tinseltown theater, Target, OfficeMax, and, as always, a Starbucks to help you refuel.
It's also the perfect place to knock out all of your errands at once, with shops like Sally Beauty Supply, GameStop, and hair and nail salons. If you're looking for restaurants, there's Outback Steakhouse, Buffalo Wild Wings, and more to choose from.
While the shopping center is walkable, there's a huge variety of businesses in the surrounding area as well. Cheyenne Mountain Shopping Center is the retail heart of the west side and a great place to spend a day.
1670 E Cheyenne Mountain Blvd, Colorado Springs, CO 80906 | 719-538-8114
Broadmoor Towne Center
The Broadmoor Towne Center may not be in its heyday anymore with the recent closure of Sears, but there are still a ton of bustling shops to visit, as well as gorgeous views from the eateries that circle the plaza.
If you're in the mood for retail therapy, Gordmans, Michaels, and Ross are just a few doors down from each other. Where the Broadmoor Towne Center excels, however, is in its restaurants.
From Lark Spot to Qdoba to Panera, there's a large selection of casual dining that features outside seating to allow you to enjoy the overlooking mountains. If you're looking for a relaxing day of running errands, there's no better way to end it than gazing at that view.
2250 Southgate Rd, Colorado Springs, CO 80906
University Village Shopping Center
University Village is located on North Nevada Avenue, close to the University of Colorado: Colorado Springs campus. This large complex offers a variety of options for shoppers, from dining spots to salons and spas.
One of the best breakfast restaurants in the Springs is located in this shopping center, and you cannot miss Over Easy's waffles the next time you're in town. This plaza also features other great dining options, such as Noodles and Company and BJ's Brewhouse.
If you're in the mood for shopping, there's Kohl's, Trader Joe's, and Petco. One of the most unique shops in University Village is the Wild Bird Center, which caters to bird-watchers and bird-feeders of all kinds.
5262 N Nevada Ave, Colorado Springs, CO 80918 | 719-632-5000 | uvcshopping.com
The huge variety of shopping centers and malls in Colorado Springs cater to just about any demographic, from the most upscale to the more casual and thrifty shoppers. No matter what your style, there's a place that's built to suit your retail needs. Be sure to check out the selection of unique local businesses while you're in the area–they're part of what keeps Colorado Springs great.