Sometimes Amazon won't cut it and you still prefer to go to the shopping centers. The Denver metropolitan area boasts dozens of shopping centers, with a number of notable malls and shopping districts.
Most suburbs have their own shopping areas outside of the Denver shadow. You usually don't need to go far to find what you need. There are a limited number of traditional enclosed malls in the metro, with Cherry Creek and Park Meadows the highlights. An hour south you can discover a number of top malls in Colorado Springs, in case you're still searching.
Our list covers shopping centers as far north as Broomfield, south to Littleton, west to Lakewood, and east to Aurora. Fortunately, Denver is packed full of fantastic shopping areas and our aim today is to show you exactly where they are. If you're looking for Denver outlet shopping, we made a list for that too. For that, the closest factory outlets are Denver Premium Outlets in Thornton.
Here are the top shopping centers in Denver, in no particular order:
Cherry Creek Mall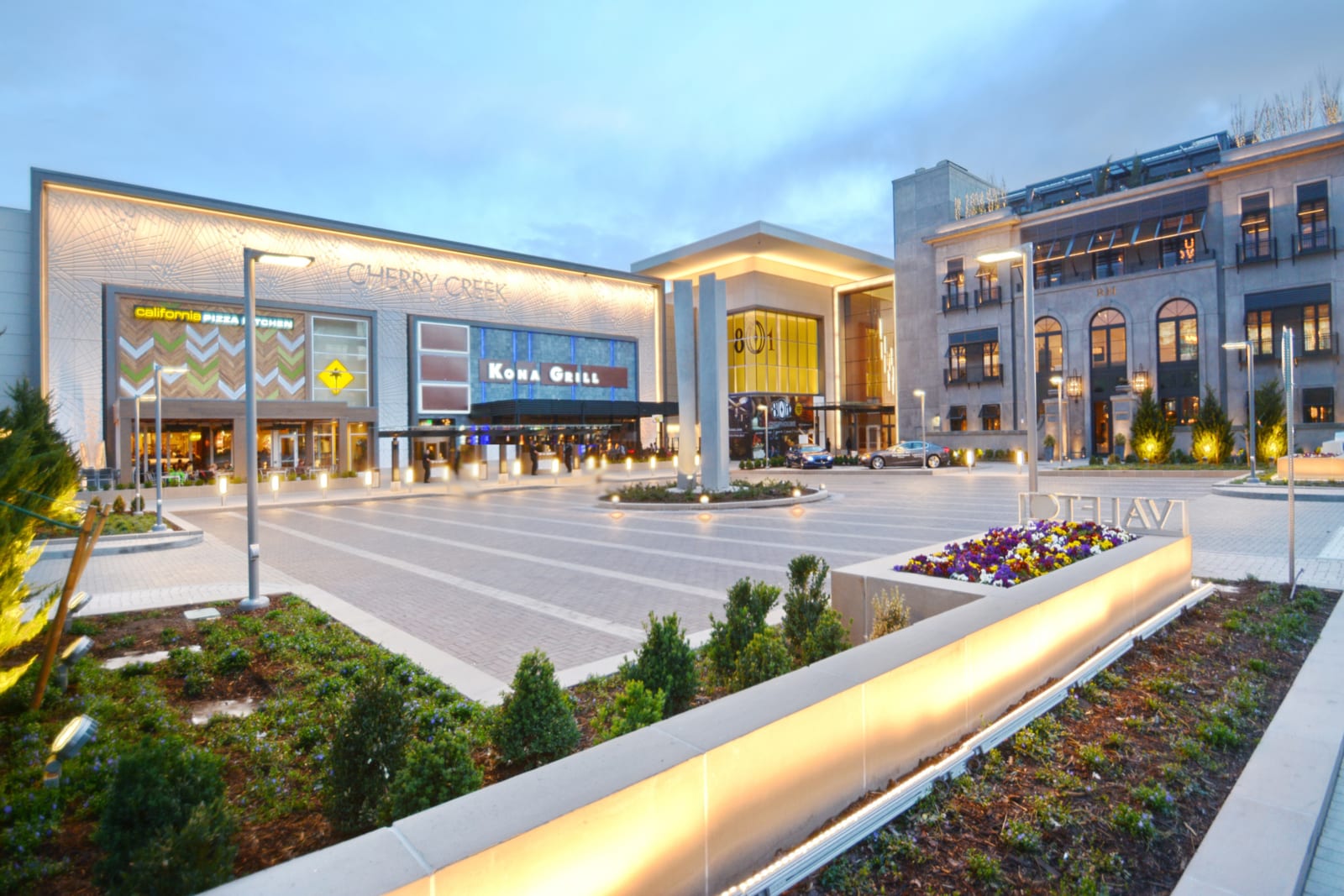 This is one of the most extensive shopping malls in Colorado. Packed with stores for all kinds of different things and plenty of dining areas, Cherry Creek Mall is your one-stop shop for everything that you could possibly need for your visit to Denver.
A great shop to peruse, particularly if you are planning on traveling, is the Colorado Baggage Company. This store has every kind of travel bag, stocking a variety of luggage to pick up and try out.
The shops range in variety with a lot of upscale stores. Ever the attached restaurants are fine dining and nice casual, a great combination to the few other low-key dining spots in the mall. The indoor parking garage is free for the first hour, then an hourly fee after. There is also a multiple-block outdoor shopping district known as Cherry Creek across from the mall.
3000 E 1st Ave, Denver, CO 80206 | 303-388-3900 | shopcherrycreek.com
Belmar Shopping Center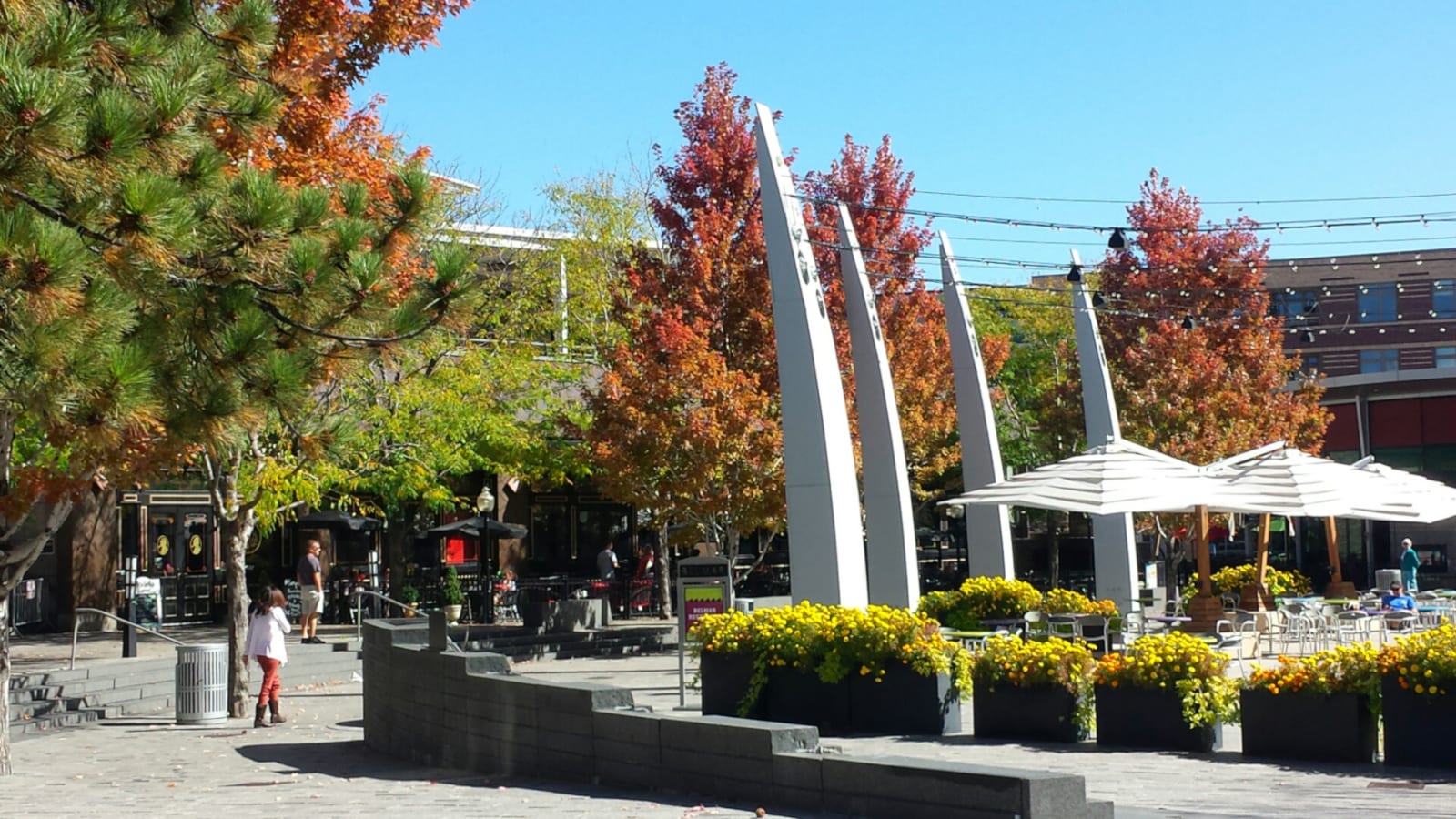 Opened in 2004, this shopping center is relatively new in comparison to some of the other malls around Mile High. It's considered Lakewood's downtown area, with modern shops and restaurants. Whole Foods, Target and Nordstrom Rack are a few of the department-style stores at Belmar.
There are over 80 stores situated within the shopping center, and you will find everything that you could possibly need from Best Buy, Target, Bath & Body Works, Foot Locker, Victoria's Secret, White House, GameStop, and much more. There is also a movie theatre and a bowling alley.
Come with the family, with winter attractions such as a winter ice skating rink. The parking meter-lined roads invite you to get a feel of Downtown Denver in Lakewood. There are free parking lots to be had though.
7337 W Alaska Dr, Lakewood, CO 80226 | 303-742-1520 | belmarcolorado.com
Colorado Mills Mall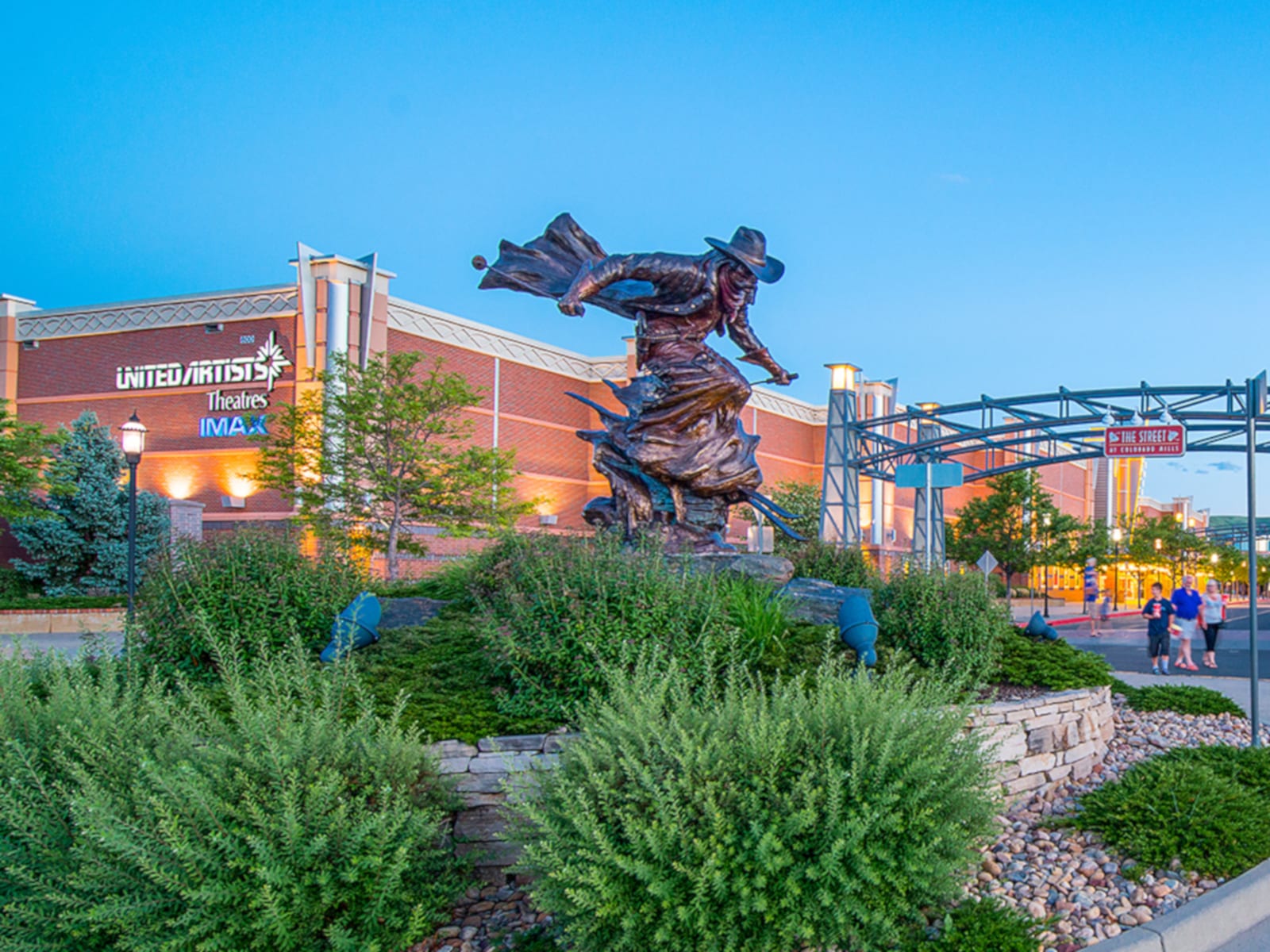 Colorado Mills Mall is a huge shopping area that is definitely worth a visit if you're in the area. It's located on West Colfax in Lakewood just before you hit Golden. It has a wide array of stores and department stores. There are even some outlet shops. Under Armor, Victoria's Secret, Super Target, Wonderland Toys, Nike – all of these stores can be found located within Colorado Mills Mall.
There are also some fantastic dining areas located all around the mall. It's perfectly possible to dedicate a whole day to shopping until you drop. If you want something quick then you could consider Burger King or Popeye's. However, if you want to try something a little different then you could also stop off at Sarku Japan, or perhaps one of the diners serving delicious Mexican dishes. Yard House is a favorite for American fare and beers at the bar.
14500 W Colfax Ave, Lakewood, CO 80401 | 303-384-3000 | simon.com/mall/colorado-mills
Park Meadows Mall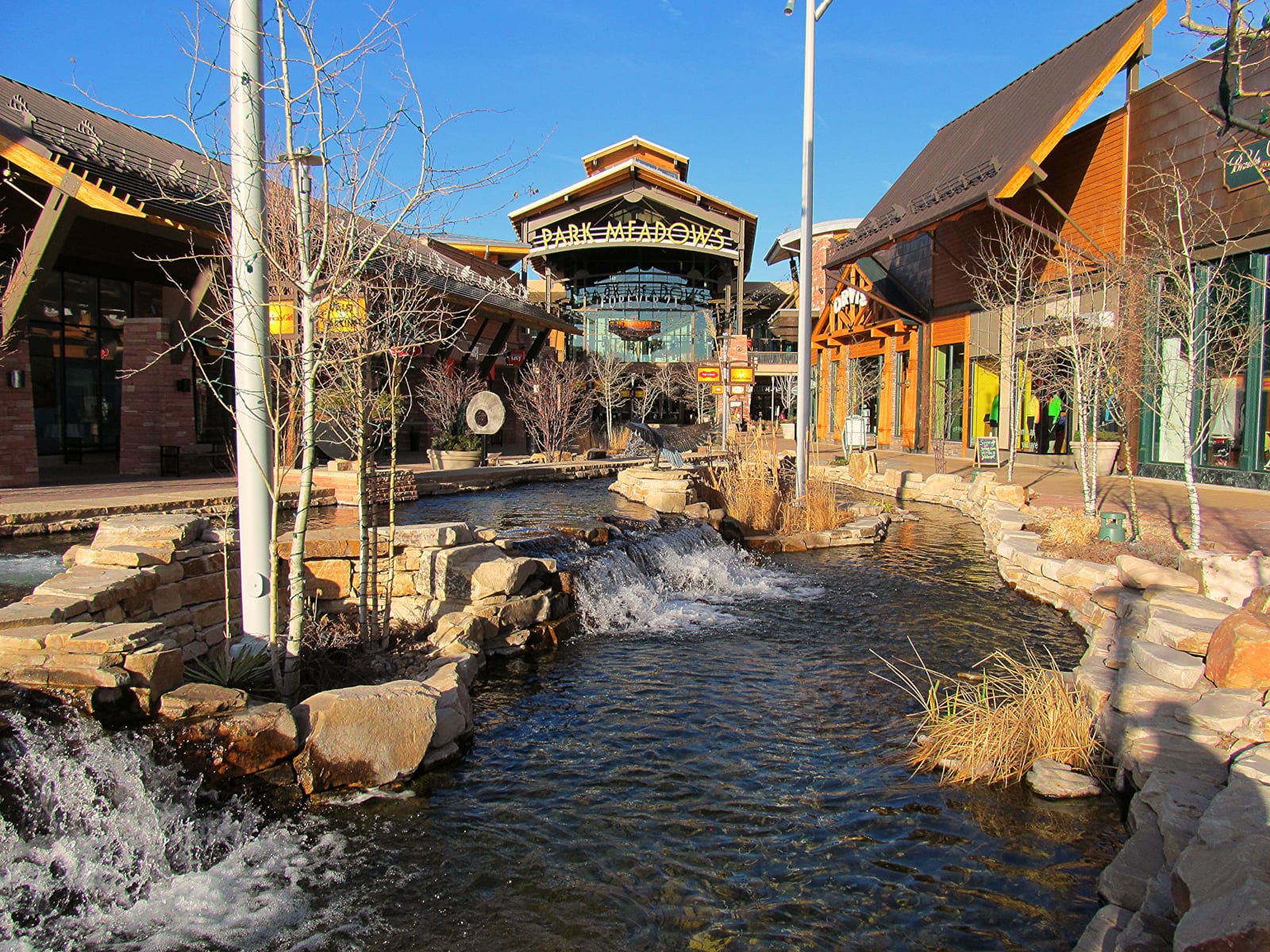 Stocking all of your favorite well-known brands, Park Meadows Mall is a must-visit if you're looking for a large traditional mall experience. You will find most of your top stores, plenty of nearby shopping, and a traditional food court.
Stores including the Apple Store, Build-a-Bear, The Disney Store, Pottery Barn, and much more are located within this huge indoor shopping mall. It's open from 10 am to 9 pm, so you have plenty of time to explore all the brand-name stores.
There are numerous restaurants surrounding the Park Meadows Mall you can exit thru the mall doors to find. You could easily spend a day navigating around the mall property if you're really looking to spend. This southern metro mall is located in Lone Tree, which is on County Line Road beside I-25.
8401 Park Meadows Center Dr, Lone Tree, CO 80124 | 303-792-2999 | parkmeadows.com
Flatiron Crossing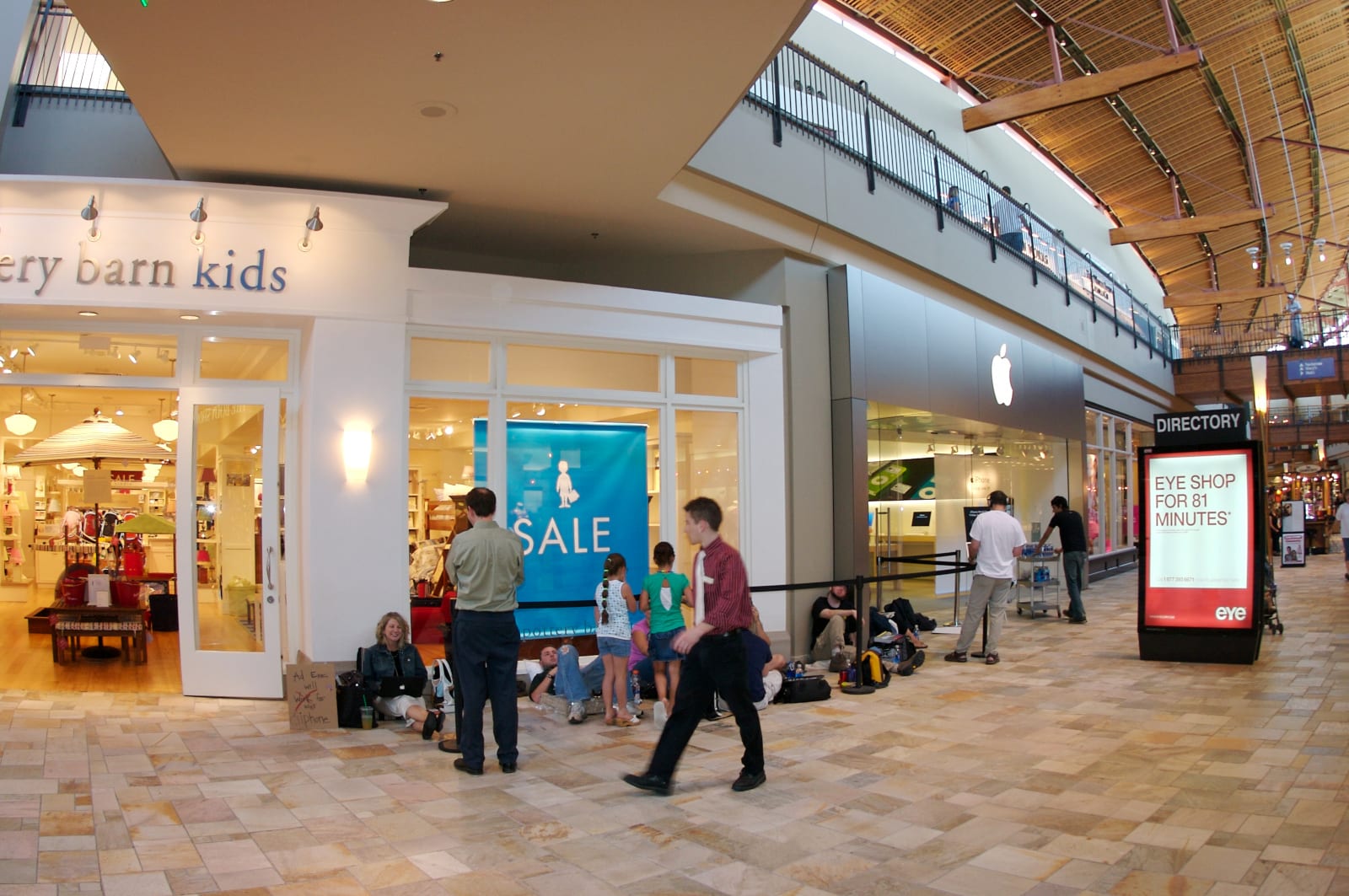 The Flatiron Crossing Mall is a big shopping center with over 200 stores. It's situated north of downtown about 30 minutes in Broomfield. Nordstrom, Dick's Sporting Goods, and Macy's are some of the larger department stores. There is also a 14 theatre AMC and Apple store.
The mall is modeled to showcase Colorado's active, outdoor lifestyle. It has both indoor and outdoor stores. The outdoor dining and entertainment district is a great place to spend the evening. Numerous coffee shops and cafes exist around Flatiron Crossing. This is a top choice for those on the northern side of Denver.
1 W Flatiron Crossing Dr, Broomfield, CO 80021 | 720-887-9900 | flatironcrossing.com
The Streets at SouthGlenn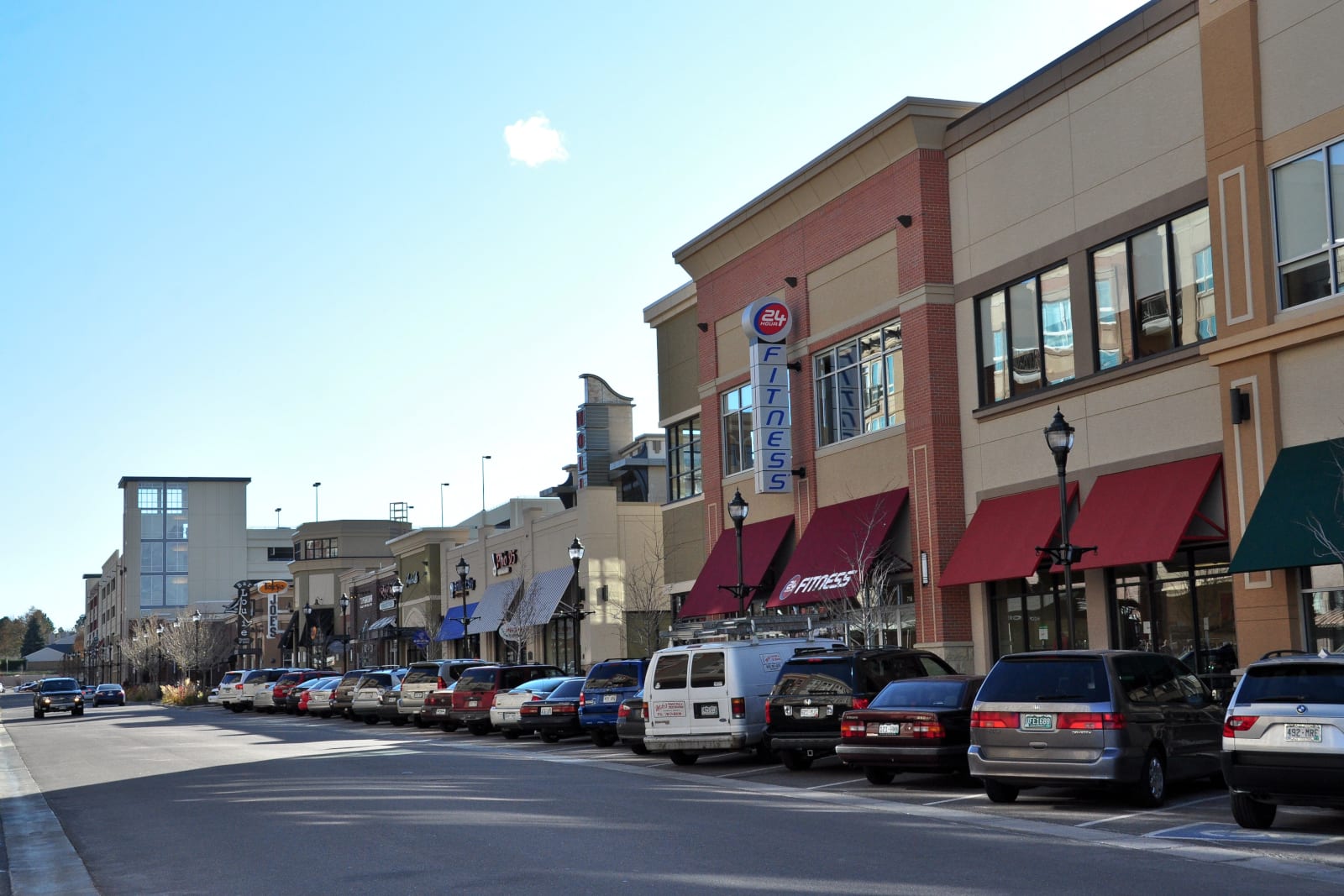 This outdoor shopping district is nicely laid out and easy to stroll. It serves the southern Denver community well for those who are looking for another local alternative to Park Meadows. Situated in Centennial, The Streets of Southglenn is just as good as a happy hour spot as it is to pick up your wardrobe at Macy's.
Whole Foods, Ross, H&M, Old Navy, and Marshall's are a few of the department stores here. Hollywood Theaters provide movie viewing entertainment with 14 state-of-the-art theaters. Grab a cocktail at Bar Louie's before the film. In the winter bring the family ice skating at the Cube at Southglenn.
6851 S Vine St Suite #200, Centennial, CO 80122 | 303-539-7141 | shopsouthglenn.com
Town Center at Aurora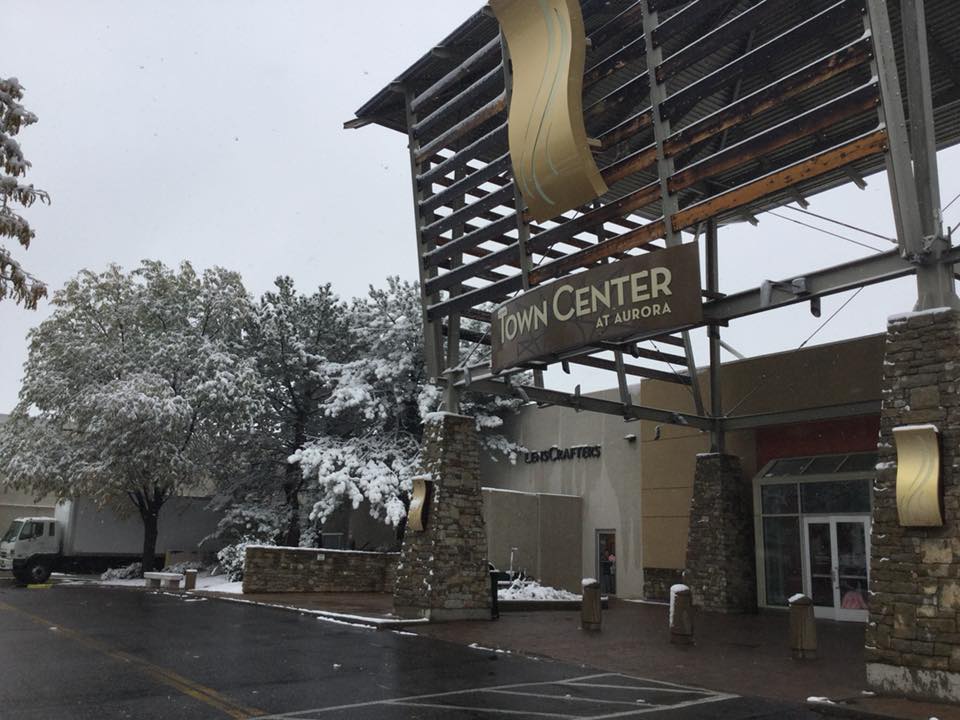 This indoor mall in Aurora hosts a range of stores and restaurants, more than 130 of them. Entertainment such as movie theaters and community events are held here. More than 13 Shops include Dillard's, Victoria's Secret, LensCrafters, and Torrid. Enjoy quick food court-style dining on the 2nd level near JC Penny's. Some choices are Charleys Philly Steaks, Chick-Fil-A, Sbarro Pizza, and Kelly's Cajun Grill.
Take the family out for an afternoon of shopping and dining at the Town Center at Aurora. Kids can enjoy rides on the Mini Carousel close to Sears. Purchase tickets for the Cubby Caboose, a train ride around the mall.
The shopping destination serves the nearby residents of Aurora, southeast Denver, and the Lowry neighborhood. It's located at I-225 and Alameda Avenue, close to the Buckley Air Force Base and Anschutz Medical Campus.
14200 E Alameda Ave, Aurora, CO 80012 | 303-344-9764 | towncenterataurora.com
Southlands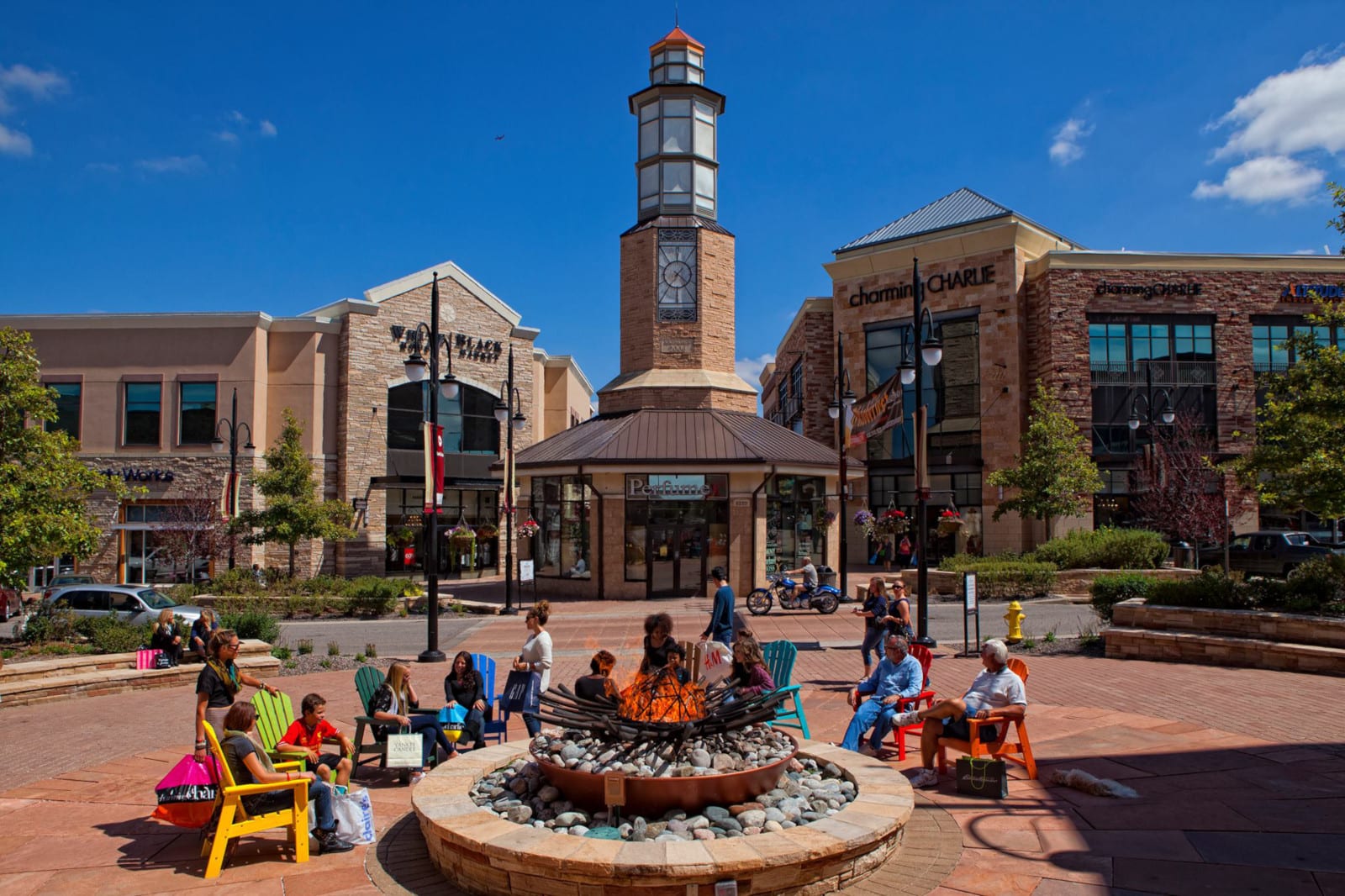 Dubbed as the "ultimate outdoor lifestyle center", Southlands serves a necessary shopping, dining, and entertainment needs for the locals of Aurora. On a beautiful sunny day, of which Colorado has many, it's great to stroll around this open-air mall. The ambiance is lovely and decorated by the season.
There are a great amount restaurants and shops to choose from. In the winter it also features ice skating, the Pond Ice Rink at Southlands. Stores include Barnes and Noble, American Eagle Outfitters, Sunglass Hut, and Yankee Candle. Treat yourself to a wonderful dinner and then dessert at the Poke Story or The Cookie Company.
6155 S Main St Suite 260, Aurora, CO 80016 | 303-627-5000 | shopsouthlands.com
16th Street Mall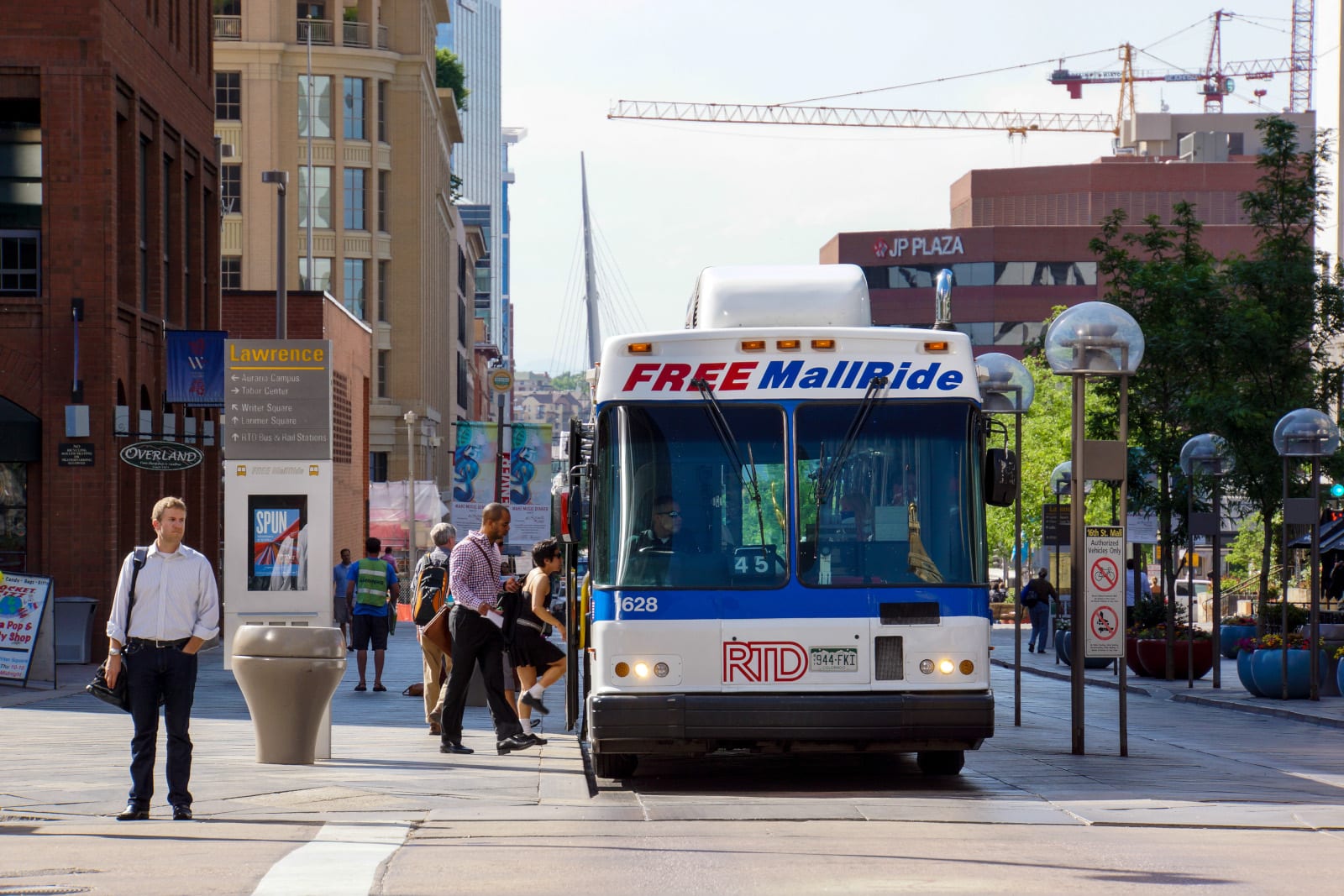 As a final option, you could consider stopping off at 16th Street Mall in Downtown Denver. While it's not a traditional mall by any sort, it is a beautiful pedestrian-friendly promenade. There are stores and restaurants lining the different blocks and side streets. Entertainment, including street performers and people watching, is easy to find.
To give you an idea of how big this shopping area actually is; there are more than 40 outdoor cafes located along the mall, a dozen movie theatres, and more than two dozen stores. The Denver Pavilions is one of the main shopping and entertainment hubs on 16th Street.
There are also breweries and other stores that offer visitors a behind-the-scenes look at how they operate, so if you fancy something a little different during your stay then this is an option. The free RTD Mall Bus uses the road, which stops on every block to pick up and drop off passengers. There is no exchange needed, just hop on and off.
16th Street, Denver, CO 80202 | 303-892-1505 | denver.org/things-to-do/attractions/16th-street-mall
As you can see, there are plenty of different shopping areas located within the Denver Metro. Hopefully, one of these malls will be a great experience.