Colorado is a big state land-wise, covering an estimated 104,185 square miles, the 8th largest in the US. Although population wise around 5 million of the estimated 5.8 million all live along the same front range region.
There are 4 local area codes you might come across while perusing phone numbers in Colorado. Two of which are for the Denver Metro, which is adding a third, so Colorado's fifth, in 2022.
303
The 303 is a number synonymous with Denver and Colorado. It was established as Colorado's area code in 1947. This is the primary area code for the Mile High City, as well as cities like Golden, Boulder, and front range mountain towns to the west like Idaho Springs. You'll see the numbers 303 along with 5280 (for elevation) used in businesses and names across the metro.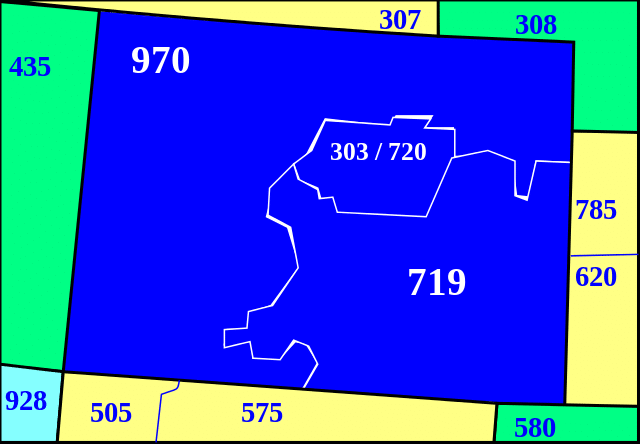 719
Going south to Colorado Springs from Denver will change to 719. This extends westward into the mountains, to towns like Alamosa, Canon City, Fairplay, and Buena Vista. As well as south to Trinidad at the New Mexico border. This was Colorado's second area code in 1988, splitting up the region.
970
This area code probably covers the most range. It came along in 1995, adding to 719 and 970. It's found on both the front range and western slope. You'll see 970 everywhere from Fort Collins to the northwest to Steamboat Springs and Grand Junction. Then running south along the western slope through Gunnison, Aspen, Vail, down to Durango and Pagosa Springs. Going back east over the continental divide leads back over to the 719 or 303 further north.
720
Along with 303, 720 is seen and given out by phone companies throughout the Denver area. It was added in 1998 to go along for the Mile High. Although doesn't get as much love as the 303. Going north to Loveland and Fort Collins numbers will switch to 970.
983
Coming in 2022 to the capital city metropolitan area, 983 will join alongside 303 and 720. Implemented by the Colorado Phone Commission, they predict that by the last quarter of 2022, they will run out of available 303 and 720 numbers. It's thought the supply of 983s will run for 25 years and start once the current supply of 720 and 303 runs out.