As much as I love the combination of hot water, soaking, and the smell of sulfur, I lived in Pagosa Springs for ten years and sat in the hot springs once. Yes, part of it was my unwillingness to be seen publicly in a bathing suit, but the larger concern was the sharing of bath water with strangers. I am, therefore, the perfect demographic for this article!
Private Colorado hot springs are abundant and extraordinarily diverse in their offerings. With the exception of Dunton Hot Springs, which is in a prairie all its own, rates average $300-600 per night for the lodging portion. Privately soak up all the healthy mineral salts
(affiliate link) in your own hot springs.
Merrifield Homestead Cabins & Hot Springs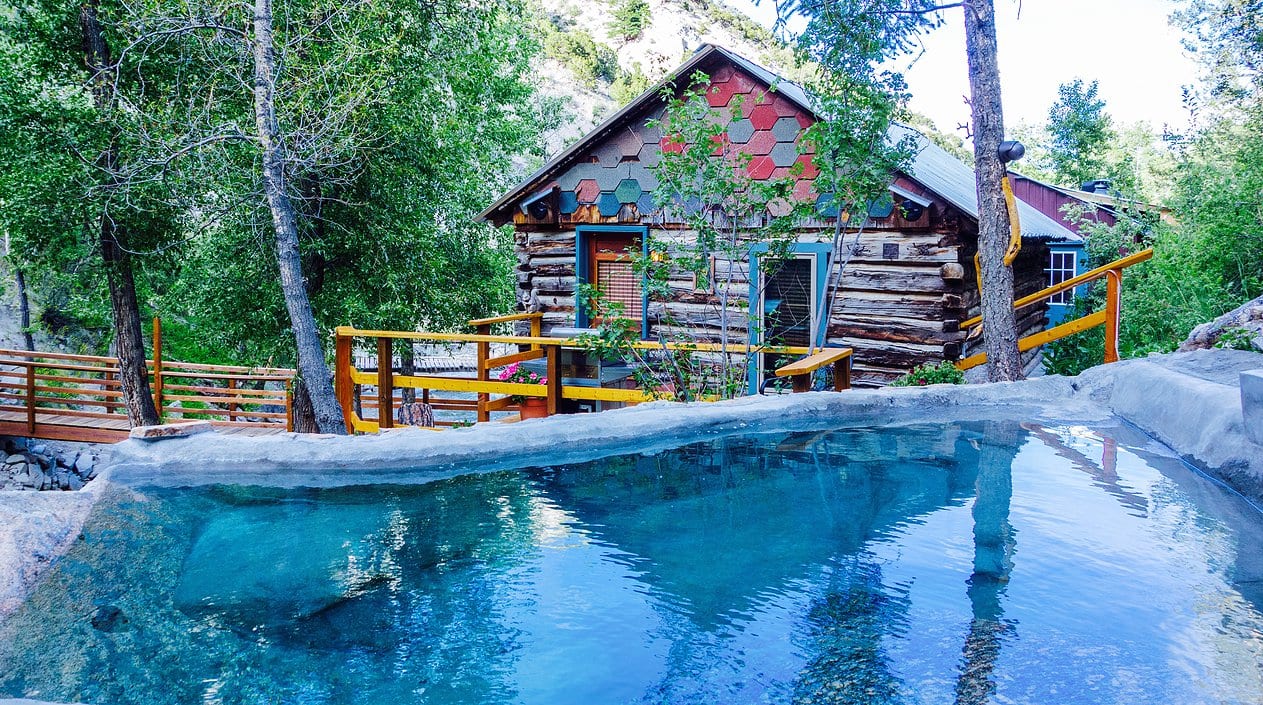 Residing about ten minutes west of Buena Vista's lovely historic district, Merrifield Homestead Cabins and Hot Springs offers a rewarding retreat for weary travelers. They have two spacious cabins for rent, all fully equipped for an effortless stay.
The hotel is nestled in the valley at the start of Cottonwood Pass. The two cabins overlook Cottonwood Creek, each with its own private custom hot springs tub. It's open year round for those looking to warm their bodies and soothe their souls.
Antero Hot Spring Cabins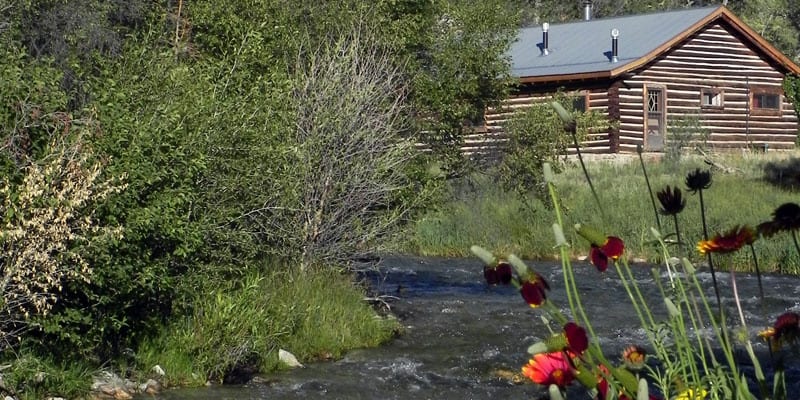 Antero Hot Springs Cabins is another Nathrop neighbor nestled along Chalk Creek. Select from three different accommodation options, each with its own large, hand-shaped, private hot spring pool fed by a spring on the property. Their cabins book 6-8 months in advance, so please plan ahead.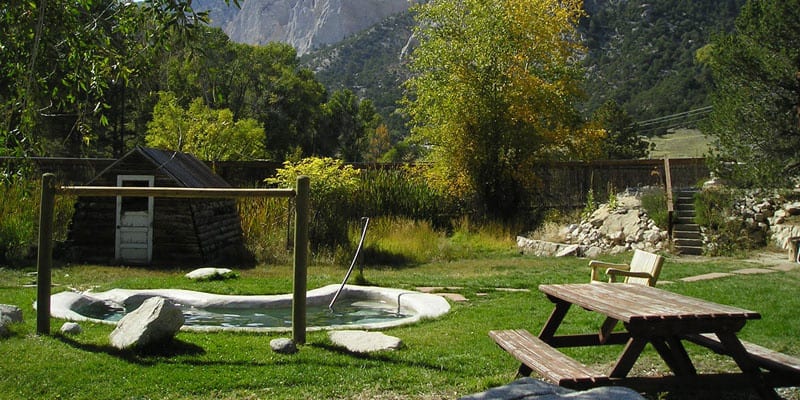 More than 60% of our guests are repeat guests, so that speaks volumes for the place. It's a very intimate, unique hot spring experience.
Cottonwood Cabin is a restored, hand-hewn log, a split-level cabin tucked in a meadow by a creek. Rich in history, it was the old Cottonwood Lakes post office at the turn of the century. After the move in 1920 to its current location, an addition and a stunning quartz fireplace were added.
The Colorado Trail is 100 feet from the front door of Hortense Cabin. This historic log cabin was built in the early 1920s and renovated in 2004. The cabin has three bedrooms, a fully equipped kitchen, and a Great Room. The massive soaking pool outside the door offers major mountain views.
Perfect for large group gatherings, the 1,900-square-foot Chalk Cliffs Chalet sits on two acres of meadow along Chalk Creek. Two outdoor fire-rings up the wow factor. The private hot spring pool sits at the base of Chalk Cliffs with 135 degrees Fahrenheit of mineral waters continually flowing through the pool.
Dunton Hot Springs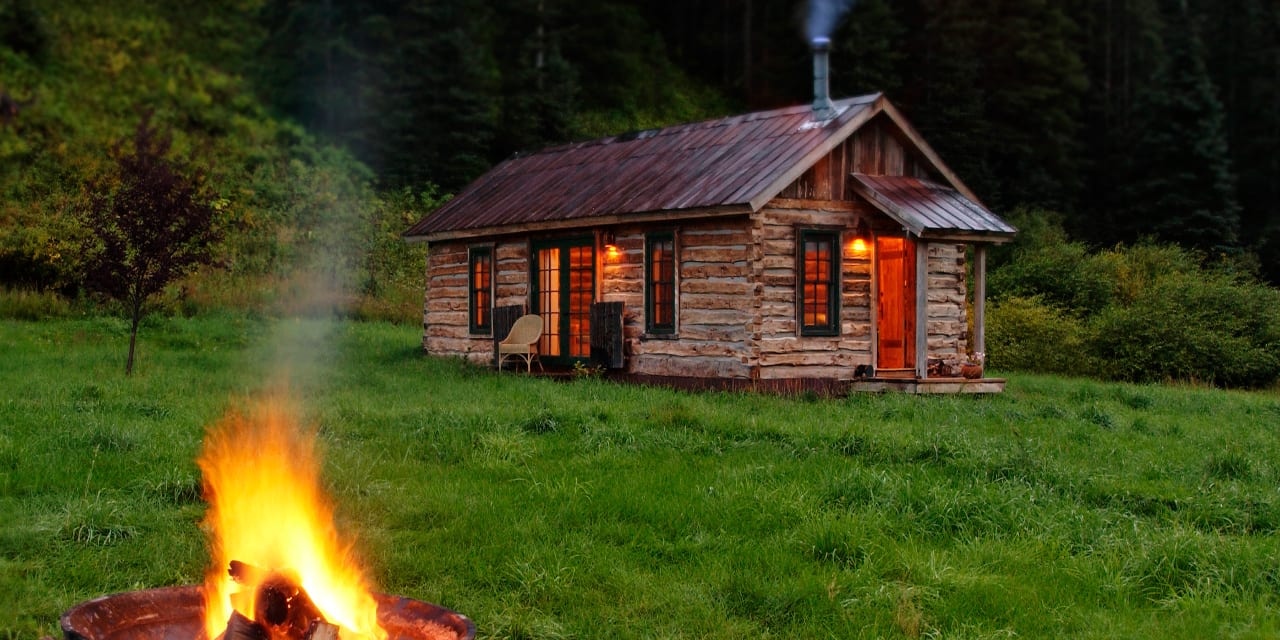 "Must be seen to be believed" should be Dunton Hot Springs' slogan. Nestled in a secluded San Juan Mountain valley, Dunton Hot Springs is a meticulously restored ghost town that truly resembles a movie set. It's something Laura Ingalls Wilder
(affiliate link) would mistake for home. The town of Dunton sits on 200 acres, but Dunton owns a total of 1,600 acres within the valley. It's situated between Dolores and Telluride.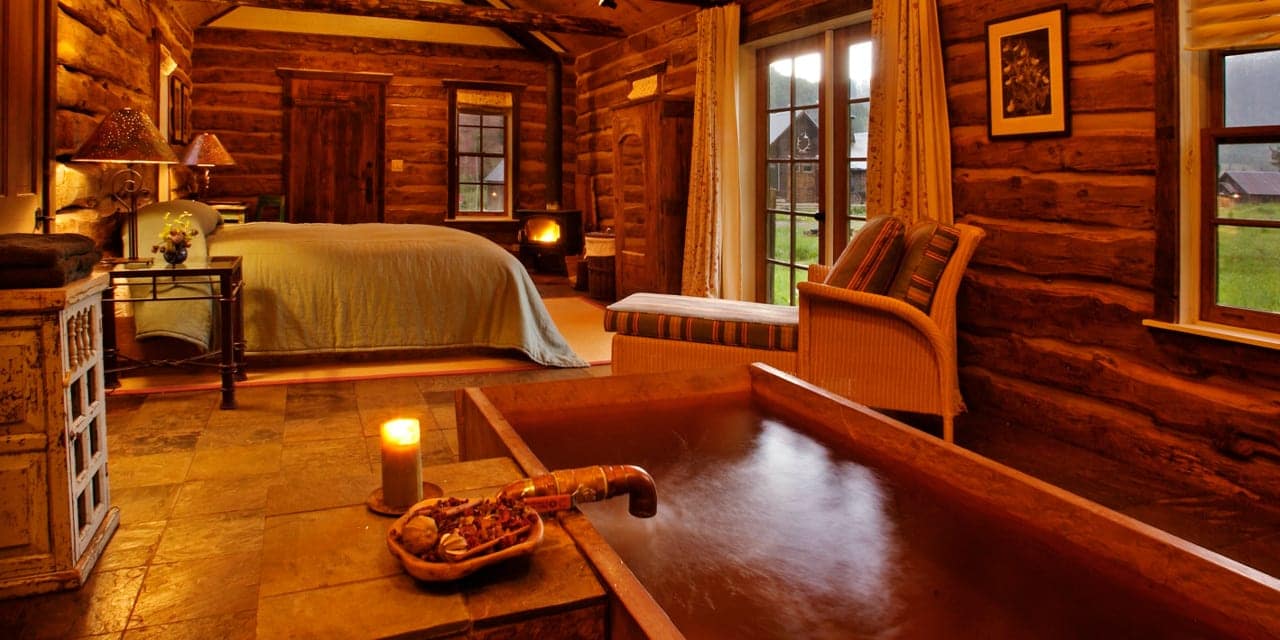 The exclusive resort is a study in contrasts:
Hand-hewn log cabins exquisitely furnished, a life-worn saloon serving food of startling quality, lung torturing trails followed by pampering massages, sensuous hot springs beneath shimmering snow banks.
There is no cell phone service, but high-speed wireless Internet access is provided to every cabin and video conferencing is available in the Dance Hall. The authentically restored log cabins are each distinct in impeccable furnishings and ambiance. Cabins encircle the Saloon and Dance Hall and are steps from the Bathhouse, which feels like a misnomer for the upscale spa experience here.
Guests have many soaking choices: inside the restored 19th-century Bathhouse or the pool outside the Bathhouse; under the stars at the source or out on the river; or the pool behind the Dunton Store cabin. The Well House Cabin is Dunton's only private pool. The cabin was built around a small, on-demand hot spring and offers its own cold plunge to go with it.
A maximum of 44 guests can be housed at Dunton. It is available for private group rental. What a hoot that would be! Cabins range in size from one to five bedrooms. The rates are all inclusive here and range from around $1500 to $3,500 per night depending on cabin choice and season. Meals are included in the Saloon with daily menu changes, and all beverages and alcohol are covered, except the Reserve List.
Check prices, availability or book Dunton Hot Springs
Happy Overnight Soaking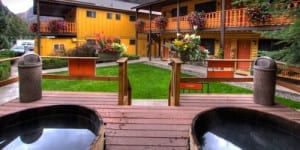 Despite not offering private soaking, Box Canyon Lodge & Hot Springs deserves a mention. Their four redwood tubs are only available to overnight guests. The well-maintained hotel in Ouray offers huge views of the surrounding mountains.
Colorado is overflowing with magical healing waters, so pack up those weary bones and go get your soak on! Read about public overnight hot springs with hotels that are also open to day use.