After a long, rewarding hot springs soak, the last thing you want to do is drive somewhere. Why not be only steps from your bed? These Colorado hot springs resorts all offer overnight lodging, with options varying from cabins and yurts, hotel rooms, campsites, and even a train caboose.
While some of them do restrict public access at times, they all provide day visitors access during at least some portion of the year. And if you prefer privacy, check out these private overnight hot springs instead.
Public Hot Springs Hotels, Lodging, and Cabins
Come for just the day at the following hot springs resorts or stay overnight. These Colorado mineral thermal pools offer accommodations ranging from hotels and motels to cabins, yurts, and teepees.
1. Indian Hot Springs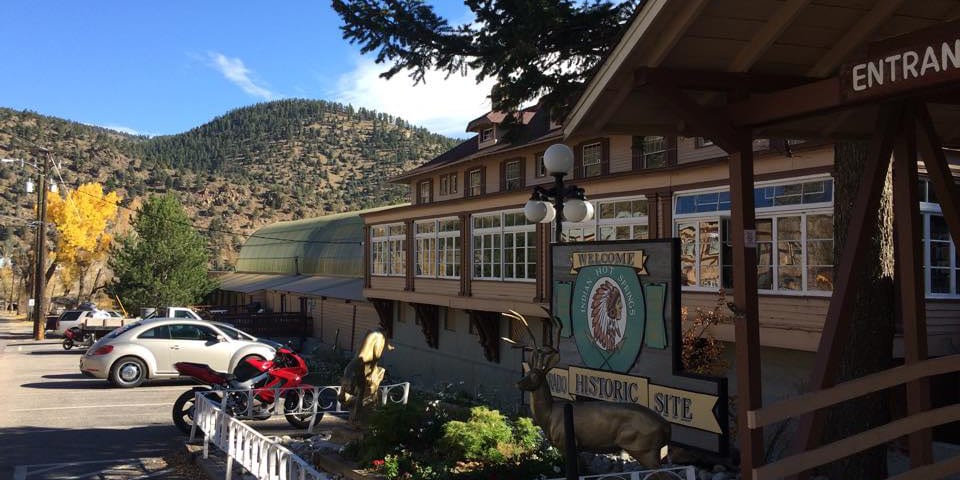 This is Denver's local hot springs, situated about thirty minutes up the hill. What's surprising is that as often as this hot spring gets passed on I-70 in heavy ski traffic, it's never too crowded, which is great.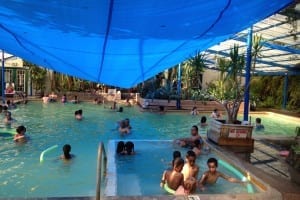 The highlight for most is the hot springs-fed swimming pool, set under a tropical dome. It even features a full tiki bar. What's even more unique though to Indian Hot Springs are its caves dug out of the Clear Creek Canyon mountains. There's a separate side for men and women, and clothing is optional.
Private soakers will appreciate the hot mineral water tubs for rent by the hour. At the spa, you can get massages and mud baths.
For over 100 years Indian Hot Springs has been accommodating guests, who love the centralized access into the mountains. Stay in the "Main Guest Resort", "The Inn" or "The Lodge", in a variety of rooms and suites. There's also a campground with seasonal water and electric hook-ups, as well as quaint cabins, each with one queen bed, two bunk beds, a full bathroom, a kitchen, and a living room.
2. Hot Sulphur Springs
This resort is spectacularly perched on a Grand County hillside, in between Kremmling and Granby. White tail deer frequently frolic behind the 21 mineral springs-filled pools, which range in temperature from 95º to 112ºF.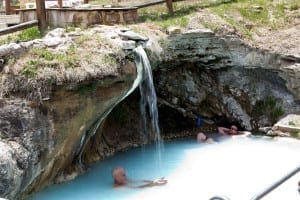 The Hot Sulphur Springs Resort & Spa has been restoring Rocky Mountain travelers since soon after it was discovered by William Byers in 1840. In addition to the above baths, a private hot tub can be rented by the hour. Deep tissue and hot stone massages are offered, as well as waxes and facials.
Staying the night in the sleepy town of Hot Sulphur Springs is quite an experience. Options include a number of cozy rooms, cabins and apartments. Outdoor pools are included with lodging and are open daily from 8 am to 10 pm. Pets are not welcome in the rooms.
3. Strawberry Park Hot Springs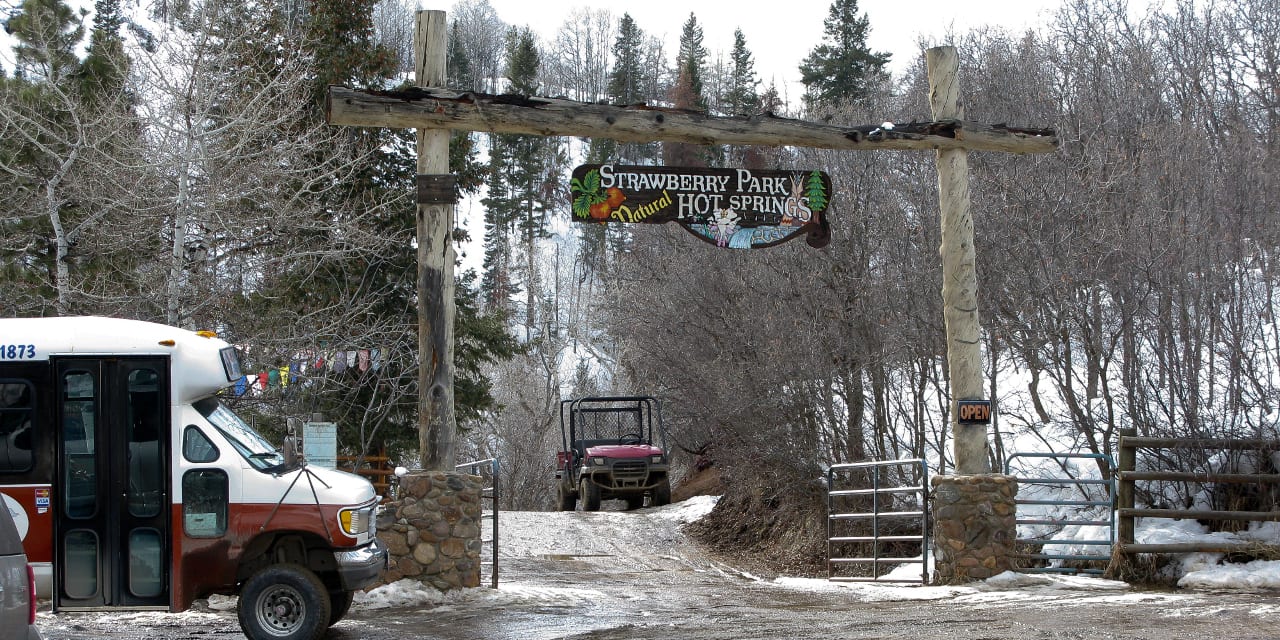 Many enthusiasts claim Strawberry Park as their favorite hot springs in Colorado. It is perfectly secluded only 15 minutes from downtown Steamboat Springs.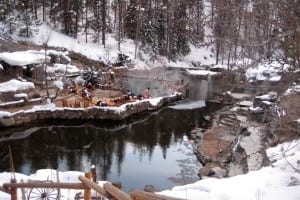 Summer and winter are two different times here, but both are amazing! In the winter it's a cold walk down a long set of stairs to the steam-hidden hot springs. Any changing into bathing suits, which are optional after dark, is generally done poolside in an open teepee or gazebo.
The bathrooms are available, but not as close. Try all this in the dark when it's hardly lit! Bring a flashlight (affiliate link)
. A big, icy cool pool that's frequently polar bear-plunged surrounds half the resort. In the summer this frigid pond is warm and the best place in Routt County to swim around.
Strawberry Park has some of the most unique accommodations, including cabins and camping. Make sure you book early to stay in their popular train caboose, available year round, or save a buck and stay in the primitive covered wagon open during summer.
4. Cottonwood Hot Springs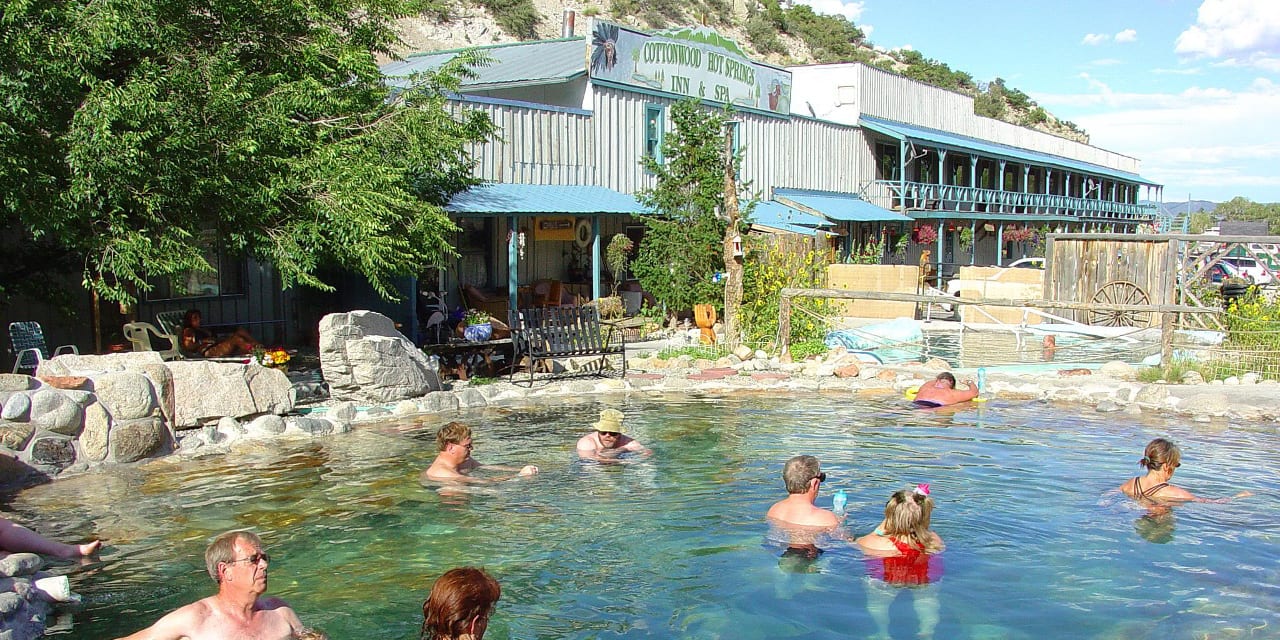 Cottonwood is the locals' favorite in Chaffe County. It's an Inn & Spa with three stone pools, three private tubs, and a personal stone hot tub for each cabin.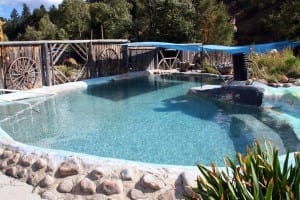 The resort is nestled conveniently just west of the Buena Vista town center, at the start of Cottonwood Pass. The daily rate grants you access to the natural stone soaking pools and the dry sauna, open 365 days a year.
They offer several ways to spend the night, including standard lodge rooms, creekside cabins, primitive tent sites, and a coed dormitory. The Dorm features three double and three single beds, as well as a full kitchen and a bathroom. It can be rented out exclusively.
5. Mount Princeton Hot Springs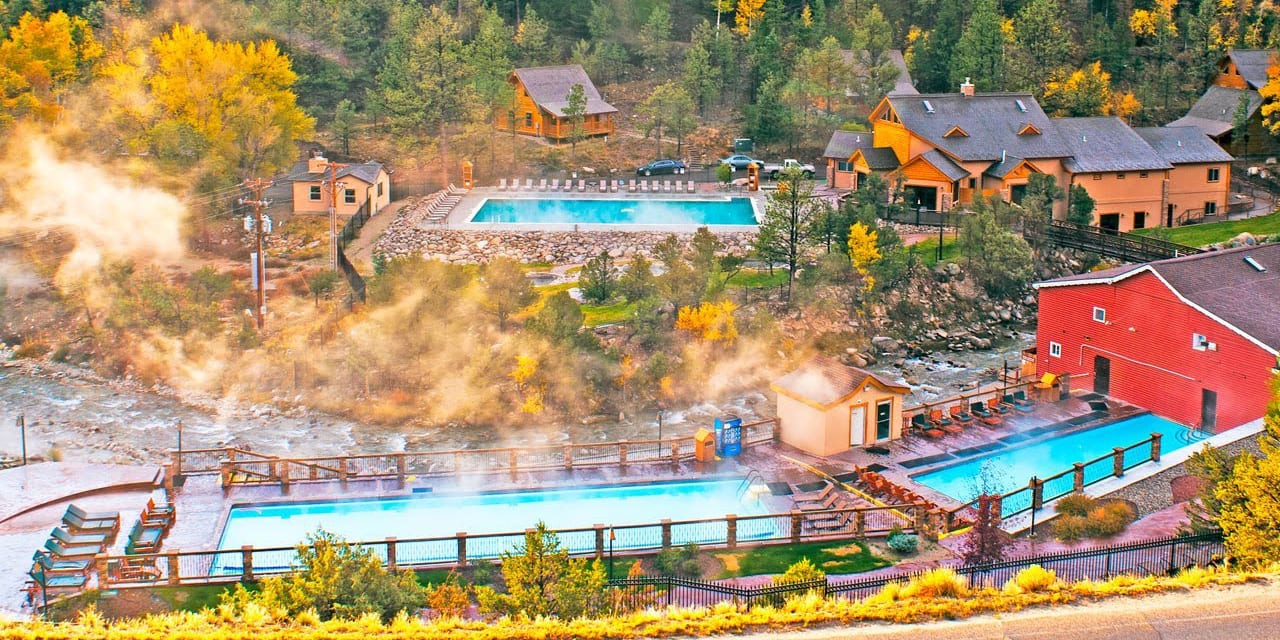 If you want to swim while in Buena Vista this is the place to do it. To begin, Mount Princeton features two giant hot springs pools, one kept cooler at 90°F, with some lanes for doing laps and exercise, and the other at 105°F for soaking.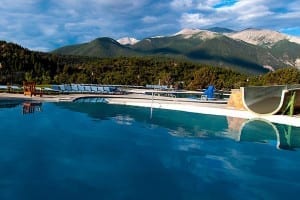 Hidden below that are twenty or so primitive soaking ponds on the banks of Chalk Creek. Cool currents will flow into your mineral bath if you don't keep a good rock setup. As shown in the picture above, there is another third Relaxation Pool high above the other two, open to adult guests. And that's just half of the resort!
What's not shown is a full hotel, restaurant, general store, more cabins, and a summer water park! These upper pools feature a 400-foot-long water slide and lazy river, open through Labor Day. The Spa & Club entitles you to a soak in three Japanese-style cascading pools, privately set beside the creek.
If you choose to stay the night at this expansive resort, you can get a room at the Cliffside Hotel, Hillside Hotel, or Rocky Mountain Lodge. There are also one and two-bedroom heated log cabins available.
6. Joyful Journey Hot Springs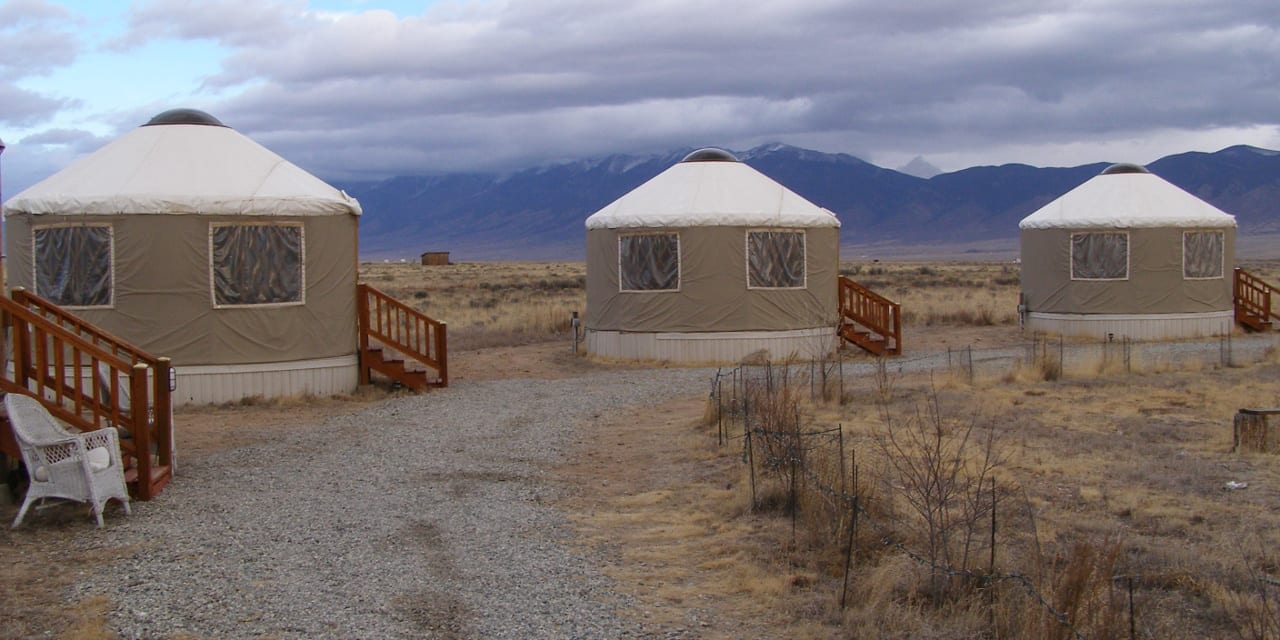 Although not the furthest from Denver at only three hours, Joyful Journey is one of the most remote. It lies a good deal south of Salida, so there's not much around.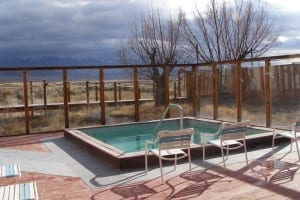 This of course adds to its benefits of being an isolated retreat. You can soak up some of the longest, sunniest days around, sometimes in solitude. And you're doing it in one-hundred percent artisan water, the temperatures of which vary from 98° to 110°F in their three pools.
Eco-lodging is available in their Yurt and Tipi Village, which has three tipis and six yurts, two of which allow pets. There's also RV and tent camping and a 12-room hotel. In the spa, you can get body wraps, exfoliations, facials, light healing, and massage.
7. Valley View Hot Springs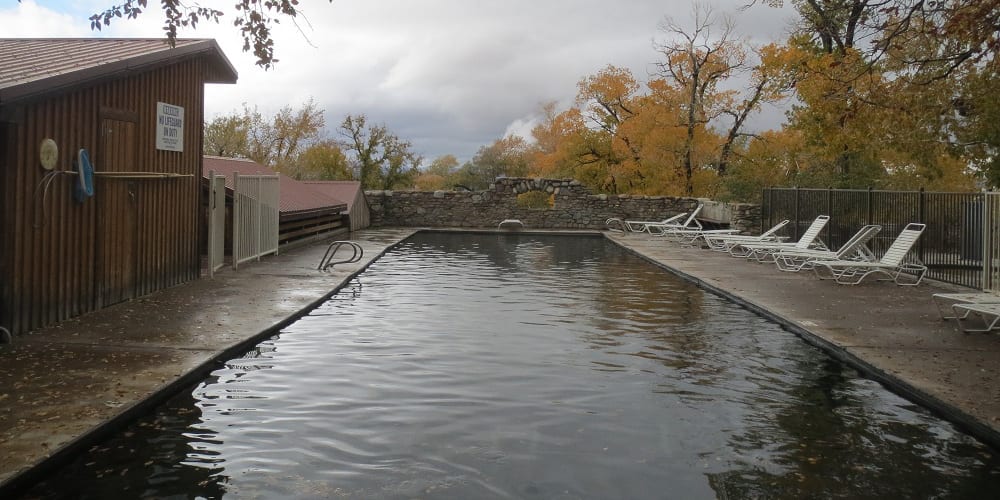 Valley View is a Saguache County neighbor of the above hot springs. From the remoteness of Joyful Journey, you go another seven miles east into the mountains to the Orient Land Trust, which protects 2,200 acres of Colorado wilderness.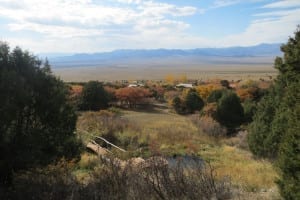 This is where you'll come across one of the most unique hot springs in Colorado. It's a clothing-optional resort that also houses the ghost town of Orient and the Orient Mine, which is a picturesque one-mile hike away. The best part is the 24-hour access that overnight guests get to the soaking pools.
Go on a weekday and you'll probably get your own soaking pond under a starry Colorado sky. There are several pools spread around the forest and one hydroelectric sauna.
Valley View is almost its own tiny village, which is good given its seclusion. They sell a small number of snacks, toiletries, and souvenirs in the Welcome Center, which also provides wifi and a cozy library. There's a community lodge, pavilion, and a variety of year-round cabins. Campers will appreciate both a tent and an RV campground.
8. Waunita Hot Springs Ranch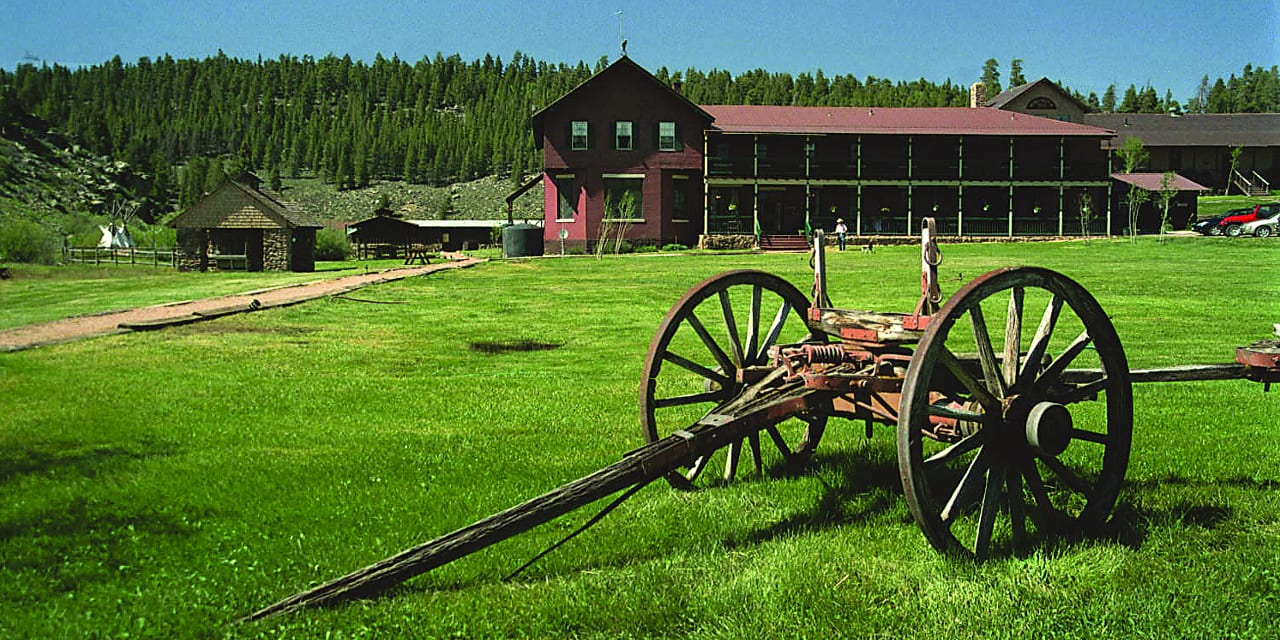 Coming from Salida to Gunnison on Highway 50 doesn't offer many amenities, but there's at least one worthy stop, the Waunita Hot Springs Ranch. It's mostly private use only reserved for their groups and overnight guests. However, sometimes public day use is permitted, but you'll want to call ahead, 970-641-1266, to be sure.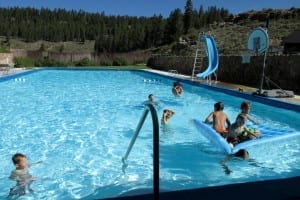 This authentic dude ranch offers a 35 by 90-foot swimming pool heated to 95°F, making it one of the largest private swimming pools in the state. A 100°F mineral hot tub sits beside the pool.
Being next to the Gunnison National Forest means recreation is at your doorstep. Summer activities include fishing and horseback riding, and in the winter you can be at Monarch Mountain in under an hour or Crested Butte in one and a half.
Should you choose to reserve a room in either the Main Lodge or Hillside Lodge, you'll be treated like family. Home-cooked meals are just part of the charm!
9. Healing Waters Resort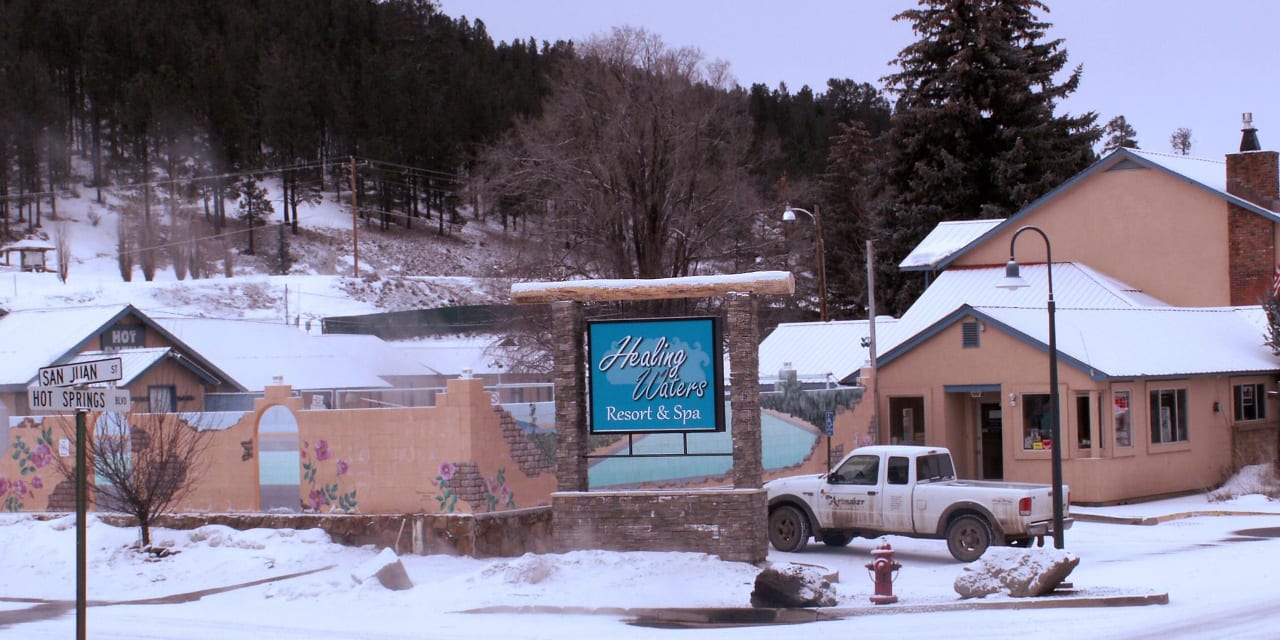 One of three hot springs resorts in Pagosa Springs, Healing Waters Resort offers a wonderful retreat in the heart of downtown. Soakers can enjoy access between 8 am and 10 pm every day.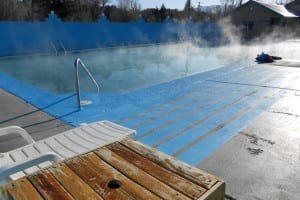 There's a swimming pool and both indoor and outdoor soaking baths. Low-impact water exercise classes are held Mondays and Fridays in the swimming pool. Spa treatments include craniosacral therapy, raindrop technique, and several massages.
You can reserve online a variety of rooms, suites and cabins. Pets are not welcome in the rooms. There's also an RV Park open from May through October.
10. The Springs Resort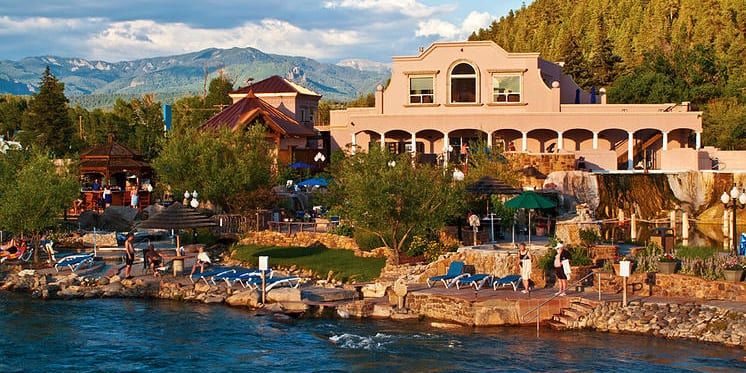 The Springs Resort is the crown jewel of Pagosa hot spring spas in a town where all three draw off the same Guinness-record-setting geothermal aquifer. The Great Pagosa Hot Springs is the world's deepest at 1,002 feet.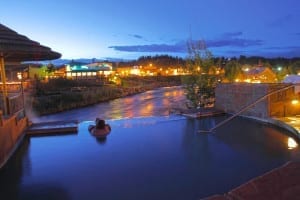 There are few resorts in Colorado that offer this type of theme park layout. Twenty-three beautiful stone pools are spread out in an adventurous design, complete with a rope bridge, waterfalls, and the San Juan River.
The resort's 29-room EcoLuxe Hotel was Colorado's first LEED® Gold Certified. There are also 50 other rooms available in either Classic, Deluxe, or Mountain Suite. The best part about staying here is that guests receive 24-hour access to all the pools. Pets are welcome in designated rooms too.
11. Glenwood Hot Springs Pool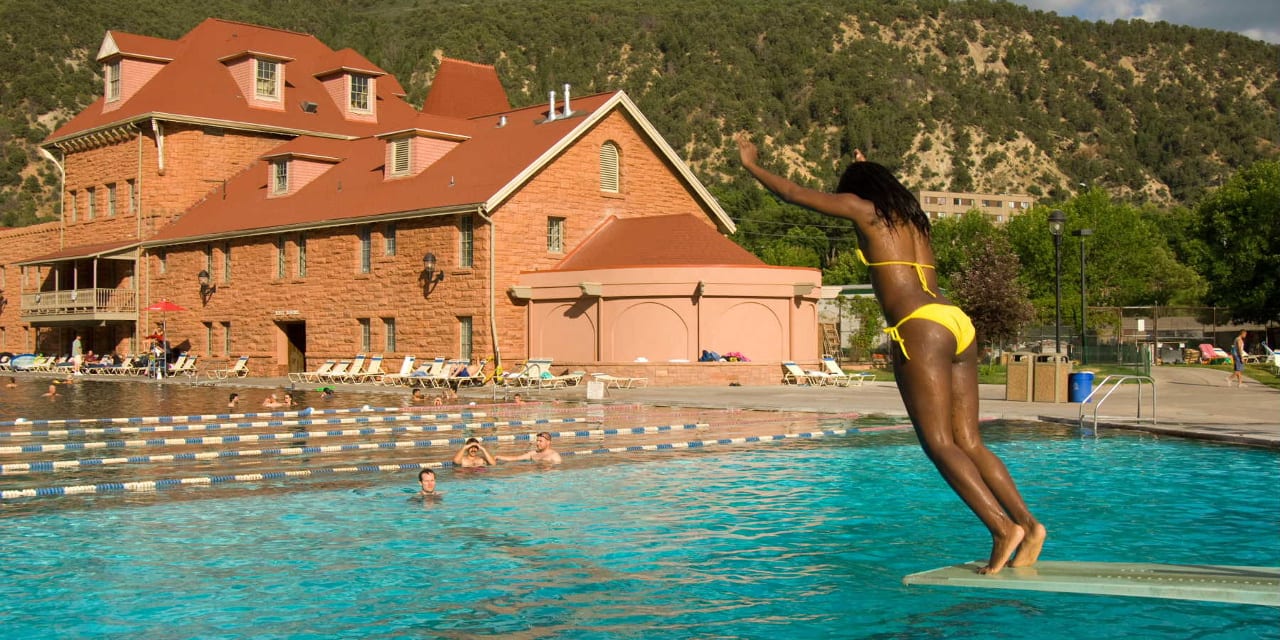 Glenwood Hot Springs is the most visited hot springs destination in the state. It has been a treasured tourist attraction since 1888.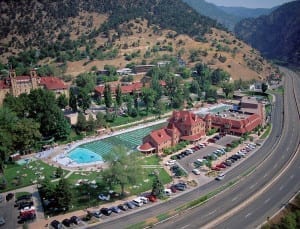 The big draw here, and I mean largest in the world, is its swimming pool that's pumped with hot mineral water. The pool has its own attractions including, designated lanes for swimming, a diving board, and seemingly infinite space to float around, despite the crowds.
The water jet chairs are now free! The two fiberglass water slides and mini golf were removed and have been replaced by Sopris Splash Zone, which opened mid-summer 2019. It features a fast-moving adventure river ride for older kids and adults, and for younger children, a wade-in pool with waterfalls and small slides as well as a fountain that is designed for play during the day and show at night.
The Spa of the Rockies features a full athletic club with daily classes, along with a range of body treatments. A multi-million dollar investment was made into the hotel's 107 rooms, which include unlimited swimming and soaking at the hot springs, as well as complimentary breakfast at the poolside Grill.
12. Avalanche Ranch Hot Springs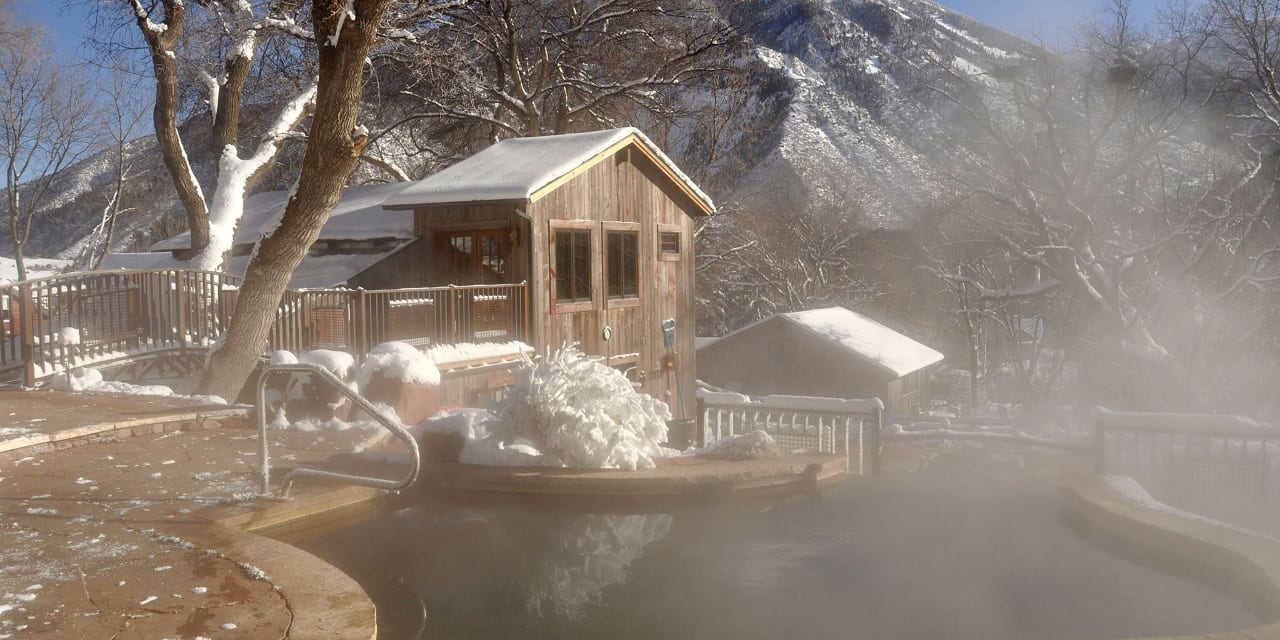 Avalanche Ranch is a year-round retreat tucked away in Redstone, about ten minutes from Carbondale. The hot springs are open for day use every day except Wednesday when they open at 5 pm to lodge guests only. Non-overnight guest hours are limited to 9 am to 1 pm or 1 pm to 5 pm the rest of the week. They require phone reservations.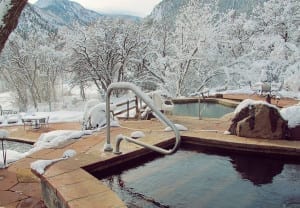 Both day and overnight visitors receive access to all three of their cascading pools. They flow into one another, culminating in a three-foot waterfall into the largest pool.
If you choose to stay the night you'll have plenty of cozy cabins to choose from. Some are on-site and some are four miles south in the town of Redstone. There are three wagons to choose from too: a Covered, a Shepherd's, and a Gypsy. All the lodging is nicely decorated and all the beds come with down comforters.
13. Orvis Hot Springs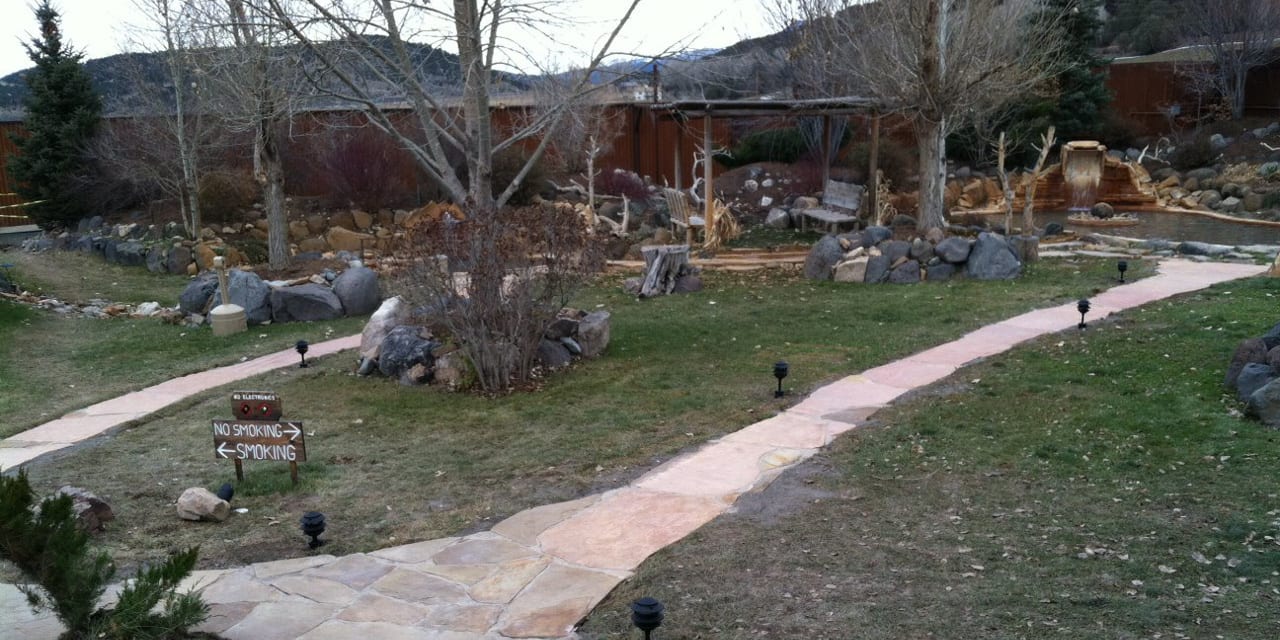 Orvis is a clothing-optional retreat and locals' favorite in Ouray County. It's a no-thrills resort that offers exceptional mineral water quality and San Juan Mountain views.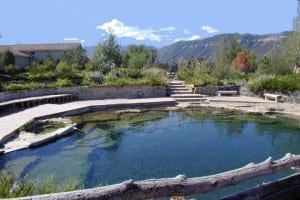 There are seven pools at Orvis to enjoy, none of which are treated or heated. Temperatures range from 98° to 112°F. Four public pools are situated outside, there is one inside and there are two private tubs to rent.
Six B&B style rooms are open throughout the year and give you access to the mineral pools during the night. Tent and RV campers also get all-night access, but that's limited to 24 people per night.
14. Wiesbaden Hot Springs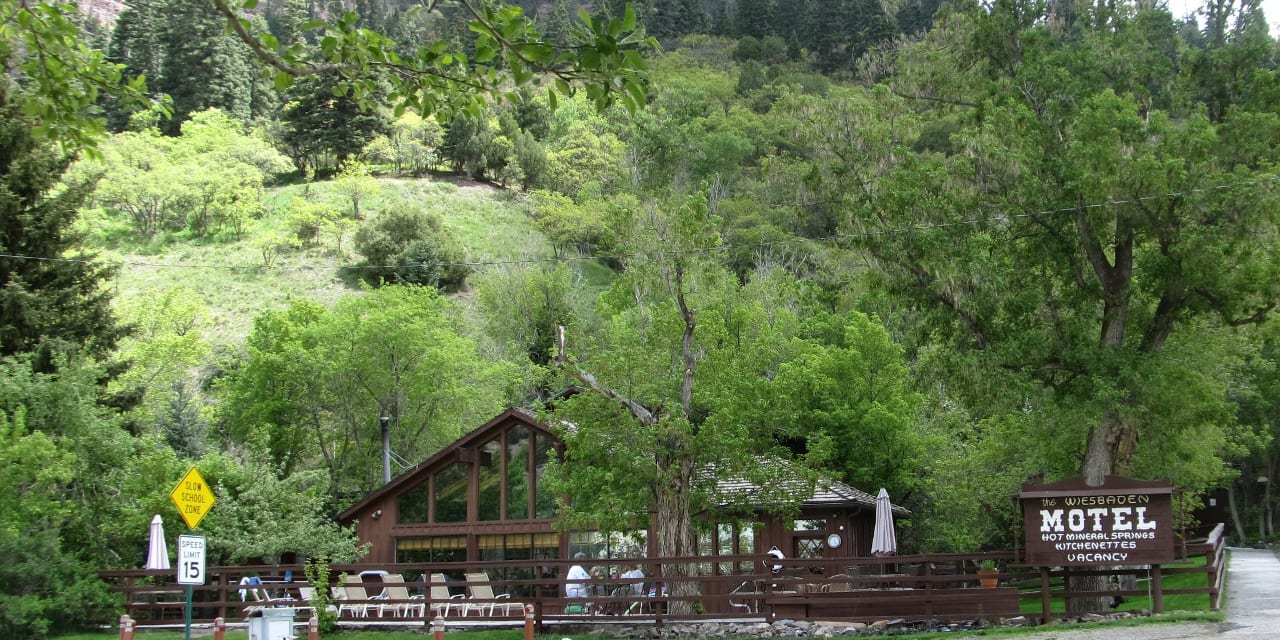 Wiesbaden Hot Springs is a one-of-a-kind experience in the Colorado San Juan Mountains. Due to Ouray's picturesque location and Wiesbaden's "European flair", you might feel as though you were in the Swiss Alps while staying there.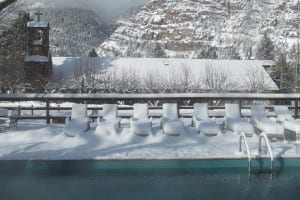 One of the unique things about Wiesbaden is that no water is recirculated there. It's all fresh and untreated, thus earning it a reputation as "unequaled" for medicinal qualities. What else is so special?
There's a vapor cave dug into the mountain underneath the lodge, equipped with a shallow pond set to around 108°F. There are also four soaking pools, an outdoor swimming pool, and a private stone tub outside, the Lorelei, which can be rented by the hour.
Accommodations range from rooms to cabins and include six suites, an apartment, a hill cottage, a victorian house, and a cozy home on the Historic Register.
15. Twin Peaks Lodge & Hot Springs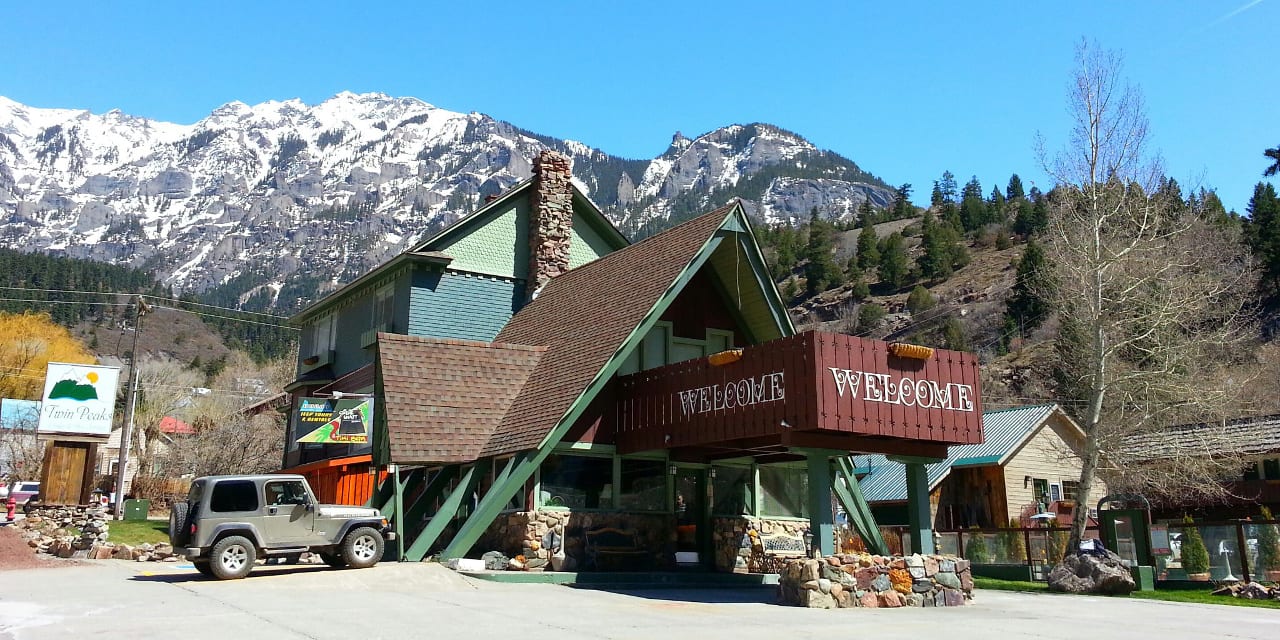 The Twin Peaks Lodge is another "Switzerland of America" hot spring resort. It features a total of three hot springs pools, all of which are open 24 hours a day.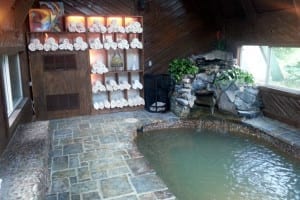 There are two pools outside, a big one for swimming, kept between 90° and 101°F, and a soaking tub maintained in the mid 100's. Inside there is an adult-only hot springs sanctuary that's slightly hotter.
Overnight guests get round-the-clock access to the mineral pools and gym, as well as a hot breakfast buffet each morning. There are six room types to choose from, all approximately 250 square feet. Pets are welcome in select rooms.
Those are among the best places to soak during the day with the option of spending the night in a hotel, motel, cabin, or another unique lodging right at the hot springs.