Can you go kayaking with your dog? Most likely yes! It really depends on whether your dog is ready yet for life on the water. Luckily, like sitting, staying and rolling over, most dogs can be trained to love kayaking safely with their owner.
You take them for a walk, a stroll or even a run. Elevate the excitement exponentially by bringing them along on a kayaking adventure. Dogs are very good kayak companions. In fact, there are some dog lovers who prefer going kayaking with their dogs more than with a human counterpart.
Kayaking is an awesome workout. It exercises your arms, core and back. It equally gives your dog a workout, as well as the opportunity to breathe the fresh air and cool off at the same time. There senses will be fully engaged while in this natural water habitat.
Is Your Dog Suitable For Kayaking?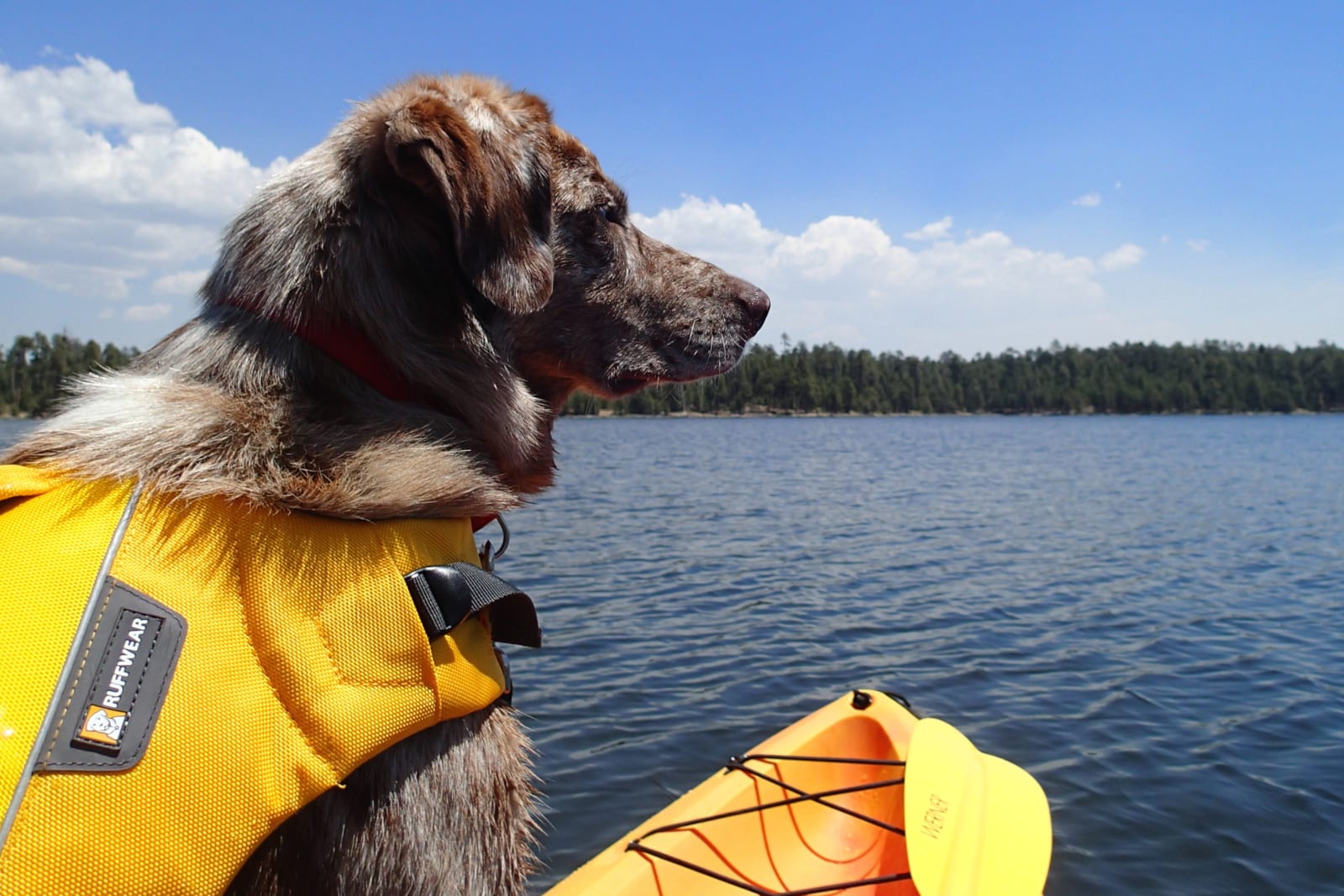 As much fun as it will be to take your dog on an open water adventure, there are some dogs who dislike being in or on the top of water. This is not strange, as there are humans that are equally just as aqua phobic as some dogs are.
However, with persistence and constant training, you can successfully change your dog's perception of water. You can change him or her from being aqua phobic to becoming one that not only enjoys playing with water but also feels relaxed around it.
If you're considering taking your dog kayaking or buying a kayak for a dog, you need to take note of these few things. Remember that just like your face and arms, your dog's exposed nose and underbelly can get sunburned. It's smart to apply sunscreen to these areas. And bring snacks for you and your dog. Water too!
Age and General Health
Your dog's health and general well-being should always come first. For example, if your dog has a long-standing history of cardiac issues or currently suffers from vision impairment, arthritis, or poor hearing, you need to be careful about putting him or her on a boat.
Breed and Size
Let's face it, there are dogs that are big enough to capsize a kayak. So if your dog falls into this category, there is no point putting his or her life and yours in danger by going on a kayak trip.
Also some overly excited dogs are very difficult to control. If this describes your dog, don't assume that he or she will somehow learn how to behave well while on a boat. You need to be realistic!
Behavior
If your dog takes orders well and is calm the majority of the time, then you have may have a kayaking companion on your hands. However, if the reverse is the case, then you may want to consider fun options other than kayaking.
How To Choose A Kayak For Your Dog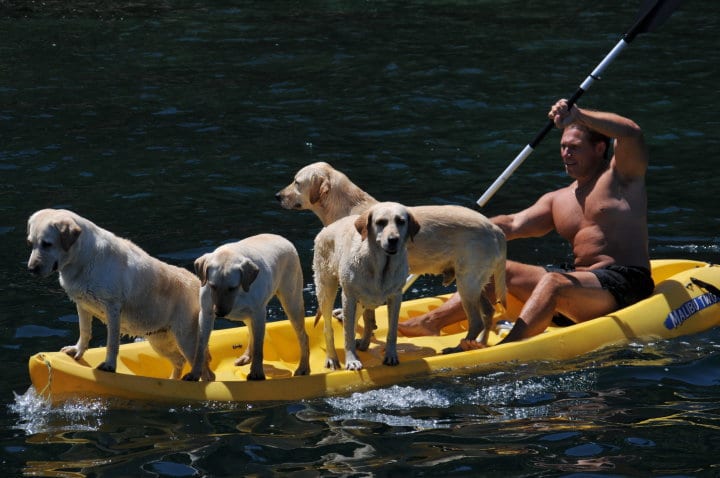 When it comes to choosing a kayak for dog, there are several essential factors to consider. Choosing the right kayak is probably the most important part of having a successful dog-friendly adventure, other than proper training.
They make both sit-in and sit-on-top kayaks, some hard and some inflatable. Most dogs are happier with sit-on-top kayaks, and the inflatable ones are durable enough for their claws.
Is It Big Enough?
Since you'll both be going on your adventures together, it's important you choose a kayak that can accommodate both you and your dog comfortably. There are a wide range to consider and choose from.
Your Dog's Temperament
If your dog is big but calm, you'll probably need a kayak that has a lounge in it where your dog can stay while you paddle. However if your dog gets easily excited or aggressive, you will need a space where you can tuck him or her in between your legs so you can stop sudden movements.
Just as you have different breed of dogs, Kayaks also come in different shapes, sizes, and designs. There is no particular rule when it comes to choosing the best kayak for a dog, all you have to do is to make sure that you know your dog's temperament and size.
This will help you choose the right kayak for you and your dog. Beyond choosing the right vessel, you need to make sure that you're boating on calm waters. They make for the safest and most fun-filled kayaking experience for your dog and you.
If you're looking for a kayak for dog, you can look at outdoorgeartoday.com. There is a huge chance that you will find what you are looking for there. They review some of the top dog-friendly kayaks.
How To Kayak With A Dog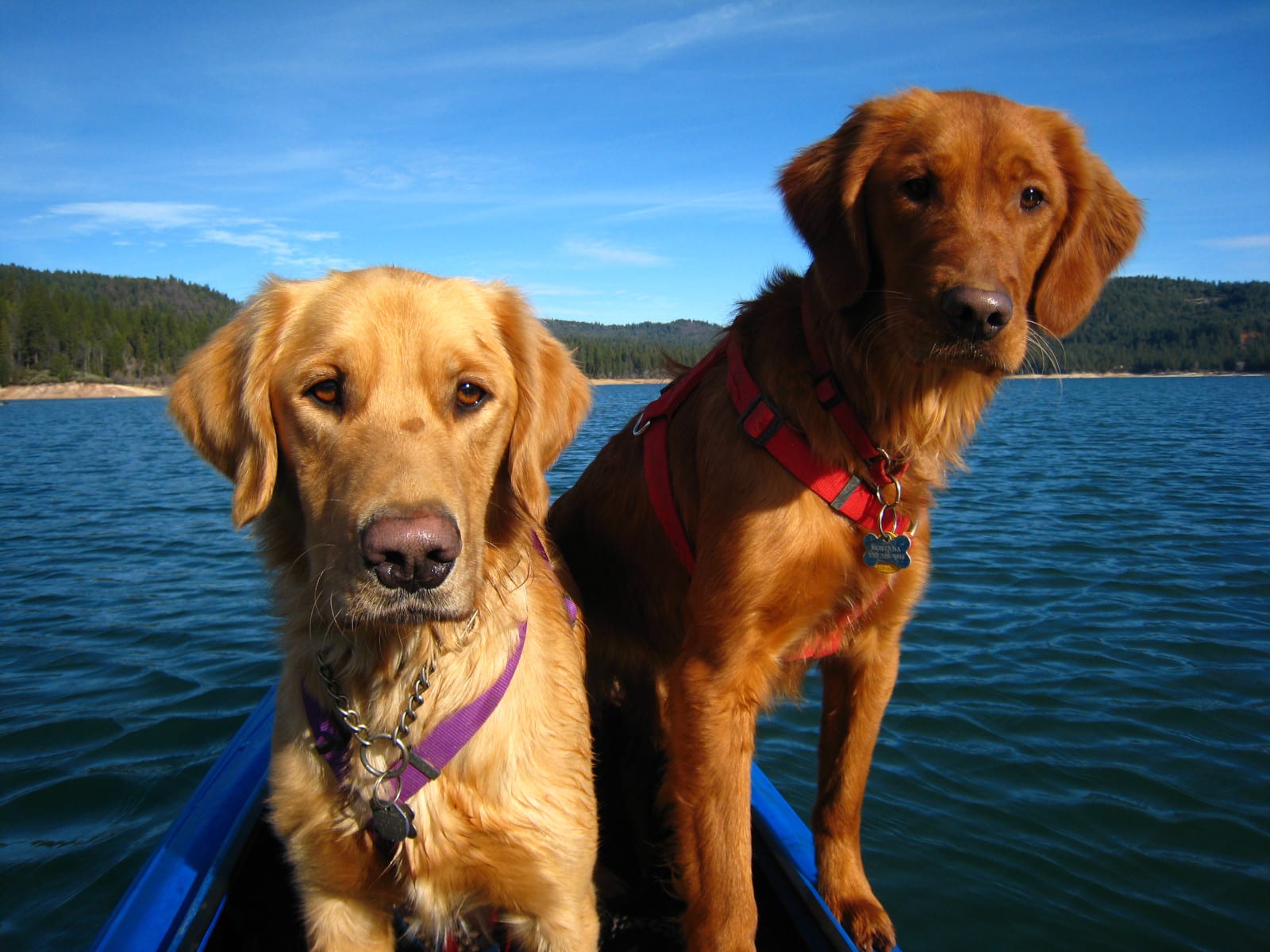 While you may have a lot of experience when it comes to using a kayak or boat, it's a different ball game when your dog comes to join you. There are precautions to take and things to bring along. Since we have already discussed how to choose a proper dog-friendly watercraft, let's get to other interesting things.
Observe A Dress Rehearsal
Before you get to the wet part of actually moving about on water, first you need to allow your dog to get familiar with the kayak. Allow them to sit in it while on the dock or at home for a few hours. Move around, take some twist and turns. Ultimately, get him or her to believe that there is nothing to fear.
This is also the perfect time to check whether your kayak will be a good fit for your dog or not. You will also be able to decide whether you'll need a tandem for your dog to lay in while you paddle.
Carry A Safety Device Along For Your Dog
If you've never heard of personal floatation devices (PFDs) for dogs before, then know now that they make special ones for dogs too. And you need a floatation device for your dog should he or she jump into the water suddenly and become scared. The device will help to keep him or her afloat until you get there to save the day.
Also, you can use the hook on the floatation device to tilt your dog in the right direction if he or she is too big to drag back into the boat or onto the dock.
Stick with Calm or Flat Waters For A Start
If you're taking your dog for a maiden kayaking voyage, then make sure you start with calm waters and stick to such terrains for while. Fast moving rivers or turbulent lakes and oceans will likely scare your dog. This may lead to dangerous circumstances that you might not be equipped to deal with. Take things slow and quiet until at least your dog is familiar with kayaking and the water environment.
There is a good chance that your dog will swim back to the dock or shore if he or she suddenly jumps into the water. A fast moving river will not afford you this luxury. So start with a lake or river you can handle and work your way up from there. There are plenty of lakes and rivers in Colorado for great kayaking.
Come up with Vital Commands
Coming up with a set of commands and training your dog to obey them is solid place to start. Create commands for entering and exiting the kayak, as well as others to calm your dog in case the river gets turbulent.
It's essential that your dog learns how to obey these orders within a few seconds before you go ahead to explore the open water. Using treats is a proven way to teach them and reward their learning.
Take Some Company Along
Sometimes even when you have taken all the precautions that you need to, some situations may still spin out of your control. This is why it would be wise to take a friend along with you. If things get too wild, your friend will be there to help you. Either way, always tell someone where you're going.
Final Thoughts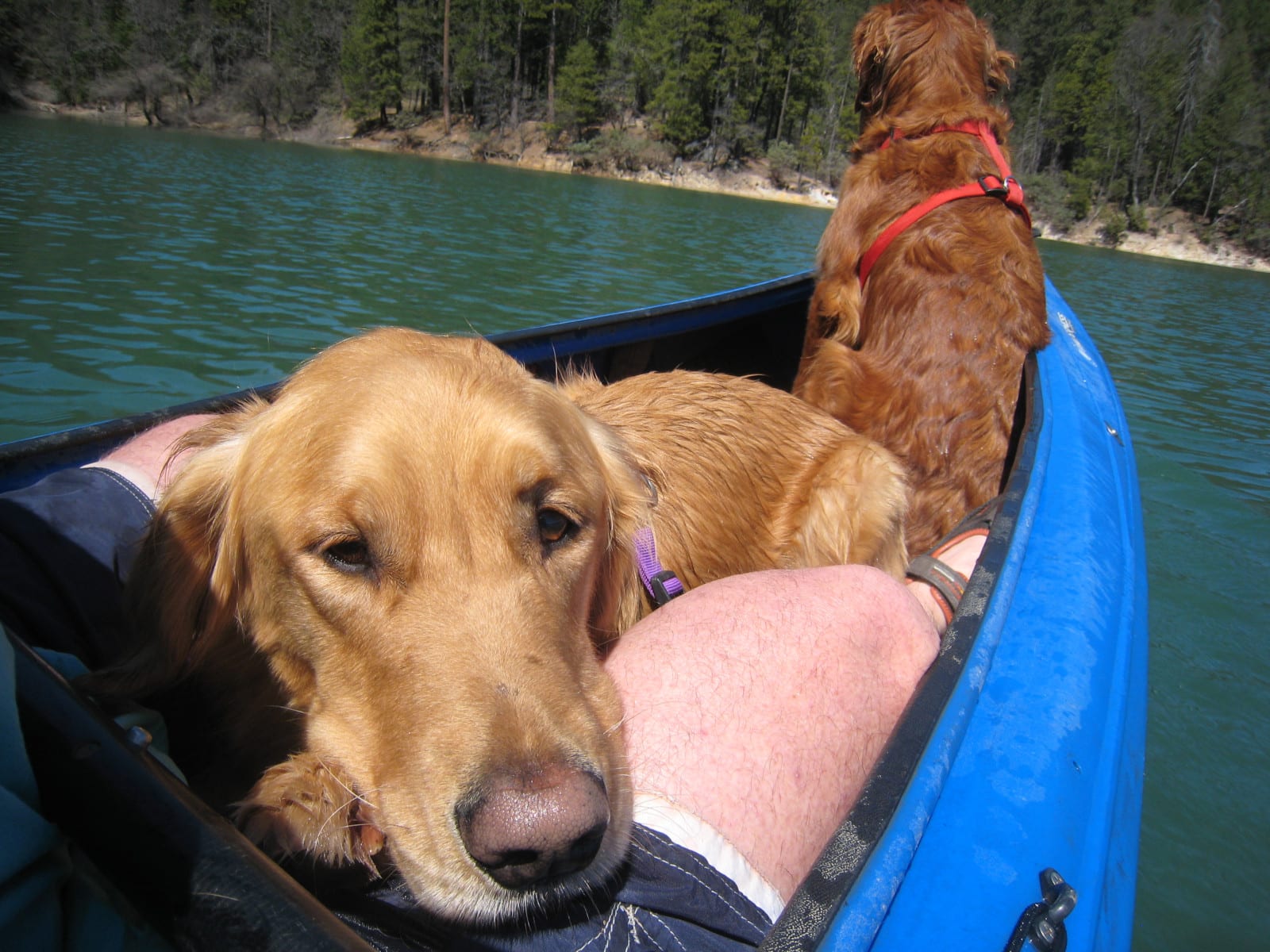 Dogs are exceptional pets to have. It's pretty difficult to resist the charm of these special creatures. They are just plain fun to have around! So why not bring them everywhere you're able.
If you've never been on the open water with your dog before, we hope we've at least stirred up your curiosity. Taking your canine along on your kayaking adventures is a great opportunity to further strengthen your bond with your best friend.
It's important to take a cautious approach, especially if your dog has a phobia for water or you're just testing out a new kayak with your dog. Go one step at a time and soon, your dog will be familiar with the new terrain. Then go try other fun activities while on the water!