Tucked away in the small town of Burlington, CO, where silos soar high and farmland stretches out to the ends of the earth, lies an unlikely attraction – The Kit Carson County Carousel.
Built in 1905 by the Philadelphia Toboggan Company for Elitch Gardens in Denver, the Kit Carson County Carousel was known back in the day as PCT #6, as it was the sixth wooden carousel the company built.
The owners of Elitch Gardens installed the carousel as one of the park's first big attractions. It was soon decided to upgrade for a more modern version, so carousel PTC #6 was quickly put up for sale.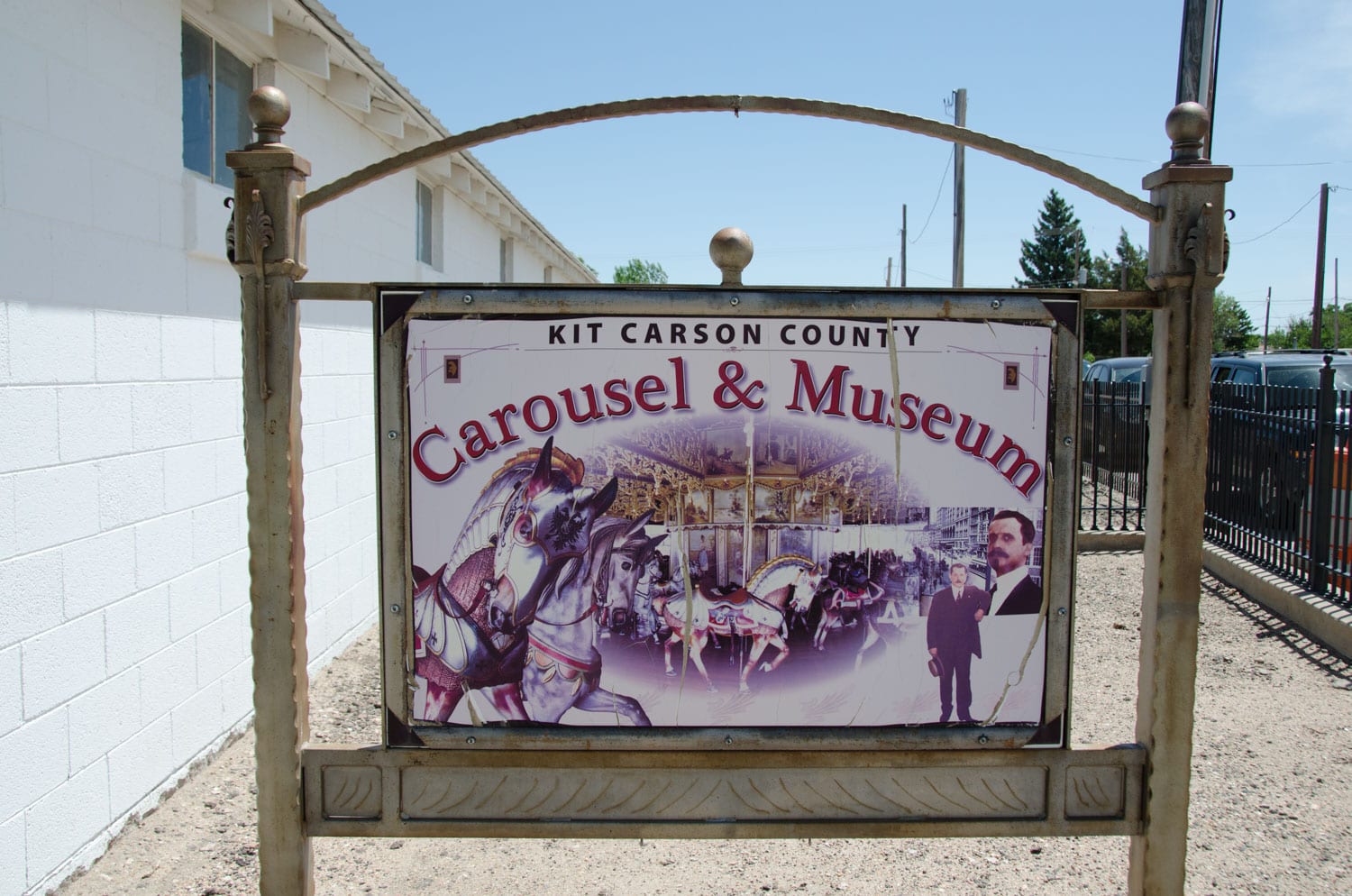 Antique Carousel in Burlington
The Kit Carson County Commissioners made the leap of faith and purchased the carousel for $1,200. An unprecedented amount for which in the end got them fired. Shamefully stored and temporarily forgotten about, the carousel gained new life and opened back up for the first time in Burlington, CO in 1937.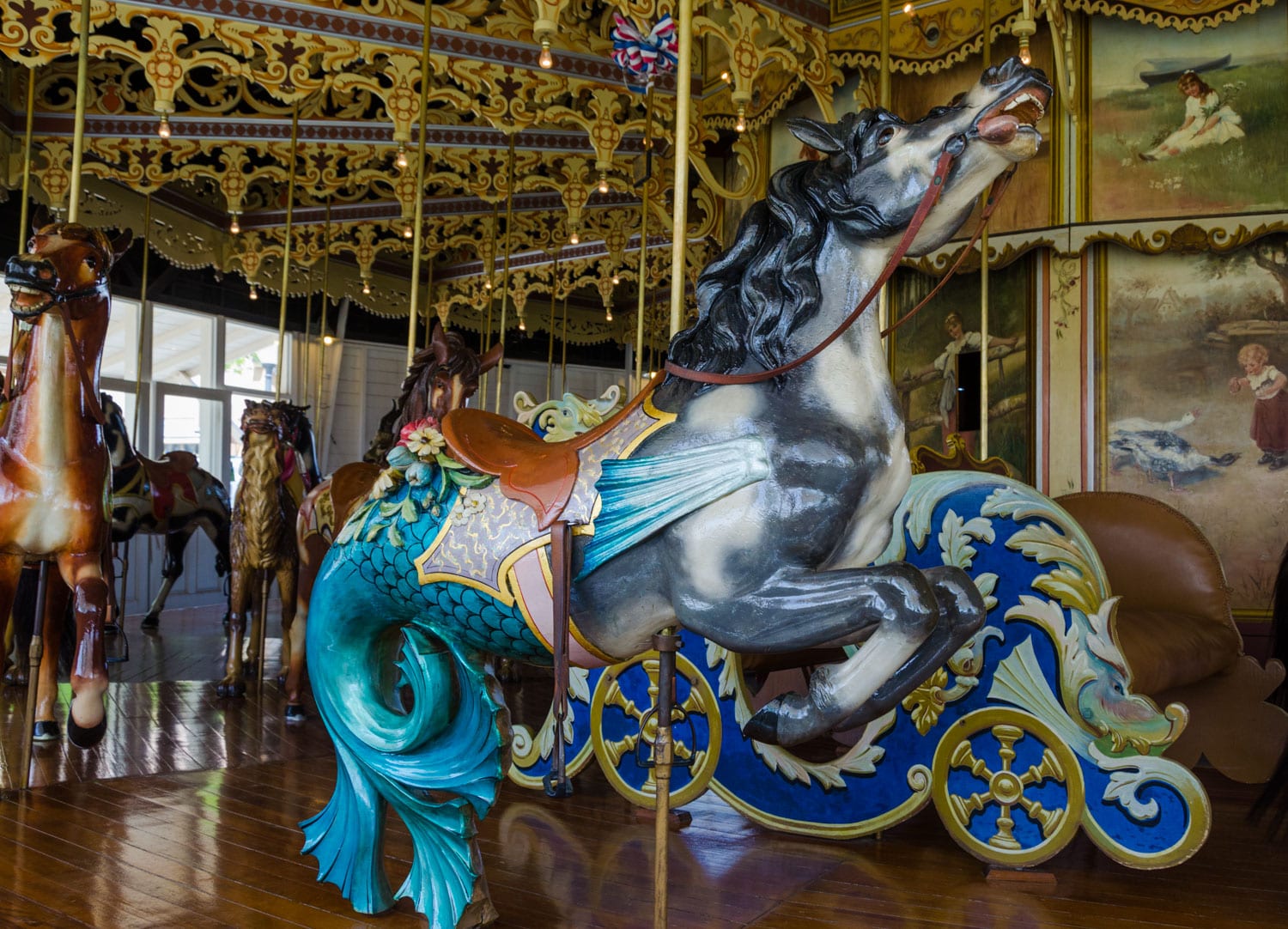 Over the years, due to much wear and tear, the restoration of the carousel began in 1976. Restoration efforts continued through 1987, with intricate work to restore original paint, trim, and gold leafing.
The restoration project was finally complete in 2001, with a slight delay in the process when one of the horses was stolen. Eventually retrieved, the entire carousel was put back together and fully restored for public use in 2001.
The Kit Carson County Carousel is one of the most notable survivors of the original 2,500 wooden carousels carved in America between 1885 and the 1930s. With fewer than 150 remaining today, a ride on the Kit Carson Carousel is a true treat.
Riding the Carousel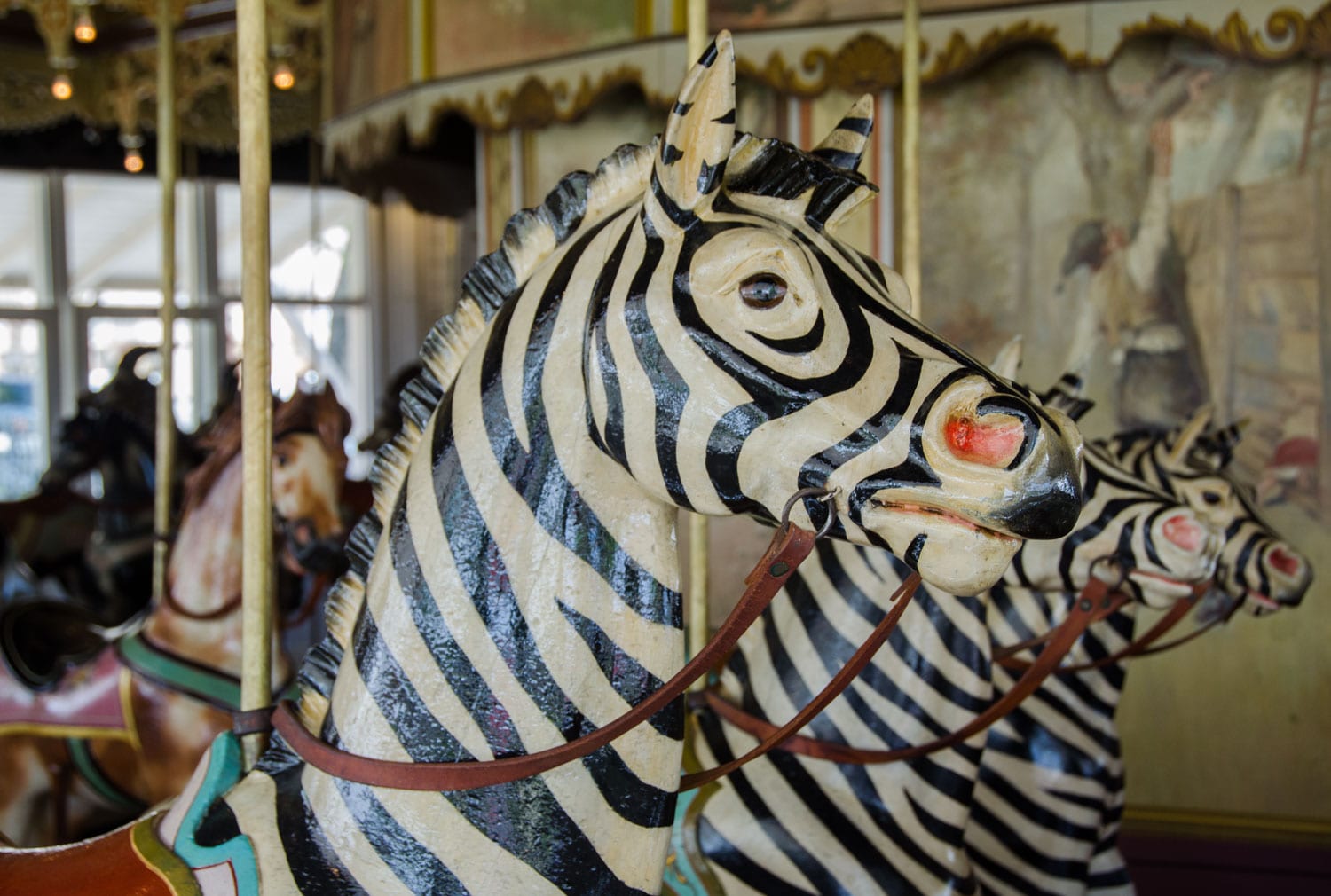 The Kit Carson County Carousel is a fine antique specimen, with three stationary rows of a menagerie (having other animals in addition to horses) of 46 hand-carved wooden animals with intricate designs and carvings, all detailed with gold leafing. Beyond the traditional breed of horses, visitors can hitch a ride on giraffes, camels, goats, zebras, burros, a lion and a tiger.
Adult visitors can relive their youth and youngsters can make the most of their childhood by taking a ride on the carousel, for a mere $0.25 – the price you paid to ride when it first opened in 1928. While it may not be the ride of your life, the uniqueness of this experience is unparalleled.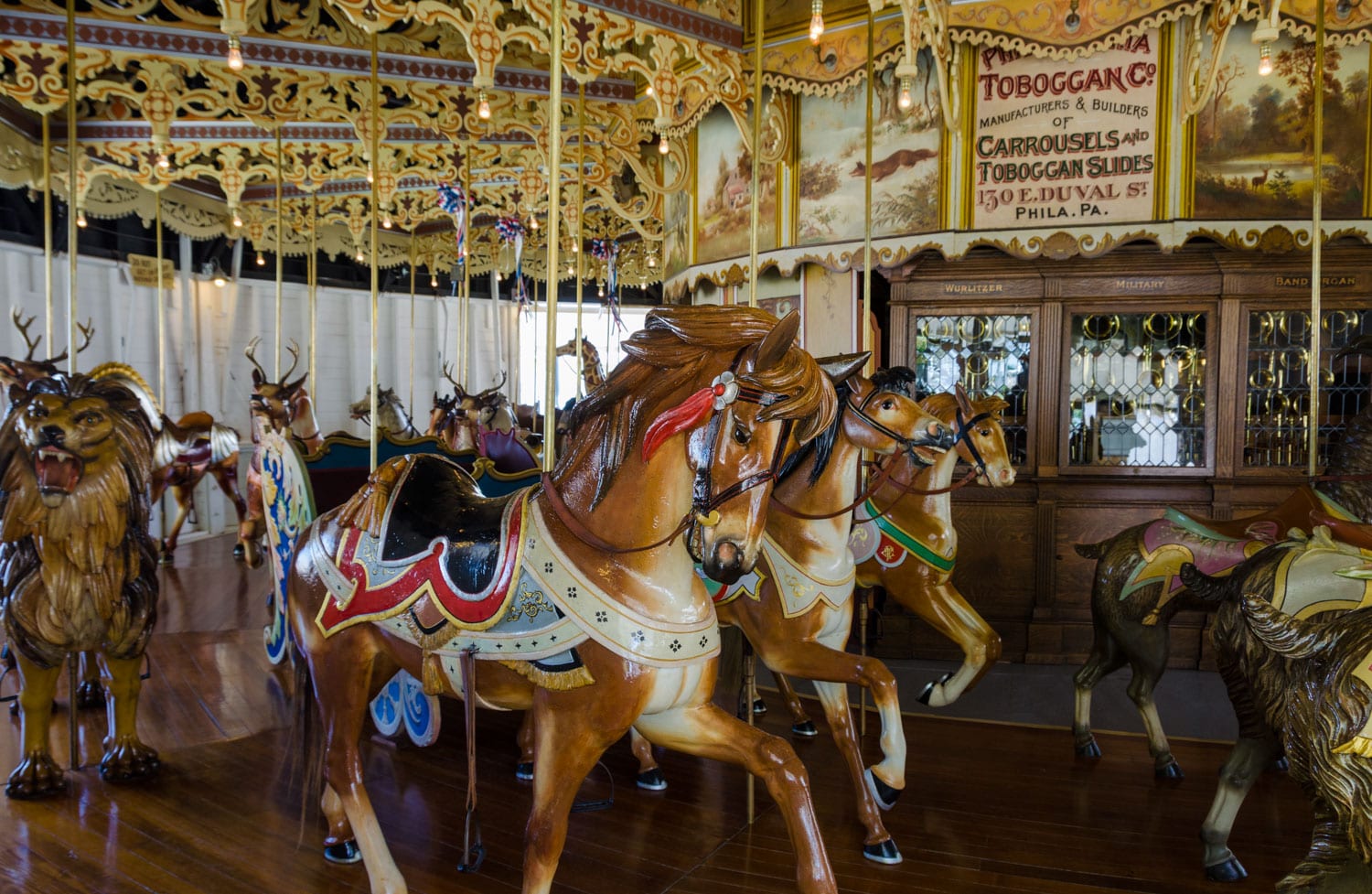 Gaining speeds up to twelve miles an hour, operating with the original motor, this antique can really get moving. Creepy carnival music plays in the background as charmed locals and tourists spin around on this colorful antique.
Getting There
While the town of Burlington is not large, there are several signs directing you to the carousel. Located inside the Kit Carson County Fairgrounds, the carousel is best found following signs for this landmark.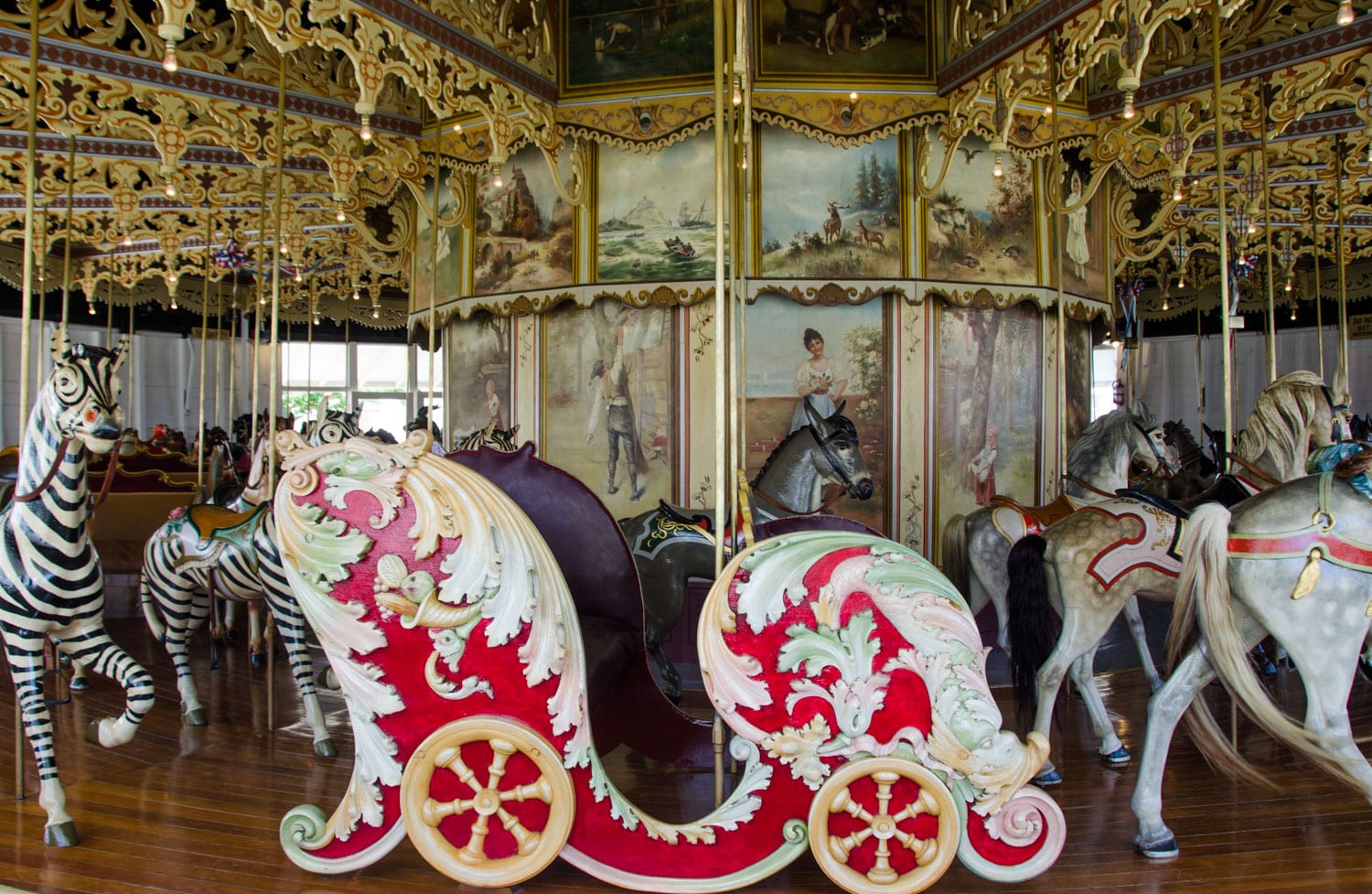 Details
Address: 815 N. 15 St. Burlington, CO 80807
Season: Memorial Day through Labor Day
Pets: no pets allowed
Admission: $1.00 for entrance to the museum and a ride on the carousel, $0.25 for just the ride
Website: kitcarsoncountycarousel.com