[Devil's Backbone hike with the dogs. Photo: Sharlee H] Colorado is a spectacular place for hikers, and it's even more fun when you take your furry friend along on the hike. Most visitors hike the trails during the summer after the spring snows have melted.
Thunderstorms are frequent in Colorado, especially in the afternoon, so hiking early in the day is a good suggestion. Make sure to head back if a storm is approaching. Always bring a leash and keep it attached in designated areas.
Hiking With Dogs in Colorado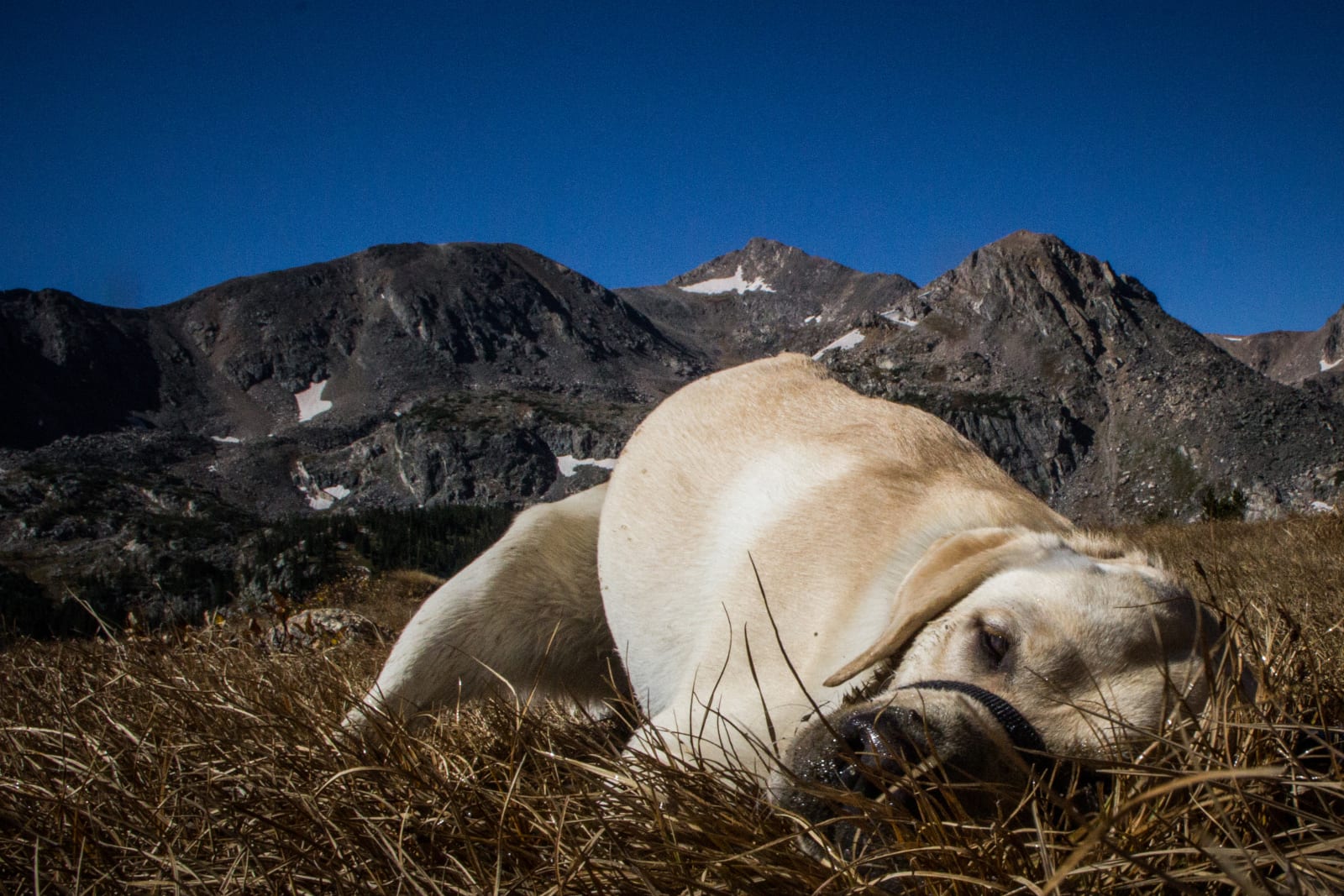 Hikers in Colorado commonly bring their four legged companions with them, as a result, most trails permit dogs on-leash. The standard leash length is 6 feet at a place like a state park. Whether you're heading into the backcountry or trekking in a state park, these dog hiking tips are good to know:
Tips to Follow
Make sure your dog is up-to-date on vaccinations and has a clean bill of health. You may want to have your dog microchipped. If your dog has problems with arthritis or mobility, turmeric dog treats can help with pain from arthritis and inflammation and are an excellent supplement for your dog's immune system. Pack some tasty treats for your dog to enjoy on the trail.
Bring snacks and plenty of water for you and your dog. Collapsible bowls for food and water are ideal for hiking, and you can keep them in your backpack. If you're going on a day-long or overnight hike, make sure you have sufficient food.

Rest break at Silverton's Ice Lake. Photo: OakleyOriginals

Your dog should be wearing a collar with identification on it and always carry a leash. Know what the leash laws are in the area you'll be hiking. If dogs are allowed off-leash, make sure your dog responds to voice commands. You can clip the leash to your belt loop if you want to be hands-free while hiking.


Always carry a first aid kit (affiliate link) when you're hiking. You can buy a kit that's pet specific, and you should always take a kit for yourself. If you are hiking over rocky terrain, you can apply paw wax to your dog's paws to protect them from being cut or scratched.
Carry a scoop and disposable bags for when your dog takes a potty break. If you don't carry the necessary items to clean up after your dog, a garden spade will do the trick. Just dig a hole and dispose of everything off the trail.


A coat or jacket for your dog is a good idea if the weather could get cold or rainy. For overnight hikes, get your dog accustomed to the tent before you leave. A small mattress made of foam and a blanket will keep your dog comfortable overnight. Dog booties or extra socks can protect your dog's paws.
Be alert for wildlife. By keeping your dog(s) on leash, you'll avoid your pet chasing a wildlife area. Snakes are also a big concern, especially in the Front Range and plains area where the elevations are lower. Poison from certain snakes, like rattlensnakes, can kill dogs in little time, so awareness is best prevention. It's important to know how to cope with a snakebite.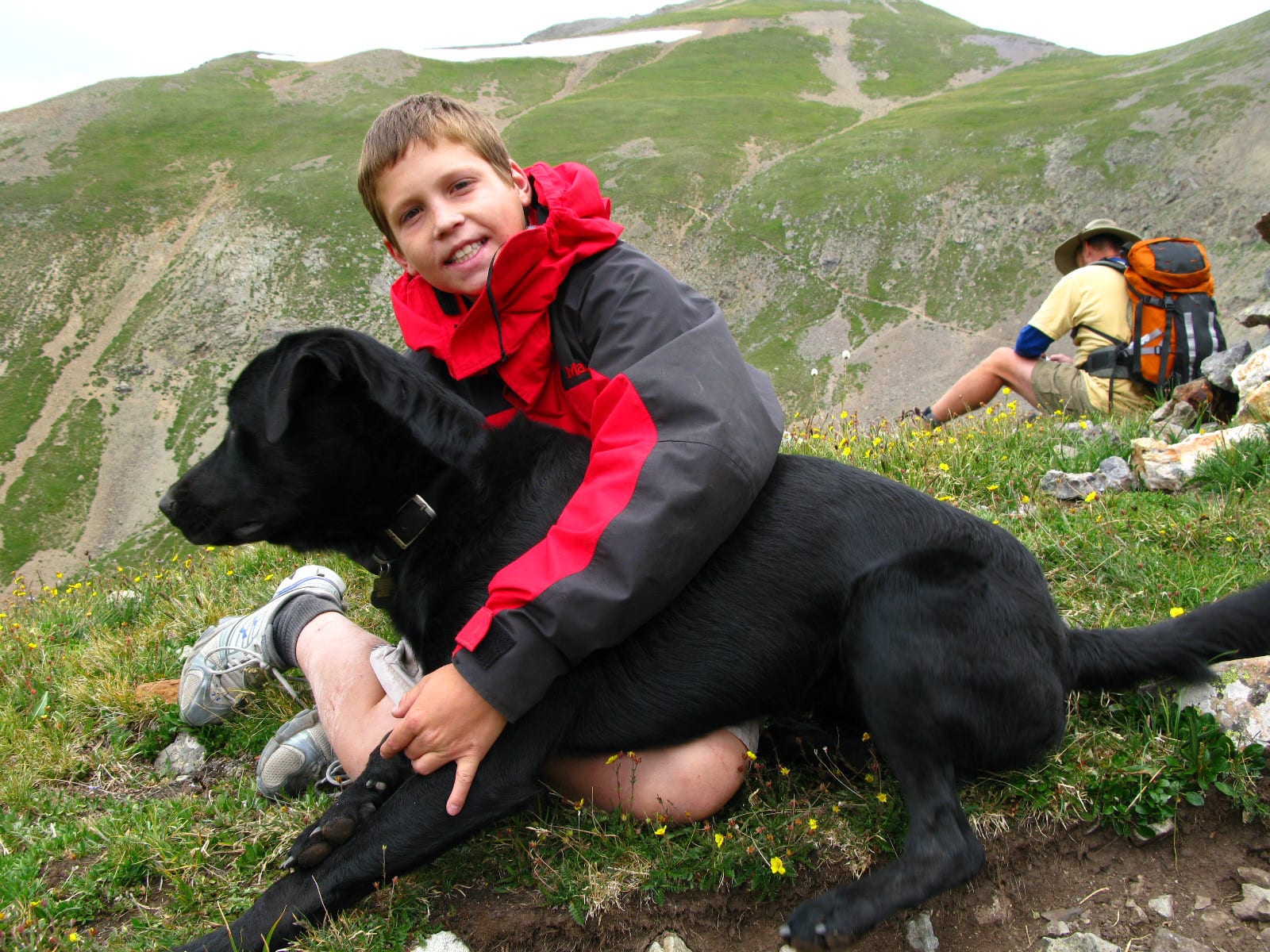 What To Do In An Emergency
Since you won't have access to your veterinarian on the hike, take your cell phone and make sure you have their number or the number of the nearest animal hospital or clinic. Look through materials that have instructions on how to do emergency first aid if you have to. Always makes sure someone knows where you're headed.
A cooling collar can help to get your dog's body temperature back to a reasonable level if he starts to get overheated. 

Be careful of the surface you're walking on, black pavement and sand gets very hot on the paws.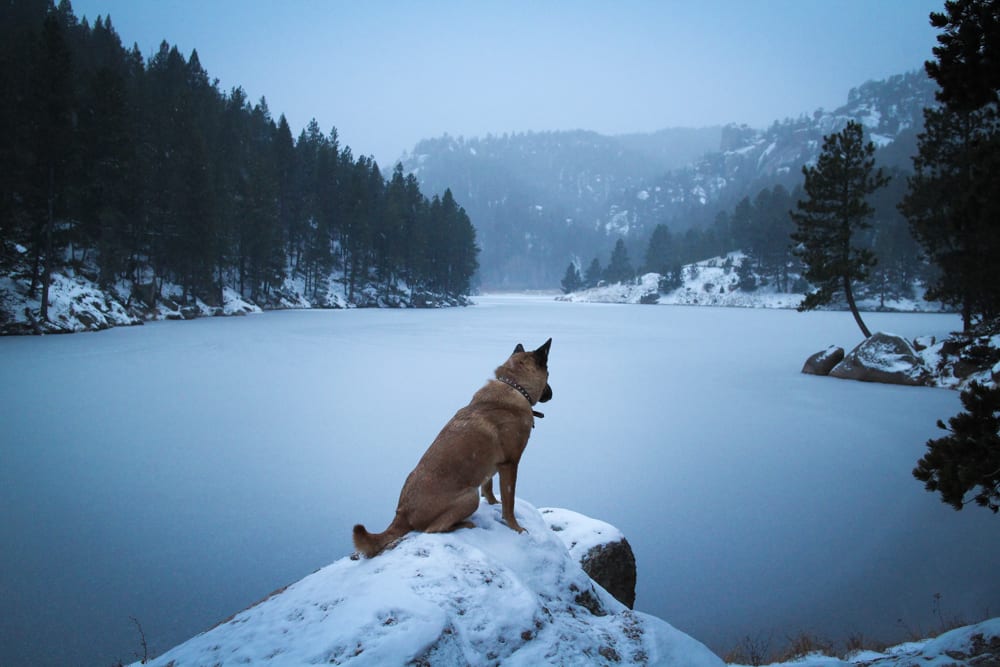 Top Colorado Dog Friendly Hiking Spots

Here are some of the top, dog-friendly trails to hike in Colorado. 
Beaver Brook Trail, Golden- A peaceful hike on the south rim of Clear Creek Canyon. The trail is not far from Denver, but far enough away that it is never crowded even on weekends.
Boulder Reservoir, Boulder- Dogs are permitted off leash on the north shore free area. This area park includes swimming areas, fishing, and wildlife viewing.
Chihuahua Gulch and Lake Trail, Dillon- This 6.1 trail in the White River National Forest is the perfect hike for even the biggest of dogs. The trail tends to be steep at times so make sure you are prepared to push yourself.

Boulder dog friendly hiking. Photo: UCFFool

Dunraven Trail, Drake- This hike is located on Roosevelt National Forest and stretches 5.5 miles. You will find streams along side the trail, which is perfect for your pooch to splash in on a hot day.
Frazer Meadow Trail, Golden- This park offers 12 trails ranging from easy to difficult hikes. It is located in Golden State Canyon Park where you will be able to see historic structures.
Garden of the Gods, Colorado Springs- A register national natural landmark where you can see Colorado's famous red rock formations. Admissions is free and your pooch is welcome to join you as long as you bring a leash.
Royal Arch, Boulder- This difficult hike is 3.2 miles that should take you around 4 hours to complete. The trail will provide you with great views of the Flatirons!
Waterdog Lakes Trail, Salida- This hike is located in San Isabel National Forest and is 3.6 miles long. You will reach lakes after hiking through an evergreen forest where dogs can run leash free.
Following these tips can help you, and your dog enjoy your time out on the trails in Colorado.