Howelsen Hill is the oldest continuously operating ski resort in Colorado, since 1915. Situated in downtown Steamboat Springs, it's open daily. The ski area has a long history of producing winter Olympians and has sent more skiers to international competitions than anywhere else in the U.S. It has produced more than 70 Olympians.
The city of Steamboat Springs manages the ski area and holds numerous winter sports competitions throughout the season.
Terrain
The ski area is most known for its long, natural ski jumps. They are visible from town and sometimes you're lucky enough to see someone practicing on them. You'll also find several other jumps and 15 trails of varying slope and difficulty. You regularly see young competitors effortlessly spinning 360's and 720's off Howelsen's freestyle jumps.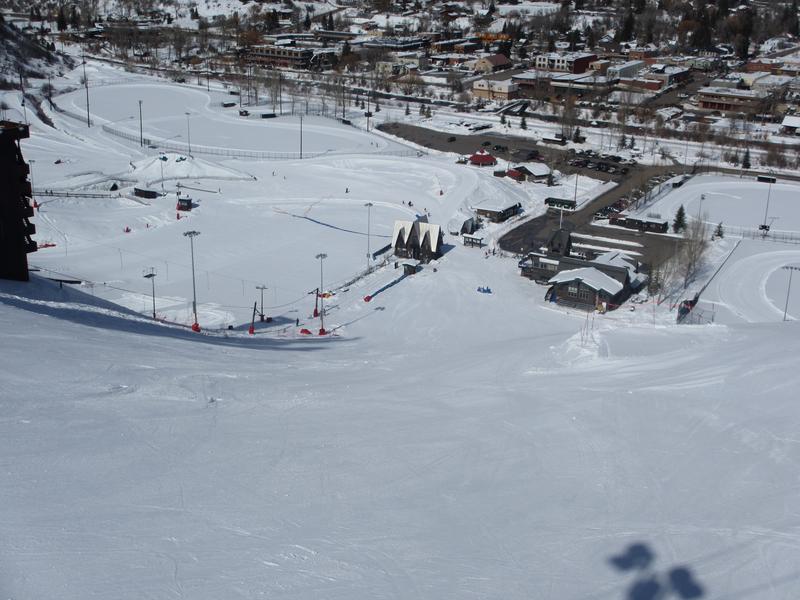 Beginners will enjoy several long trails down to the base. Expert skiers will appreciate the steep face of the mountain. The vertical is 440 feet.
One of the best parts about Howelsen Hill is the night skiing. For a very reasonable fee, you can ride underneath the lights in downtown Steamboat Springs, from 5:30 – 8pm. There's also night skiing at neigh Steamboat Ski Resort as well. The main lift up the mountain is a Poma lift. There is also one double chair lift and a small magic carpet.
Village
The lodge has concessions like soft pretzels and pizza slices, as well as drinks. There's no beer served. There's a fireplace and lockers for a buck.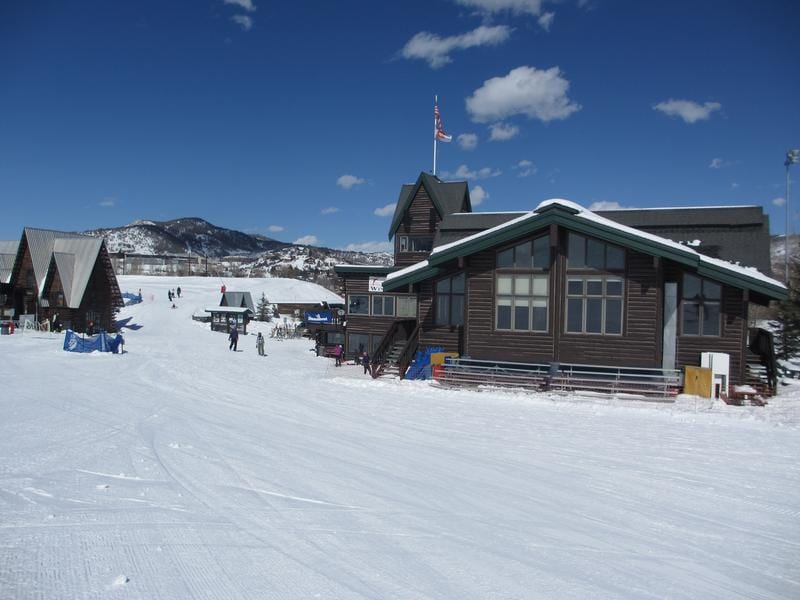 Situated in the heart of historic Steamboat Springs, you'll find an abundance of amenities within walking distance of the slopes. Steamboat offers all levels of lodging, dining, shopping, spas, hot springs, and many more attractions to make your winter vacation wonderful. It's in close proximity to endless wintertime recreation.
Aside from downhill skiing, Howelsen Park offers snowshoeing, cross country skiing, ice skating, and even a bobsled track.
Details
Address: 845 Howelsen Pkwy, Steamboat Springs, CO 80487
Phone: 970-879-8499
Season: December – April
Lift Hours: Monday – Friday (11am – 8pm) | Saturday – Saturday (10am – 4pm)
Mountain Stats:
Elevation: 6,696 ft – 7,136 ft
Vertical:  440 feet
Ski Area: 50 acres
Average Snowfall: 150 in (381 cm)
Cross-Country Trails: 21km
​Trail Map: (jpg)
Website: ​steamboatsprings.net/…
Latest in Howelsen Hill