Located just outside the charming town of Red Cliff in Eagle County, CO, the Red Cliff Bridge is one of only two steel arch bridges in the entire state.  Its deep emerald beams stand out amongst the miles of evergreen trees that the bridge overlooks.
The Red Cliff Bridge carries US Route 24 and is part of the Top of the Rockies Byway, one of 25 national scenic byways in the state. This classic and commanding structure runs above remnants of the Union Pacific Railroad track and the Eagle River.
History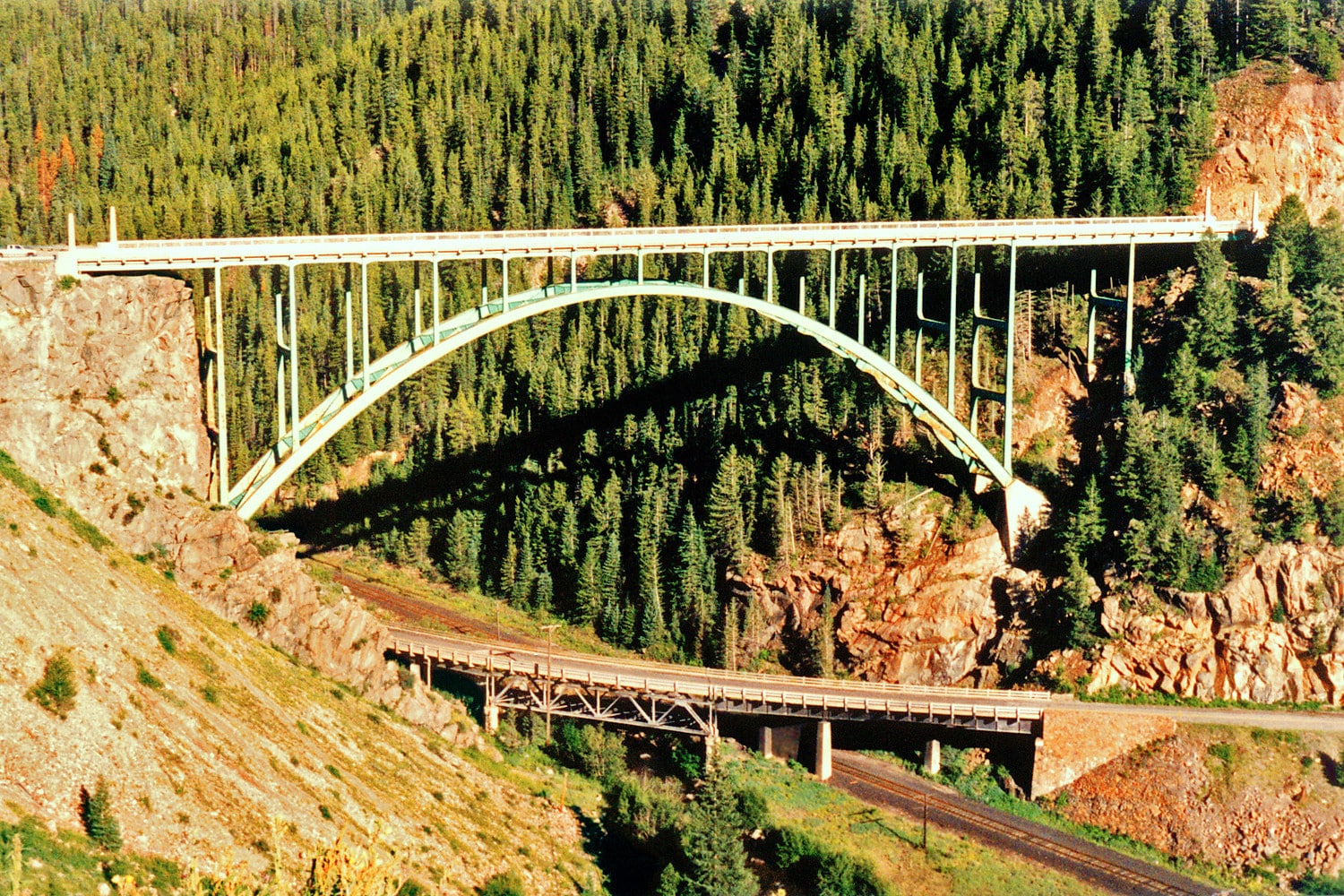 The Post Depression era brought forth sweeping infrastructure improvements across the country. During a visit to Eagle County in 1934, state governor Edwin Johnson took notice of the dangerous mountain roads of the region and assured his constituents that the issue would be promptly addressed.
Construction of the Red Cliff Bridge began in 1939 and was completed by the summer of 1941. The process was incredibly tasking, with workers often spending whole days hovering over the canyon by cable harnesses, even through inclement weather and raging winds.
Despite the *suspenseful* stories of its construction, the project was remarkably completed without any injuries or mishaps.
By 2004, the bridge had considerably deteriorated and required extensive repairs. The Colorado Department of Transportation began the $3.1 million restoration project, over twenty times the original cost of constructing the bridge. The bridge's original design was masterfully preserved while still providing significant safety improvements for drivers.
Must See Places Nearby
The Red Cliff Bridge is just outside the town of Red Cliff. Red Cliff boasts a tiny population of under 300 people and holds the title of the oldest town in Eagle County.
This quaint community is the perfect stop or place to stay after exploring all of the surrounding outdoor offerings. With just a single hotel and dining option, be sure to plan ahead, or simply stroll through to appreciate this one-of-a-kind historical gem.
Nestled within the Rocky Mountains and holding a large portion of the White River National Forest, Eagle County offers virtually endless options for both rugged adventures and luxurious retreats. Red Cliff Bridge is just below thirty minutes south of the internationally acclaimed ski towns of Vail and Avon and under an hour from the trailheads of various 14ers.
Discover other famous bridges in Colorado for your next road trip.
Details:
Address: 504-598 US-24, Red Cliff, CO 81649
Season: Year-round
Roads: 2 WD