A beautiful and awe-inspiring neighbor to the nearby Grays Peak, Torreys Peak is 14,267 ft in height and has the promising allure of tackling two 14ers in one day. With Georgetown being the nearest town, the metropolitan of Denver is still only a little over an hour's drive away.
Torreys Peak is located along the Continental Divide and is a division between Summit County and Clear Creek County. While it is smaller than the neighboring Grays Peak, Torreys Peak has much more difficult terrain and is a Class 2.
Torreys Peak – alongside Grays Peak – are both very popular and have a multitude of visitors. Parking may be difficult to find during the warmer months so plan to come early to reduce the distance from the parking lot to a trailhead.
Trail Routes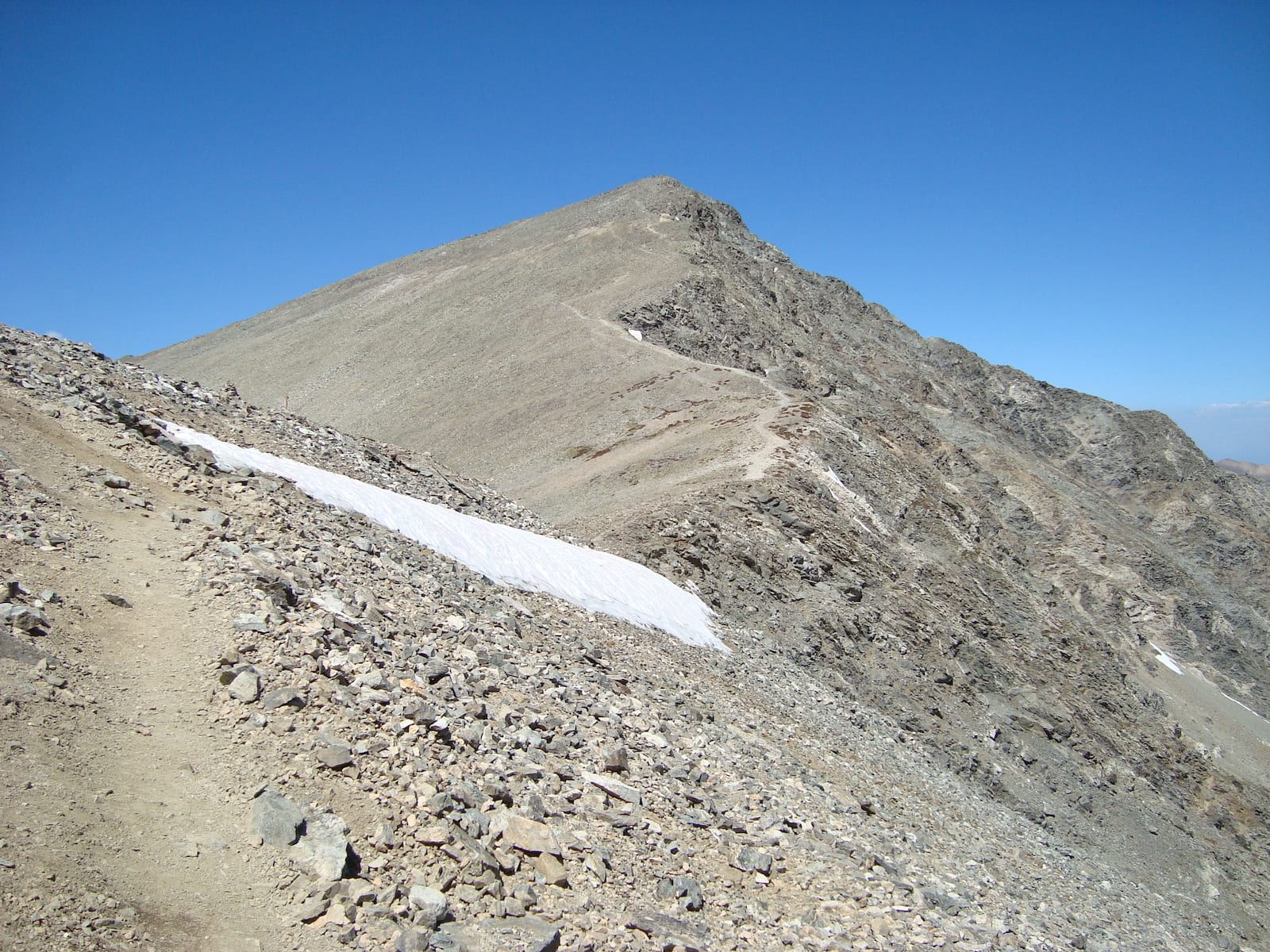 There are a total of 7 trail routes to choose from; South Slopes, NW Face/Tuning Fork, and West Ridge are all Class 2, the shared North Slopes with Grays Peak a Class 1, and Kelso Ridge, Dead Dog Couloir, and Emperor Couloir are all Class 3 with recommendations of them being used as snow-only routes.
Activities
There are a number of activities within the Arapaho National Forest nearby Torreys Peak.
Camping – There are dispersed camping spots around the trailheads of Torreys Peak as well as anywhere on public property. Be aware of any private property and avoid camping in these areas.
Read about the  camping near Georgetown and Guanella Pass.

Climbing – Torreys Peak is known for its rugged territory making the summit more difficult with various scrambles, ski descents, and snow climbs. Helmets, proper weather attire, and climbing gear will be needed.
Hiking – Depending on the route, experience and gear may vary. Despite how easy these hikes may seem, they can be strenuous and difficult to navigate. Torreys and Grays Peak share the North Slopes trail allowing people to hike and summit both mountains if they choose.
Mountaineering – Snowshoeing and backpacking are possible in the area. Be mindful of changing weather and be prepared with extra clothes and plenty of water.
Details
Address: Arapaho National Forest, near Georgetown, Clear Creek County, CO
Season: Year-round
Elevation: 14,267 feet (4,349 meters)