In Jefferson County, Wellington Lake is a privately owned, picturesque reservoir that sits at 8,015 feet in elevation near Deckers, Colorado. The lake is dammed and has a total surface area of about 167 acres.
Wellington Lake is roughly an hour and 45 minutes from Denver by vehicle, and offers a tremendous amount of opportunity for day-use and overnight outdoor recreation.
Wellington Lake History
In 1890, a Denver investor named Harper Oragood purchased 14 acres of land and established the Castle Lake Resort Company in an effort to dam and stock the lake. A year later, the dam was improved and with the addition of John Wellington Nesmith, the company (and lake) were renamed to The Wellington Lake and Reservoir Company.
Over the next century, the ownership of Wellington Lake changed hands several times with the developments of cottages, a private campground, and further dam improvements. Wellington Lake's easy access and scenic beauty have made it a popular location for festivals, sailing competitions, fishing trips, and private events.
Activities at Wellington Lake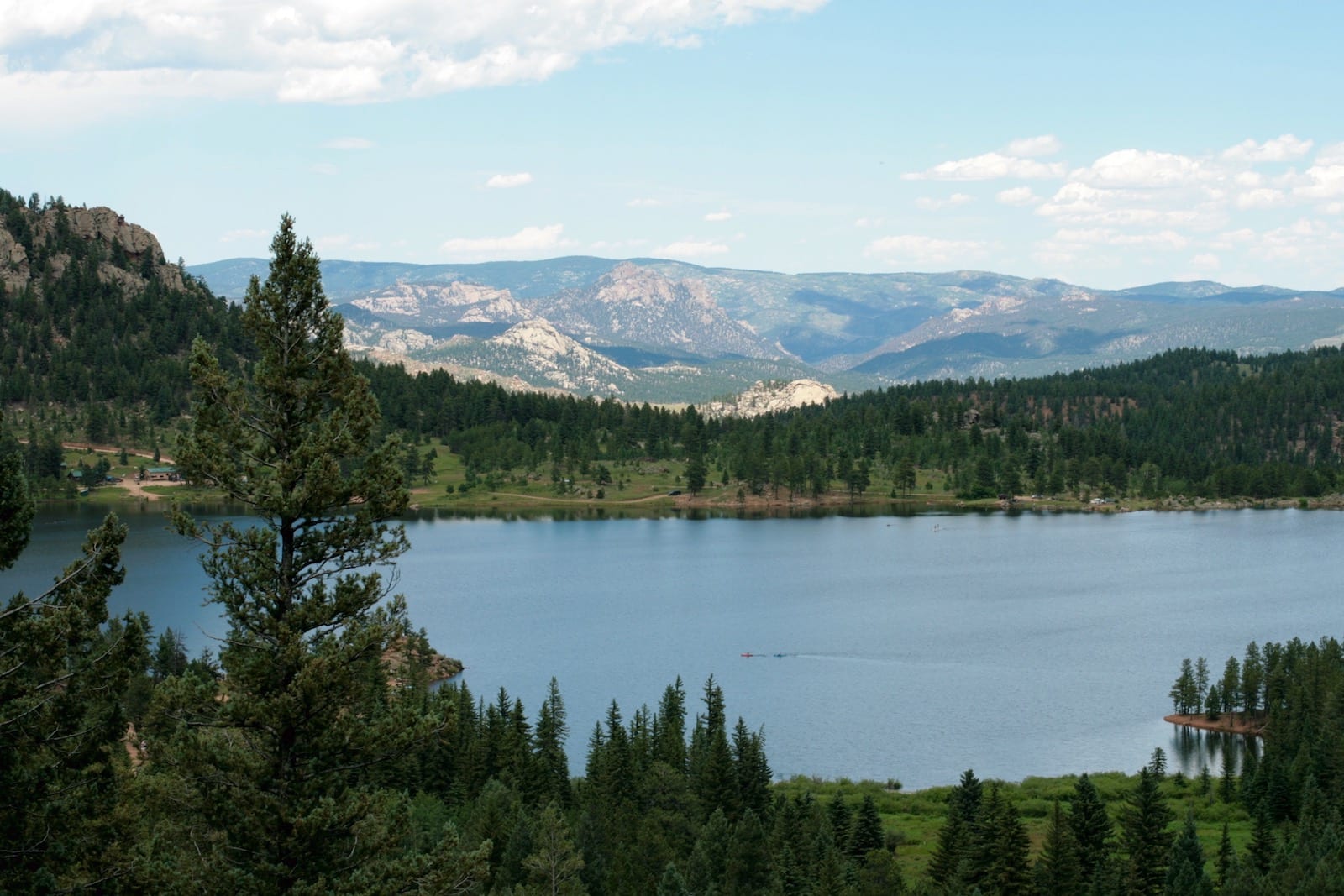 For day trips and overnight visits, Wellington Lake is an idyllic location to enjoy many outdoor activities. Visitors must check-in and pay fees at the Visitor Center. If it is not open, a self-permitting system will be available. There's additional recreation in the surrounding Pike National Forest.
Biking: Wellington Lake is often utilized as a base camp for mountain bikers exploring the Buffalo Creek area. Bikers can travel to popular trailheads within the network of shared, dirt forest roads. The Colorado Trail is roughly 2 miles from Wellington lake.
Boating: Hand-launched, non-motorized boats are permitted on Wellington Lake with a life vest required for each passenger onboard. Wellington Lake is popular for kayaks, stand-up paddle boards, and inflatable tubes. Seasonally, paddle board day-use rentals may be available at the campground.
Camping: Castle Mountain Recreation operates a privately owned campground with 75 tent and group sites. Campsites can be reserved 3 months in advance. The campground is pet-friendly, has room for RVs, and features many lakefront sites.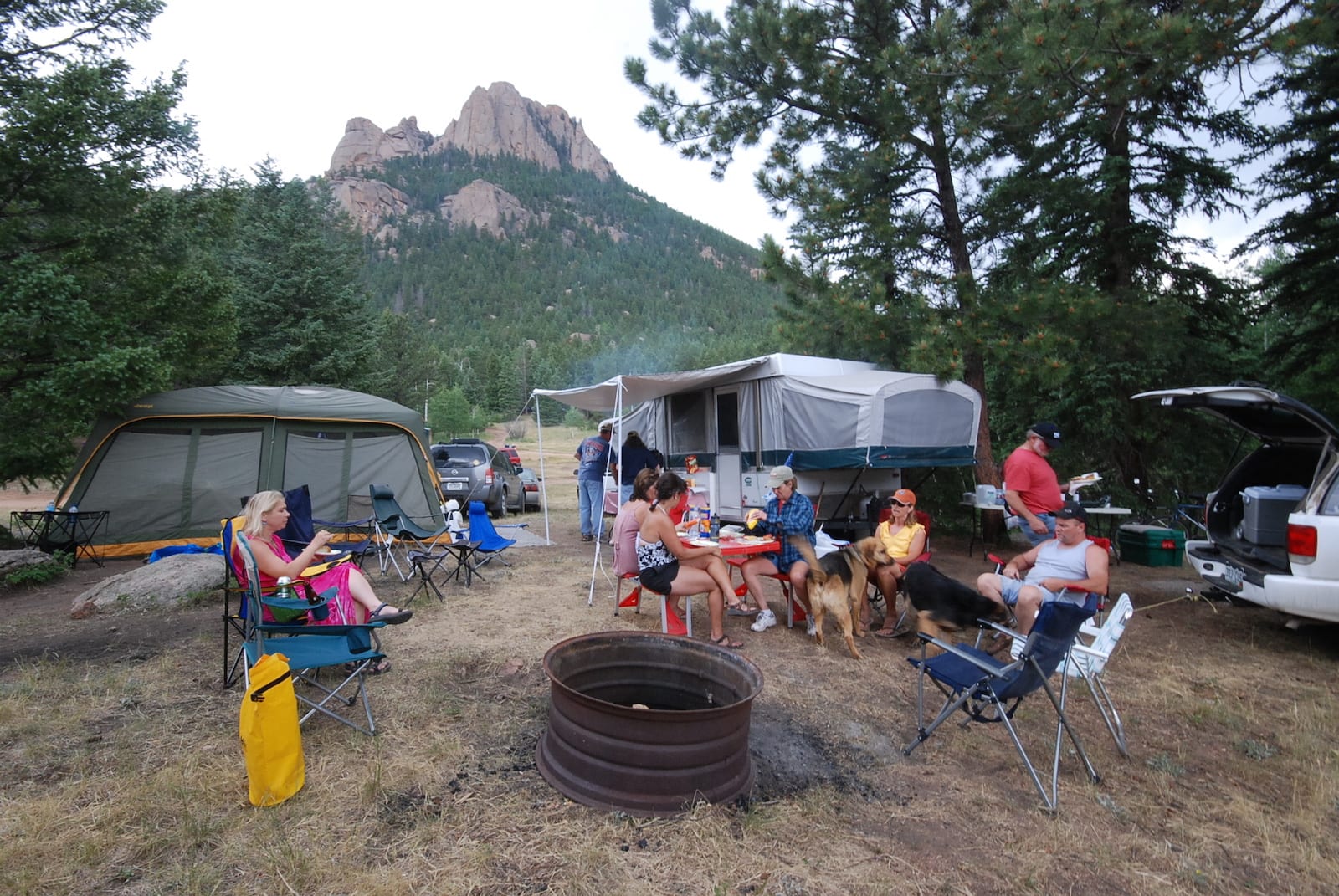 Fishing: Catch and release fishing is permitted at Wellington Lake. Anglers may not use live bait and are restricted to flies and lures. The lake is stocked twice a year with many species of trout. Fishing in Wellington Lake does not require a Colorado fishing permit, as it is privately owned. Ice fishing is available in the Winter.
Hiking: There is a small series of trails near the campground that feature mountain views, wildflowers, and a waterfall. It is also possible to hike around the beach perimeter of the Wellington Lake, which is roughly a 3 mile loop along the shoreline
Rock Climbing: The granite formation towering over Wellington Lake known as "The Castle," is a popular destination for rock climbing.
Hunting: Hunting is not permitted on the Wellington Lake property.
Picnicking: There are five designated day-use areas on the west, north, and east sides of Wellington Lake. Bathrooms are available near each parking lot.
Swimming: Swimming is permitted at Wellington Lake. Lifeguards are not on duty and the lake can be accessed anywhere along the shore.
Wildlife Viewing: An abundance of wildlife can be seen around Wellington Lake including black bears, elk, deer, and mountain lions. For this reason, proper food storage is required overnight.
Details
Address: 21843 Stoney Pass Rd, Bailey, CO 80421 (near Deckers)
Phone: 303-838-5496
Season: Year Round
Hours: 24/7 for Campers, Sunrise to Sunset for Day Use
Fees: Day Use, Parking and Camping Fees
Maps:
Website: castlemountainrec.com