Boulder, Colorado provides great outdoor recreational opportunities, year round. During the winter, one of the most popular and accessible recreational activities is snowshoeing.
Many of the county's spring and summer hiking trails and recreational areas become perfect places to snowshoe during the winter. And the diversity of terrain in Boulder County, ranging from foothills to high mountains will provide plenty of challenge. It's perfect whether you're just starting out or you're experienced on your snowshoes.
Note: When snowshoeing in Boulder, it's important to remember that the difference in elevations means that not all these trails will be accessible for snowshoeing all winter. Lower elevation trails may only be open for snowshoeing later in the season, or after a heavy snow.
Top Snowshoeing Trails around Boulder, CO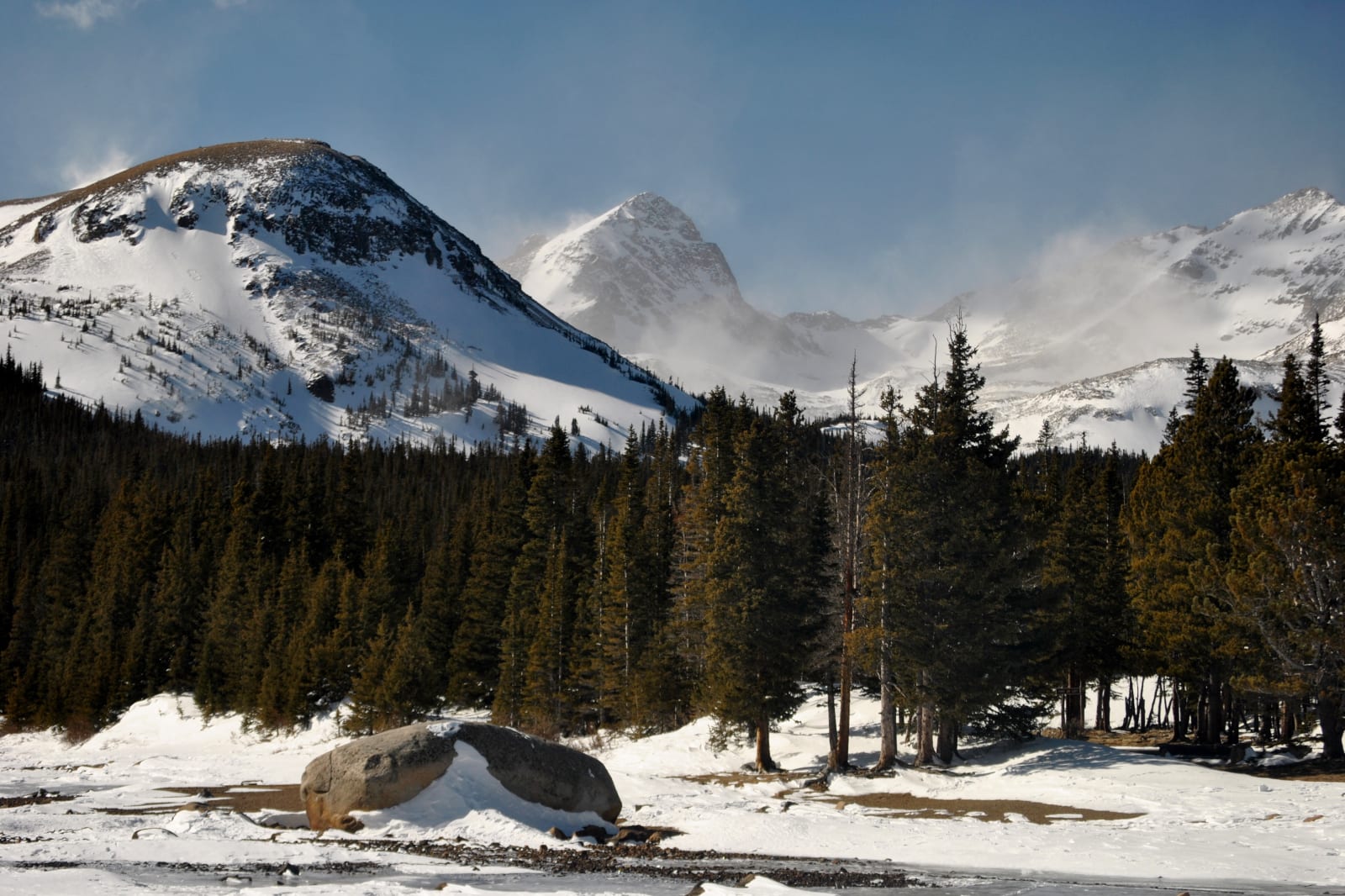 Boulder County is a mecca for outdoor recreation. While these are some of the best places to snowshoe, they are far from the only trails in the area. Many trails also support a variety of winter activities including biking, horseback riding and cross-country skiing. So it's a good idea to read up on the proper etiquette for snowshoeing on multi-use trails, before you head out.
Here are some of the best snowshoeing trails near Boulder, in no particular order:
1. Eldora Mountain Resort
We start with this spot, because it's perfect for the first time snowshoe experience. Eldora Mountain Resort has run one of the area's most popular Nordic centers, for many years. The Eldora Nordic Center has a wide variety of trails ranging from easy to moderately difficult. If you're new to snowshoeing and aren't sure if you're ready to buy your own equipment, the Nordic Center has rental equipment that you can use for the day.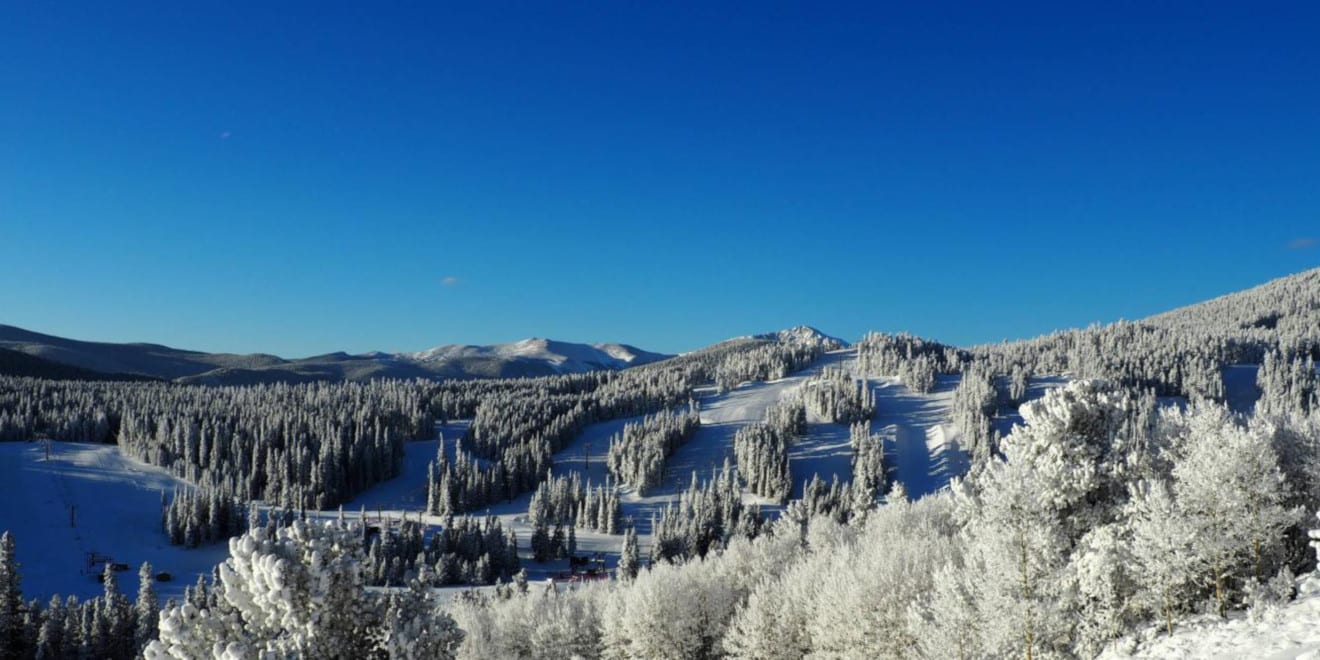 Trails here are well maintained, but can also be busy. Many of the trails are designed for both snowshoe and cross-country ski use, so the Nordic center staff can help you learn the proper etiquette if you're new to snowshoeing. The great part about snowshoeing here is the proximity of the Nordic center to the alpine resort is so close, that when you're done on snowshoes you can swing by the ski lodge for lunch and a hot chocolate
(affiliate link) …or a beer.
The downfall here – you do have to purchase a use pass to snowshoe here. A full day, adult pass, is $32 during peak season. However, the quality of amenities here are worth the day pass cost.
2. Brainard Lake Recreation Area
This is one of the most popular recreational areas around Boulder. Part of the US Forest Service, Brainard Lake is also one of the most well maintained areas in Boulder Co. This area has numerous multi-use trails that are perfect for all experience levels. With trails ranging from less than a mile to more than 5 miles, you can spend just a few hours snowshoeing, or make it a day.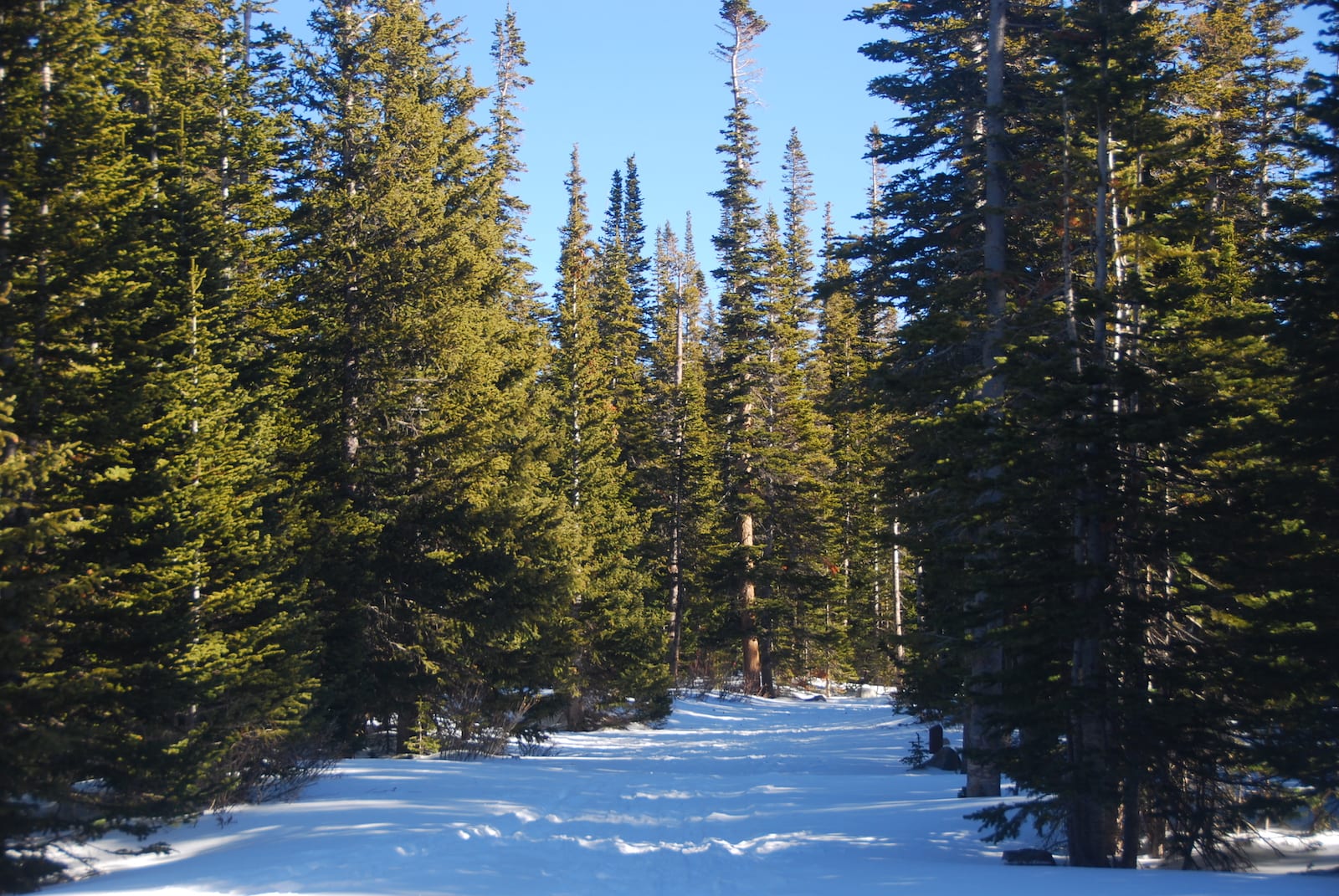 The area is high enough in elevation that you can expect decent conditions most of the winter. Early and late season conditions may be icy, but the higher elevation will keep snow on the trails for a longer time. This area is also great for wildlife viewing, so keep your eyes open for deer, moose, small mammals and birds.
Brainard Lake Recreational Area has basic amenities available during the winter, including water and bathrooms. Winter access is free, but expect a bit of a hike to the trailheads, due to the location of the winter parking area. Access to winter parking is located off of Highway 72, just east of the town of Ward.
3. Hessie Trailhead
This is another fairly popular trail system run by the US Forest Service. Located near the town of Eldora and the Eldora Mountain Resort, this trailhead provides access to a variety of popular recreation areas including Indian Peaks, Devils Thumb, Lost Lake, King Lake, among others. While this is just a single trailhead, this location does give access to a variety of other popular trails in the area.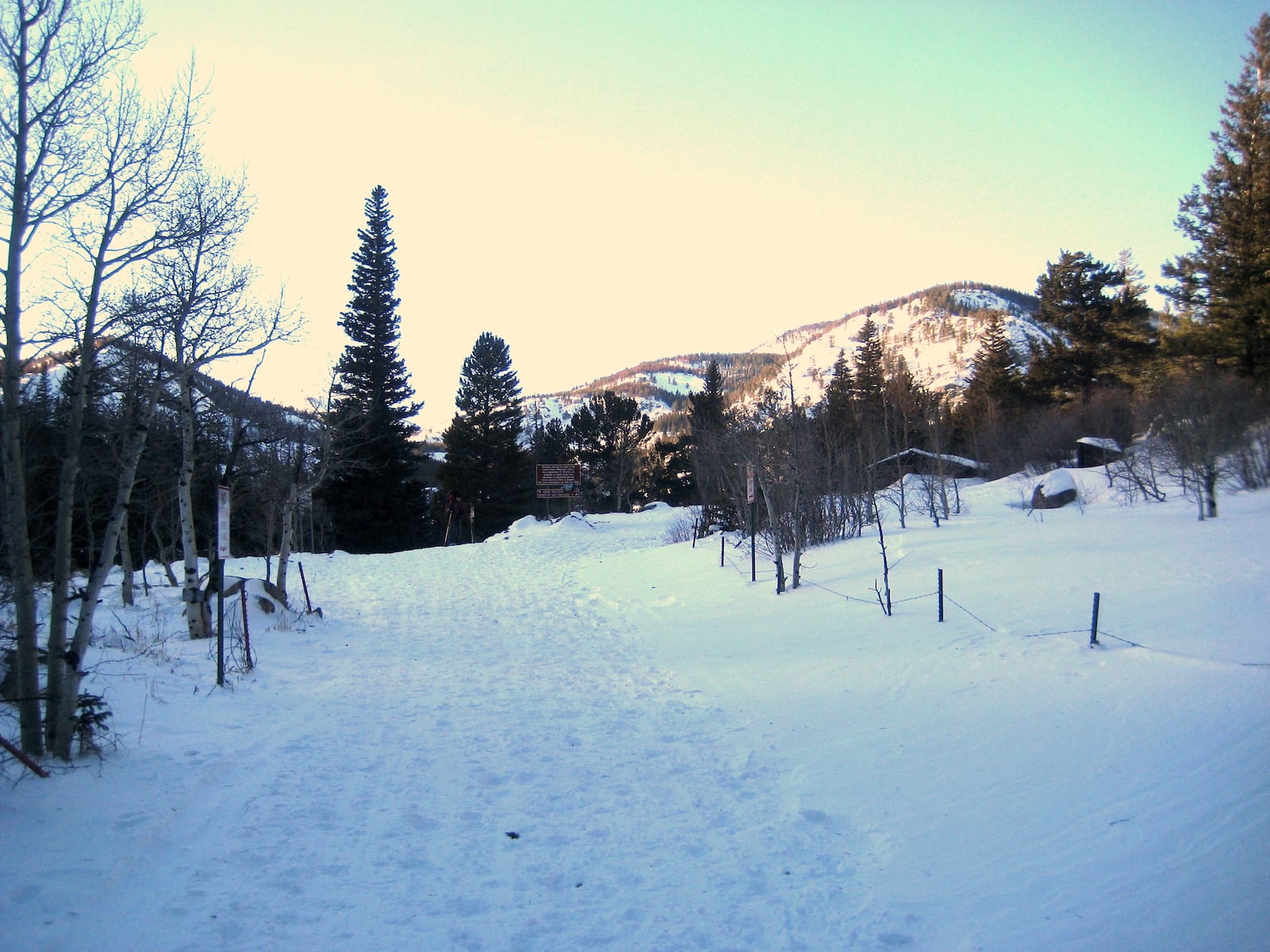 A popular destination along this trail route is Lost Lake, and is perfect if you are looking for a shorter adventure. If you want a more challenging and longer experience, head further up the Devils Thumb trail to Devils Thumb Lake or Jasper Lake. It is important to note that some of the trails in this area are not as well marked as others, so if you are not experienced with reading trails or navigating in winter conditions, you will want to stick to the more popular, well maintained trails.
Hessie Trailhead has no services for snowshoers, and the closure of Road 130 in the winter cuts off access to parking. This trail head is very popular and with parking limited to the side of County Road 130, carpooling is recommended. Highest use time here is the weekends, so be prepared for a crowd, or visit during the week if you can.
4. Heil Valley Ranch
This is a surprisingly good snowshoeing area, close to Boulder and Lyons. Despite its lower elevation, Heil Valley Ranch has good snowshoeing conditions for most of the winter. With plenty of shady areas, the snow sticks around at this area longer than in other lower elevation parks.
Heil Valley Ranch has six trails for your snowshoeing enjoyment. For a quick and easy adventure, try the Lichen Loop, a 1.3 mile easy jaunt. The most challenging trail here is the Picture Rock Trail, a 5.2 mile trek with a decent amount of elevation gain. The other trails average 2.5 miles and provide a variety of terrain and scenery. Though not as busy as Brainard Lake or the Hessie Trailhead, this is still a popular area for weekend warriors, so expect to see plenty of people here on the weekends.
This is also a multi-use facility so you will have to share the trails with bikes and horses. We recommend avoiding the Overland Loop trail due to its heavy mountain bike use even during the winter.
Parking here is relatively accessible, with two parking lots and plenty of parking spaces. If the weather is nice, the ranch can get busy, so carpool if you can. Oh, and leave your canine friends at home. Dogs are not allowed at Heil Valley Ranch due to wildlife concerns.
5. Caribou Ranch
Another great area within the Boulder County Open Space system, Caribou Ranch is a smaller, and less popular recreation area. This area is great for snowshoeing for two reasons: it's close to Boulder and it is at a higher elevation than other park systems.
This area has a variety of terrain to explore, and is perfect for a shorter snowshoeing adventure. There are two trails here that wind you through a combination of forest, meadow and native wetlands. There is even a historic mining complex in this area to explore. Caribou Ranch is a good place for beginners or for an easy hike.
This location does not allow mountain biking so you can expect a much quieter experience than at Heil Valley Ranch. Parking here is readily available and there are basic amenities such as trash and bathrooms at both parking lots. Mud Lake Open Space is also close by, so if you are looking for more miles to hike, stop here on your way back to Boulder.
6. Betasso Preserve
This open space area is located just west of Boulder, and despite its lower elevation, is a great place to snowshoe in the winter. This is a great place to experience the transition from the plains ecosystem to the mountain and foothills ecosystems. This area has diverse wildlife year round, so it's perfect for a leisurely snowshoe adventure.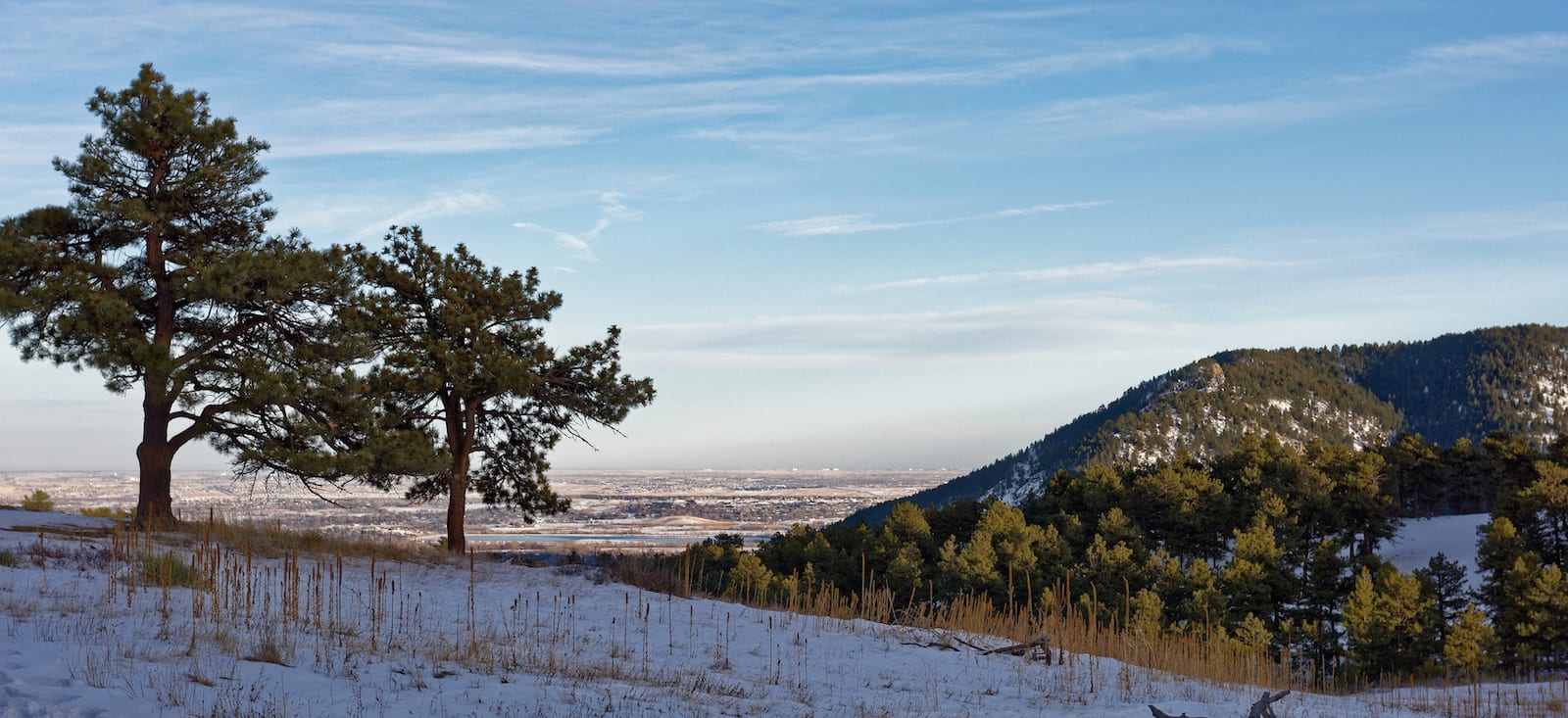 Betasso Preserve has a variety of trails that will challenge the most robust snowshoeing adventurer but still is moderate enough for those new to snowshoeing. Most trails here are less than a mile long, but there is plenty of elevation gain to keep it challenging. Combine loops for a longer experience. For the devoted looking for a longer and more challenging adventure, Betasso Preserve can be accessed from Chautauqua Park in Boulder. This route does have some substantial elevation gain, so is best left for those in good cardio condition and experienced with winter hiking at elevation.
The preserve is highly accessible with three parking areas. It is not as popular for winter activities as other parks, but if it's a nice day, expect to see plenty of people on the trails. This is a mixed use area, so you will encounter horses and mountain bikes. Some trails do not allow mountain bikes during specified days of the week, so visit the website before heading out, if you want to avoid the high speed bike traffic.

There are plenty more trails that are off the beaten path that you can enjoy in the Boulder region. Keep in mind that the elevation range of terrain available can make trails hit or miss in the winter for snowshoeing. So before you head out on your weekend adventure, check trail conditions and weather conditions so that you have the right equipment for your day.