The Mile High City can be a hot place come summertime. Whether you're looking to just cool down in the water or get some exercise in, Denver has plenty of public swimming pools around.
In order of proximity to Downtown Denver, here are some of the best pools for swimming in the area:
Mestizo-Curtis Park – Denver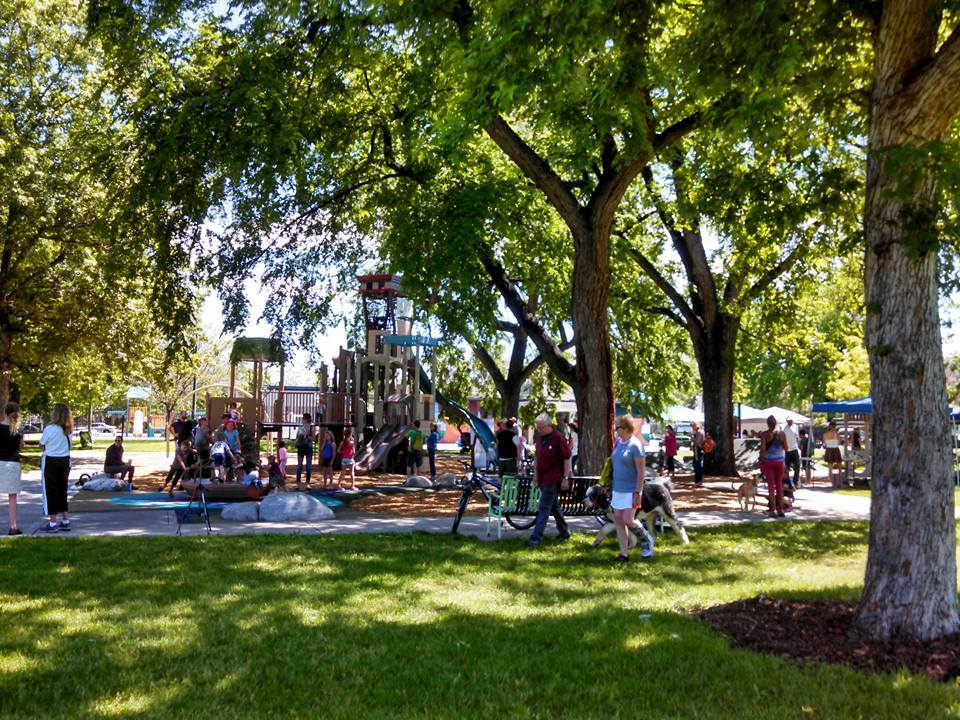 1.5 mi | Mestizo-Curtis Park is the oldest one in all of Denver and has all the makings of a good day out. Its tennis and basketball courts, ball fields, and picnic benches are fun but when the temperature hits the high 90s, its outdoor pool is what's going to make your stay.
Its outdoor pool boasts a large recreational swimming pool, enough for anyone to escape from the heat. Have a couple of novice swimmers in your family? Have no fear, as there's a splash area to the side that ensures that your children can enjoy their days as much as you. Its slides and water fountains are enough to make them laugh out loud.
3181 Champa St, Denver, CO 80205 | 303-292-2363 | denvergov.org/…
Barnum Park Outdoor Pool – Denver
4.7 mi | Barnum Park Outdoor Pool recently underwent a million-dollar makeover in order to strengthen its amenities, and it did just that. The facility's red and blue color design does well on the eyes, and visitors will be glad to find a haven tucked away in suburbia.
Posing a recreational swimming pool with a slide in the deep end, this pool offers a little bit of zest for a public facility. There are also various tables you can squat at accompanied by vast amounts of shade, so there's more than one way to escape the scorching sun.
There's a splash pad to the side that the kids can frolic in, as well as grassy areas that are fit for all sorts of activities. Highlighted with colorful equipment, this place is great for the family as well as being visually striking.
370 Hooker St, Denver, CO 80219 | 303-937-4611 | denvergov.org/…
Central Park Recreation Center – Denver
7 mi | The Central Park Recreation Center is a spacious, modern indoor facility located next to the eponymous park. It boasts various features, such as a weight room, a gym, and even a spin studio. That said, there is also an indoor swimming area with loads of fun features.
This area features a 25-yard lap pool as well as a lazy river with a rather shallow depth, so kids can float about freely. There's a splash area with which toddlers can play around in, as well as some water fountains. There are also a number of basketball hoops distributed across the swimming area, so water basketball is always an option (and certainly a show stealer).
If you're not looking for this sort of fun but are focused on fitness, then the facility also offers aqua-aerobics and aqua Zumba classes.
9651 M.L.K. Jr Blvd, Denver, CO 80238 | 720-865-0750 | denver80238.com/…
Paradice Island Pool – Commerce City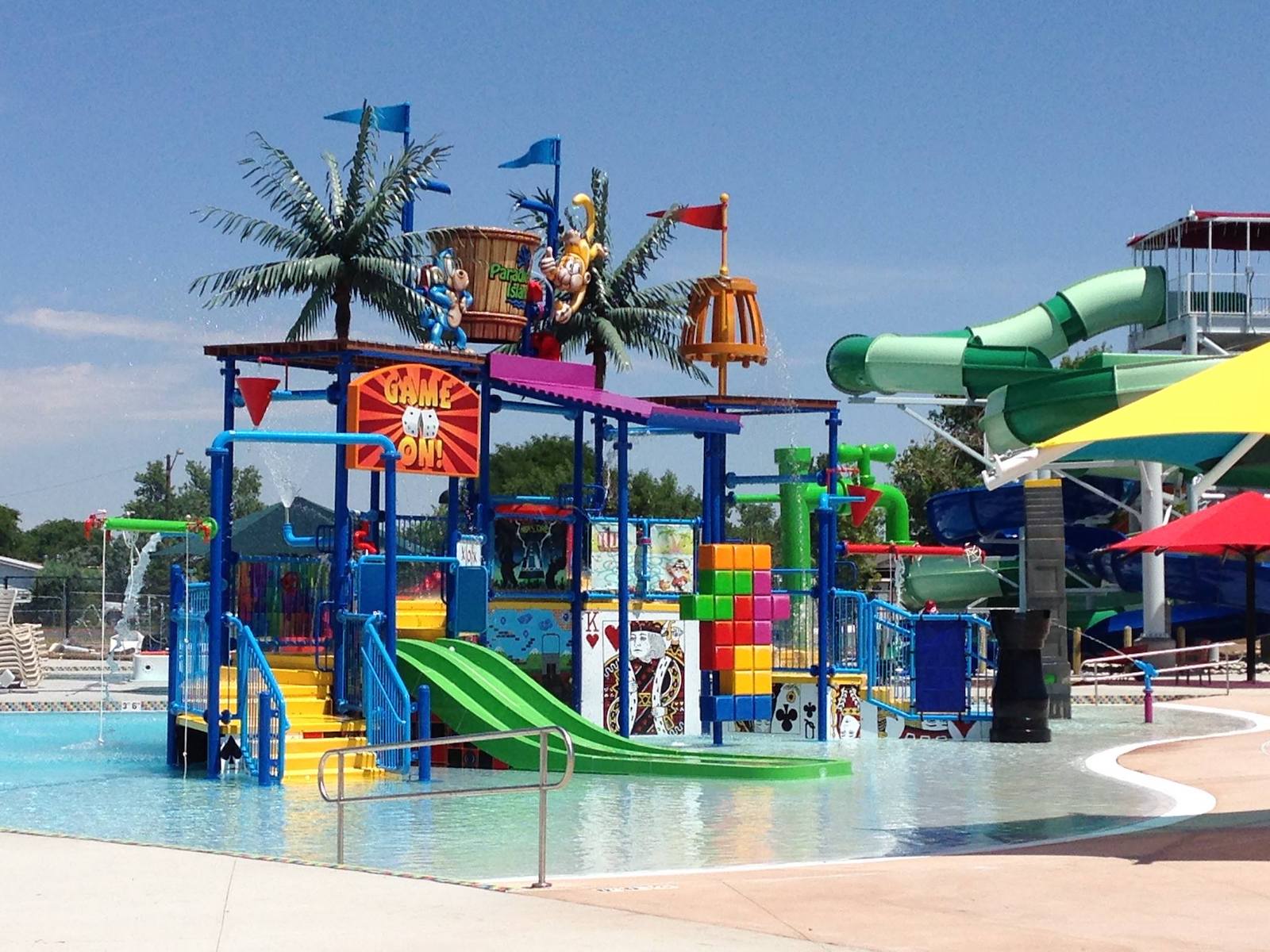 7.6 mi | Paradice Island Pool rests within Pioneer Park in Commerce City and sports a beautiful game-themed facility. Featuring nods to classic retro games, a trip to this multi-colored pool is nothing short of a nostalgic joyride.
Wonderful in appearance, Paradice Island sports a 5,000 square foot leisure pool, along with three different slides (speed slide, body flume slide, and an inner tube slide). There's a lengthy lazy river featuring many sprays so that you can soak up the sun, but still face the impending doom of a cold streak of water falling on you. There's also a large splash area for younger kids, one accompanied by play structures, fountains, and the famous large bucket of water that dumps on your head.
Another amenity is its activity pool, a place where you can feel free to do lap swims or get a group of friends together and play a round of volleyball. The place also features a variety of shaded areas and snacks, so you can kick back and relax for a little bit if you're in need of a break.
5951 Monaco St, Commerce City, CO 80022 | 303-289-3769 | recreation.c3gov.com/…
Moorhead Recreation Center – Aurora
7.9 mi | The Moorhead Recreation Center recently received a $16 million upgrade, something that led to the addition of a three-court gymnasium, a revamped fitness center, as well as a state-of-the-art indoor aquatics facility.
The Aurora gym boasts a 25-meter lap pool that is to be used for solely exercise purposes, though they also have a leisure pool with a beach entrance and a lazy river. This pool is about five feet deep and is sufficient for most age groups. They also have a pretty cool slide that briefly extends itself outside of the facility, something that you can see as you're going to park. The slide is only for those at least 48'' tall and 7 years of age.
If you're looking to take a break from swimming, there are also a few basketball courts as well as other fitness amenities that you may partake in.
2390 Havana St, Aurora, CO 80010 | 303-326-8315 | auroragov.org/…
Del Mar Family Aquatic Center – Aurora
9 mi | The Del Mar Family Aquatic Center is a gorgeous, highly regarded outdoor facility that is about as close to a water park as you can get. A large space with a variety of features, the amenities here are relatively new, having opened in 2015, and guarantees fun for all age groups.
The place features six different slides that you can ride on: if you're 42'', you can go on two, 45'' can go on an additional two, and being a minimum of 48'' tall permits you to go on all six! There's a large pool for patrons to swim in, and a diving area for those with a bit more experience. There's also a large splash pad near the pool, one that features every child's favorite: a giant bucket that fills itself with water and dumps on countless victims!
Not in the mood to swim, but your family is? Don't worry, there are plenty of shaded spots throughout the facility that you can retreat to should that be the case. Plus if you're hungry, there are some concession stands where you can pick up a quick snack.
12000 E 6th Ave, Aurora, CO 80011 | 303-739-1520 | auroragov.org/…
Utah Indoor Pool – Aurora
17.2 mi | Utah Indoor Pool is located in Utah Park and is a wonderful indoor facility. That doesn't just make it a spot to go to when the weather is poor, though, for the rest of the park has a handful of tennis courts, a baseball diamond, and a lake that you can visit, as well.
As for the indoor swimming area, there's a main pool that is 25 meters in length, with two separate diving boards and a depth that reaches up to 12 feet. With that, there is also a leisure pool, 25 yards in length, and featuring a lengthy water slide for some entertainment. Lastly, there's a great play area for the kids that has zero depth and also sports fountains and slides of its own.
1800 S Peoria St, Aurora, CO 80012 | 303-739-1530 | auroragov.org/…
Whether the weather is nice or rotten, summer is the time of year to make some wonderful aquatic memories. If you're itching to take a dip, give one of these swimming pools in the Denver Metro a shot.