The Pikes Peak region boasts a number of top swimming pools to beat the summer heat. These indoor and outdoor pools by Colorado Springs are all open to the public during the season.
In order of their proximity to Downtown Colorado Springs, here are some of the best pools in the area:
Monument Valley Pool – Colorado Springs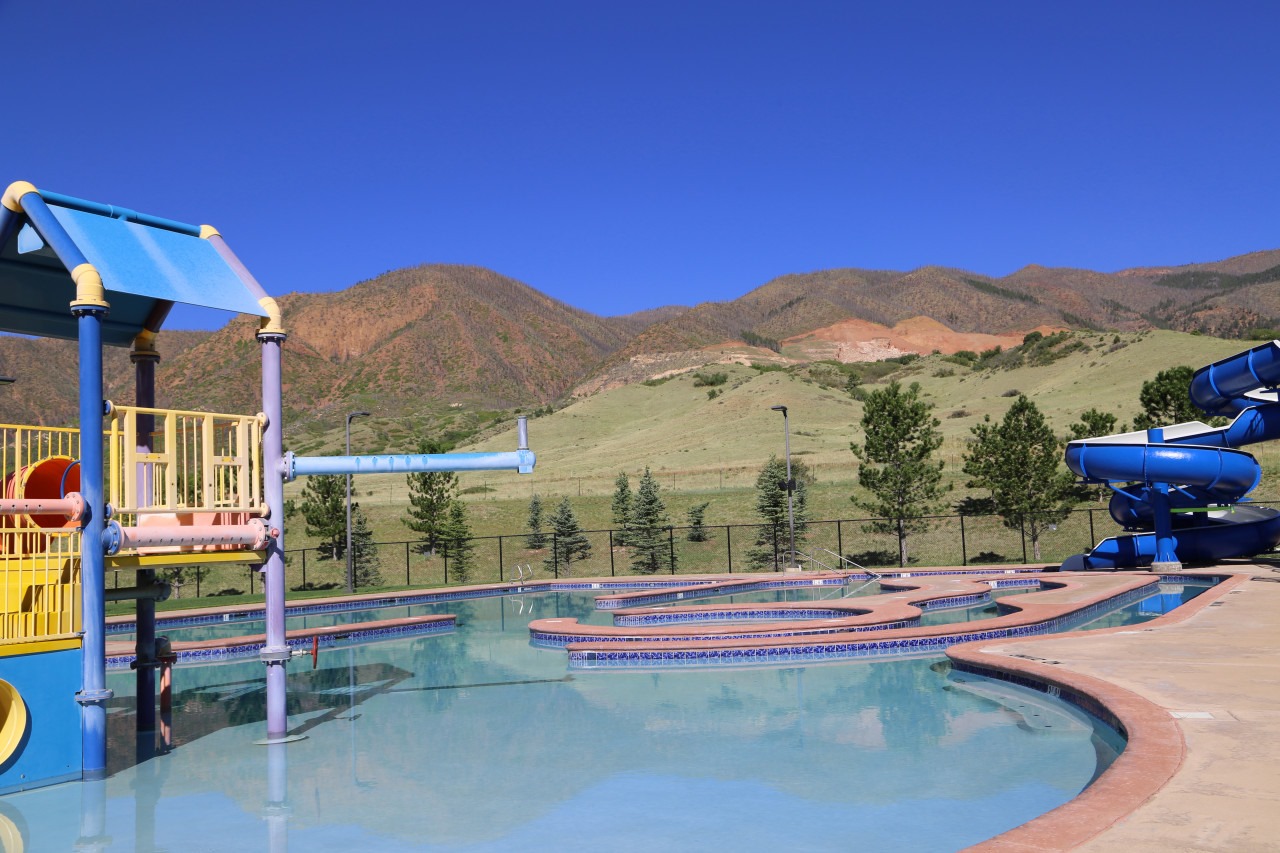 1.1 mi | Monumental Valley Park is a historic recreational area that houses Monument Creek. With numerous trails for walking and biking along with courts for basketball, tennis, and volleyball, they also feature the city's first public swimming pool.
It features a lap pool as well as a recreational swimming area, one that sports a drop slide with a trio of tubes, so have no fear of long lines. There's also a diving board for those of you who are more adventurous, and a shallow area reserved for the kiddies.
220 Mesa Rd, Colorado Springs, CO 80903 | 719-578-6636 | ppymca.org/…
Little Dipper Pool – Colorado Springs
3.4 mi | The Little Dipper Pool is modest in size, though is a cozy neighborhood pool thriving with plant life. Sometimes homeliness and simplicity are best, something that is certainly the case here.
A large central pool along with large grass areas with which you could do whatever, this pool is one that lets the imagination run wild. There's a shallow end so that novice swimmers can still get in on the hydro-filled fun, and also a diving board if you're in the mood for a bit of a thrill. There are also numerous BBQs with which you can freely cook, making this private retreat the ideal spot for a sun-soaked Saturday.
They also hold numerous events throughout the summer that can bind the community together. Some of these include Kid's  Night, Teen Night, Family Night, and a friendly yet competitive Volleyball League.
1232 Milky Way, Colorado Springs, CO 80905 | 719-475-2008 | thelittledipperpool.com
Manitou Pool & Fitness Center – Manitou Springs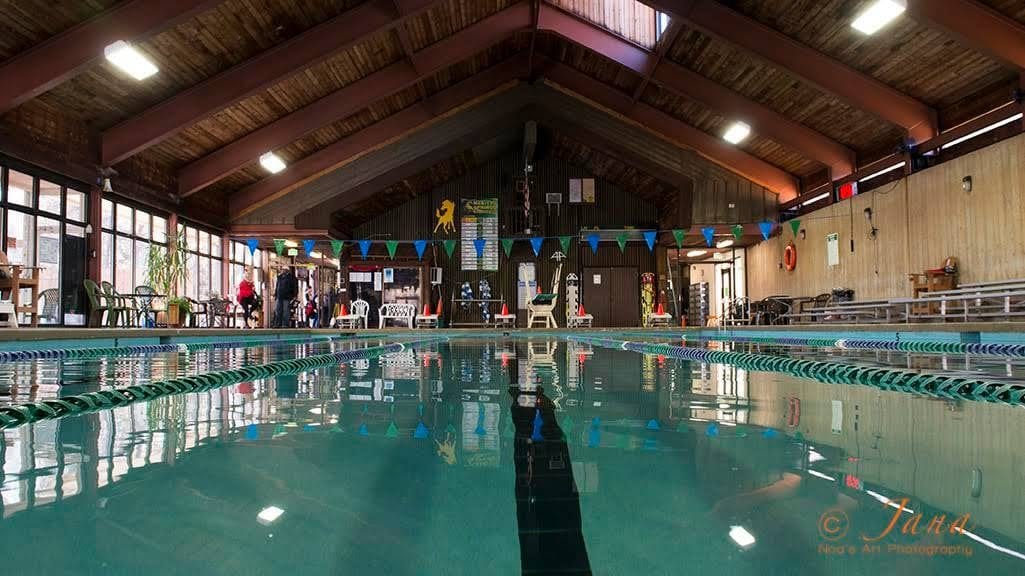 5.6 mi | Manitou Pool & Fitness Center is a hybrid facility with a wonderfully decorated wooden interior and an outside pool that is surrounded by trees. Be it with family, friends, or alone, this facility in cozy Manitou Springs has a little something for everyone.
The indoor facility features a 25-yard swimming pool, along with a hot tub to accompany it if you're in the mood for relaxing. There's also a fitness room if you feel like getting a quick workout in before you take a dip.
The outdoor section has a kiddie pool along with a mushroom fountain that the children can play under (lifeguards are always on duty). There's also a hot tub outdoors, a spot for parents to unwind as their kids are having fun.
It should be noted that the facility also provides swim lessons and aqua-aerobics classes. There are CPR lessons and lifeguard training, as well.
202 Manitou Ave, Manitou Springs, CO 80829 | 719-685-9735 | manitouspringsgov.com/…
Fort Carson Aquatics – Fort Carson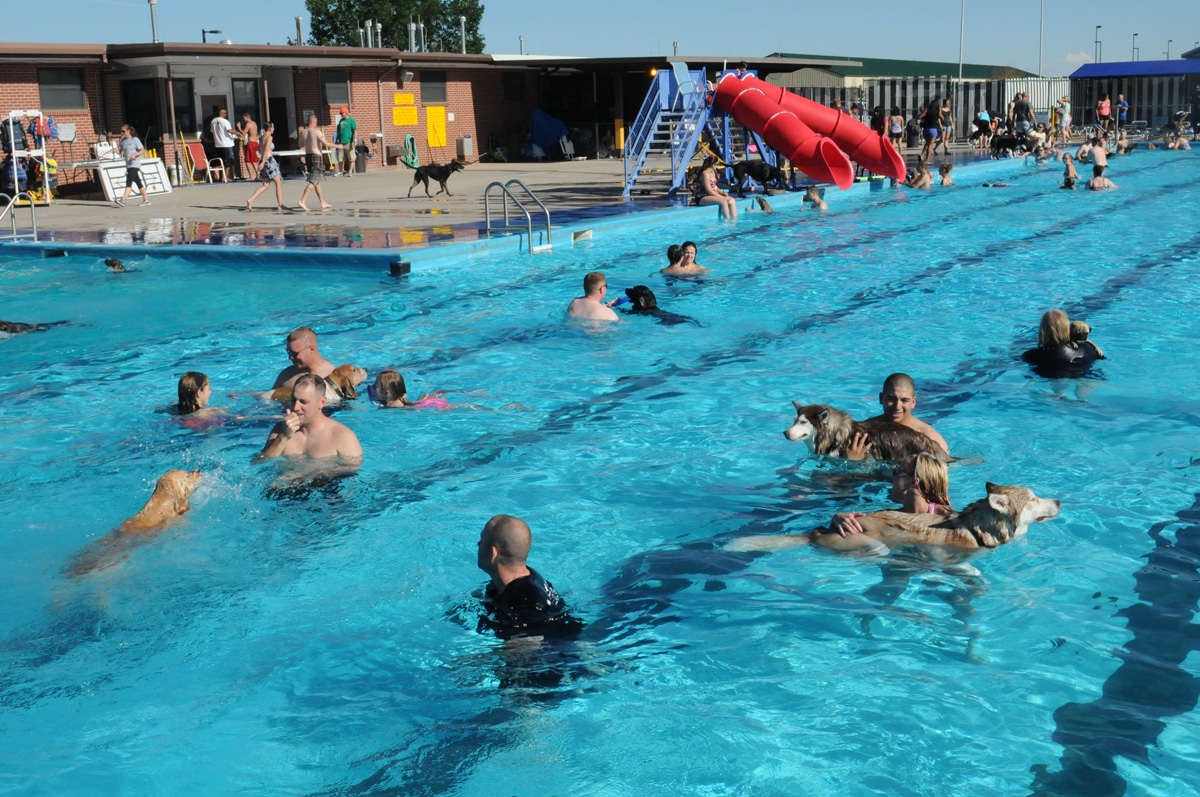 8.5 mi | Fort Carson Aquatics is a set of pools within the Army Post and census-designated place of Fort Carson, but don't worry: you don't need to be military to get in. Despite the perhaps intimidating nature that a military base can bring, those unfamiliar with the area will happily find it to be a fun and welcoming environment for all.
For the time being, one of their indoor pools, the Nelson pool, is closed for maintenance. Luckily, the Ivy pool is still open and presents you with a 25-yard lap pool with swimming equipment provided. There's a family pool as well, so you can ensure that no member of your family is left behind.
The main pool boasts a pair of diving boards, and both the main and family pools have two slides each that are buckets of fun. Also, there is a mushroom fountain that drops water, a nice amenity for the kids.
Your alternative option is the Ellis Outdoor Pool, which you can not go wrong with. It features a 50-yard lap pool that also has an open swim, as well as a diving board and a water slide so that everyone can have their fun. This pool is open 7 days a week, and some days you may even be able to bring your pup with you!
1231 Ellis St, Fort Carson, CO 80913 | 719-526-4456 | carson.armymwr.com/aquatics
Wilson Ranch Pool – Colorado Springs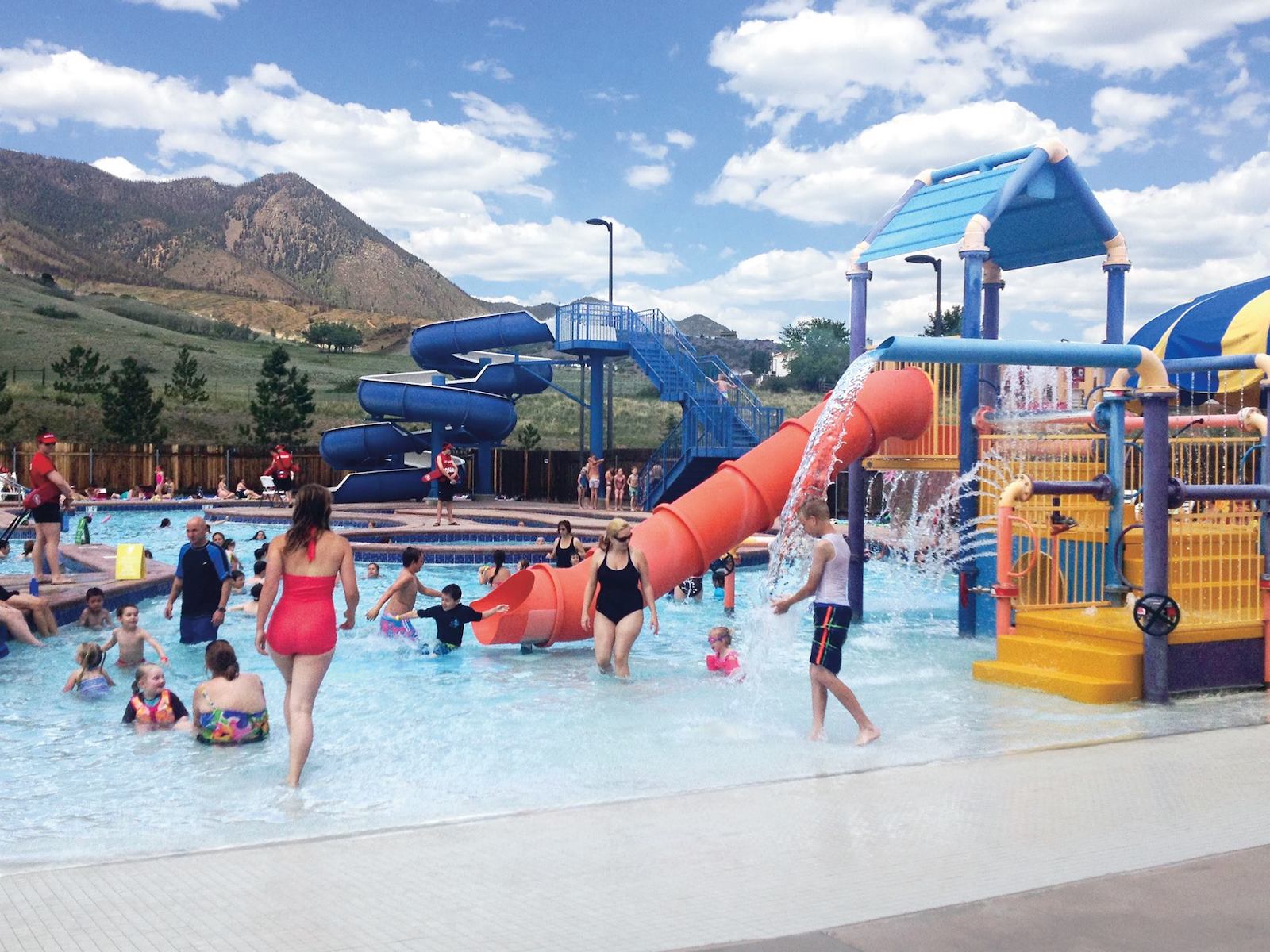 9.3 mi | Wilson Ranch Pool provides you with a cozy facility and an absolutely gorgeous mountainous backdrop. Supplied with a grassy area so you can get your tan on, this is a wonderful place to head to on a day out to mix the sun with some splash.
The facility includes a lap pool and recreational pool with lifeguards on duty, a play structure for the little kids (or free-spirited adults), a lazy river, and even a whirlpool. There's also a spiral slide that will surely have its share of participants. If you're feeling hungry then have no fear, for there are concessions on site. Just make sure to wait 30 minutes before dipping back into the water.
2335 Allegheny Dr, Colorado Springs, CO 80919 | 719-598-3226 | ppymca.org/locations/north/wilson-ranch-pool
Cottonwood Creek Family Center – Colorado Springs
11.3 mi | Cottonwood Creek Family Center is a YMCA recreation center featuring a fitness center with a vast number of machines along with an indoor swimming pool. With a great view of the community and the mountains outside its windows, its indoor swimming facility is a wonderful spot to relax.
This place has a little something for everyone. It sports a wave pool and a vortex, fun alternatives to regular swimming if you're in for a little bit of zest. There's also a lazy river guaranteed to provide you with relaxation, and spiral water slides that you're guaranteed to ride on more than once.
More than that, though, the facility also offers classes in a variety of areas. Aqua aerobics classes and swimming lessons could be taken, as well as lifeguard and CPR lessons if you're interested in an important skill.
3920 Dublin Blvd, Colorado Springs, CO 80918 | 719-385-6508 | ppymca.org/…
Banning Lewis Ranch Recreation Center – Colorado Springs
14.2 mi | The Banning Lewis Ranch Recreation Center is a YMCA facility that rocks a multitude of facilities.  Various activities can be done here, as there are tennis and pickleball courts, indoor multi-purpose rooms, and free wi-fi.
There's an outdoor lap pool that can be doubled as an area for free swimming, and plenty of deck space to lounge about. There's also a splash pad to the side, a place where the little ones can play freely.
The Vista Water Park it has is also worth mentioning, an entertaining area for all ages. Large buckets of water dumping upon your head, squirt guns, a water slide; attending this will surely be something that you won't forget.
6885 Vista Del Pico Blvd, Colorado Springs, CO 80927 | 719-522-2432 | ppymca.org/…
All of us need days to reprieve and relax. Whether you're trying to maximize your comfort or trying to bond with your community, what activity fuses the two with as little effort as the pool? When you're looking to appreciate the weather despite the extreme heat, consider these public swimming pools around Colorado Springs.