[Platte River dog. Photo:
Heath Alseike
] The bountiful beauties of this awe-inspiring state were practically made to be explored with a dog bounding along by your side. Rover.com even named Denver the most dog-friendly city in America! And in 2007, Forbes
named Colorado Springs
the most pet-friendly city. To top it off, shelter dogs (and cats) were named Colorado's official state pets in 2013.
For the occasions when your pup can't tag along with you, there's a huge network of like-minded folks — read: dog-crazy — who are experienced pet experts and would more than love to hang out with your furry pal while you're out. These pet sitting geniuses are in the Rover network, and they can't wait to meet your dog. While you'd prefer to give your pup the love and play time they deserve 24/7, in lieu of that perfect world, the top dog-sitting network is the perfect solution.
Dog Friendly Parks in Boulder Colorado Springs, Denver, Golden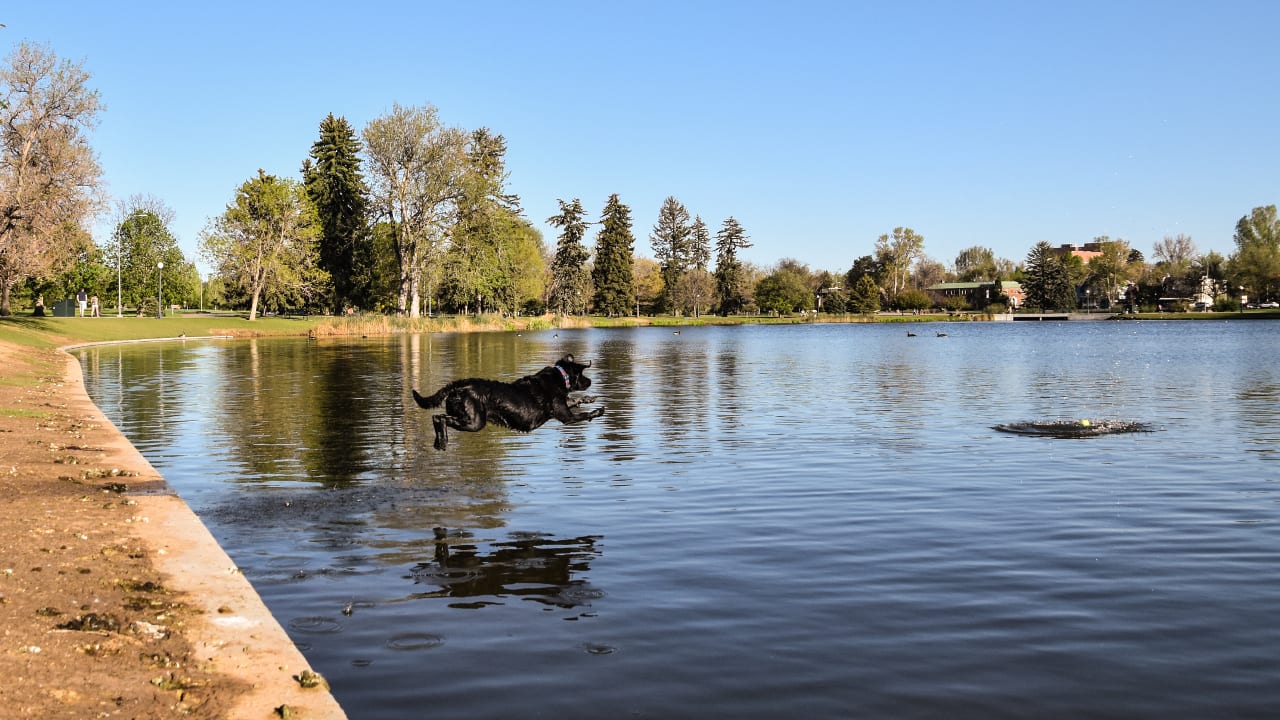 Back to the dog-inclusive adventures. Who's to say whether you're taking your dog on these Centennial State adventures, or they're taking you, but it is safe to say everyone's going to have a blast taking advantage of all the dog-friendly parks, trails, beaches, and myriad other wonders that Colorado has to offer. Organized by major cities in Colorado, you're bound to find something that's within your reach — or will inspire you to take a little road trip with your four-legged pal.
In Denver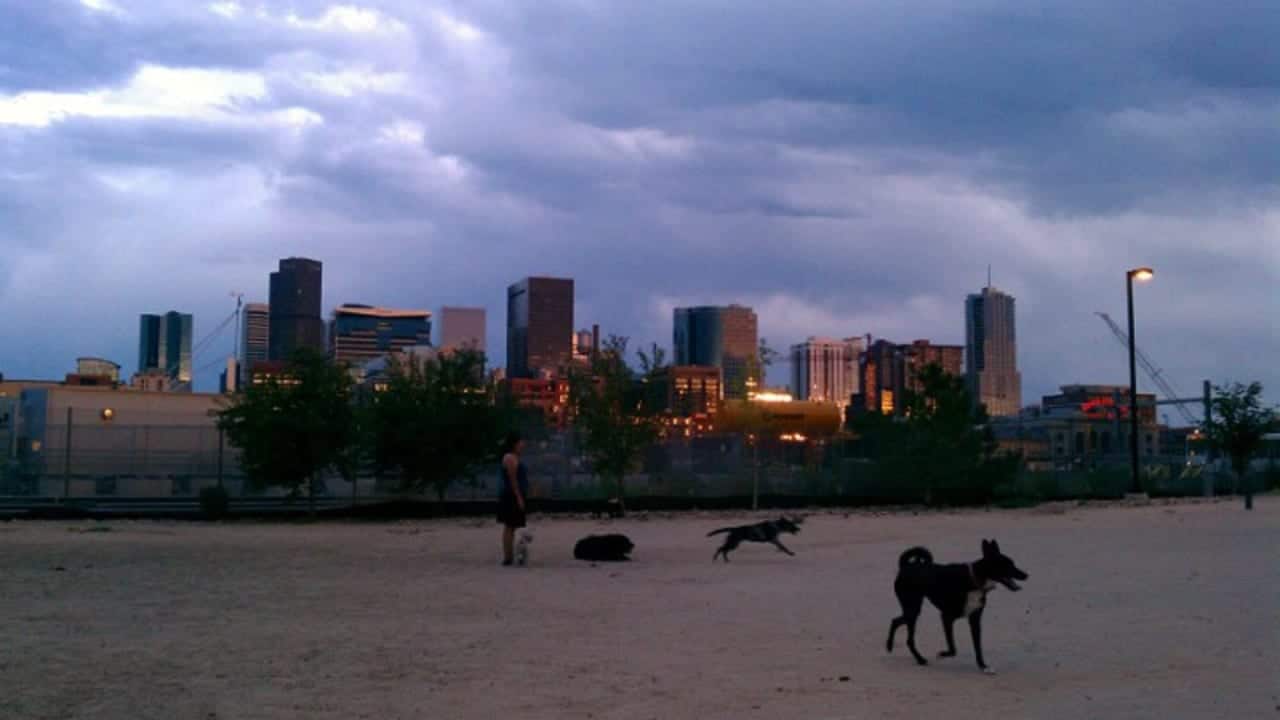 Watering Bowl: considered to be the first dog-friendly tavern in Denver, the Watering Bowl is a veritable haven, playground, puppy paradise — whatever you want to call it, it's a major, major hit with dogs and owners alike. 7,000 square feet of fenced-in dog park keep the pups happy while their humans imbibe at the two different bars, the latter of which serves up a sizable selection of domestic beers (in true Colorado beer-scene fashion). Complete with a full menu and the sweetest possible tagline — "your best friend's bar" — this place seems too good to be true. Go see (and play, and drink) for yourself!
Railyard Dog Park: Located close to downtown, this is an excellent inner-city space for your dog to stretch her legs. A couple things to note: If you have a skittish pup, there's a train that runs near here so the noise may not be the best for her. Also, the water supply is turned off when snow appears in the city, so remember to bring water if you're out in the winter months.
Washington Park and Stella's Coffeehaus: When it comes to an in-city date for you and your pup, it doesn't come any more perfect than a stroll around Washington Park followed by a treat (for both of you) at Stella's. Offering a large dog-friendly porch, delicious treats and water bowls, Stella's is an ideal spot for post-park rest and relaxation.
In Littleton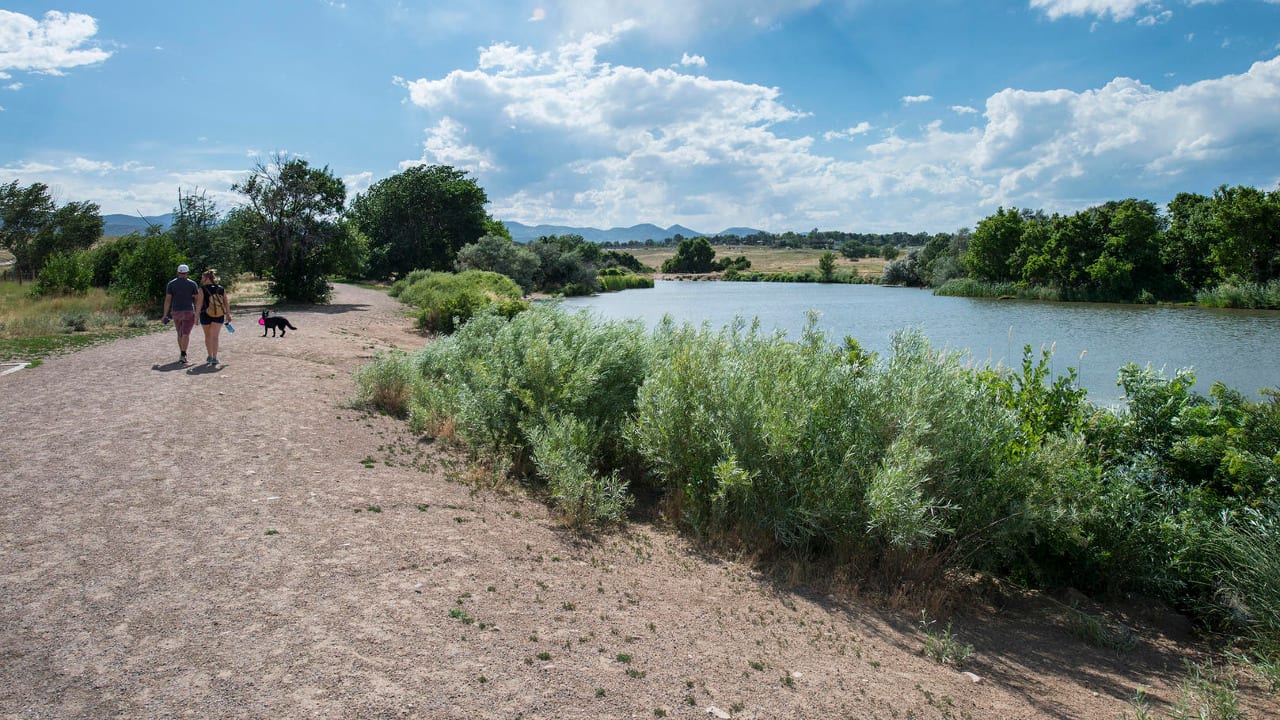 Chatfield State Park Off-Leash Dog Area: 70 acres. A mix of terrain. Several trails. Ponds to splash in. This state park is well worth the entrance fee and additional fee to use the dog area — if you live in the area an annual pass is a wise idea. In short, it's the perfect puppy playground.
Mary Carter Greenway Trail (Arapahoe Greenway): This paved trail (with a crushed stone path parallel to the paved one, for pedestrians and wheelchairs) is 8 miles in length and welcomes a host of exercise- and adventure-seekers.
Meadowlark Trail Loop: Found within the Jefferson County Open Space, this trail crosses a creek and affords an abundance of mountain view riches — not to mention expansive meadows for a restless Fido to burn off excess energy in.
In Colorado Springs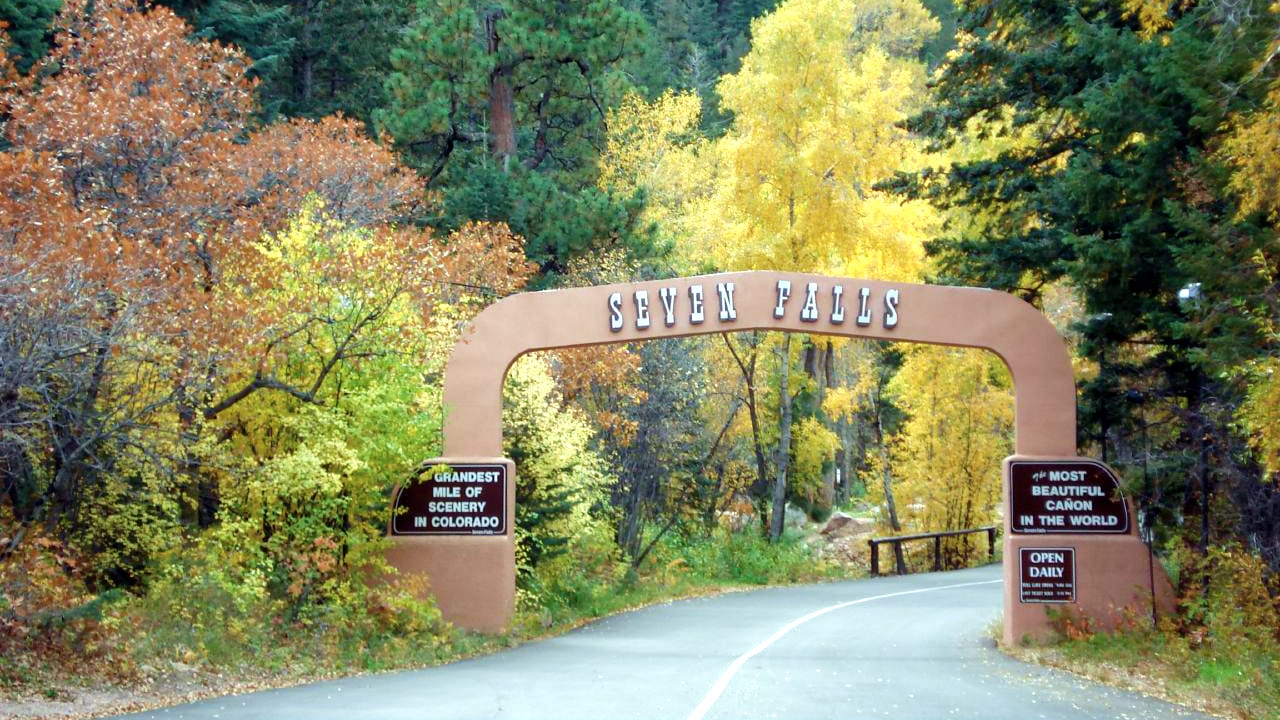 Red Rocks Open Space: Right across from the Garden of the Gods, the open space area means exactly what it sounds like for dogs: off-leash romping along trails with jaw-dropping views of the red rocks and crisp blue skies.
Seven Falls: you and Fido will be in adventure awe in this gorgeous iteration of natural beauty that's just ten minutes from downtown Colorado Springs. Get ready to see a series of waterfalls all contained within a 1,400-foot-wall box canyon. Then you can climb a 224-step staircase that takes you to a network of trails leading to their culmination at Inspiration Point. There's also an in-mountain elevator that takes Falls visitors 14 stories up to a viewpoint referred to as Eagles Nest, where they can take in Seven Falls in all their glory.
In Boulder and Longmont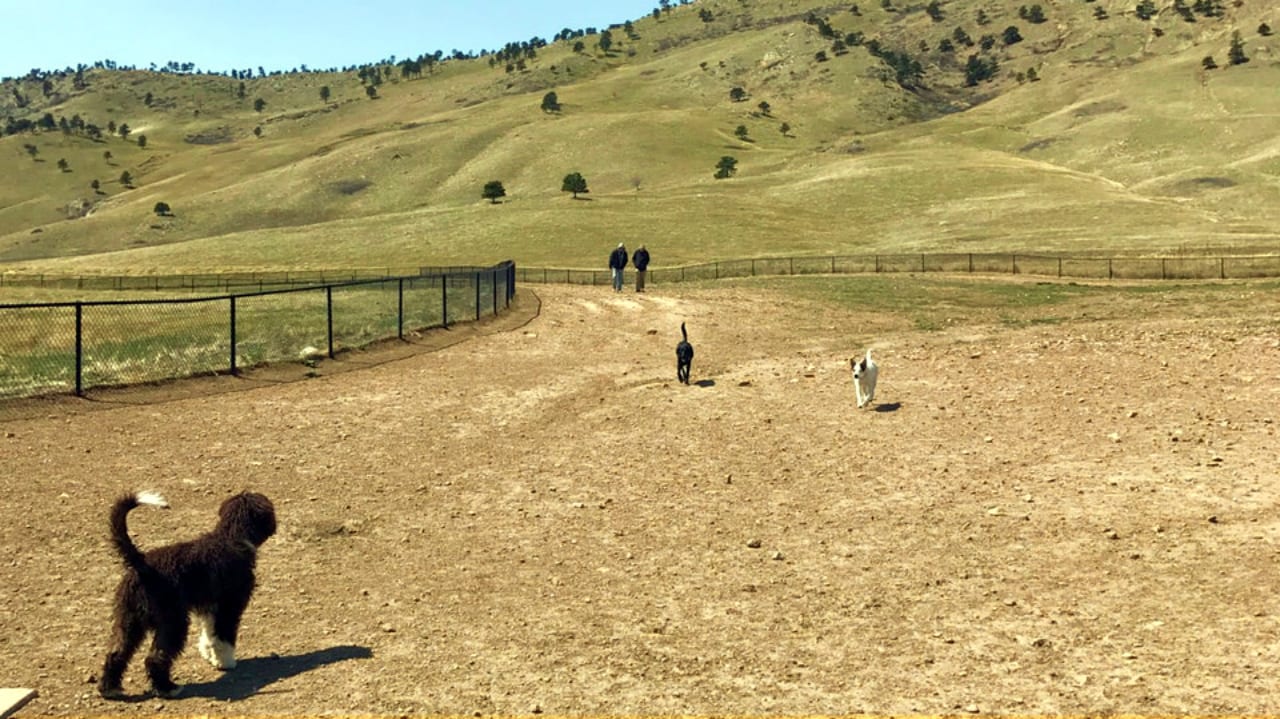 Flatirons Vista (Boulder): offering a lovely 3.3 trail (among several other, shorter options) that lets you take in the Flatirons with your best friend beside you, this Boulder trail destination is a popular one for dog owners. Take heed, though, as the trail system has specific rules for certain trails. Do some research before you go for guidance as to whether your planned trail requires a leash.
The Union Reservoir (Longmont): for the pup who can't get enough of playing in the water, the Union Reservoir is a major winner. On the south side of the reservoir is the dog park — hello, off-leash romping and swimming! As for the other areas of the park, leashes are required.
Foothills Community Dog Park: This spacious puppy park is perfect for unleashing Fidos with seemingly boundless energy. The park itself is fully fenced and has a separate fenced area for smaller dogs who may find the larger space overwhelming. If you and your dog want to extend the adventure, simply take off down one of the park's surrounding trails.
In Golden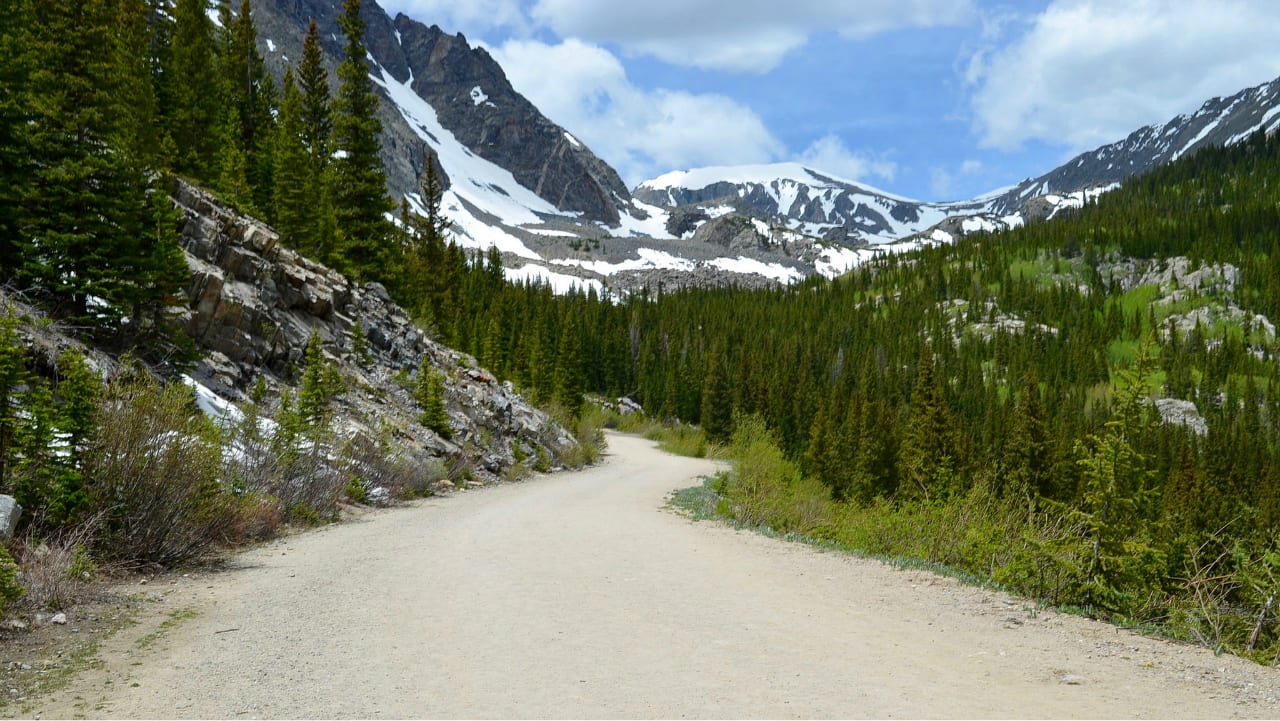 Frazer Meadow Trail: Golden Gate Canyon State Park is a sight onto itself, and the Frazer trail is a haven for high-energy pups who need space to roam. Four trail options and sprawling meadows will more than satisfy a fast Fido's explorations.
Beaver Brook Trail: snaking along the south rim of Clear Creek Canyon, the Beaver Brook trail is one of the more difficult hiking options, best for experienced humans and pups alike. Nimble and adventurous pups will enjoy hopping over the rocks along the trail, and humans will bask in the calming views of the scenic surroundings.
In Breckenridge:
Carter Dog Park: Fully-fenced and fully-fun, this large and safe park is a great option for pooches to romp and burn energy.
McCullough Gulch Trail: Clocking in at 2.7 miles, you and your your pup will love bounding along this trail offering gorgeous terrain and attractions, including the Upper Blue Reservoir.
Crystal Lakes Trail (From the Spruce Creek Trailhead): A longer hiking option at 8.6 miles, this trail takes hikers to both Lower and Upper Crystal Lakes.
Last thoughts and brass tacks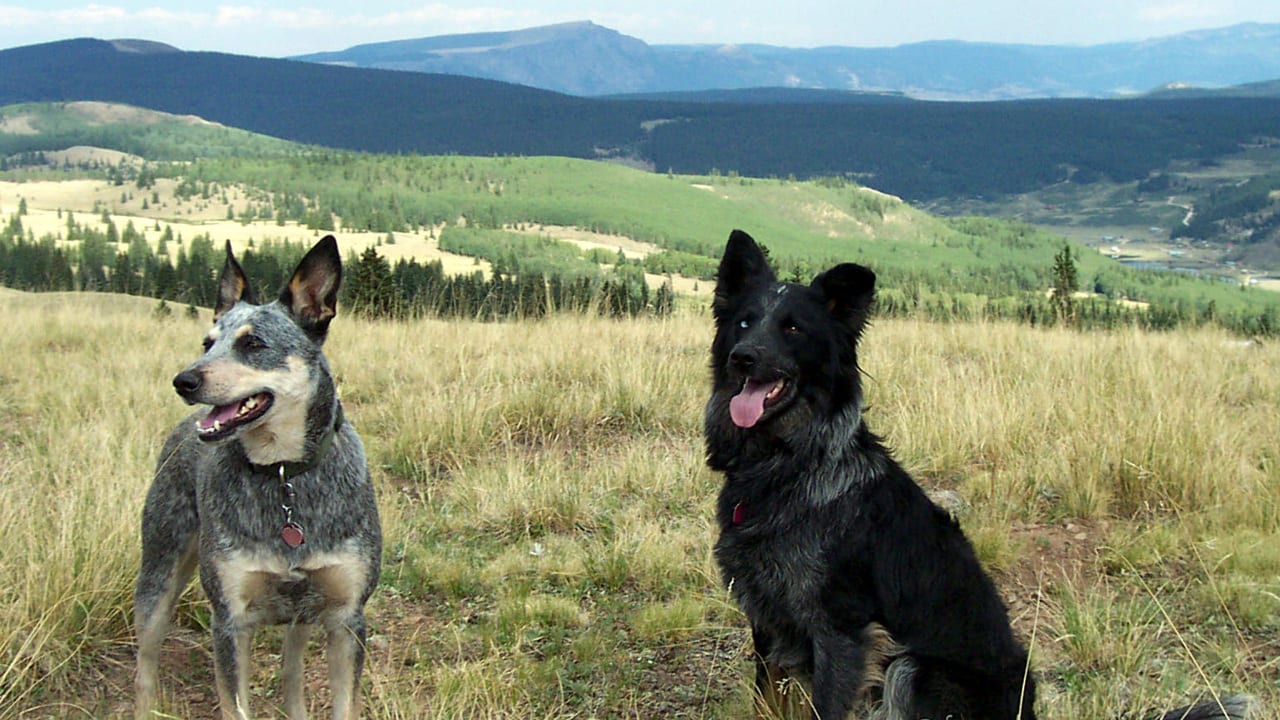 Don't have a dog, but in desperate need of a four-legged adventure buddy? Be sure to check out Animal Rescue of the Rockies, a Colorado-based non-profit that's dedicated to placing sweet furry friends in forever homes. Over 800 dogs and cats were placed in homes in 2016.
Taking your dog into shared public spaces is a wonderful adventure, and we're all lucky to have the lush wilderness of Colorado to enjoy. Gratitude is an essential attitude to have when it comes to using public spaces, because with it comes conscientiousness and a sense of responsibility — especially when you're responsible for your dog's actions and behavior, too.
When everyone takes care to respect the beautiful lands that bless Colorado with access, it means they'll be available for a long time to come. Make sure to keep the following considerations in mind when you're out and about in parks, on trails, and in the other myriad dog-friendly spaces that Colorado offers.
Always have a leash. Even for places that are stated to be off-leash-okay, you should absolutely always have a leash when going anywhere with your pup. You never know what could happen that could affect your dog's safety or the safety of other dogs and people, and having a leash to keep your dog close to you is an essential first step in preventing any danger or mishap.
Make sure your dog is licensed. It's required to have your dog licensed in the state of Colorado. Being caught without a dog license is much pricier (upwards of $50) than than the cost of attaining one (about $15 per year in the city of Denver), and in the event that you lose your dog, having a license greatly increases your chance of getting him or her back. Plus, registering your dog with your city is simply a key part of being a conscientious citizen — it lets people know that your dog is up to date on his or her vaccines.
Always, always, always clean up after your dog. The motivation to clean up dog poop should follow the do unto others maxim. Would you want to see or step in a smelly pile while you're trying to enjoy the natural beauty of your Colorado surroundings? It's a safe bet that the answer is no, so don't create that scenario for someone else and always have poop bags with you when you go anywhere with your dog. Piggybacking on the earlier tip, you simply shouldn't leave the house with your dog unless you've got a leash and poop bags in tow.
Be well aware of your dog's behavior, and what they can and cannot handle. If you're going somewhere that allows dogs to be off leash, but your dog struggles with obedience and tends to listen selectively when it's time to come back to you, don't take the risk — keep him or her on leash. Neglecting this consideration when you're well aware of your pup's tendencies means putting your dog, other dogs, and other people at risk (not to mention other animals within your surroundings). This advice goes hand in hand with dogs that don't have the best social skills. Be well aware of where your dog is in dog park situations, and be ready to step in if play time goes too far and runs the risk of harming or frightening other people's pets.
Go forth and adventure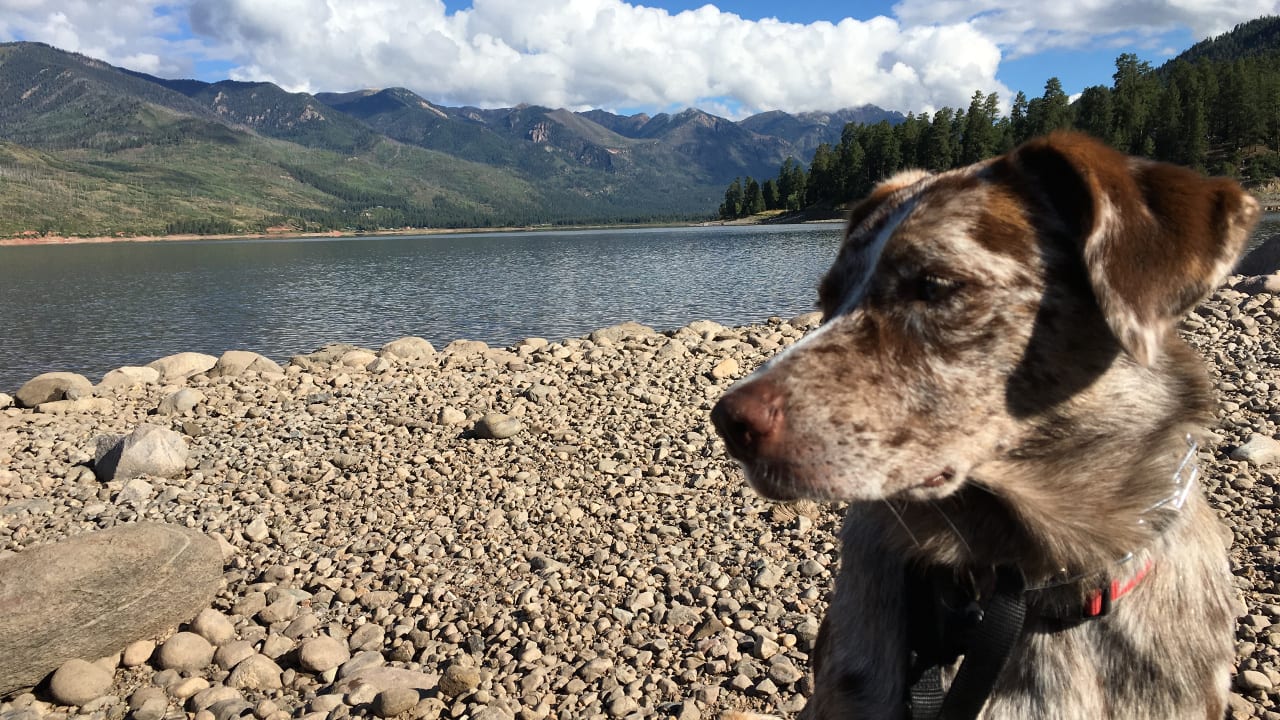 Now that you've seen an impressive rundown of the dog-adventuring possibilities in the great state of Colorado, it's high time we all toast to beautiful places, sweet dogs, and the state that allows us to bring the two together — check out this list of Colorado's dog-friendly breweries.