After three years in the making, Meow Wolf Denver, the company's largest permanent installation, has finally made its way from imagination to reality, well at least within its own reality. The much-anticipated Meow Wolf is opening its doors in Denver on September 17, 2021!
Step into a world unlike any other at the Convergence Station and leave completely transformed. Discover more below about how you can alter your own reality at Denver's Meow Wolf.
About Meow Wolf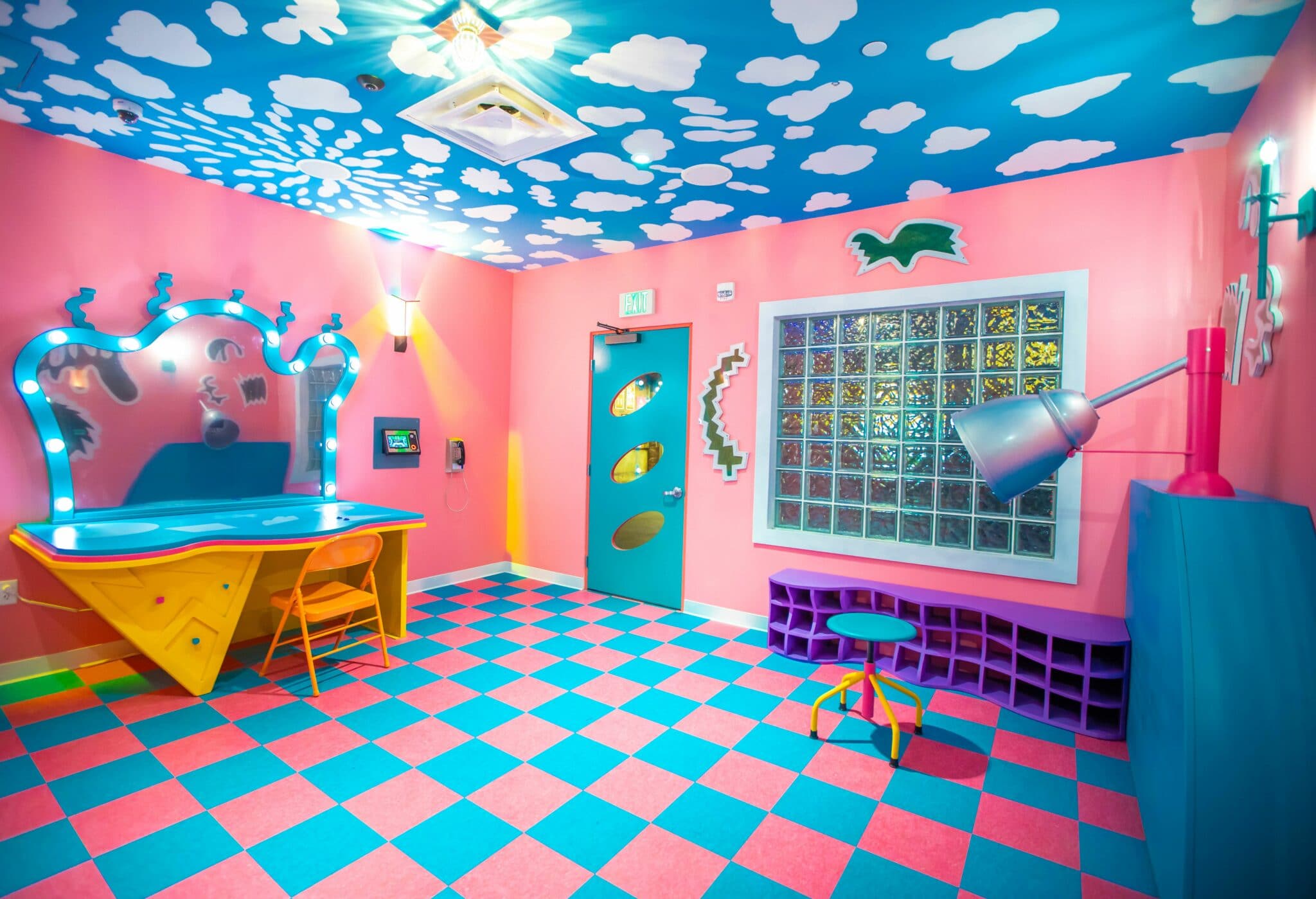 Meow Wolf is a Santa Fe-based arts and entertainment company that creates immersive, interactive experiences to transport audiences of all ages into fantastic realms of story and exploration. The company's first location in Santa Fe opened in 2016 and showcases the House of Eternal Return, where visitors can discover a multidimensional mystery house with secret passages, portals to magical worlds, and surreal, and mesmerizing art exhibits.
In 2019, Meow Wolf expanded beyond Santa Fe and opened Kaleidoscape, the world's first artist-driven ride at Elitch Gardens in Denver. Meow Wolf recently opened their second permanent installation, Omega Mart, at AREA15 in Las Vegas and the third permanent installation in Denver is opening September 17, 201.
The venue
The venue is located at 1338 1st St, Denver, CO 80204 and is nestled in the middle of W Colfax Ave and I-25, in the heart of the Sun Valley neighborhood. Passers-by will recognize the stand-alone building, with its "sleepy pizza" shape, housing four floors of interactive exhibits interconnected through vertical travel and secret passageways. Its neon lights glow in the dark, signaling this is a place for fun.
The experience
Meow Wolf's largest permanent installation, Convergence Station, is the first stop on a quantum journey of exploration and discovery as passengers traverse new worlds, and like all Meow Wolf locations, labyrinthine mysteries signal from its vibrant walls, portals, and wormholes.
The story begins twenty-five years ago, when a freak cosmic event merged four worlds from different universes, erasing the memories of all residents and spawning the mystifying disappearances of four women. The Quantum Department of Transportation serves as the gateway to these diverse worlds: kaleidoscopic cathedrals, Corinthian catacombs, lush alien habitats, and dazzling and gritty cityscapes.
The exhibit features four floors of interactive art, making up dozens of unique environments including rooms, portals, infamous Meow Wolf wormholes, and spaces.
The artists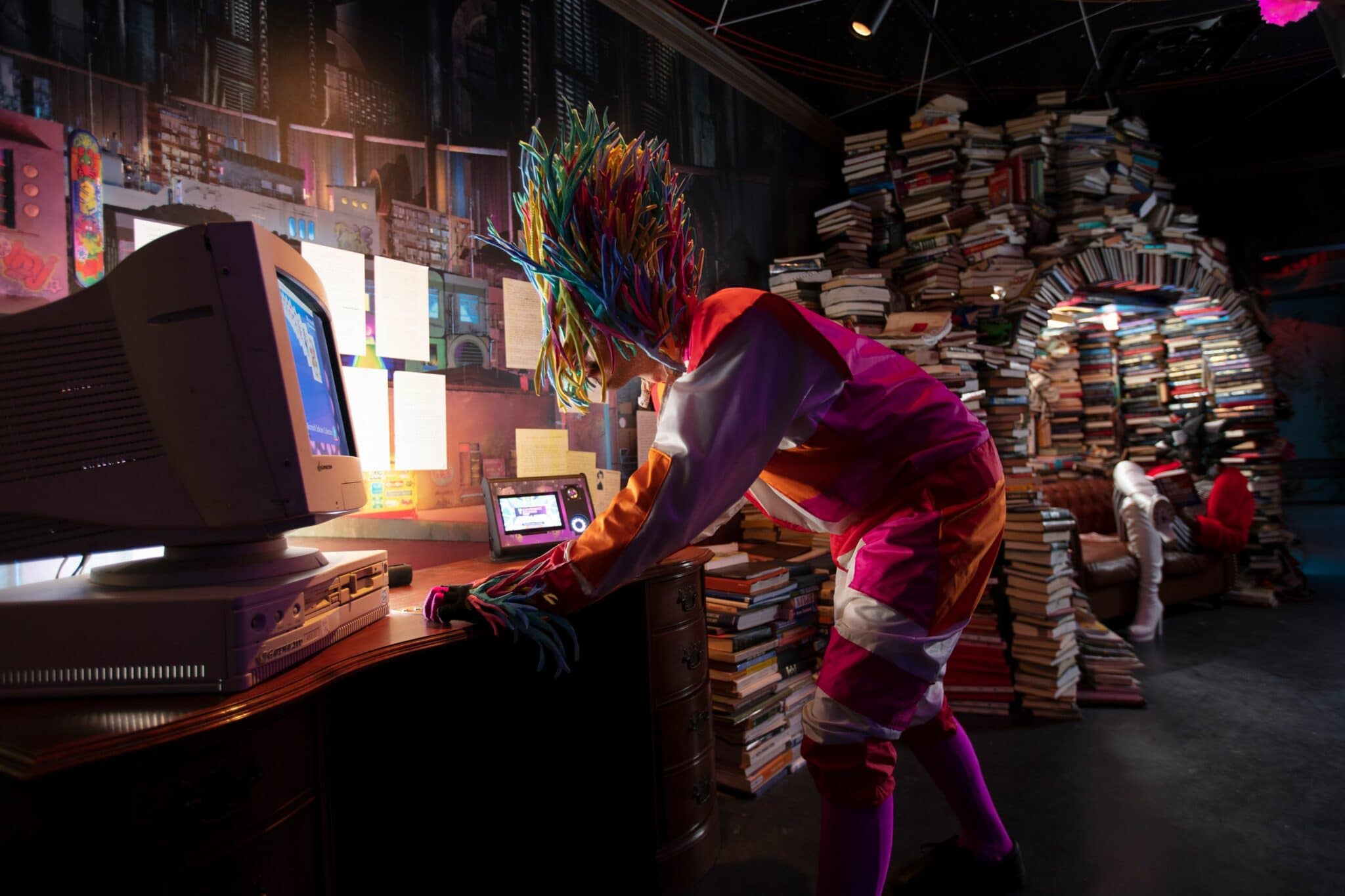 Meow Wolf has worked with 110+ Colorado-based collaborating artists and more than 200 internal artists for the past three years to bring the 79 unique projects within Convergence Station to life. These muralists, sculptors, fiber artists, and technologists, to name a few, have come together to create a one-of-a-kind installation. It will leave visitors appreciating what it really means to experience an immersive art experience.
Notable collaborating artists working on this project include Kalyn Heffernan, Christopher Nelson, Everything is Terrible!, Molina Speaks, Sofie Birkin, Moment Factory, and many others.
And beyond
Guests can look forward to dining at Meow Wolf Cafe, a fast-casual cafe that has both grab and go and dine-in menus. Inspired by the variety of tastes found in the Denver food scene, Meow Wolf Cafe will partner with local food and beverage companies that represent the convergence of cultures that Meow Wolf stands for.
Before returning to the real world, guests will also be able to continue their exploration in the exhibition's gift shop. Spanning over 2,000 square feet and offering over 1,500 unique items, these carefully curated keepsakes will allow guests to take home a piece of their experience. Items range from T-shirts to one-of-a-kind pieces of art from local Denver artists and beyond.
Tickets and time
The grand opening for the Convergence Station is September 17, 2021, and will be open from 10:00 a.m. until 10:00 p.m., Sunday through Thursday, and from 10:00 a.m. until 12:00 a.m. on Fridays and Saturdays. Hours are subject to change.
Tickets are available for pre-purchase for $45 for General Admission ($40 Children / Seniors / Military), and $35 for Colorado Residents. Visitors are required to pre-book a time slot for entry.
Get your tickets here: meowwolf.com/visit/denver