If your ever curious about what solo mobile living is like or want tips on ways to make your journey cozier, this post is for you. Colorado is an adventure paradise with so many diverse landscapes, waterways and cities to explore.
I have been living out of my 1998 Honda CR-V solo since August in Colorado. I made my way from Michigan to Boulder not sure how things were going to work out. I have been in the Denver area for 5 months after I graduated from college last May.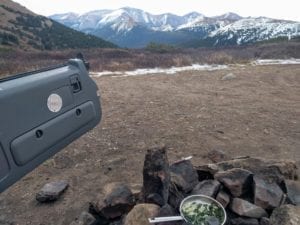 I then left to southern Utah to work in Zion National Park when it got cold up here. My journey then took me to the Appalachian Mountains of North Carolina for a couple months and back to Michigan before I felt called to come to Colorado again. I didn't have years of planning this dream or even driving alone consistently under my belt. Simply, I felt like the explorer John Muir. The mountains called and I went.
I decided to transition in a vehicle for more autonomy and opportunity with exploring around affordably and effectively. What really helped me was focusing on developing a resourcefulness habit to overcome the initial uncertainties of this new way of living. Retrofitting a vehicle basically means getting a car and making adjustments through additions to convert it to a setup you desire.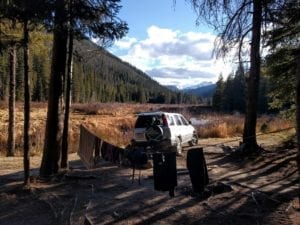 There are numerous ways you can do this with any vehicle. The benefits of this approach to your current vehicle is that with some effort and creativity, you can enjoy most of the benefits of camper living, without having to invest as much initial capital or maintenance. This article focuses more on my setup and the benefits and challenges I've faced taking this route as a lifestyle in Colorado.
If you're wanting to live mobile in Colorado, I would highly recommend to do it in an SUV-like vehicle with enough room to sleep comfortably. It's also very important to always have basic essentials like food, water, wood and warm layered options in your setup at all times. The weather and terrain in Colorado can be intense at times and the more prepared you are the better. Also 4-wheel drive is very helpful out here as there are many free National Forest and dispersed camping options with great views, which can only be accessed with more durable, off road capabilities.
Winters in the high Rockies, unfortunately, don't have many plowed dispersed camping options. I have 4 wheel drive but with how much snow is accumulated on dispersed camping roads in the high Rockies, I haven't really been able to camp anymore.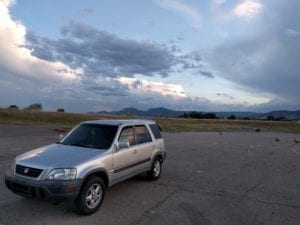 If you're wanting to stay closer to the city, the many clustered grocery store parking lots and curbsides by apartments are options I haven't ever been told to leave. Safeway and Whole Foods are my go to spots. There are also free hot water and recycling perks with those options. Being near a grocery store is nice in the morning when you have to use the bathroom. I'm lucky enough to have a good friend living in Denver who adventures with me from time to time and let me shower at her place when I am in the area. Now I have an additional evening job at a hotel close to my Ski Resort job that has a shower and kitchen for employee use.
My CR-V has tinted windows so most people don't even notice I'm in there. You see a lot and hear a lot with this way of having an ever changing backyard. Another thing many people don't realize about mobile living is the importance of parking flat on surfaces. This is especially important along curbsides and dispersed camping areas. A mobile setup is pretty much like sleeping in a more insulated tent and the quality of your rest will improve with mindfulness of the position of your vehicle.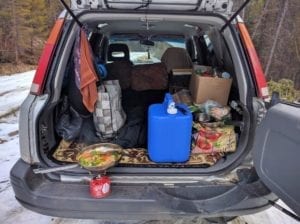 If you make good habits like: recycle your food containers, keep up with organizing your things and have good ways to stay warm at night, you'll be solid with this transition. Only recently did I purchase an Alpine Foam Insulation Mat from an REI garage sale event since I am now living in the High Rockies with the coldest temperatures I've ever experienced.
If you decide to live in the mountains during winter in a vehicle, you need to know how difficult it really is. All your food and water, yes even in thermo containers will freeze. The inside of your car will ice over and your phone can lose all power from how cold it can get up here. I haven't had any car problems from August to December. Late December and January however have hit me hard.
Maintenance costs for my CR-V have been ridiculous up in Winter Park. I've had to replace my window wipers, got a crack on my windshield from the negative temps, got a flat tire, had window opening issues and replaced all my old tires with snow tires. It's not unusual for it to get below -20 at night in the high country and that is no exaggeration. You can literally be inhaling small ice particles at night.
I made it for two months because once I got under the covers I fell asleep pretty fast. It's only when waking up and waiting for the heat to make things bearable again that is the hardest part. In addition to my alpine insulated mat, I also have a 11 degree sleeping bag and 4 blankets. I used my good friends down blanket for a little bit but with the water vapor that seeps in my car, it was moist at night and not effective in keeping me warm.
Progression of my CR-V Setup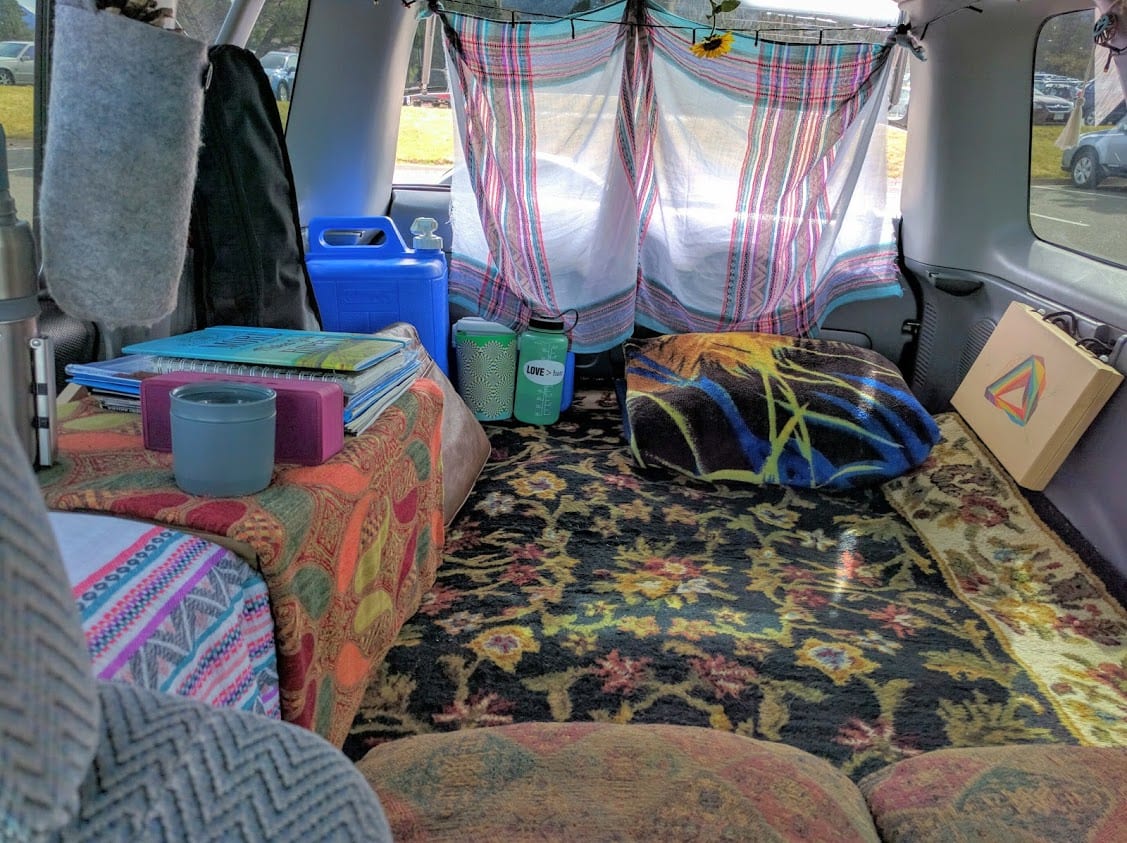 After I got my setup feeling good to sleep in, I focused on making it cozy so I could enjoy all the time I spent in my CR-V. This came naturally and cheaply from exploring around Boulder and adding things I found at thrift stores like 50 cent enchanted 'Alice in Wonderland' like photos and rocks along with sage brush from hiking trails. I also once traded my henna design for a wire wrap necklace I now use to hold my pocket knife and lighter in the backseat hand strap, which I adore and use a lot when cooking.
Having a cozy, organized setup combats frustration of losing things and makes car camping so much more pleasant. I won't have to convince you of that, you'll soon notice it when you realize how much you pay for losing things. Also making things that you can use for multiple functions is beneficial in limited space especially.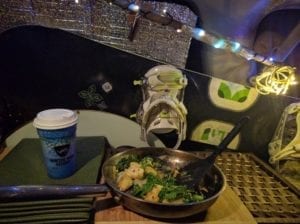 One such item I made was a stick I carved out and roasted over a fire to dry out organic material so it could preserve longer. I then wrapped ENO portable Christmas lights to it and use it either as a night light or to spin like a long baton around me on flashing mode. It's been a great way to connect with people in parks where I've gone with music to spin. It also keeps me warm after half an hour of spinning which I enjoy doing before sleeping at night. I also created an attachment sharp end to the stick that I've used when collecting trash along trails. Living minimalist and mobile is definitely an opportunity to be creative with your time and focus on such things that bring you joy.
Overall my experience living out of my CR-V has been positive. I've been able to explore so many beautiful parts of the mountains, canyons and cities out here. Memorable experiences include Rocky Mountain National Park, Jones Pass, Loch Lomond, Sugarloaf Mountain and Vasquez Creek. I've spent magical nights building a fire out under the infinite stars in the wilderness, worked on craft projects listening to my Spotify playlists in my CR-V during autumn thunderstorms and drove through many streets in Denver listening to On the Road by Jack Kerouac.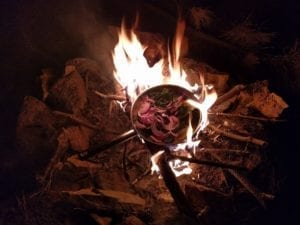 On the other side of the spectrum, there have been nights that solo mobile living was tough. Nights where you question how much of a mobile hermit you've become. Nights where you wonder why you still long to be around those you love but are thousands of miles away and have a hard time relating to now. During those nights, you get real intimate with all layers of yourself. Those nights can teach you lifelong lessons. Such as true contentment and connection comes when you make peace with the past and are excited to be mindful of the present.
What I've learned from this experience is that extraordinary thing happens when you confront your deep seeded fears and turn your mental blocks into building blocks. Also that the simple things in life are often the most precious. I hope my perspective has given you some insight on mobile living and how it can unleash an unconventional but exhilarating life experience.
I want this article to be interactive, please share this article and your thoughts or experiences with mobile living in the comments below. I hope my experience can be of benefit to you in one way or another and wherever you are in life, I hope many roads are filled with wild joy!