As the highest paved road in North American, Mount Evans Byway is a rare chance to drive into a different world. There are many highlights along the 14 mile trip to over 14,000 feet, including high alpine lakes and stunning wildlife.
Gems include the Mount Goliath Nature Area, Summit Lake Park, and the Crest House at the summit. Echo Lake Park is also worth a visit, which is located at the start.
Summer Scenic Fourteener Drive
This is a short video with a few highlights from the drive.
The Mount Evans Scenic Byway is the highest paved road in Colorado, at 14,130 ft. Colorado's "New Switzerland" opened by 1930. It was built as a result of Pikes Peak Highway and Denver's competition for tourists.
Pikes Peak Hwy is Colorado's second highest road (not all paved), reaching 14,115 ft. The byway begins by Echo Lake, south of Idaho Springs, at around 10,600′. It then travels 14 miles to the top. Once at the top parking lot, there is a short, but rewarding hike to the summit at 14,264 ft.
The fee is $10 per vehicle fee for visiting, if you're planning on parking at the top. Otherwise it's free to drive the highway. It's seasonally open from late May to mid October.
Mount Evan Highlights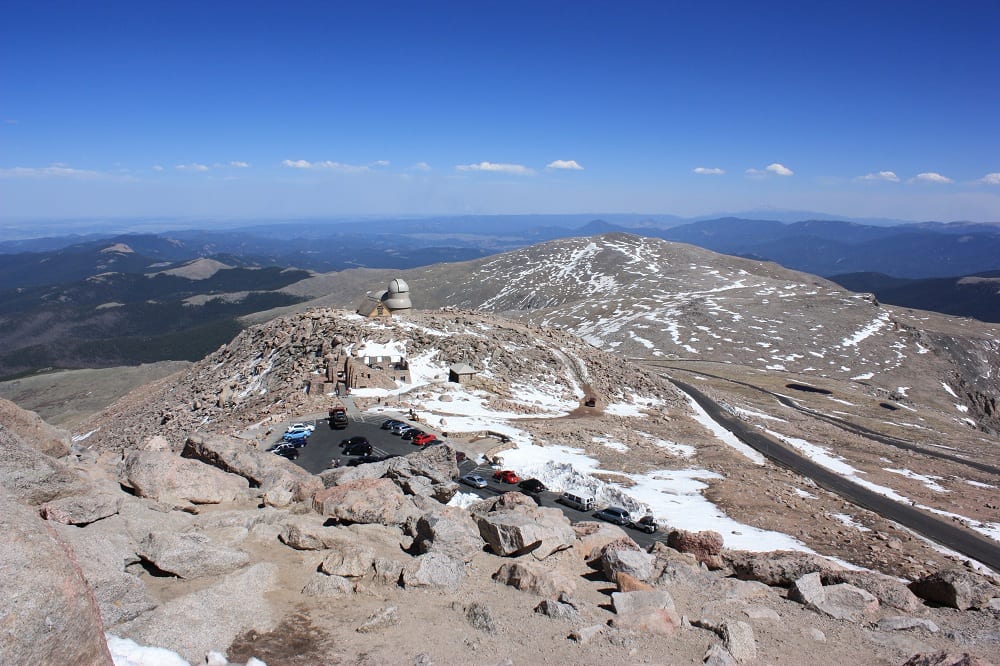 Echo Lake Park – Situated before the start of the byway, this picturesque lake features camping, hiking and picnicking. The fishing is ok, but lots of seaweed.
Echo Lake Lodge – Built in 1926, it features a great restaurant, large gift shop and bar.
Nature Center – Three miles west of start, it features a variety of plant life and 2 nature trails.
Summit Lake Park – Acquired in 1924, it's Denver's only treeless park and the highest city park in the U.S (12,840′). It was named a National Natural Landmark in 1965. Summit Lake is a naturally formed glacier lake, covering 35 acres.
Summit – Parking area, restroom, Crest House ruins, Mt Evans Observatory, 360 views', and a the final (short) trek to the summit.
Activities on Mt. Evans Byway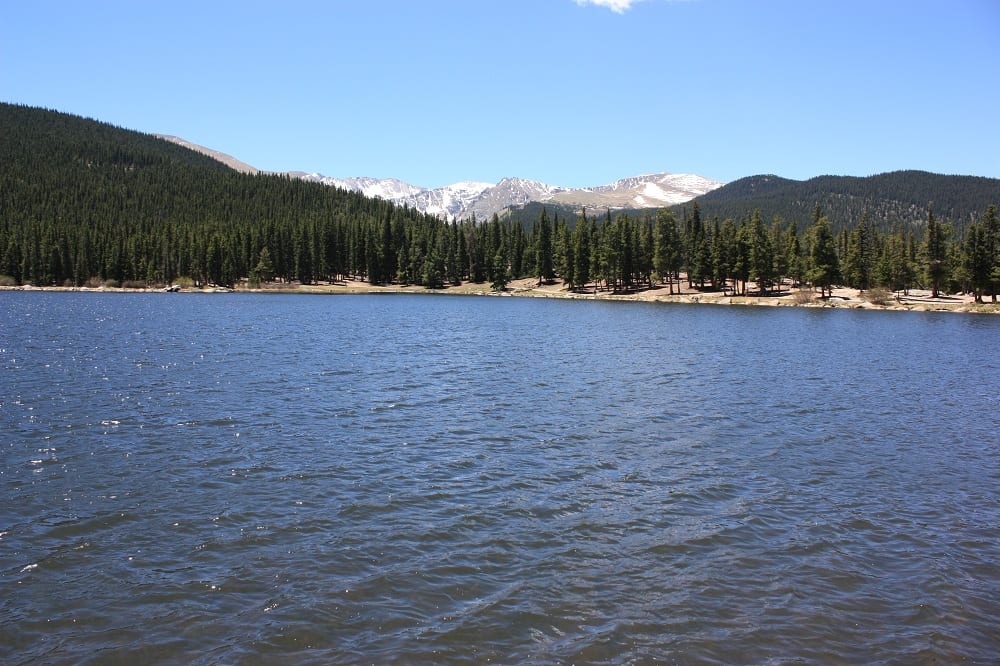 Biking: Many bike the pass, or any of the beautiful roads around.
Camping: There's no camping after you start up the byway, but there's several options around the base. Camping is available at Echo Lake and in the surrounding Arapaho National Forest. There is no camping on the byway. There are two campgrounds near Mt Evans and some dispersed camping close to Idaho Springs.
Echo Lake CG – Beside Echo Lake Lodge, 18 sites, 11/RV, 7/tent, Reservations
West Chicago Creek CG – 9 miles from lake, near Idaho Springs, 16 sites, Reservations
Dispersed camping can be found on Hefferman Gulch Rd and West Chicago Creek Rd, both located north on CO 103 toward Idaho Springs. Each has about a half dozen or so spots.
Read about the Camping near Evergreen and Mount Evans.
Read about the Camping near Idaho Springs and Mount Evans.
Fishing: Located at the start of the byway, Echo Lake is the closest place to cast a line, before or after the drive. The fishing is so-so, with lots of seaweed. Summit Lake located on the byway has no fish.
Hiking: There are numerous opportunities to hike on the byway, in the nearby Arapaho National Forest and Mt Evans Wilderness.
Chicago Lakes Trail – A short trail from Summit Lake leads to a beautiful overlook of the Chicago Creek Valley. From here you can ascent to Mt. Spaulding and Mt. Evans, or continue on the Chicago Lakes Trail to Echo Lake.
Mt Goliath Nature Area – 2 short trails wind along the hillside.
Details
Address: Hwy 103 & Mt Evans Rd, Idaho Springs, CO
Phone: 303-567-3000
Season: late May to mid October
Pets: Yes, on-leash​
Fee: $10/vehicle to park at summit
Campground Reservations:
Website: coloradodot.info/…
Latest in Mount Evans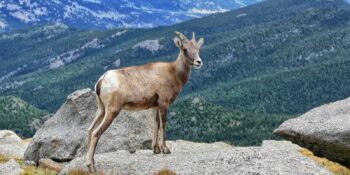 Evergreen is among Denver's closest mountain communities, full of desirable real estate in the thick of…