As the highest paved road in North American, Mount Evans Byway is a rare chance to drive into a different world. There are many highlights along the 14 mile trip to over 14,000 feet, including high alpine lakes and stunning wildlife.
Gems include the Mount Goliath Nature Area, Summit Lake Park, and the Crest House at the summit. Echo Lake Park is also worth a visit, which is located at the start.
Activities
Biking: Many bike the pass, or any of the beautiful roads around.
Camping: There's no camping after you start up the byway, but there's several options around the base.
Echo Lake CG – Next to Echo Lake Lodge, 18 sites
West Chicago Creek CG – 9 miles from Echo Lake, 16 sites
Dispersed camping can be found on Hefferman Gulch Rd and W. Chicago Creek Rd, both north on CO 103 (toward I.S.).
Fishing: Located at the start of the byway, Echo Lake is the closest place to cast a line, before or after the drive. The fishing is so-so, with lots of seaweed. Summit Lake located on the byway has no fish.
Hiking: There are numerous opportunities to hike on the byway, in the nearby Arapaho National Forest and Mt Evans Wilderness.
Chicago Lakes Trail – A short trail from Summit Lake leads to a beautiful overlook of the Chicago Creek Valley. From here you can ascent to Mt. Spaulding and Mt. Evans, or continue on the Chicago Lakes Trail to Echo Lake.
Mt Goliath Nature Area – 2 short trails wind along the hillside.
Details
Address: Hwy 103 & Mt Evans Rd, Idaho Springs
Phone: 303-567-3000
Season: late May to mid October
Pets: Yes, on-leash​
Fee: $10/vehicle to park at summit
Campground Reservations:
Website: coloradodot.info/…
Featured Mount Evans Byway blog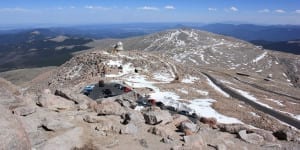 Driving the Mount Evans Scenic Byway – The Mount Evans Scenic Byway is the highest paved road in Colorado, at 14,130 ft. Colorado's "New Switzerland" opened by 1930. It was built as a result of Pikes Peak Highway and Denver's competition for tourists…