While Durango isn't known as a major ski destination, it has its fair share of mountains to ride near town. In addition to its beloved Purgatory Resort, there are a couple local ski hills and a couple more world class resorts within a couple hours drive.
There's no question Colorado is one of the top destinations in the country for winter sports, like skiing. Skiing in Colorado is as synonymous as visiting a winery in Napa Valley. From most anywhere within Colorado's higher elevation, you aren't far from at least a few ski resorts and backcountry bowls to explore. While most think of Vail or Breckenridge as ski destinations, often sometimes people forget about the epic powder that is found in the southwestern part of the state.
Near the town of Durango, there are several slightly lesser-known ski resorts that pack in the powder and the fun without the long lift lines. Discover these ski resorts near Durango for the perfect ski day trip.
Here are the ski areas near Durango, CO, in order of proximity:
Chapman Hill – 1 mile / 3 minutes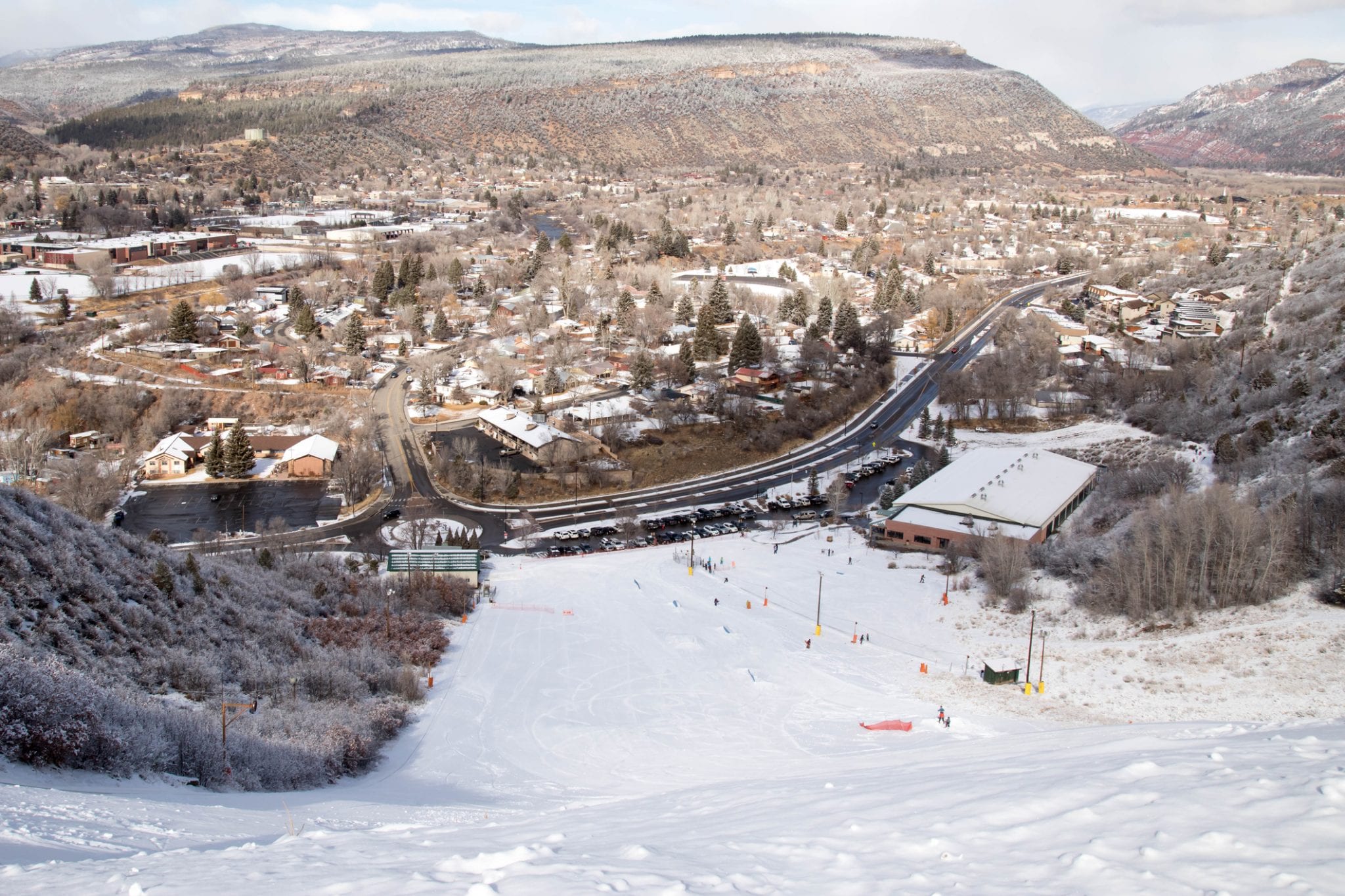 Located in town, Chapman Hill is both a ski and skate facility. Not your typical ski resort, Chapman Hill is really more of a big hill than a true ski run, hence the name. Weather permitting, the ski area opens in December using natural snow and snowmaking abilities.
There are two ropes to get you up the hill, which reaches about 600 vertical feet. The rope tow set-up allows skiers and riders to bail out at any point, so you can choose how far you want to ski down, making Chapman Hill the perfect place for beginners!
Learn to ski or board at their skiing school, plus enjoy night skiing and snow tubing, and sledding at the facility, free of charge. The pavilion at Chapman Hill features food and drinks, a warming hut, room rentals, and a rest area.
500 Florida Rd, Durango, CO 81301 | 970-375-7395 | co-durango.civicplus.com/512/Chapman-Hill
Hesperus – 25 miles / 30 minutes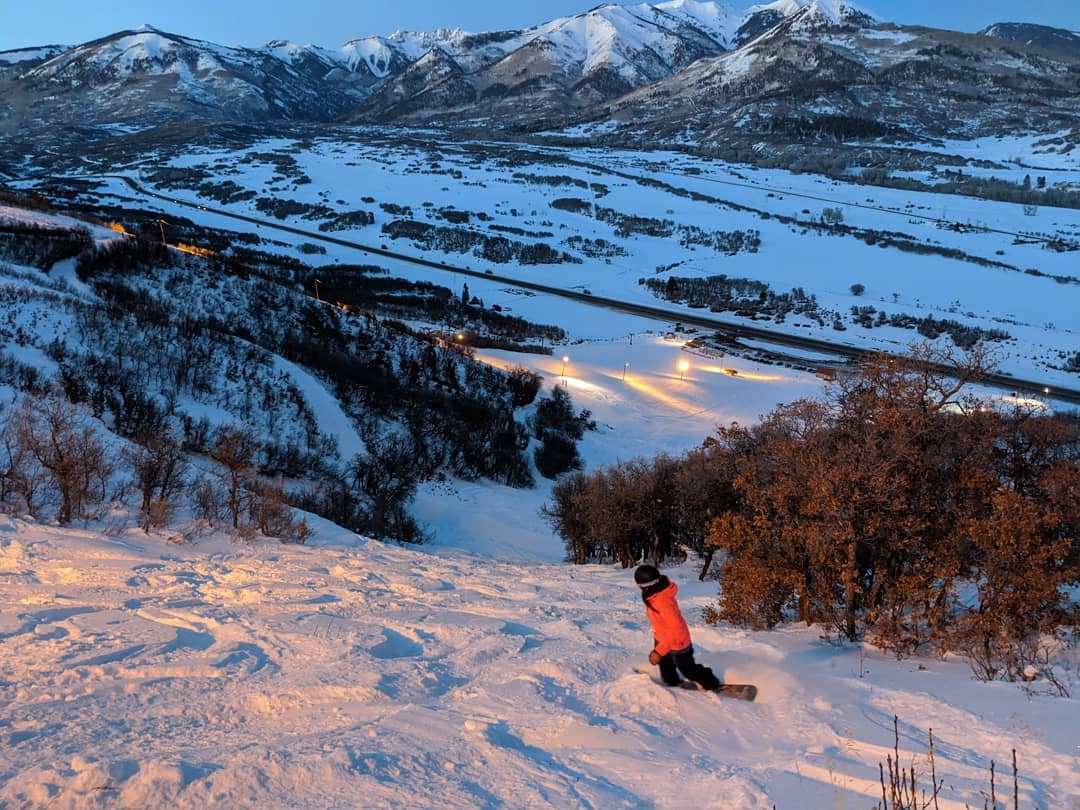 Best known for its night skiing and riding, the Hesperus Ski Area is a small ski and board destination in the neighboring community of Hesperus. Home to the Hesperus Ski Patrol, a volunteer patrol that is part of the National Ski Patrol, the Hesperus Ski Area is known for its safe skiing practices.
Visitors of all ages love the area's diverse runs, snow tubing hills at Marmot Hill, night skiing, and ski and board lessons. The resort is part of the PowerPass, which features several other resorts including, Purgatory.
Hesperus offers 60 acres of skiable area, with 26 trails, one double chair lift, and ski runs for all skill levels. The ski area rests at a base elevation of 8,100 feet (2,469 meters), with its summit elevation reaching 8,888 feet (2,709 meters), and a 700-foot vertical drop. The annual average snowfall is 150 inches.
9848 Highway, US-160, Hesperus, CO 81326 | 970-385-2199 | ski-hesperus.com
Purgatory – 27 miles / 32 minutes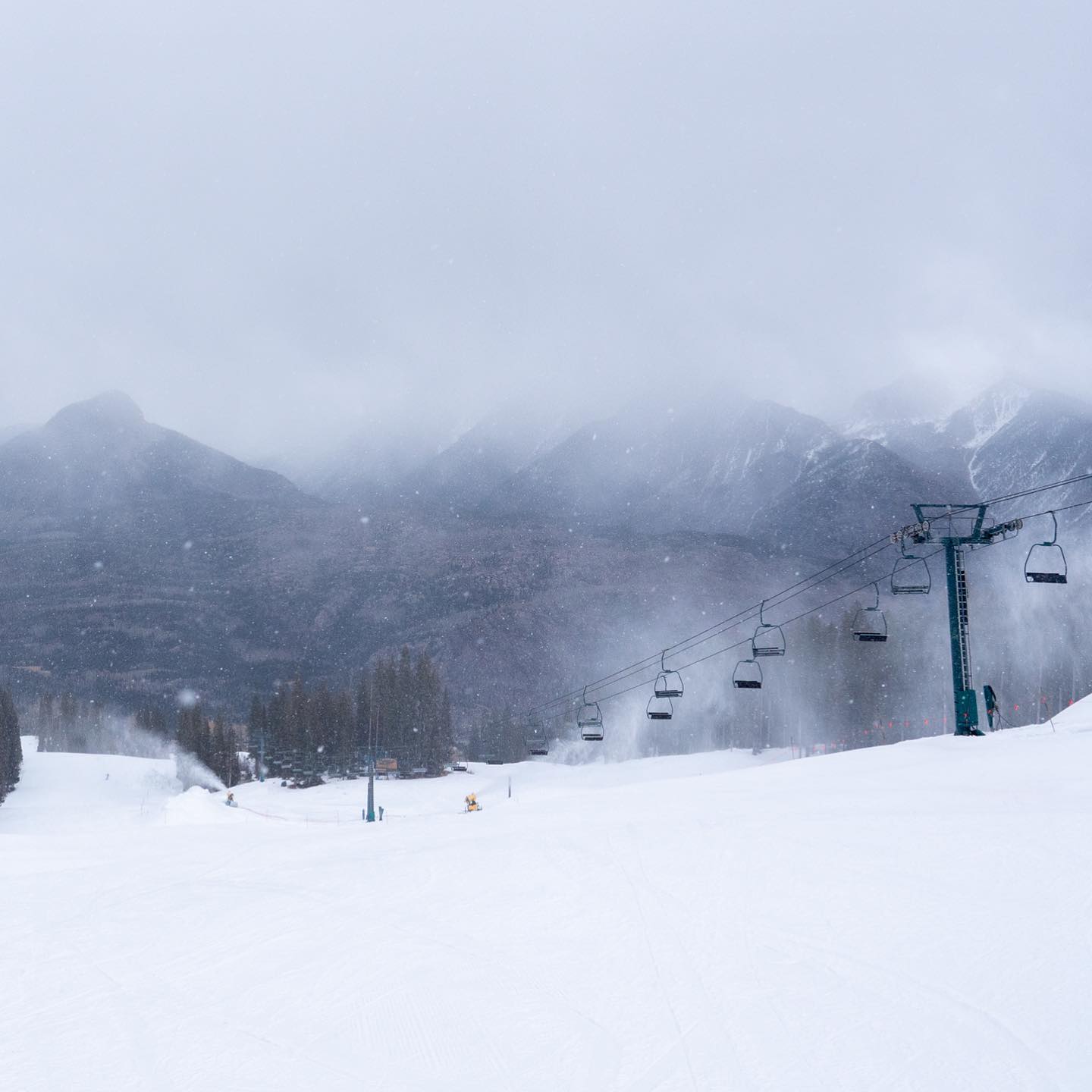 Located in the San Juan Mountains, Purgatory Ski Resort is best known for its stunning scenery, the largest snowcat skiing operation, and terrain for all skill levels. While there are many reasons to love Purgatory, its small lift lines, wide-open cruisers, steep runs, and idyllic winter weather conditions are what keep people coming back every year.
Beyond the slopes, the historic downtown of Durango isn't far away and offers plenty to do for those spending time off the mountain. The Purgatory Lodge and resort features shops, restaurants, a pool, fitness center, day spa, and ski concierge, all located at the base of the slopes.
Purgatory offers 1,605 acres of skiable area with cat skiing available, four terrain parks, 105 trails, 11 chair lifts, and terrain designed for all abilities set within a family-friendly atmosphere. The ski area rests at a base elevation of 8,793 feet (2,680 meters), with a summit elevation reaching 10,822 feet (3,299 meters), and a vertical drop of 2,029 feet (618 meters). The annual average snowfall is 260 inches.
1 Skier Pl, Durango, CO 81301 | 970-247-9000 | purgatoryresort.com
Wolf Creek – 84 miles / 1 hour & 40 minutes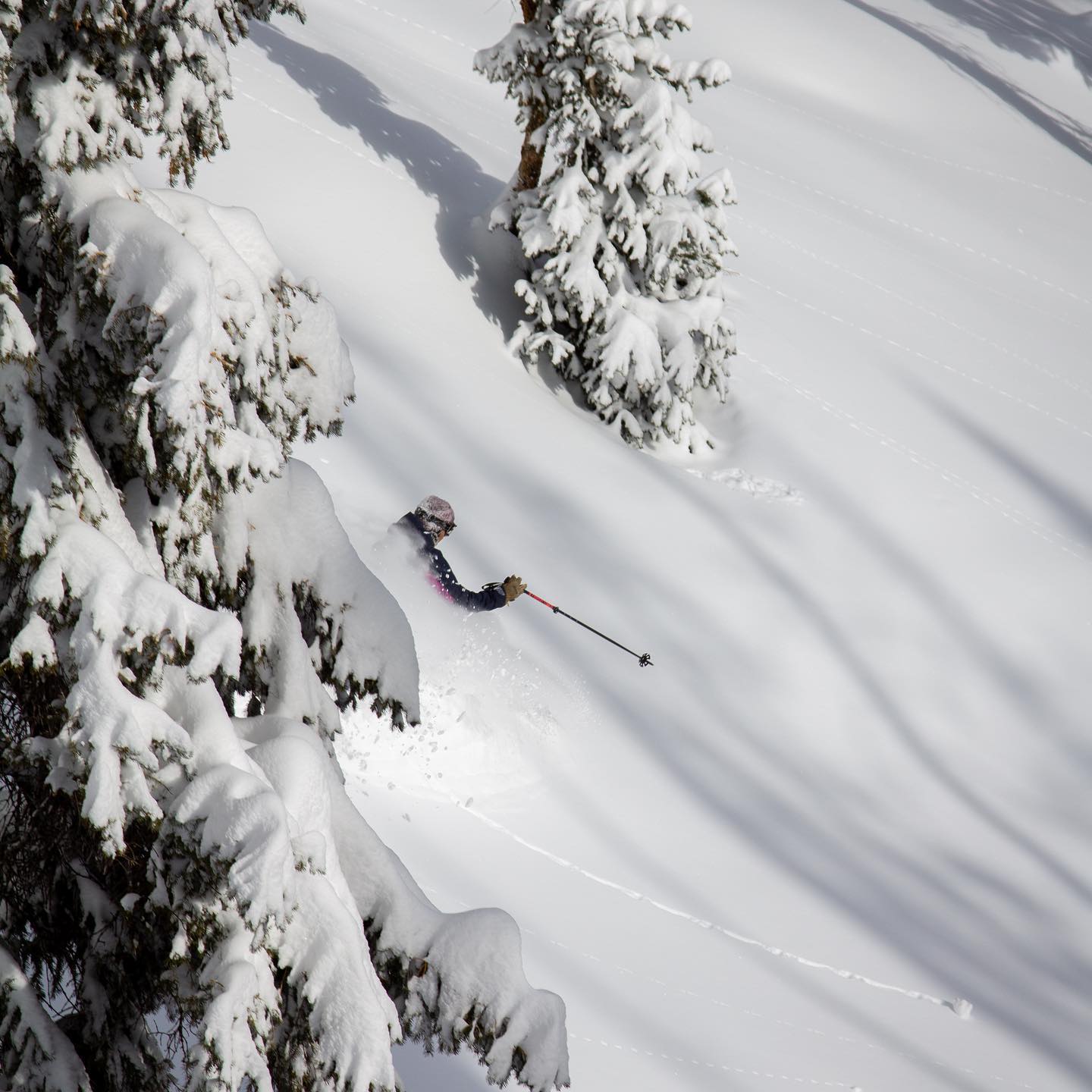 Boasting the "most snow in Colorado," Wolf Creek Ski Resort is the ultimate ski destination for those powder-hungry visitors. Its terrain rests across a high alpine ridge that receives 430 inches of annual snowfall, with only five acres of snowmaking.
Beyond the epic snow, Wolf Creek is also known for its backcountry hike-to terrain. Routes like the Bonanza Bowl, Horseshoe Bowl, Knife Ridge, and others require anywhere from a five-minute hike to a 45-minute hike to access. And for those who cross-country ski, Wolf Creek features a little over six miles of cross-country trails.
Take a break in between runs at the several slope-side restaurants and food areas like Raven's Nest, Alberta Grill, or The Continental. Or end your day at the base area with a burger and beer at the Wolf Creek Lodge & Pathfinder Bar. On your way back to Durango stop by Pagosa Springs for one its heavenly hot springs.
Wolf Creek offers 1,600 acres of skiable area, backcountry skiing, 133 runs, 10 chair lifts, and runs for all skill levels with 20% expert terrain. The ski area rests at a base elevation of 10,300 feet (3,139 meters), with its summit elevation touching 11,904 feet (3,628 meters), and a vertical drop of 1,604 feet. The annual average snowfall is 430 inches.
E Hwy 160 E, Pagosa Springs, CO 81147 | 970-264-5639 | wolfcreekski.com
Telluride – 107 miles / 2 hours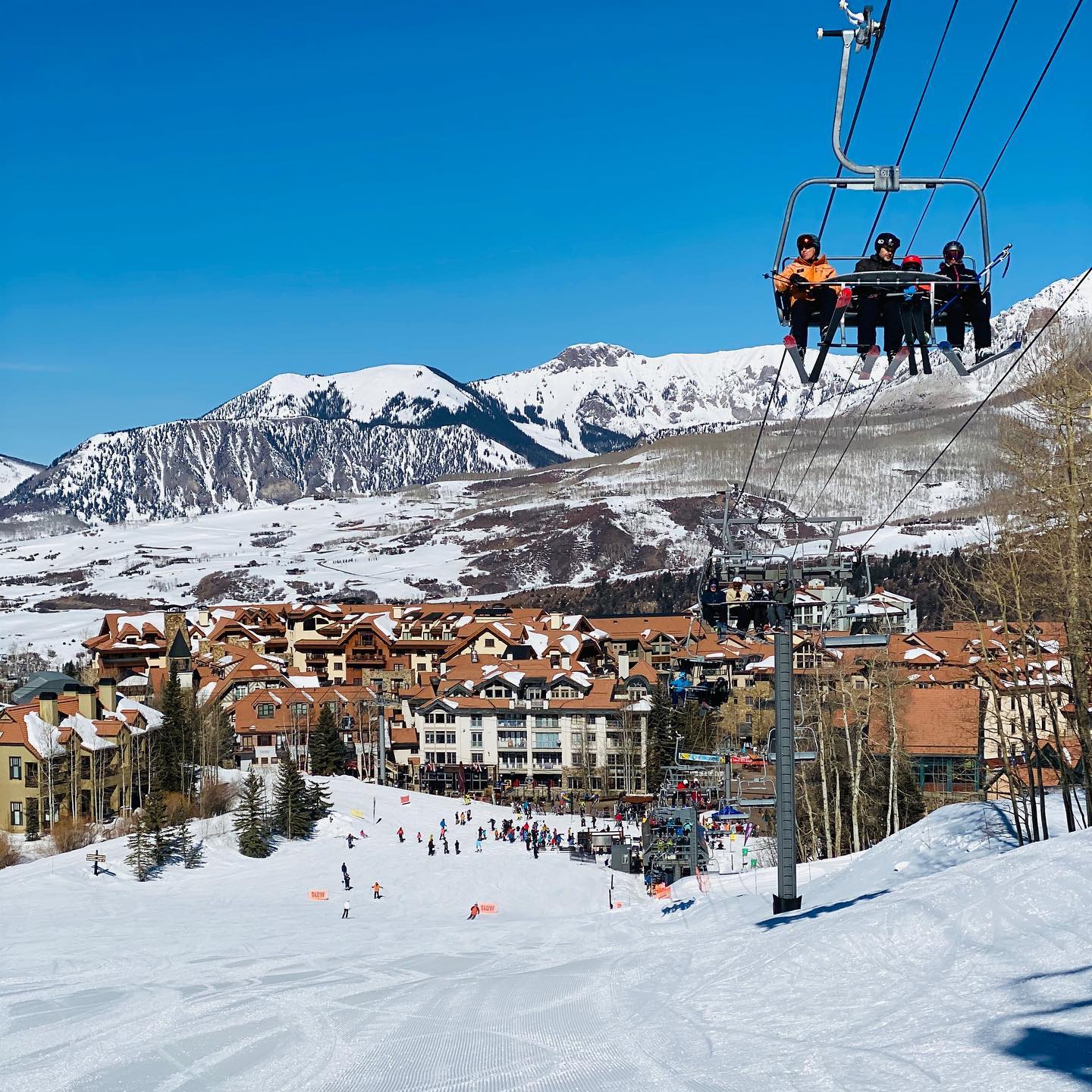 Nestled within a box canyon, the historic and charming town of Telluride is surrounded by 13,000 and 14,000-foot mountain peaks, making it one of the most majestic and scenic towns in Colorado. Resting above the town is the Telluride Ski Resort and Mountain Village. Access between the two is made easy with the free Gondola ride.
The Telluride Ski Resort offers visitors a unique history, legendary terrain, and spectacular mountain views from every corner you turn. Beginners enjoy the resort's wide-open runs, well-groomed blues and for the more experienced skiers, their gladed tree skiing, open bowls, and epic steeps are what keep you challenged with every visit.
Off the mountain, enjoy the cozy Mountain Village that comes alive with shops, restaurants, lodging, and more. Live music is often enjoyed while cozying up by the outdoor firepits and lounging areas, perfect for resting in between runs or for enjoying an apres-ski drink.
Telluride offers 2,000 acres of skiable area, four terrain parks, bowl skiing, hike-to terrain, 127 runs, 12 chair lifts, and a chondola (a cross between a gondola and a chair lift) and runs for all skill levels. The ski area rests at a base elevation of 8,750 feet (2,667 meters), and its summit elevation touches 13,150 feet (4,008 meters). The annual average snowfall is 280 inches.
565 Mountain Village Blvd, Telluride, CO 81435 | 800-778-8581 | tellurideskiresort.com
Find your epic ski adventure in southwestern Colorado with these ski resorts near Durango!