The Centennial State may be known for beautiful hiking trails, but there are also several lakes where you can swim as well. From Grand Junction to the Eastern Plains, you can find a spot to take a summer dip across Colorado.
There are many lakes located within one of Colorado's state parks, but you can also find bodies of water managed by a city, county, federal organization, or privately owned. Some of them will allow swimming in a particular area, usually some sort of swimming beach.
Before you head out, visit the lake's website to read the rules, safety guidelines, and hours of operation. Many don't allow unattended children, dogs, grills, alcohol, glass containers, or smoking near the lake.
It's always a good idea to check the condition of the water with beach or park staff. Sometimes, a closure could occur because of poor water quality, other safety issues, or weather concerns.
Keep in mind that, generally, as the elevation increases, the water temperature gets colder. Locations along with the front range urban corridor and far western slope will be warmer than up in the high country.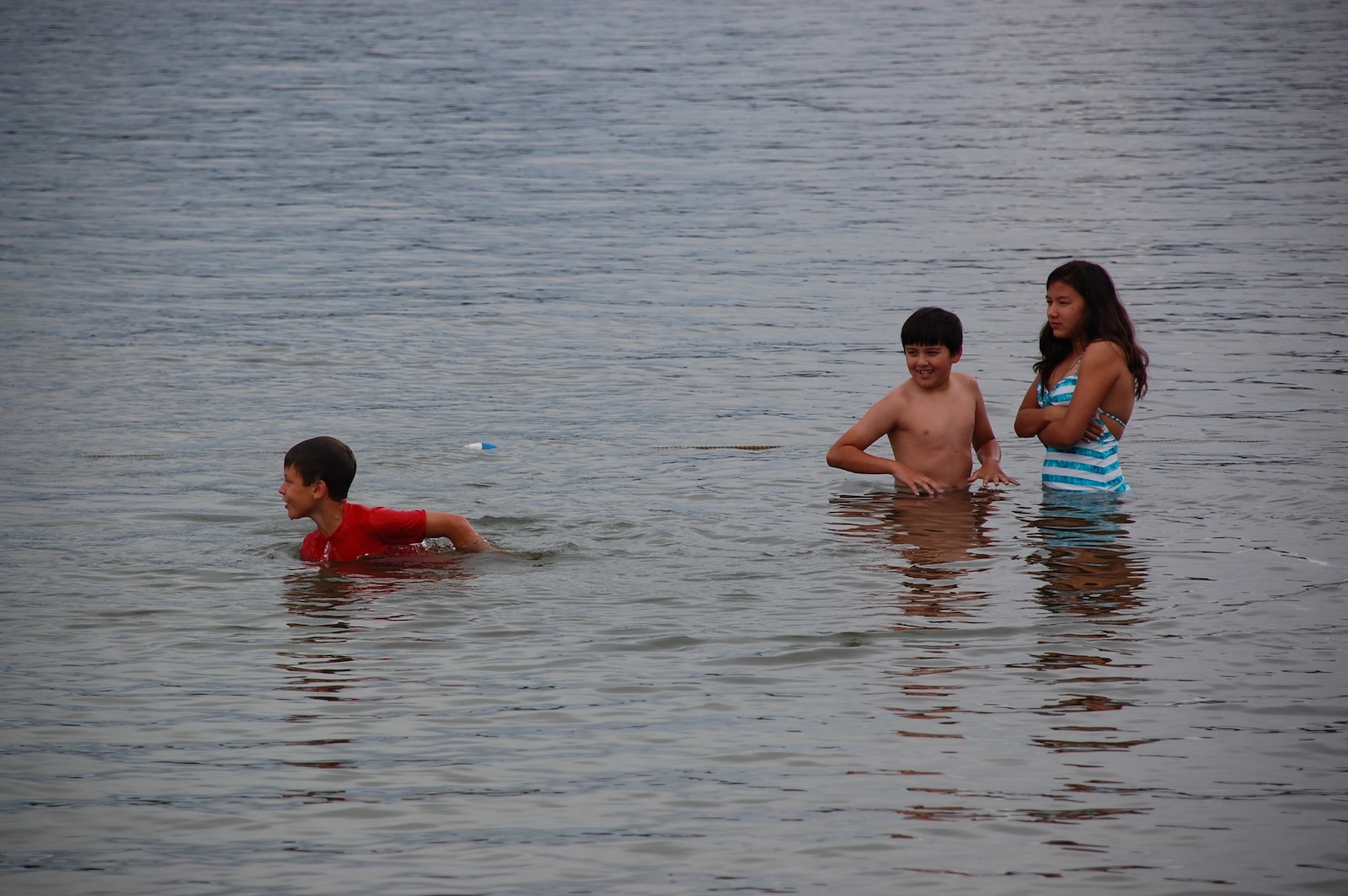 General lake swimming safety advice can be found in the American Red Cross guide to swimming safety in lakes, rivers and streams. This includes never swimming alone and there should always be an adult supervising children, even with a lifeguard present.
Keep in mind that there are no lifeguards on duty at most of these places, so swimming is at your own risk, and children are required to be supervised at all times.
The following are a few safety guidelines that Colorado Parks & Wildlife (CPR) recommends to swimmers:
Wear life jackets.
Know how to swim before visiting a swimming area.
Never swim alone.
Supervise children at all times.
Swim only in designated swimming areas.
Stay close to a boat or shoreline.
Utilize a spotter to watch for boats or hazards.
Use a flag to show there are people in the water swimming.
CPW provides additional safety tips online. They also point out that there are other risk factors, including sun exposure, water and weather conditions, dehydration and heat stroke, hot sand, and shallow waters to consider. Check the website to confirm if the lake is open and the current conditions. Keep in mind most lakes are seasonal during summer, and the dates open vary by park.
There are so many other lakes and reservoirs in Colorado that permit you to swim. Here's just a look at some of the most popular:
Boyd Lake Swim Beach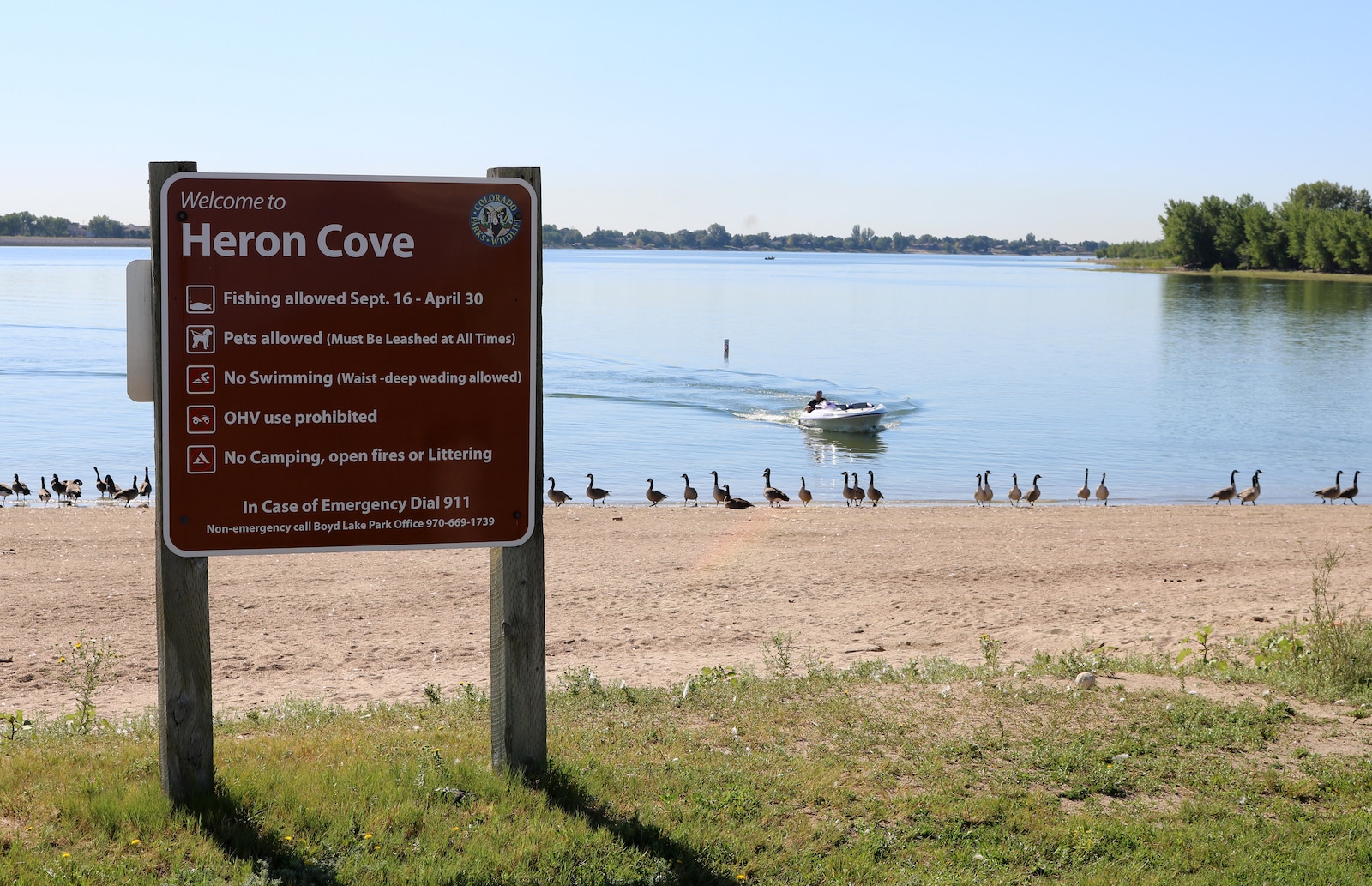 In addition to biking, camping, and volleyball, Boyd Lake State Park is home to a popular swim beach. Float toys can be utilized at the beach but are limited to the designated, buoyed swim area. This Loveland park is a go-to spot for water sports in Northern Colorado.
Once you're done swimming, the nearby pavilion has restrooms, rinsing showers, picnic tables and a playground. At the marina, you can rent kayaks, canoes, wave runners or a pontoon boat. Use of a wakeboard or paddle board is also allowed here. The website warns to use caution, as not all hazards are marked on the lake.
3720 N County Road 11-C, Loveland | 970-669-0071 | cpw.state.co.us/placestogo/parks/boydlake
Grand Lake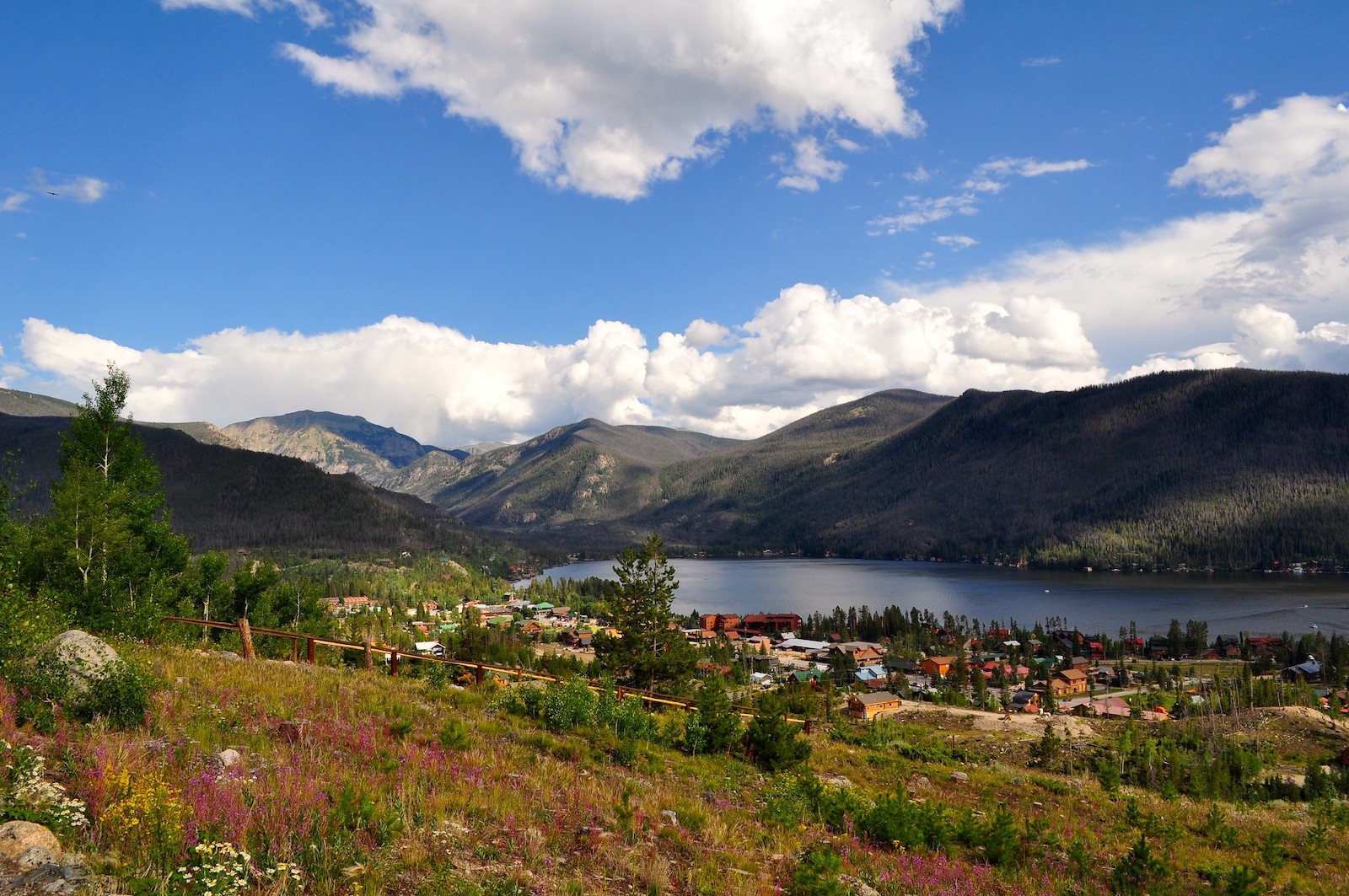 Grand Lake is the deepest and biggest natural lake in the state, with 500 surface acres and coming in at 400 feet deep. Located near the West entrance of Rocky Mountain National Park, it's surrounded by the park on three sides.
From the Beach at Grand Lake, swimming is allowed, as well as kayaking and rowing.  There are no lifeguards here, so swimming is at your own risk. The public beach is located one block from downtown, right near the Headwaters Marina. At the marina, you can also rent a pontoon boat or pedal boat.
1132 Lake Avenue, Grand Lake | 970-627-9273 (marina) | visitgrandcounty.com/explore/lakes-and-rivers/grand-lake
Chatfield Reservoir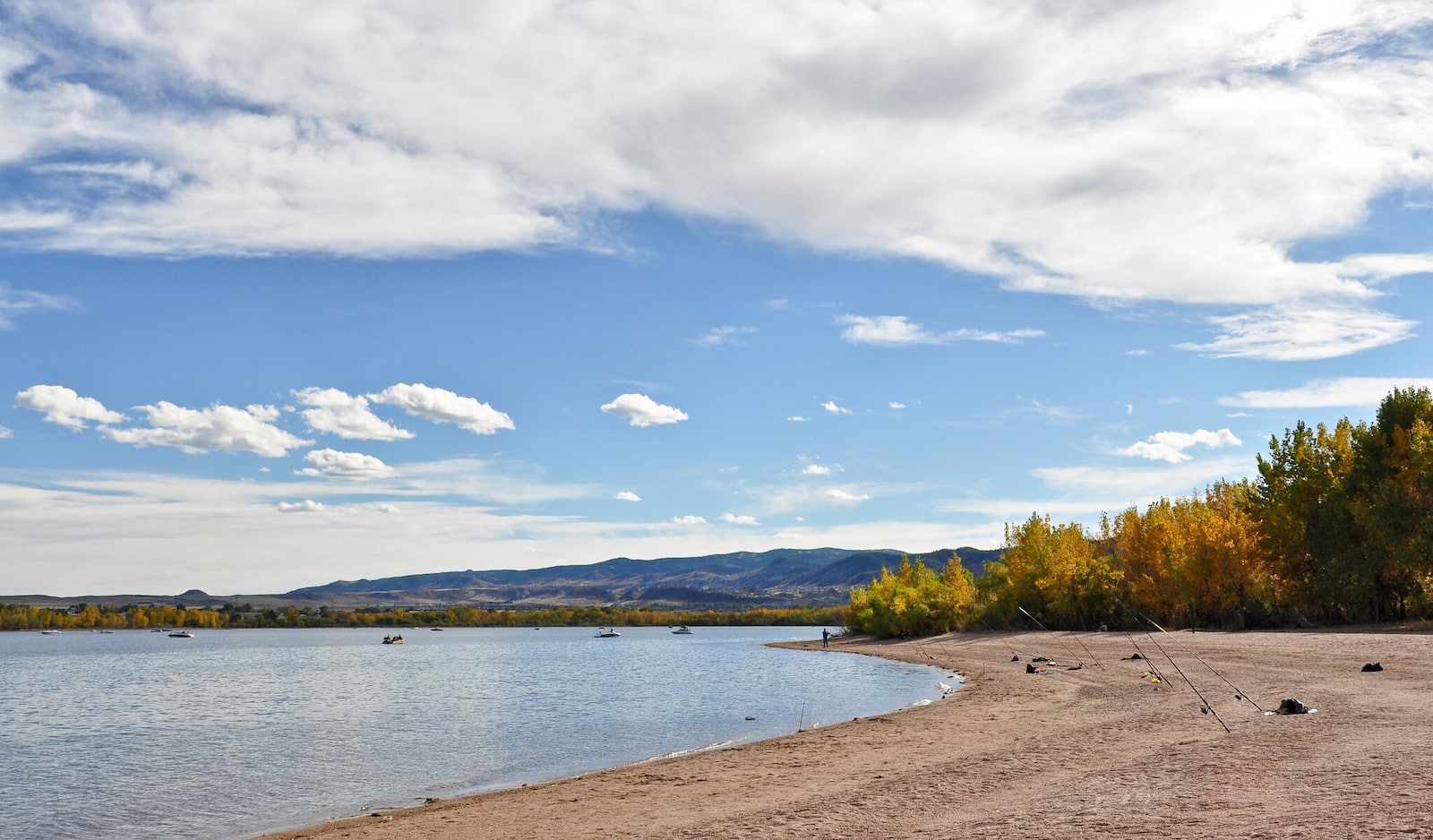 The swimming area at Chatfield State Park is open from Memorial Day through Labor Day, from sunrise to sunset every day. Located on the west side of the reservoir, the swim beach offers changing facilities, including showers and bathrooms, as well as picnic tables and small grills.
Water lovers can also appreciate the floating restaurant and a full-service marina. Children under the age of 12 are required to have supervision at all times, as there is no lifeguard on duty. There is also an opportunity to paddle board or rent a pontoon boat.
11500 N. Roxborough Park Road, Littleton | 303-791-7275 | cpw.state.co.us/placestogo/parks/Chatfield
Cherry Creek Reservoir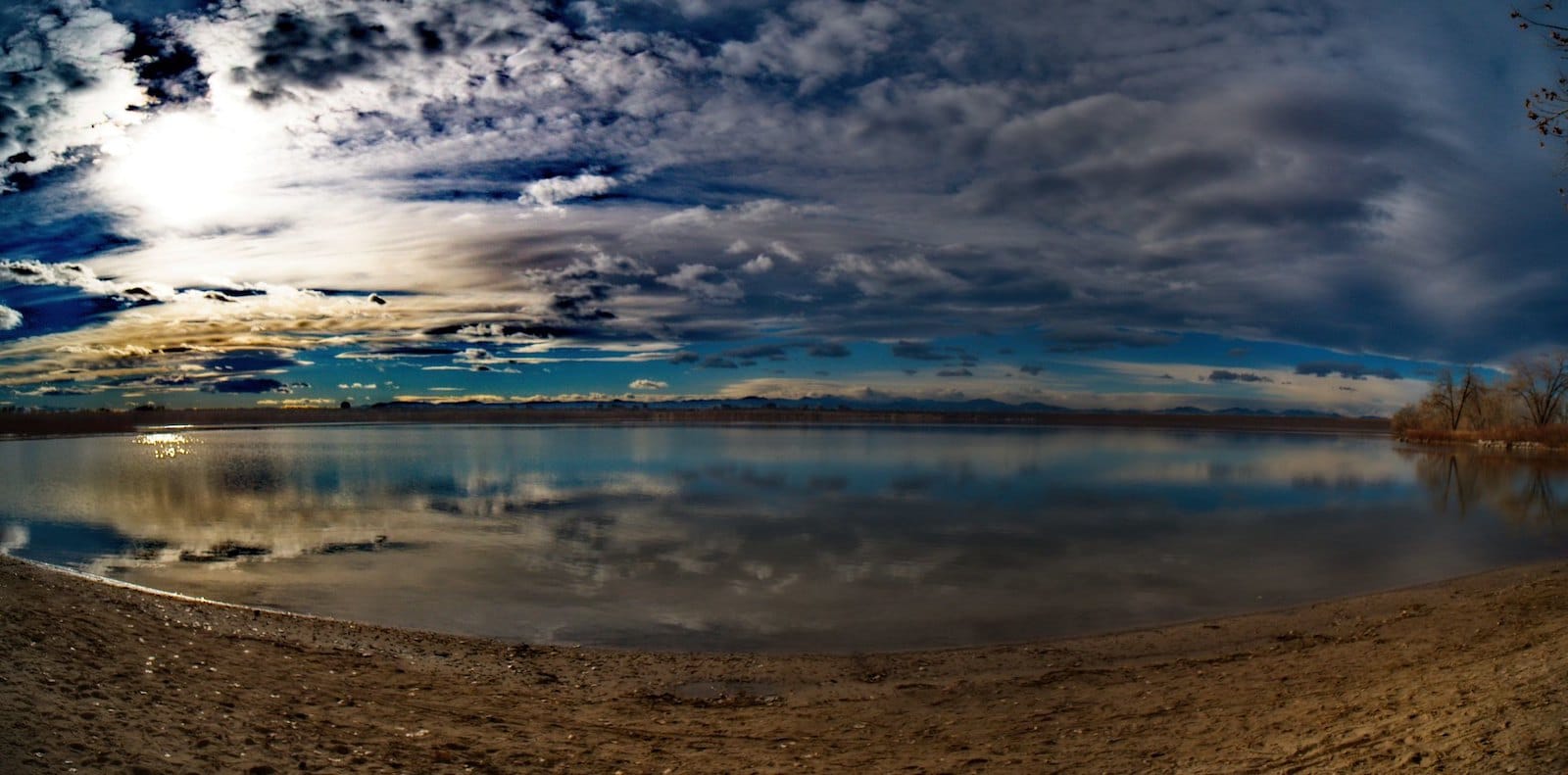 Cherry Creek State Park offers camping, boating and a chance to take a dip. The 880-surface acre reservoir is the backbone of the park. The beach, which is open seasonally, has a bathhouse available with restrooms.
Other water activities include boating, kayaking, sailboarding, rowing and jet skiing. Cherry Creek provides up-to-the-minute water temperatures and information available online.
4201 South Parker Road, Aurora |303-690-1166 | cpw.state.co.us/placestogo/parks/CherryCreek
Boulder Reservoir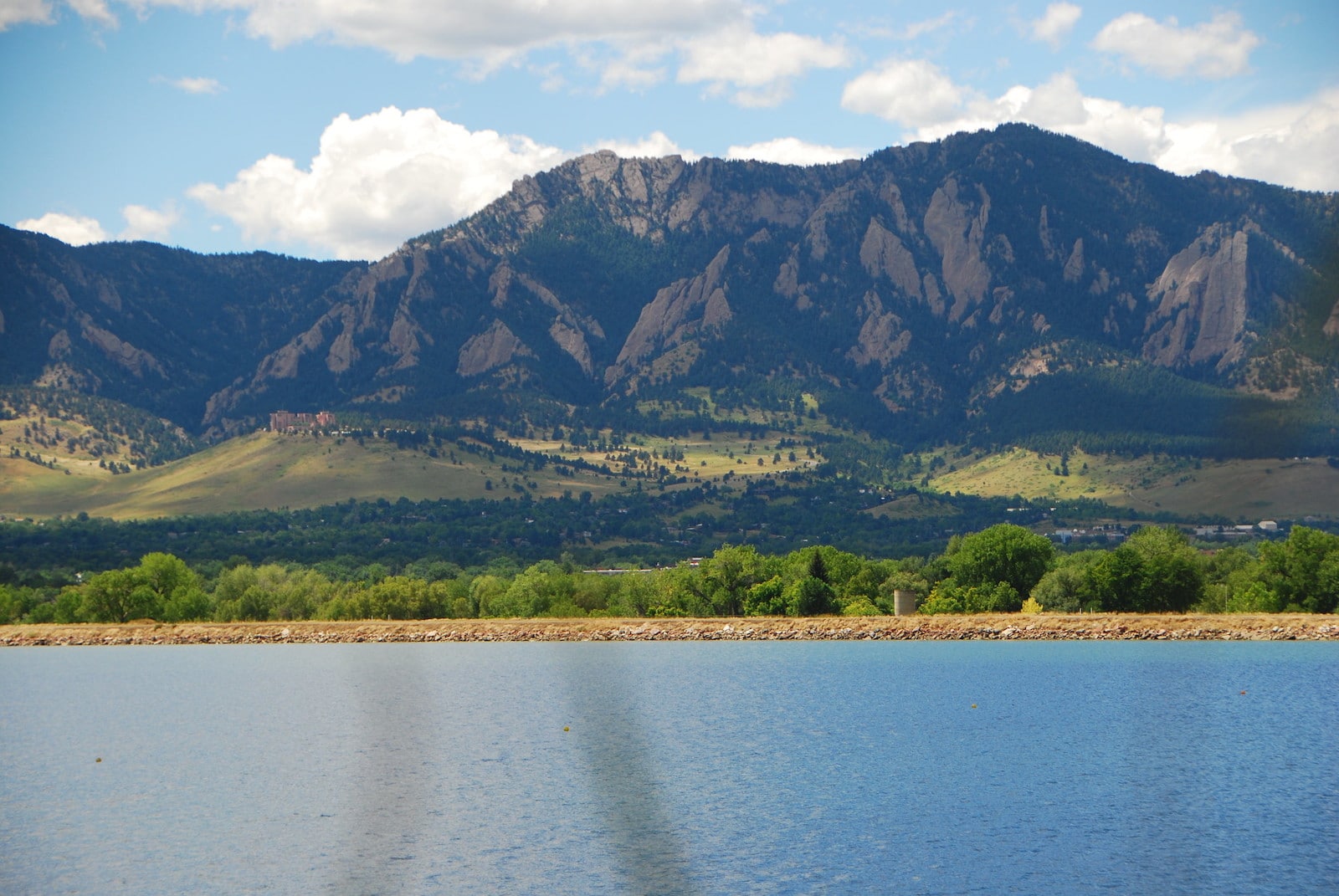 The Boulder Reservoir Swimming Area and Beach is one of the largest in Colorado with a 700-acre lake. Stroke & Stride events are hosted here on Thursday evenings.
Their website has a list of rules and things to know, including there is no swimming allowed unless a lifeguard is on duty and present. Children under 5 years old are required to be within the arm's reach of an adult, and certain areas of the water require children under 13 to complete a swim test (and be supervised at all times). Alcohol not permitted in the deep swim area.
5565 51st St, Boulder | 303-441-3248 | bouldercolorado.gov/services/reservoir-swimming
Highline Lake
Near Grand Junction, Highline Lake State Park offers seasonal swimming allowed within the buoyed-off designated area. The lake is closed from October 1st through the end of February. There is also a campground located near the swim beach, too.
The park's website notes there are lots of shade trees to keep things cool while utilizing the swim lake. Sailboarding, paddle boarding and boating are a few of the other popular water activities.
1800 11.8 Road, Loma | 970-858-7208 | cpw.state.co.us/placestogo/parks/HighlineLake
Big Soda Lake
Bear Creek Lake Park is located in Lakewood. The park is home to Big Soda Lake, which provides a place to swim. There is even a lap swimming lane located west of the swim beach.
There are no lifeguards on duty here. The swim beach offers picnic shelters (first come, first serve), playgrounds and two sand volleyball courts. During the summer season, there are kayaks, SUPs, canoes and pedal boats available to rent.
15600 West Morrison Road, Lakewood | 303-987-7000 | lakewood.org/…
Steamboat Lake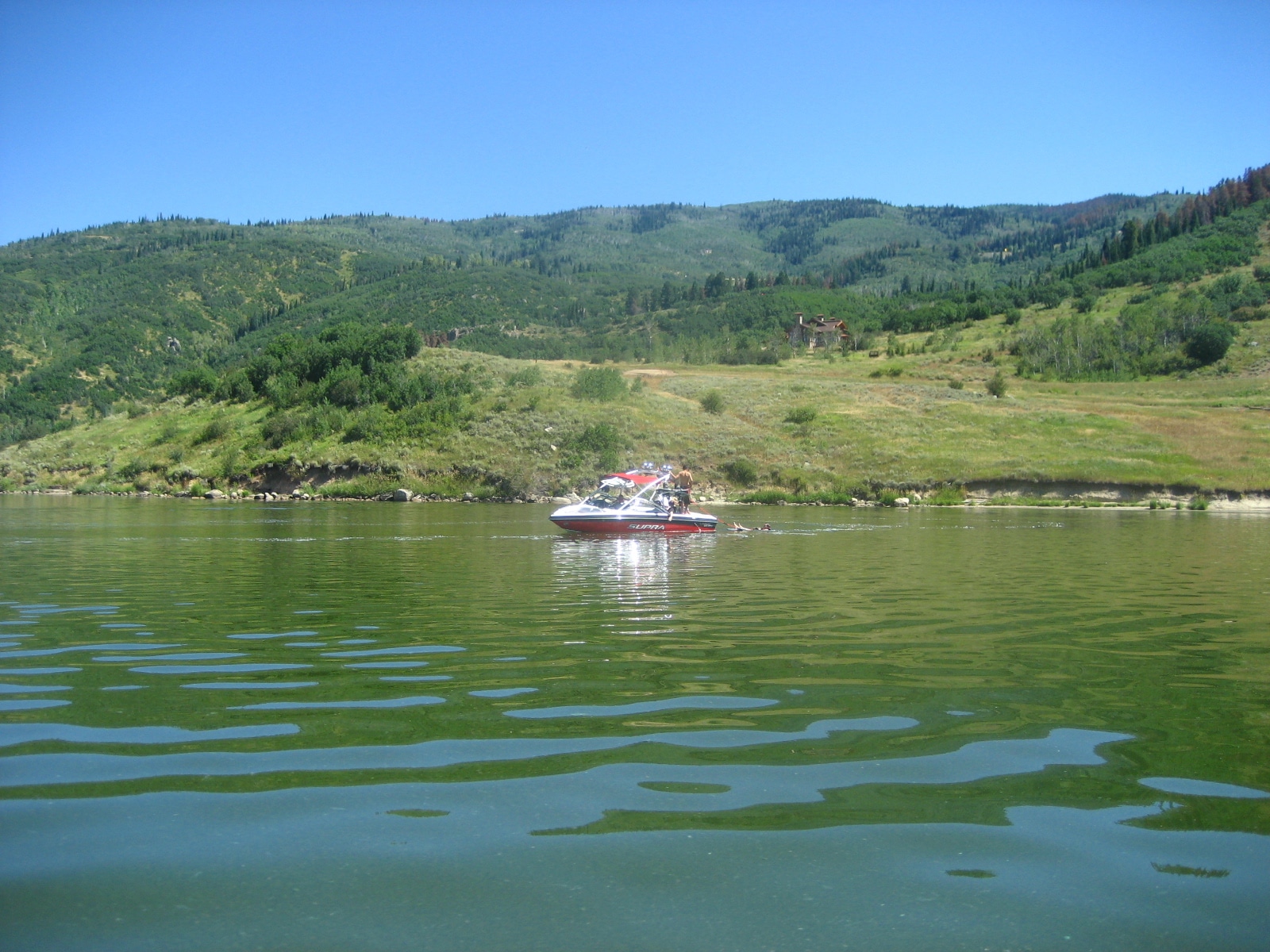 The lake at Steamboat Lake State Park provides 1,053 surface acres and mountain views. Swimming is only allowed at the designated swim beach. Water temperatures reach the low 70s during late summer and as the website states, "hardy souls can enjoy the swim area at Dutch Hill."
The beach is located across from the full-service marina, where you can rent a pontoon boat, canoe or SUP. There are also cabins available for rent near the marina.
Location: 61105 RCR 129, Clark
Contact: 970-879-3922
Martin Lake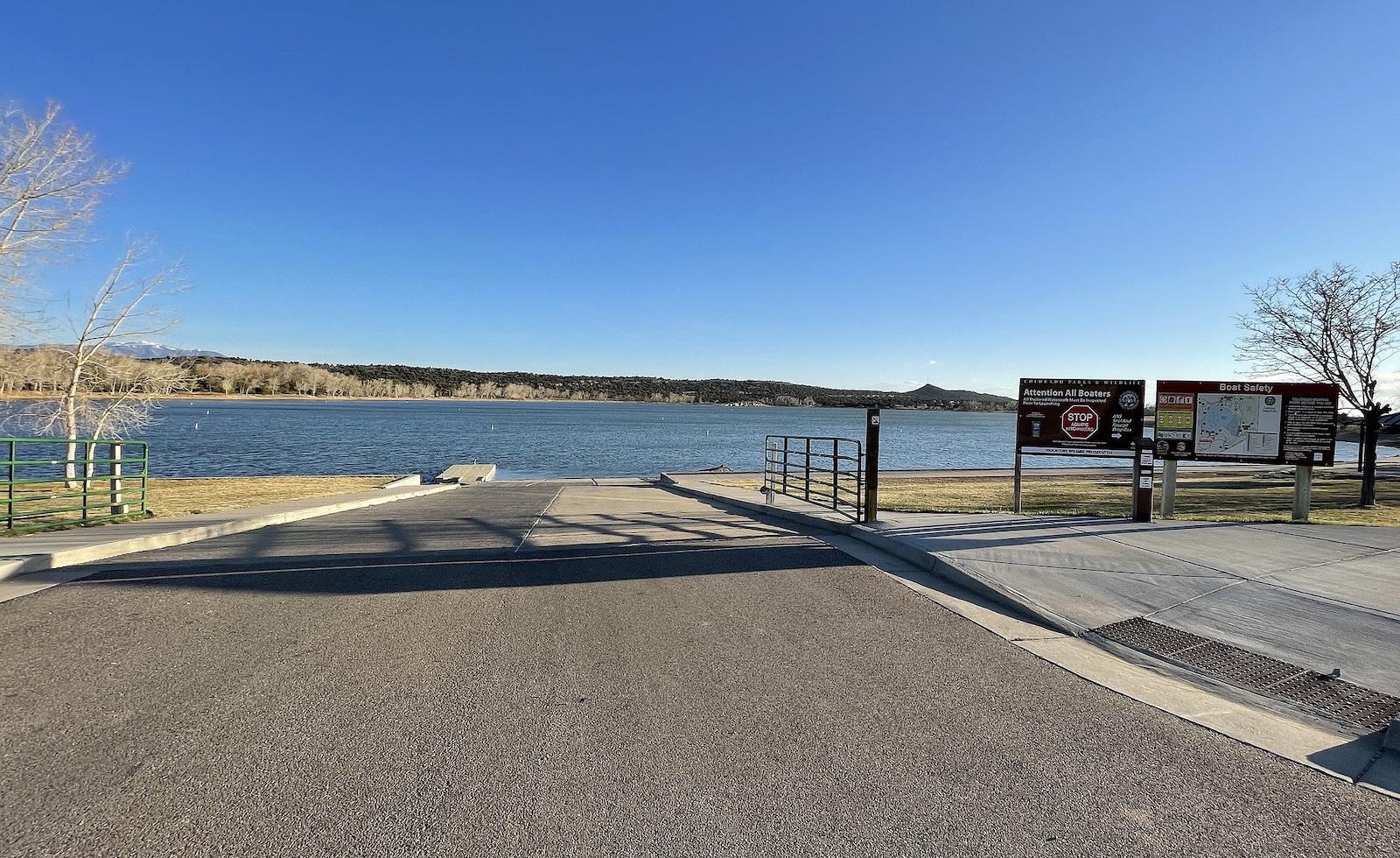 Located in Southern Colorado, less than one hour from Trinidad, Lathrop State Park is home to Martin Lake – a warm-water lake that offers an opportunity for swimming. Martin Lake's swim beach is part of the 180-surface acre lake.
The water here also provides a chance to power and sailboat, fish, water ski, and windsurf. A campground, a visitor's center, boat ramps, an archery range, and trails are on-site as well.
70 Country Road 502, Walsenburg | 719-738-2388 | cpw.state.co.us/placestogo/parks/Lathrop
Jackson Lake
Jackson Lake State Park is described as an "oasis in the plains" for swimming and other water activities. There are 2,600 surface acres at the lake. In fact, it was ranked as one of the top 15 park beaches by Reserve America.
The lake is shallow and warms up fast, according to the website. The swim area is on the south shore and west shore and spans out to the no-wake buoys. Swimming is not allowed in the inlet canal and around the boat ramp.
26363 County Road 3, Orchard | 970-645-2551 | cpw.state.co.us/placestogo/parks/JacksonLake
Aurora Reservoir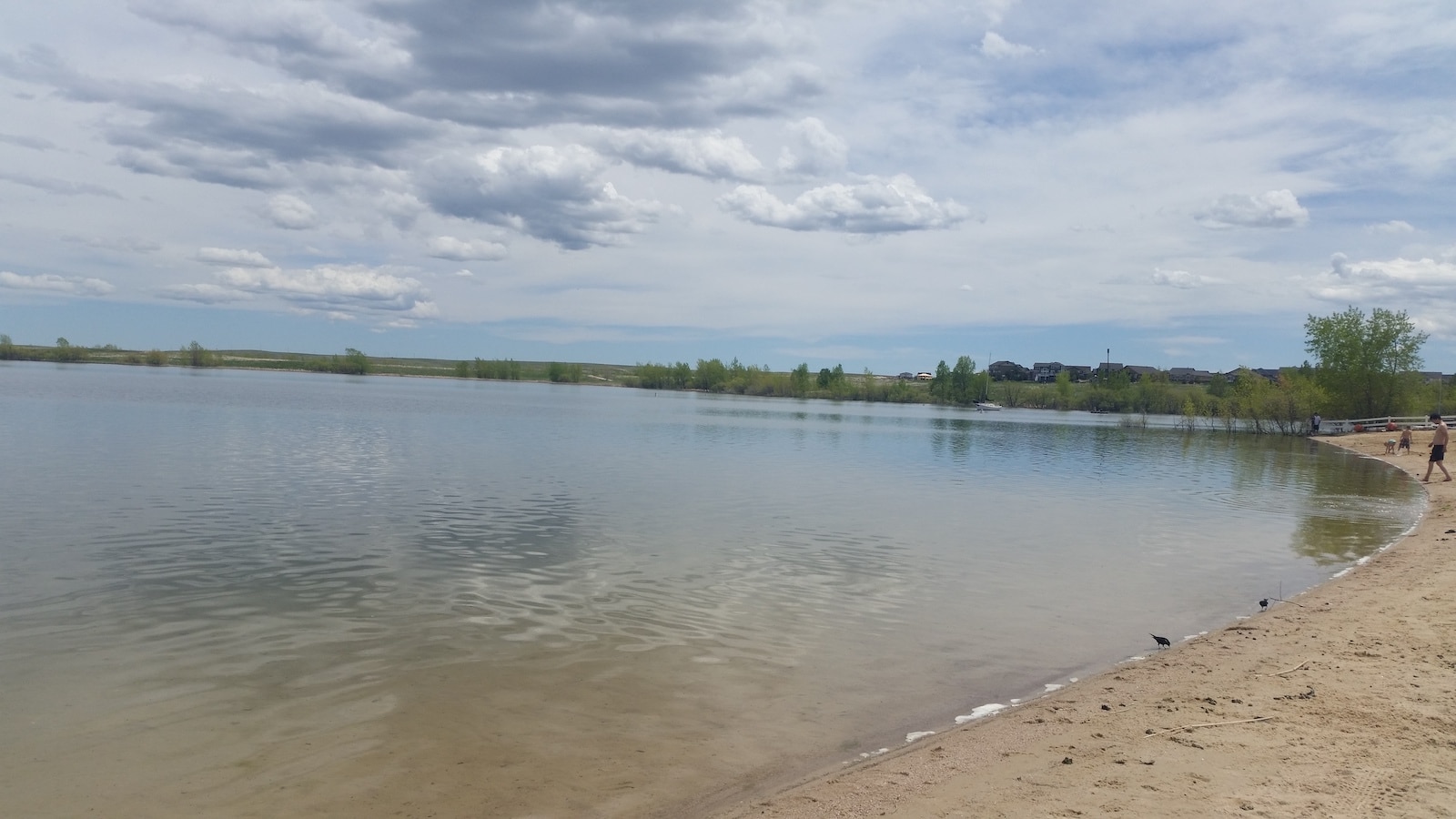 Aurora Reservoir is home to shelter rentals, Senac Creek Nature Center, a scuba diving area, boating, SUP and kayak rentals, fishing, archery and swimming. The beach area welcomes picnics (without grills), and there is a designated swim area marked by a swim line.
During storms or lightning, swimming isn't allowed, and lifeguards are only on duty at specific times during the season (check the website for the most up-to-date information). It's recommended to contact them directly to confirm the swim beach is open.
15151 East Alameda Parkway, Aurora | 303-326-8425 | auroragov.org/things_to_do/reservoirs/aurora_reservoir
South Bay Swim Area at Horsetooth Reservoir
Horsetooth Reservoir is a popular destination in Fort Collins for both locals and visitors, with 1,900 acres of water surrounded by public land. Swimming is allowed within the South Bay Swim Area, but there is no lifeguard on duty here. There is also a specific location for scuba diving.
Jumping in the water is prohibited in all areas. There is no alcohol allowed at the swim beach. There is a campground located at the South Bay Area as well, available for tents, RVs and cabins.
4200 West County Road, 38E, Fort Collins | 970-619-4570 | larimer.gov/naturalresources/parks/horsetooth-reservoir
Wellington Lake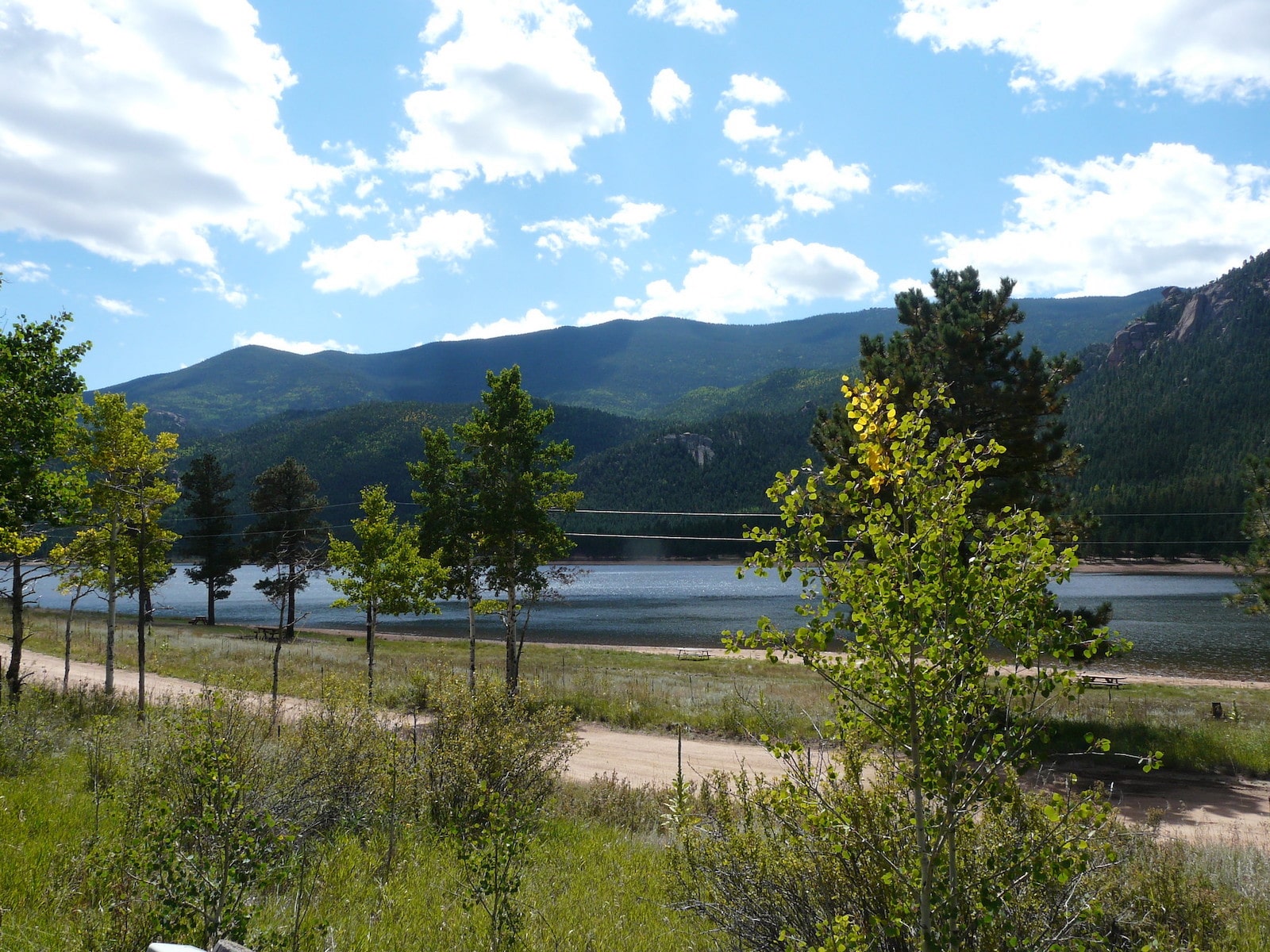 Wellington Lake is open to the public and privately owned. During the summer, swimming is permitted, but July and August are thought to have the best temperature in the water. Floats and noodles are allowed. There are no lifeguards on duty, and all swimming is at your own risk here.
Unlike most lakes on the list, dogs are also allowed to swim and play in the lake. Pets must be trained and friendly and aren't allowed to go into areas reserved by other guests.
21843 Stoney Pass Road, Bailey | 303-838-5496 | castlemountainrec.com
All of these Colorado lakes provide a chance for taking a dip and making memories with family and friends this summer. Pack your sunscreen and water, practice swim safety, and have a fun day in the sun. For more waterside fun, check out these Colorado lakes with camping.