Dining out in Colorado Springs is always a treat, but restaurant prices can be hard on your bank account when you're trying to reach savings goals. If you're looking to eat out in COS on a budget, we've compiled a list of the best place for those of you who are trying to save a buck.
Be sure to check out our favorite budget eats in Colorado Springs below, many of which are open for outdoor dining at the moment. If you're still trying to quarantine, quite a few options have pick-up and delivery services available to ensure that you and your loved ones stay safe.
Here are some popular restaurants to stay on budget in Colorado Springs:
Sweets and Treats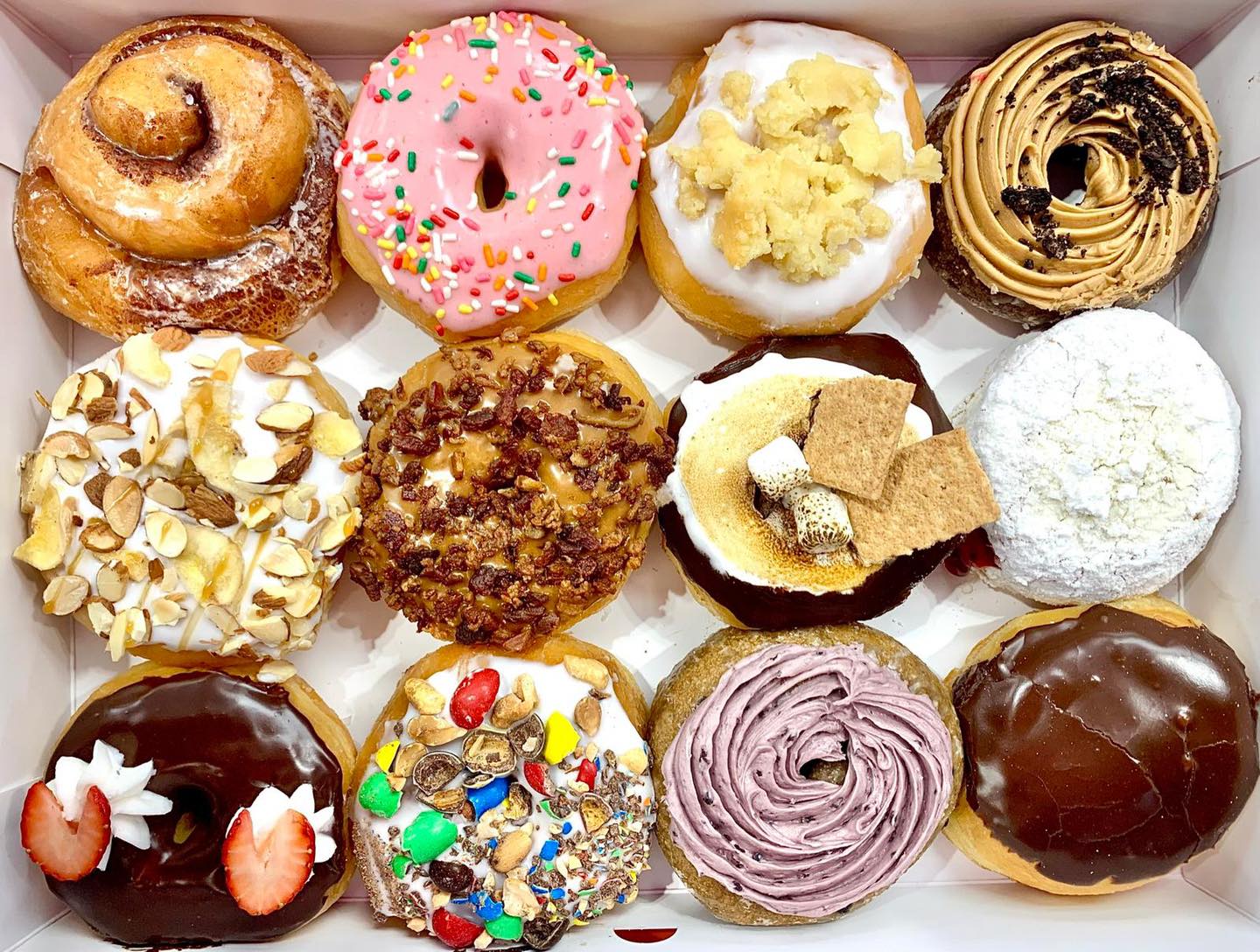 When you're in the need of something nice and sweet, there are plenty of ice cream, donut, and bakery options to choose from that won't break your bank. Taste the delicious coffee cake from the Dutch Bakery and down a pint of the hand-churned ice cream from Josh & Johns to satisfy your sweet tooth.
Josh & Johns
From their original location next to Kimball's Peak Theater and now onto the  N Tejon location that replaces the old Vapor Source store, Josh & Johns has provided high-quality frozen treats to Colorado Springs for decades.
This fantastic ice cream shop is the brainchild of two Colorado College graduates who decided to bring hand-churned, locally-crafted ice cream to the Front Range region. They've succeeded mightily in that mission, with lines spilling out of their doors each and every day and several locations open around Colorado.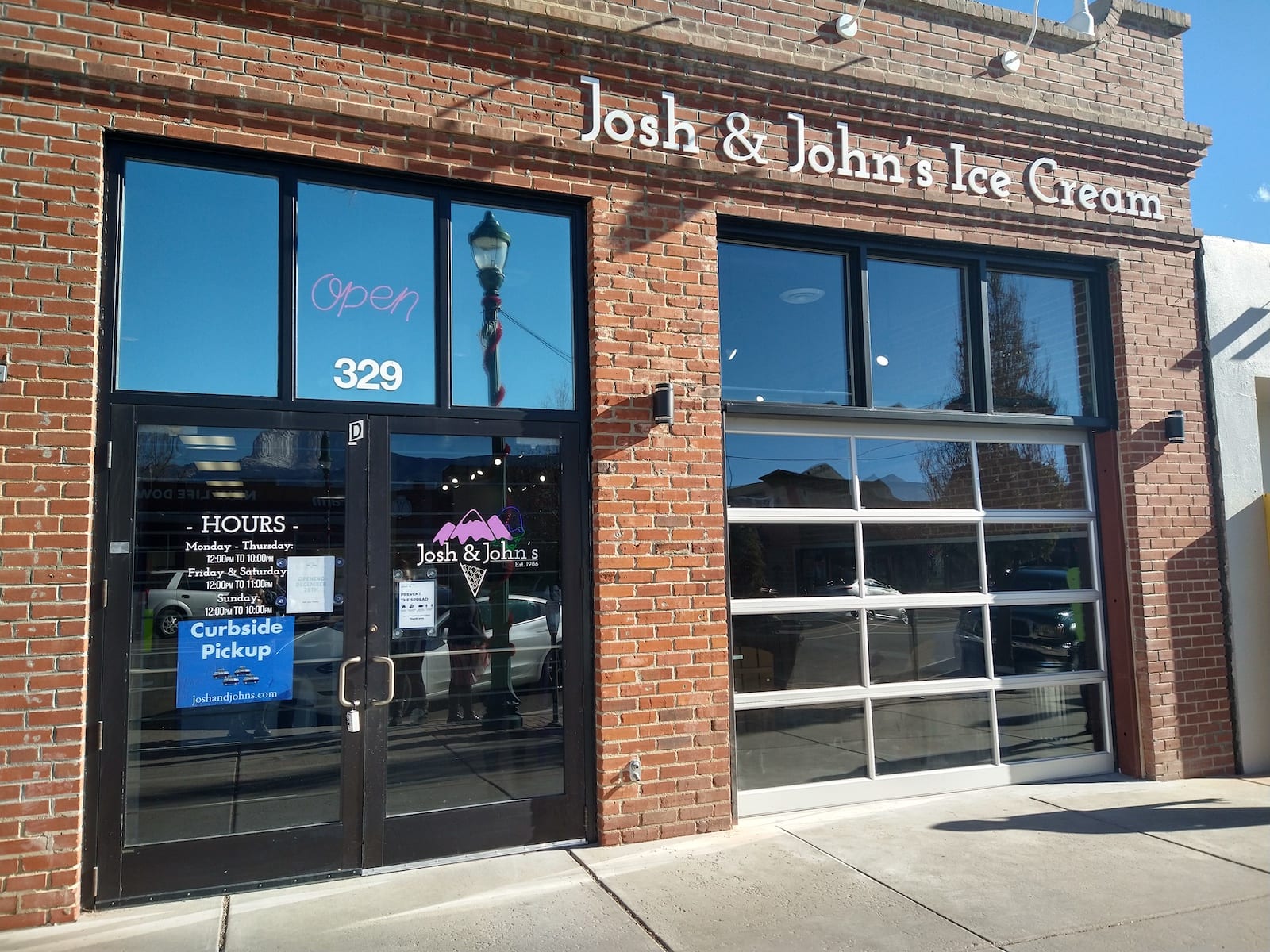 On your visit, try out their award-winning Purple Mountain Majesty ice cream. With an incredible combination of taro root and chocolate-covered raspberry cups, you'll find yourself scarfing down a pint in no time at all.
333 N Tejon, Colorado Springs | 719-632-0299 | joshandjohns.com
Amy's Donuts
It's hard to miss Amy's Donuts if you're driving by it on I-25. Its signature pink roof with a giant donut on top is visible from both the highway and US 24, and it's definitely worth a stop to try some decadent treats while you're in the Springs area.
With an unimaginable and uncountable array of donut flavors on the menu, this shop is well-known in Colorado Springs to have a donut for just about every palette.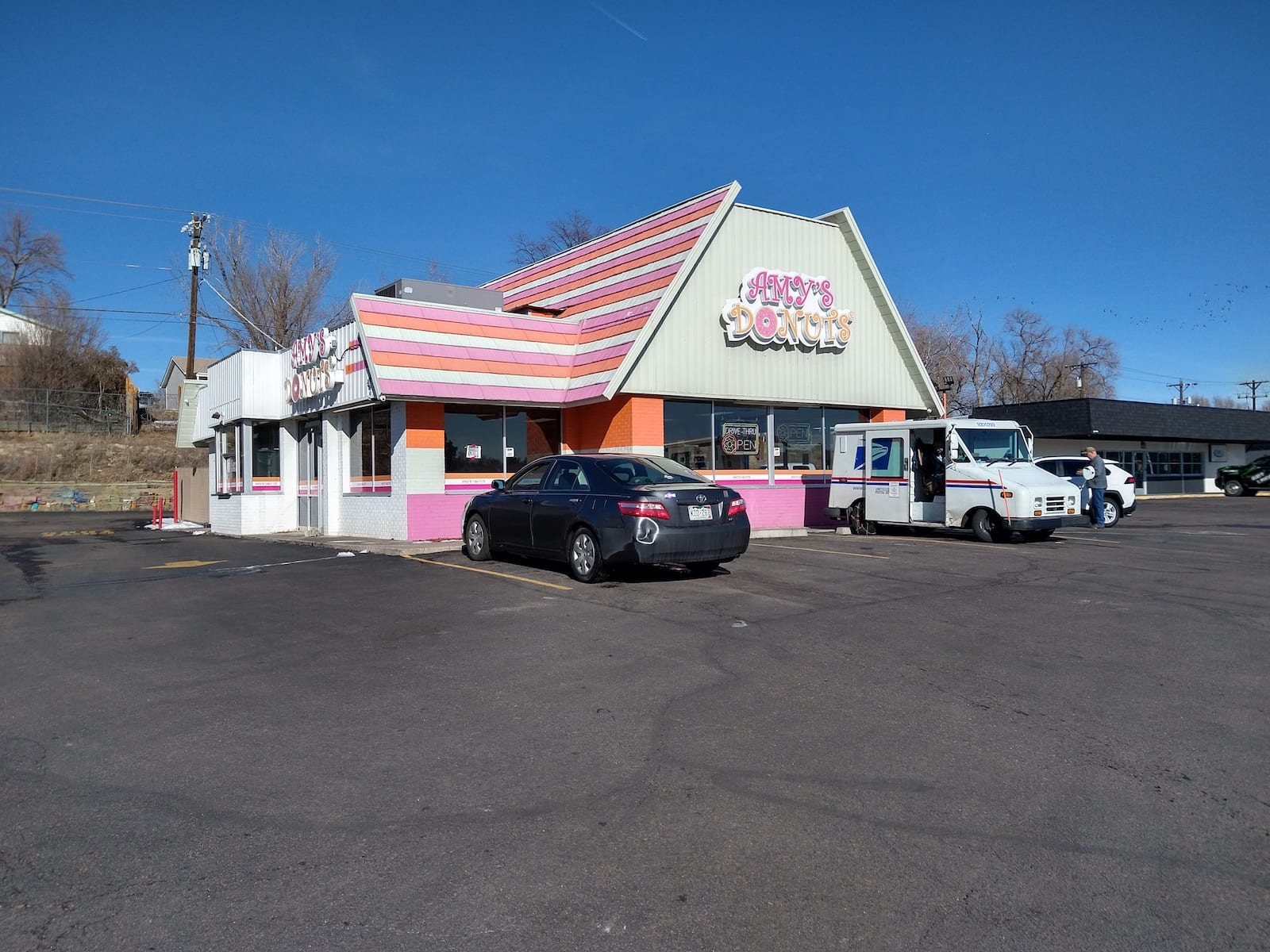 A closing time of 12 am also means that any late-night cravings you may be having can be satisfied with just a quick trip to this distinct and delicious donut spot.
2704 E Fountain Blvd, Colorado Springs | 719-632-0512 | amysdonuts.com
Boonzaaijer's Dutch Bakery
Another unique spot to indulge in your sweet tooth is at Boonzaaijer's Dutch Bakery, located on E Fillmore. This bakery was first opened in 1999 by Steven Boonzaaijer, a fourth-generation baker who had begun learning the trade from his family when he was only five years old.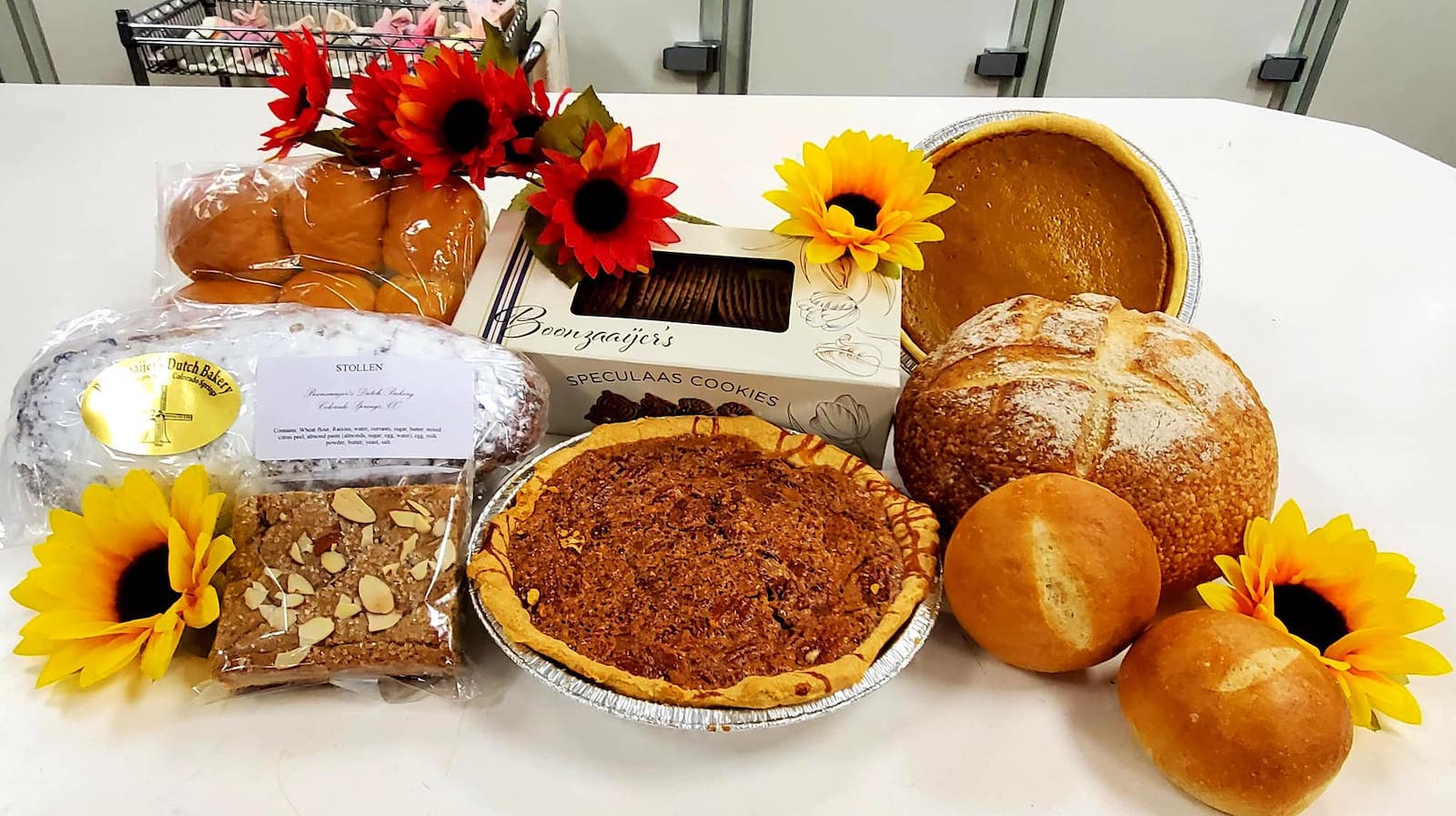 After being educated in the Netherlands on the arts of pastry, he came to work in Colorado Springs at such respected places like the Broadmoor before finally opening up his own delicious Dutch bakery.
Although the shop sells baked goods and pastry items prepared by a team of artisans, the price is right for those just stopping in for a quick treat. If you're feeling particularly indulgent, order one of their delicious coffee cakes.
610 E Fillmore St, Colorado Springs | 719-264-0177 | dutchpastry.com
Subs and Sandwiches
Sometimes a well-crafted hoagie or sandwich on the bread of your choice hits the spot. While not always considered the fanciest, there's nothing like a well-crafted sandwich.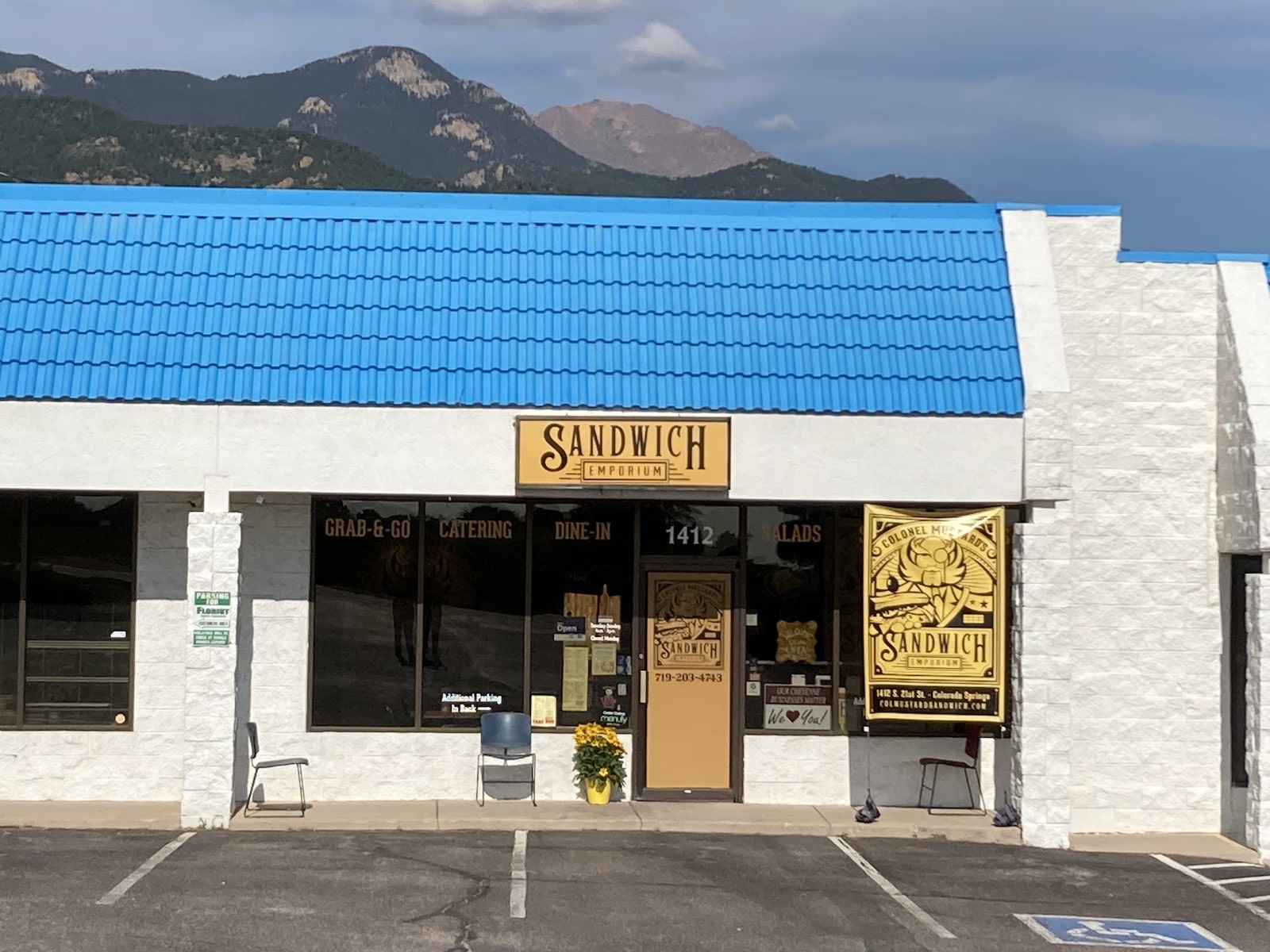 Colonel Mustard's Sandwich Emporium
Swing by this highly reviewed deli serving breakfast and lunch. Open Tuesday through Sunday, it's located on the west side of town, just south of Old Colorado City. There's plenty of seating, with additional patio seating out back boasting views of Pikes Peak.
Some of their unique items include the World's Best Wurst, Back 40 Vegan Burger, and Potato Chip Crunch. Or stick to the classic like their signature Italian sub, The Colonel. They serve some non-sandwiches too, like Lobster Mac & Cheese, Daily Soups, Baked Pretzels, and Colonel's House Salad.
1412 S 21st St, Colorado Springs | 719-203-4743 | colmustardsandwich.com
Pizza and International Eats
Hungry enough to down a whole pizza? Check out these delicious (and low-cost) options that will leave you feeling stuffed and satisfied after a good meal.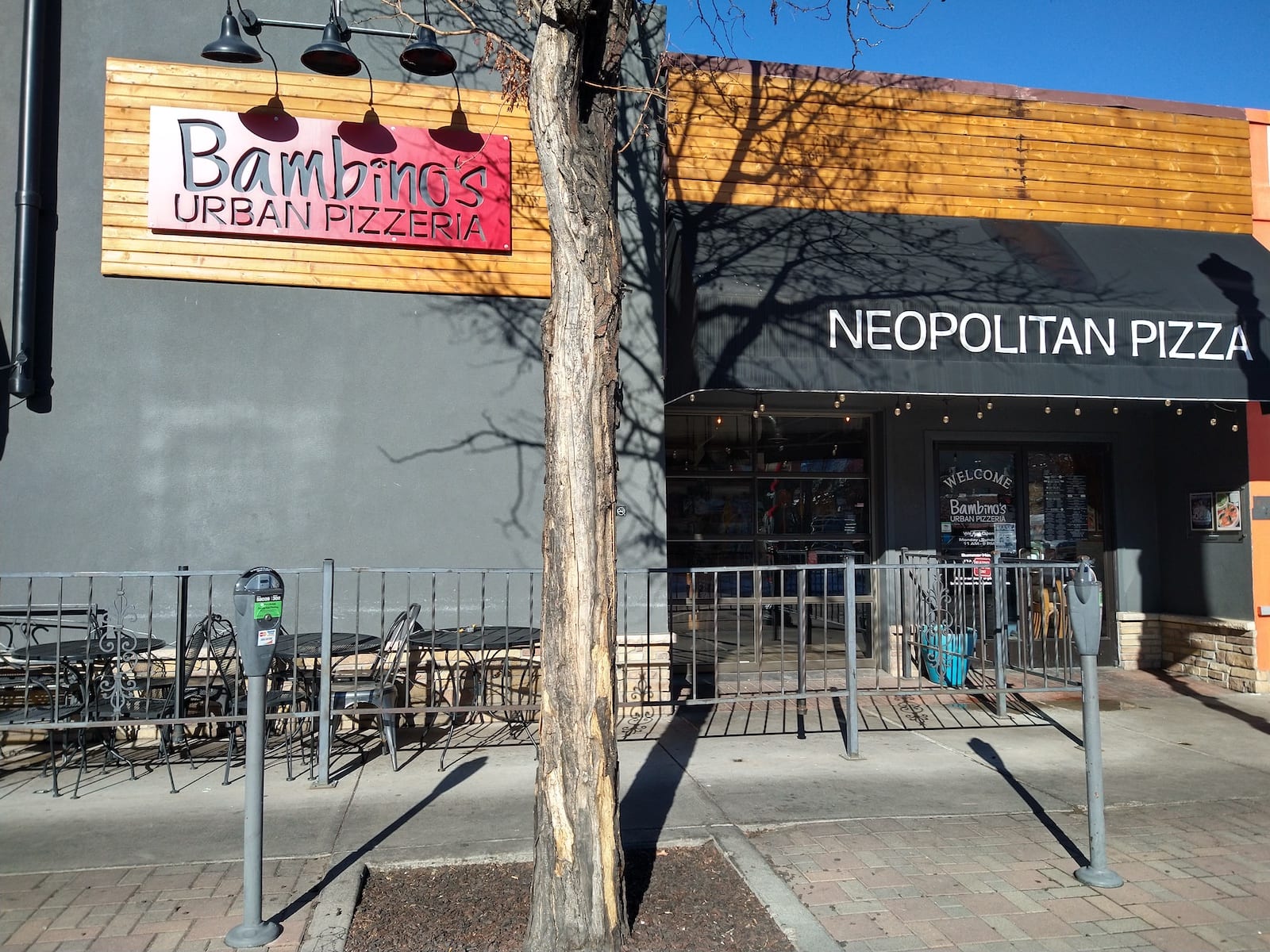 Bambino's Urban Pizzeria
Do you love building your own pizza creations? At Bambino's Pizza, the world is your oyster, with hundreds of combinations of dough, sauce, and toppings to suit just about anyone's pizza cravings. This pizza place has an open performance kitchen, allowing customers to see every step in the dough-making and pizza-preparing process.
Vegans especially will fall in love with Bambino's, as their scrumptious cashew cream pizza sauce and vegan sausage crumbles are the perfect alternatives for those looking to avoid dairy or meat. Build your own perfect Neapolitan pizza at this restaurant with unlimited toppings for a steal.
36 E Bijou St, Colorado Springs | 719-630-8121 | bambinosurbanpizzeria.com
Quijotes Mexican Grill
When you need a substantial meal but don't have a substantial budget, stop at Quijotes Mexican Grill, located off of E Bijou and Union Ave. Nearly every item on the menu of this authentic Mexican spot is under $10, so you can stuff yourself without having to worry about draining your bank account.
Pre-pandemic, it wasn't unusual for this restaurant to be packed to the brim with customers every weekend, and for good reason. It's one of the highest-rated budget restaurants in the Springs and will satisfy those looking for a decadent and cheese-filled Mexican eating experience. Be sure to order delivery or take-out from this authentic spot and keep on supporting our local businesses.
208 N Union Blvd, Colorado Springs | 719-313-9127 | facebook.com/…
Monse's Pupuseria
While no one will claim that Colorado Springs is a famous spot for all varieties of international cuisine, places like Monse's Pupuseria will surely impress anyone on the hunt for authentic Salvadorian. Pupusas are tortilla pockets that are filled with meat, cheese, and other delicious ingredients.
Monse's Pupuseria is one of the only locations in town where you can find this delicious and 100% gluten-free cuisine. Perhaps the priciest restaurant on our list, the rarity of trying this cuisine more than makes up for the dollar difference. With a gorgeous outdoor patio for a safe dining experience, Monse's is a must-stop for anyone who has a hankering for portable international eats.
115 S 25th St, Colorado Springs | 719-473-0877 | monsestasteofelsalvador.online
Taste of Jerusalem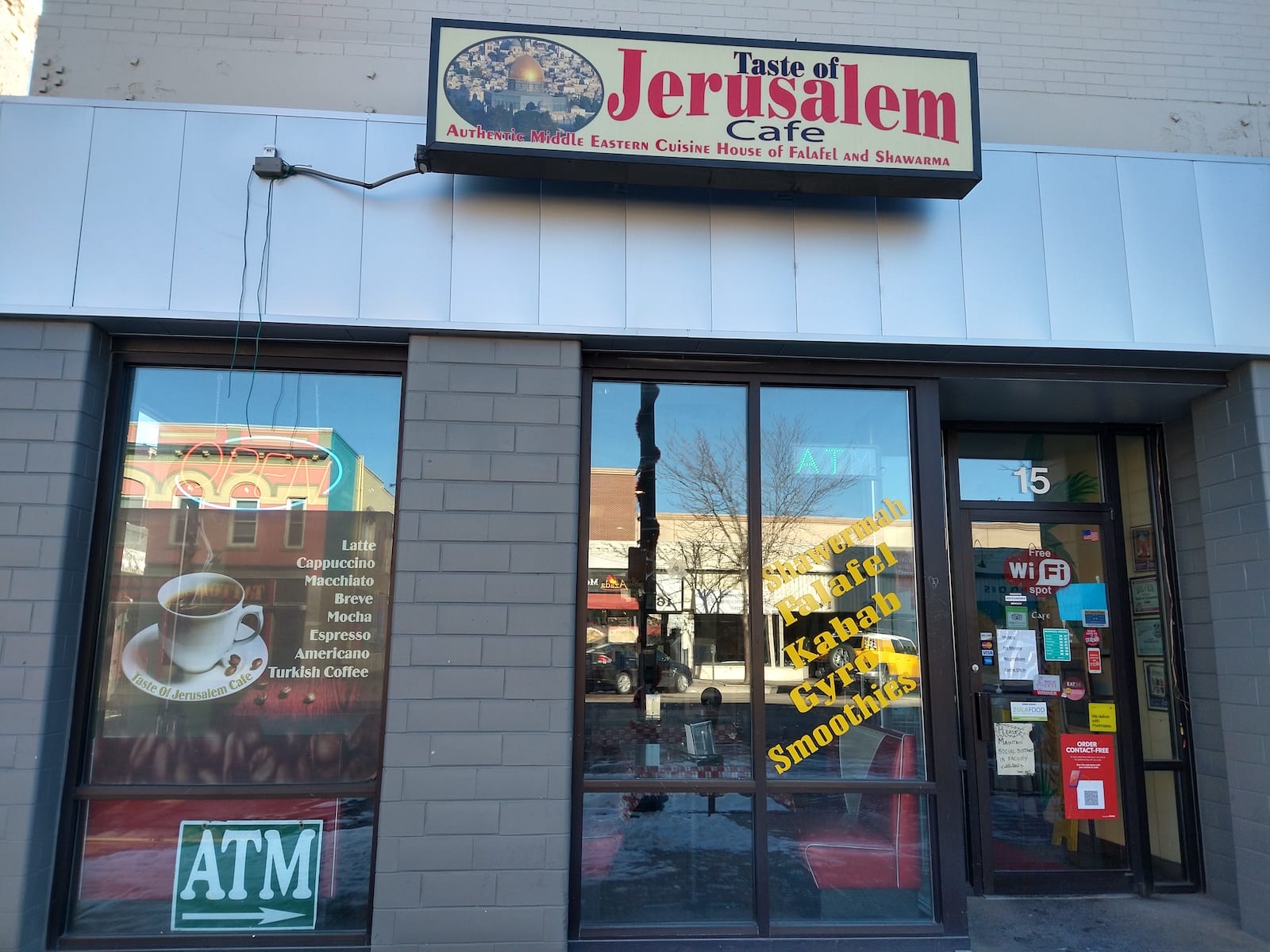 One thing that may surprise non-residents of Colorado Springs is the abundance of Mediterranean cuisine that is available in this gorgeous mountain town. If you're a fan of traditional Middle Eastern fares like creamy hummus, flaky baklava, and crispy falafel, Taste of Jerusalem is your best bet to get these items on a budget while downtown.
While some of their menu items, like their platters and plates, can be a bit on the expensive side, it's easy to keep costs down by ordering a variety of side dishes for you and your family to share.
One particular standout on the menu is their crispurra fries, crispy fries seasoned with their special blend of Middle Eastern spice that even the pickiest of eaters will fall in love with. Taste of Jerusalem is also a local favorite of vegetarians and vegans as well as those observing halal eating practices due to their array of side dishes and entree options for people observing these dietary restrictions.
15 E Bijou St, Colorado Springs | 719-477-1777 | tasteofjerusalemcafe.com
A Coffee Break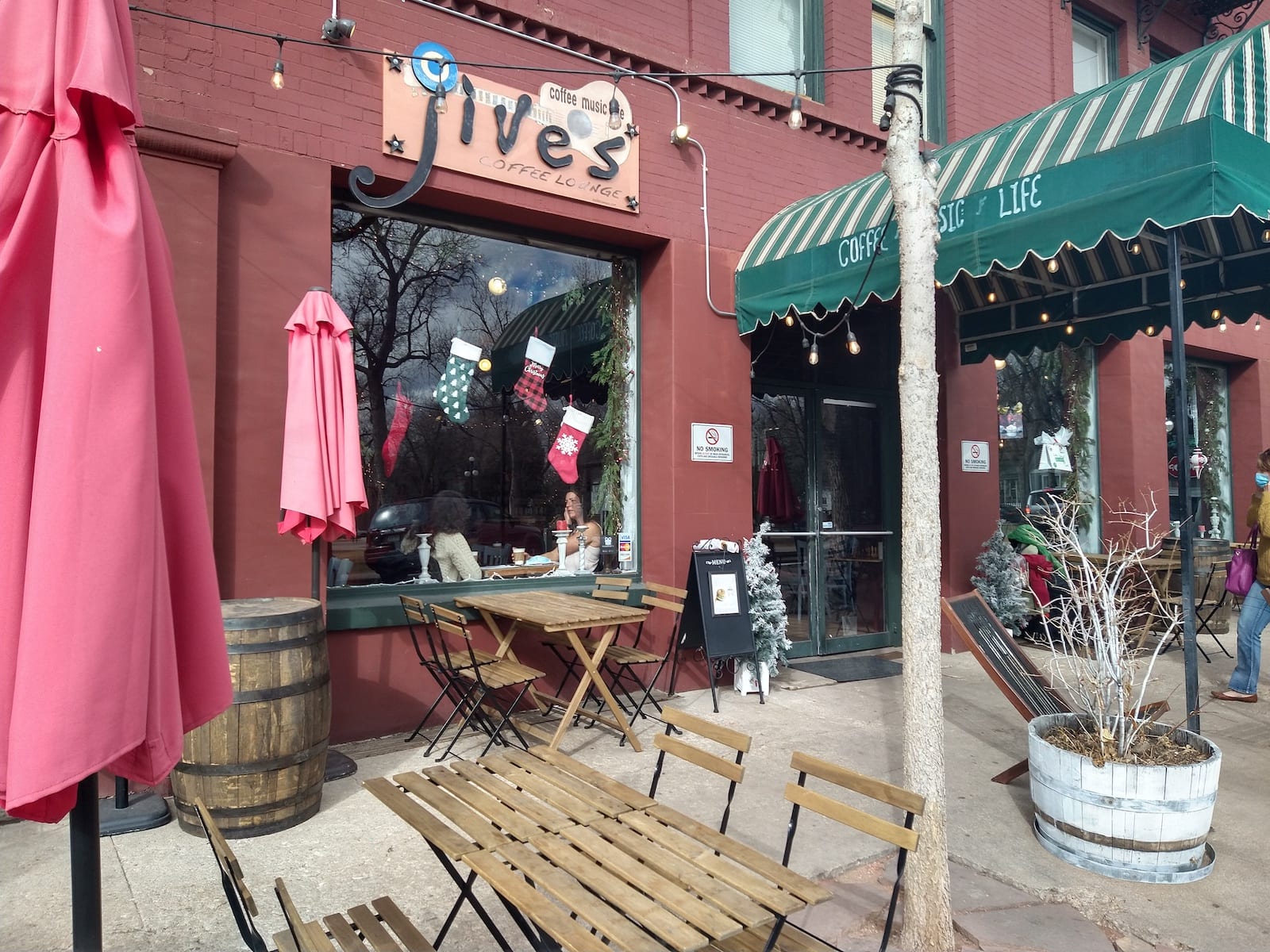 If you're just on the hunt for a warm drink on a cold day, check out these great coffee shops in Colorado Springs. At most, you can have a great drink and a snack for under $10.
Jives Coffee Lounge
Flavored coffee creations are all the rage thanks to the ubiquitous popularity of Starbucks, but those looking for a local coffee shop to support will enjoy the myriad of hot and cold drinks available at Jives Coffee Lounge. Located conveniently in the midst of Old Colorado City, adjacent to the Michael Garman Museum, Jive's is a popular place for people who want a more traditional coffee shop feel.
They host open mic nights, folk jams, and other weekly events to bring the arts and writing communities together and their coffee creations are delicious as well. When you're craving a warm drink while strolling in Old Colorado City, this is the place to go.
16 Colbrunn Ct, Colorado Springs | 719-725-4193 | jivescoffeelounge.com
The Perk Downtown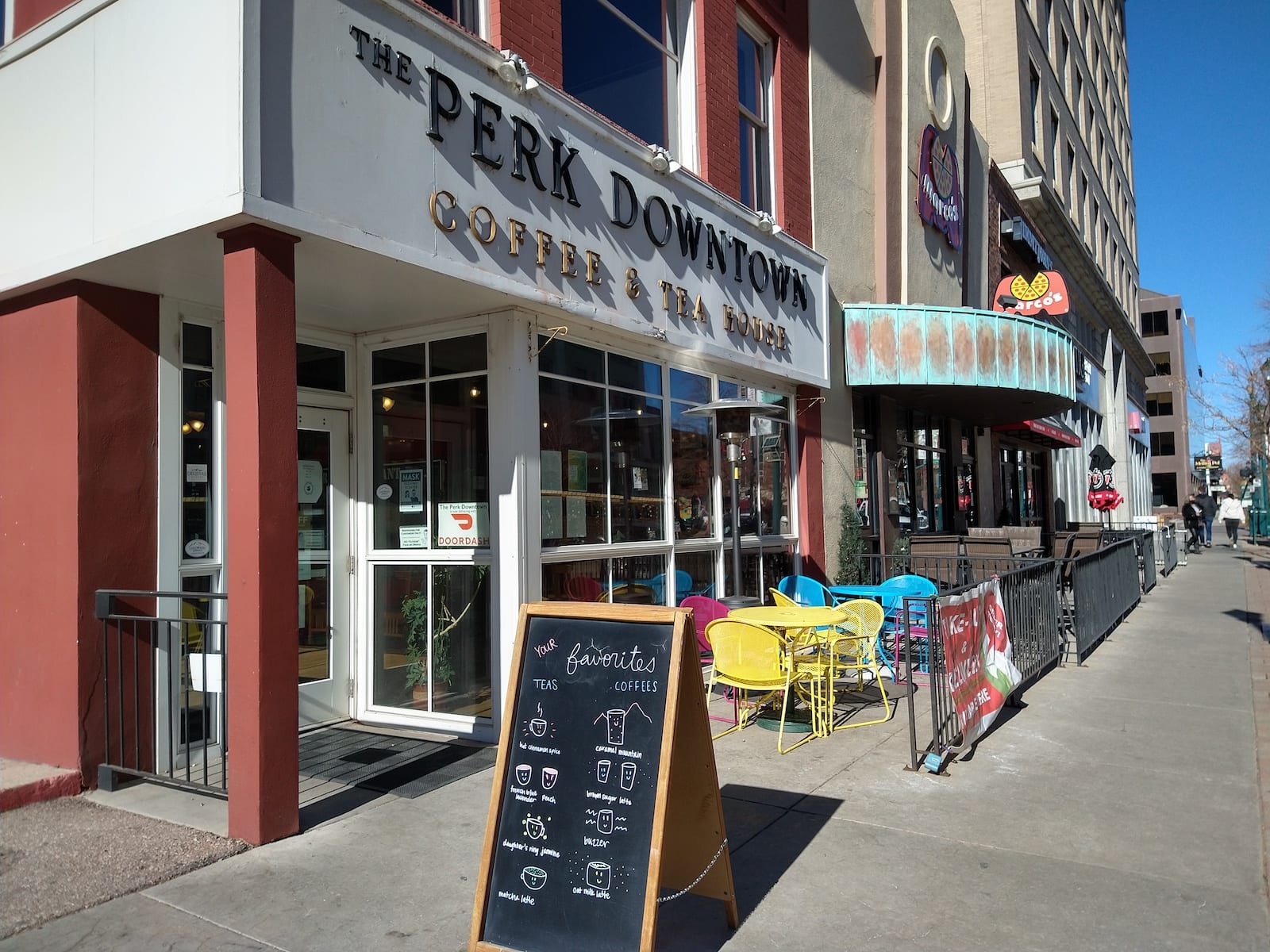 As one of the oldest coffee shops located in Colorado Springs, The Perk is in the prime spot for coffee addicts who are exploring the streets of downtown.
The Perk has a large variety of great-tasting coffee drinks, teas, and sandwich options, as well as a fun mural on the side of the building to take a shot for social media. There's even a small outdoor dining area for customers to sit back, relax, and enjoy the sunshine while downing their favorite beverages.
14 S Tejon St, Colorado Springs | 719-635-1600 | theperkdowntown.com
More Dining Out in Colorado Springs
Because it covers such a large area of land, there is plenty of room in Colorado Springs for more and more restaurants to open every day, providing new eating options for those who live in El Paso County. If budget is of no concern to you, there are quite a few gourmet restaurants in town that are perfect for your next romantic anniversary or celebratory dinner.
Or if you and your family are looking for other ways to keep costs down, there are tons of free activities to help you make the most of your trip to The Springs without breaking the bank.