At the edge of the sublime Rio Grande National Forest in southern Colorado sits a grouping of steep rock walls that thousands of expert climbers travel far and wide to challenge every year. Penitente Canyon is a remote area of the Colorado wilderness with an international appeal, found north of Del Norte in the western San Luis Valley.
The 300 rock climbing routes make the area a destination for climbers from around the world. Penitente Canyon is located near the boundaries of the Rio Grande NF. It is monitored and maintained by the Bureau of Land Management, a federal agency, as a Special Recreation Management Area.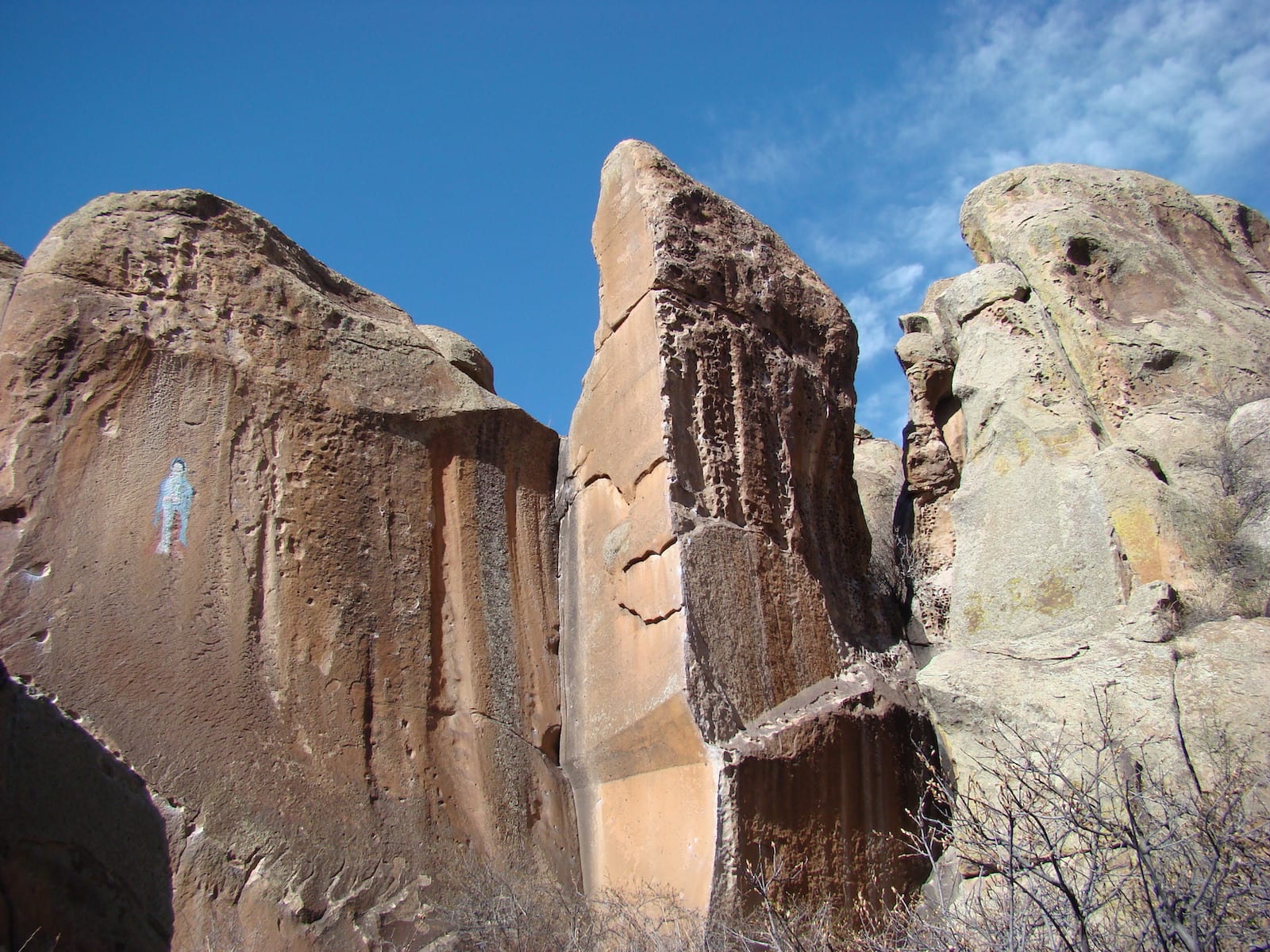 At first glance, Penitente Canyon's 100-ft rock faces and labyrinthine hiking trails make the area appear like a stellar spot for outdoor recreating and not much else. But a strange painting affixed to a prominent rock alludes to a deeper story.
From a distance, it can easily be mistaken for a curiously placed blue streak of paint, but a closer look reveals an image that was intended to pay homage to the Virgin of Guadalupe. The act of painting it on a surface so steep and inaccessible indicates a stunning dedication and public brazenness on behalf of whoever was responsible.
History
According to local lore, three men from a religious group by the name of Los Hermanos Penitente (the Penitente Brotherhood) painted the Madonna in the 1980s using an old car tire, rope, and house paint. Above the image reads the text, "Consuelo y Espíritu," which translates in English to "Comfort and Courage." Painted below the mural are three names so faint they're barely legible: Victor, Abel, and Victor – the original artists.
At some point in time for an unknown reason, someone defaced the mural with bullets that were aimed at the Virgin of Guadalupe's head. Climbers eventually filled in the bullet holes, but weren't able to fully restore the painting.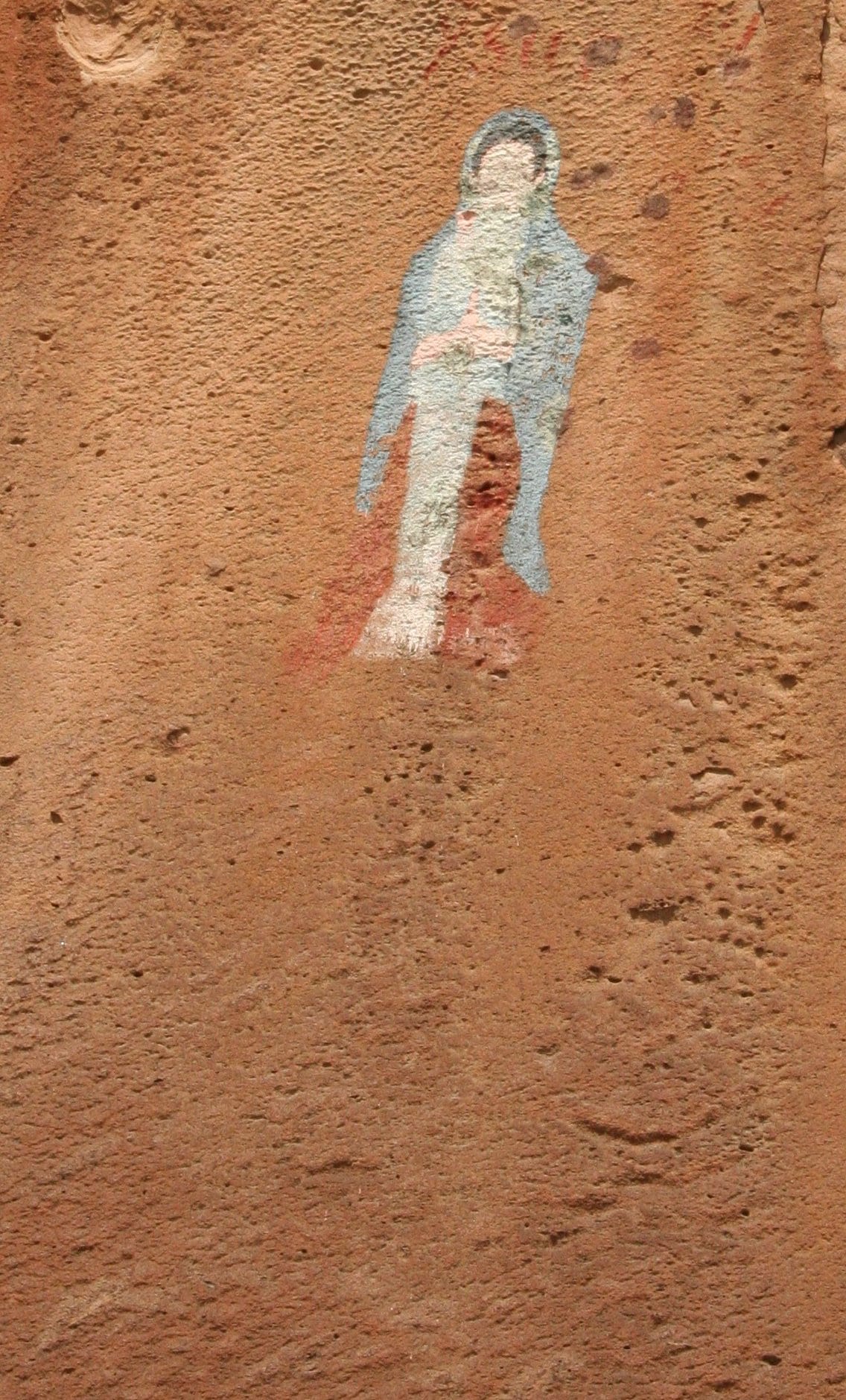 A Catholic sect known for self-flagellation and cryptic ceremonial practices, the Penitentes weren't accepted by conventional religious society in the 1800s and were forced to worship in seclusion in remote places like Penitente Canyon. Some believe that when the nearby town of La Garita lost half of its population to the Spanish Flu of 1918, the only people brave enough to bury the dead were the misunderstood souls living in the canyon.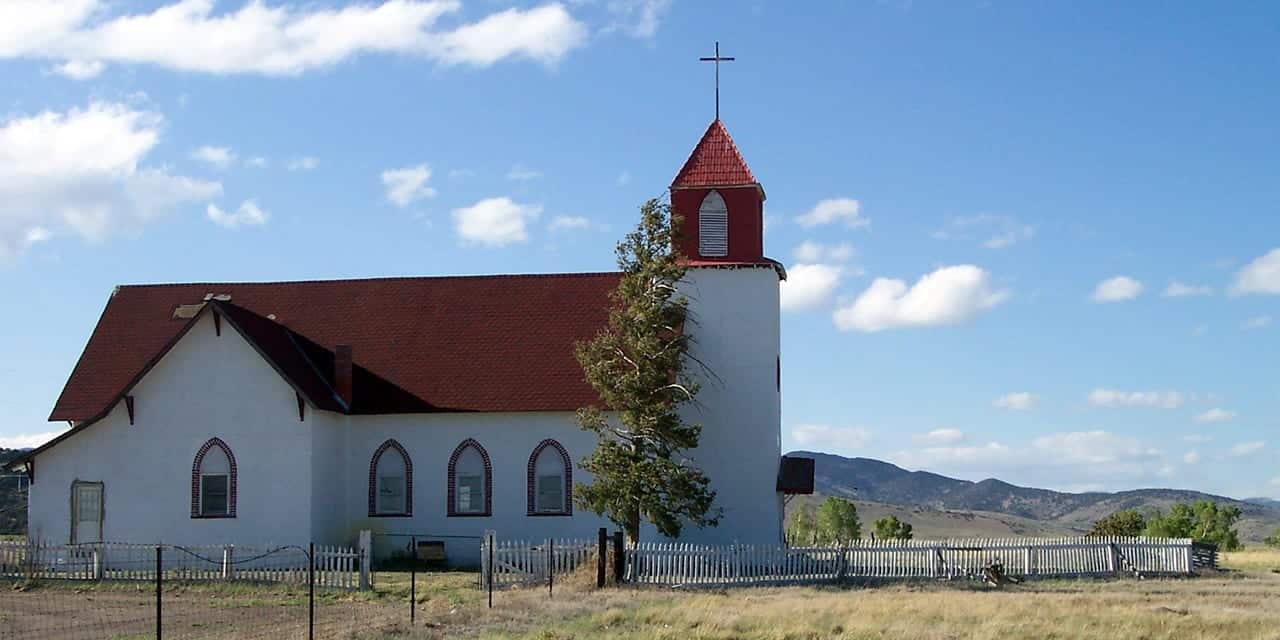 Today, the faded mural, abandoned maradas (informal adobe churches), and a few other relics of Los Hermanos Penitente are some of the only remaining reminders that they once lived and worshiped in the area. Penitente Canyon's stunning natural beauty inspired religious awe and reverence in the worshipers it's named after.
But most modern visitors from around the world travel there to explore the canyon's over 300 sport climbing routes that constitute some of the most premiere climbing terrain Colorado has to offer. In 2016, Climbing.com listed two Penitente routes in their list of the 100 best sport climbing routes in America. One is cheekily named "Not My Cross To Bear."
The area also offers camping, mountain biking, horseback riding, and plenty of wildlife viewing. Being that Pueblo, the nearest big city, is only 3 hours away, it's safe to say you can probably expect to share the canyon with small crowds of hardcore outdoor enthusiasts. Some even who might have gone quite a bit out of their way to be there and pay their respect to the canyon's unique nature.
For those who live for rock climbing, natural scenic beauty, and odd history, Penitente Canyon embodies the best of all three.
Activities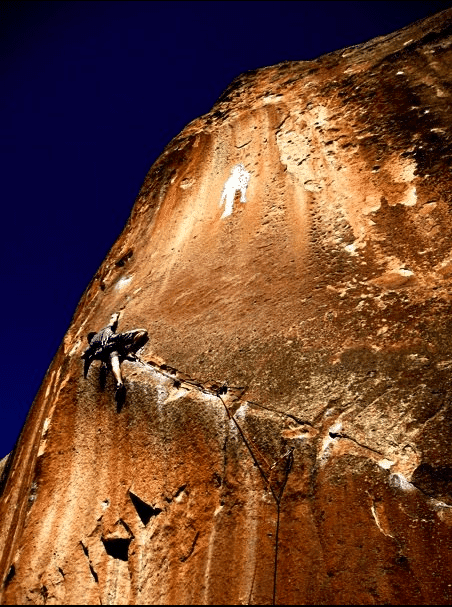 Biking/Hiking/Horseback Riding – The area is highly regarded for climbing, but hikers, mountain bikers and horseback riders have abundant opportunities to use the intertwined network of trails that flow throughout the area.
A pair of trails, Mountain Bike Loop A and Loop B are set aside just for bikers.
Penitente Canyon, Witches Canyon Trail, Rock Garden Trail, and Wagon Tracks Trail are all excellent options to view wildlife, scenic vistas and the unique flora of the Colorado Mountains.
A connector trail creates a shortcut between Mountain Bike Loop and the change from Penitente Canyon to Rock Garden Trail.
Camping – The Penitente Canyon Campground offers nine walk-in tent sites, four drive-in sites for campers, a pair of group sites and five toilets. Fees are $11 per night with a limit of two vehicles, one trailer and no more than six people in two tents. Group sites are $20 per night with a maximum of four vehicles, one trailer and 15 people in five tents.
Horses are not allowed in the campground. Dogs are welcome but must be kept on a leash with their owners nearby.
Rock Climbing – The south-facing routes offer the unique experience of year-round climbing. Even in the most frigid winter months, the south face stays free of snow allowing climbers to flock here even in December and January.
Climbers should not disturb nesting birds on the cliff face. Awareness of rattlesnakes and black bears is a must.
Penitente Canyon is a relatively late arrival on the climbing scene, discovered by rock climbers around 1985. It is part of the La Garita Caldera, a volcanic eruption of earth-shaking proportions that occurred in the early Oligocene.
Getting There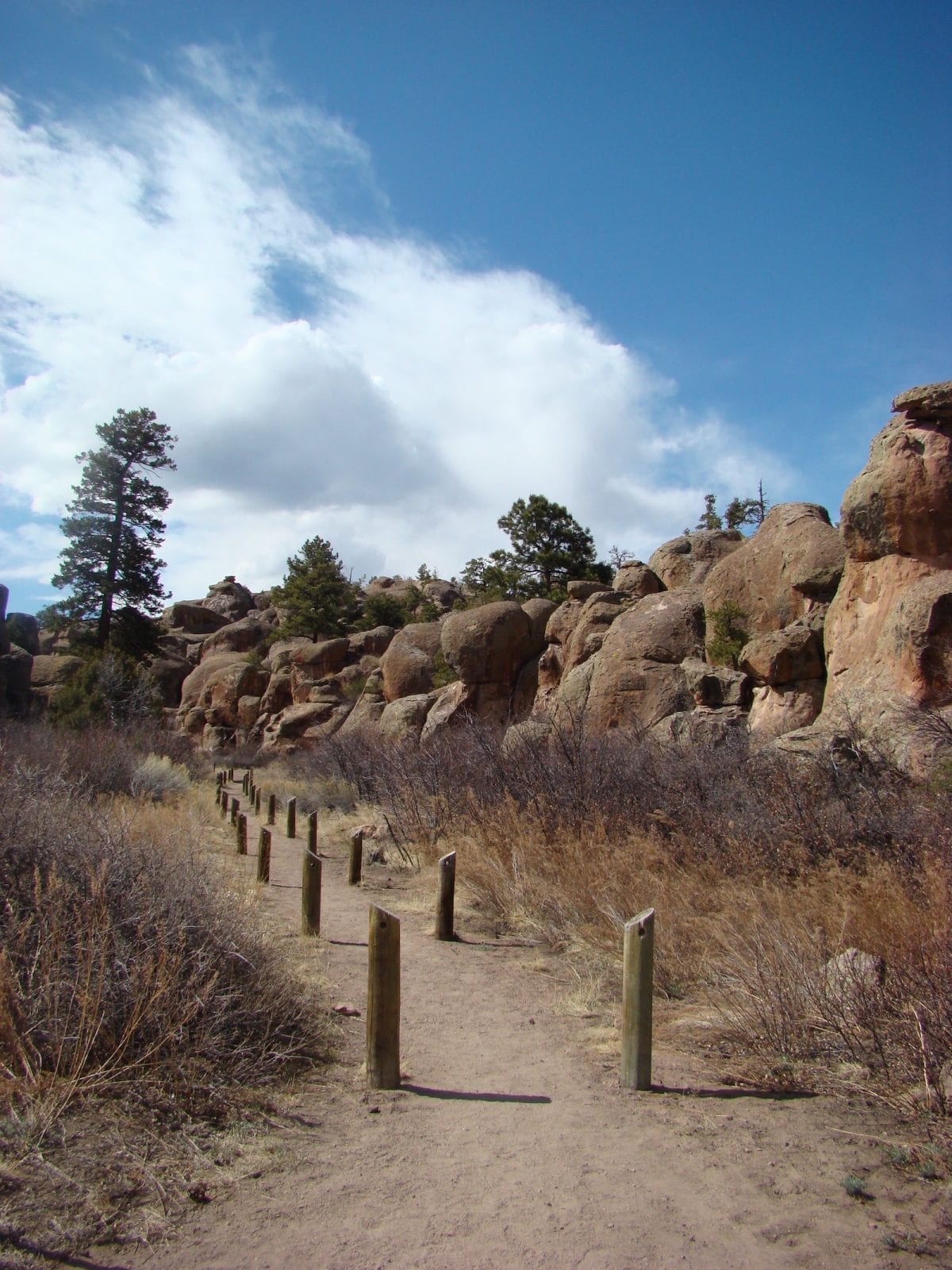 The two main routes to Penitente Canyon both join at Del Norte.
Coming from Walsenburg to Del Norte – U.S. Highway 160 to Del Norte. From Del Norte take Highway 112 to County Road 38A, go north for eight miles and you'll be at Penitente Canyon.
Coming from Denver/Highway 285 north to Del Norte – Take U.S. Highway 285 south toward Del Norte. Nearing Del Norte before junction at Highway 112, take a right onto to County Road G. Drive six miles to La Garita. Take County Road 38A and Penitente Canyon will be about a mile on your right.
Details
Address: Penitente Canyon, Colorado 81082 (near Del Norte)
Season: Year round
Website: blm.gov/visit/search-details/1697/2
Latest in Penitente Canyon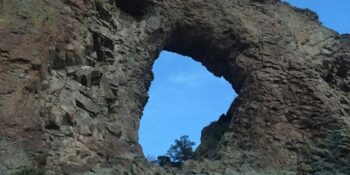 Seemingly, Colorado's got a breathtaking natural landmark around every turn in the Rockies. However, some are…