If you're looking for a truly magical winter experience in Colorado, nothing beats riding a train through one of the state's gorgeous snowy landscapes. These are some of the Rockies' best train rides to take during the wintertime.
Colorado's mountains are gorgeous every time of year, but they're especially beautiful when they glisten after a fresh snowfall. It's easy to forget that a relaxing train ride through the mountains wasn't always so tranquil. Trains were once a lifeline to mountain communities that needed labor, supplies, and communication during the harsh winter months.
From an exciting route that transports you from Downtown Denver to a snowy paradise to iconic rail trips scattered throughout the mountainous regions in the state, these are some of Colorado's most charming winter train rides:
Georgetown Loop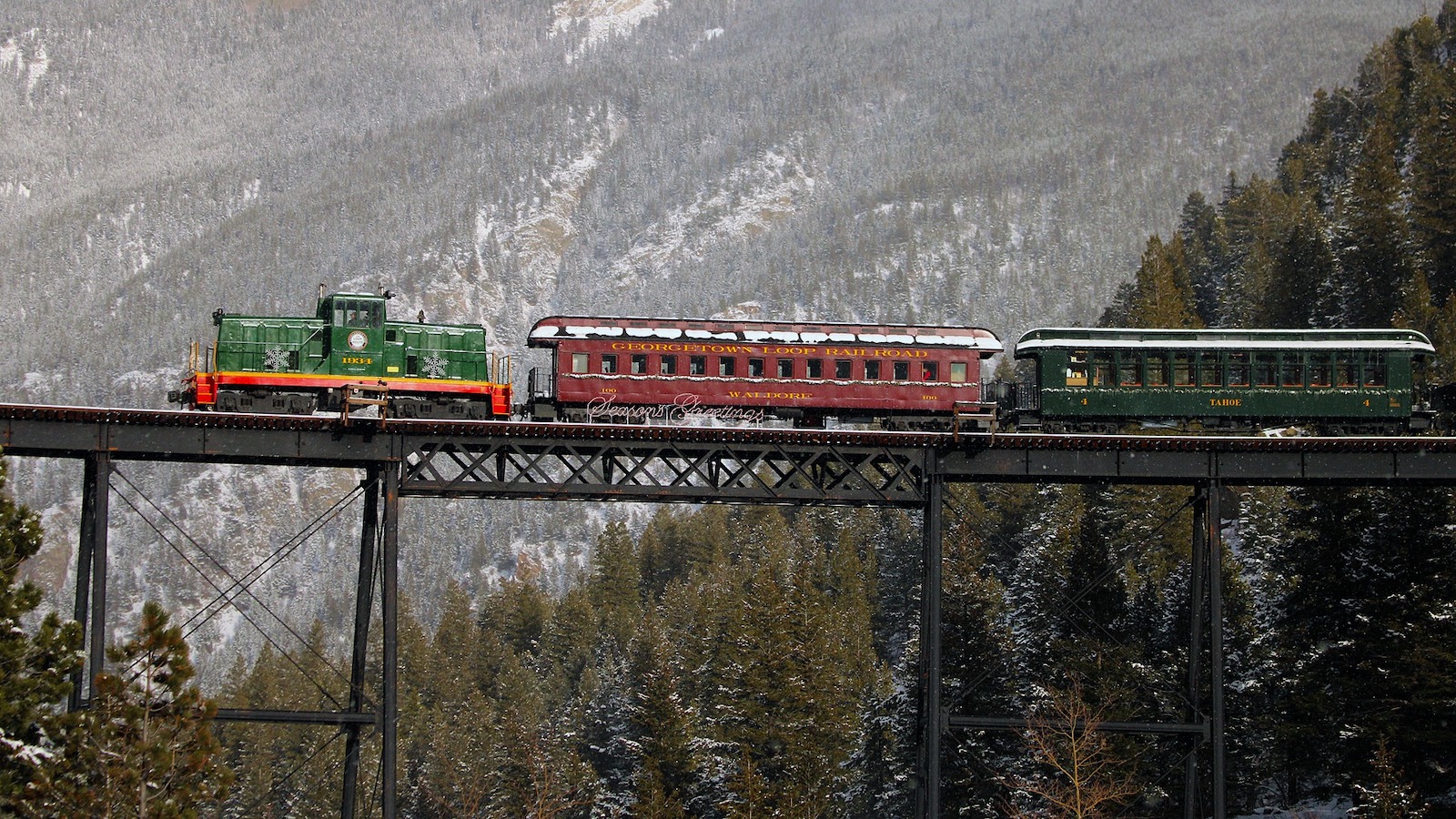 This thrilling narrow gauge train ride is just one activity of many that the historical mining town of Georgetown has to offer. Featuring one of Colorado's most beautiful and famous trains, this rail adventure takes you over the Devil's Gate Bridge and through some truly gorgeous mountain landscapes.
Showcasing a fairy tale alpine forest lit up with over 300,000 lights, a visit with Santa, and an exciting Victorian Holiday Celebration, the Georgetown Loop's winter season runs from November through January 2nd. Located just off of I-70 and 45 miles away from Denver, this railroad offers one of the more accessible train ride experiences for those living on the Front Range Urban Corridor.
Sold Out 2022 | Colorado Railroad Museum's Polar Express
Running from mid-November through just before Christmas, the Colorado Railroad Museum's Polar Express is a beloved annual train ride that local families look forward to every year. Featuring carols, dancers, hot chocolate, and a faithful reenactment of the Polar Express, this experience builds in excitement and ends with a visit from Santa.
Tickets to this event are known to go fast, so make sure to get yours early if you plan on attending.
Amtrak California Zephyr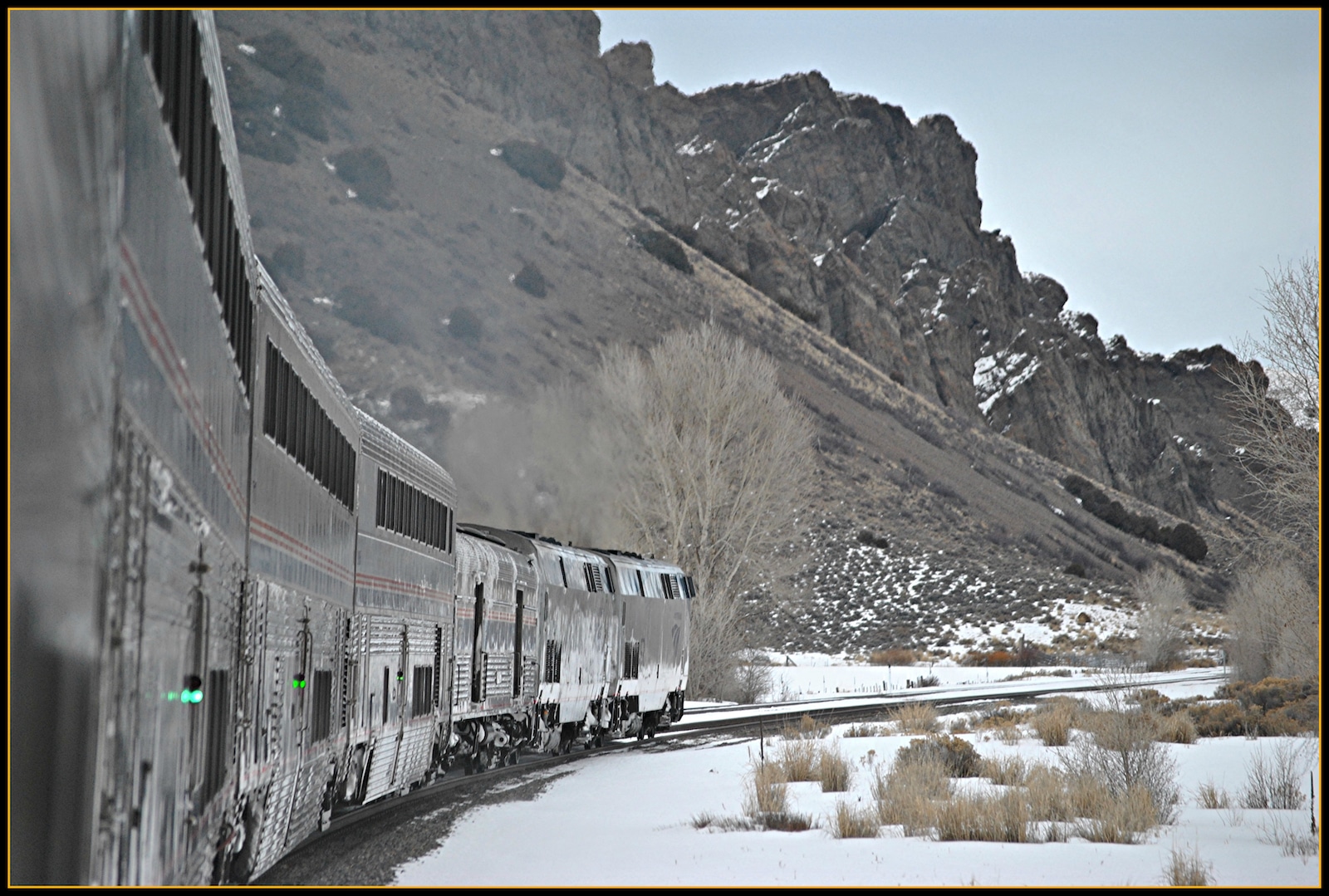 Widely thought of as one of the beautiful train routes in the nation, the California Zephyr's trek from Chicago to San Fransisco runs through the heart of the Colorado Rocky Mountains, and they're truly a sight to behold in the snow. But to enjoy this winter train experience, you don't have to take the whole trip.
Hopping on the Amtrak in Denver at Union Station and ending your ride at Glenwood Springs or Grand Junction and taking another train back is definitely an option. This probably isn't the winter train ride for you if you're looking for a historic experience (this is a modern train), but if beautiful mountain scenery is all your after, this one offers one of the most rewarding views in the state, big windows, and comfortable seats.
Amtrak's Winter Express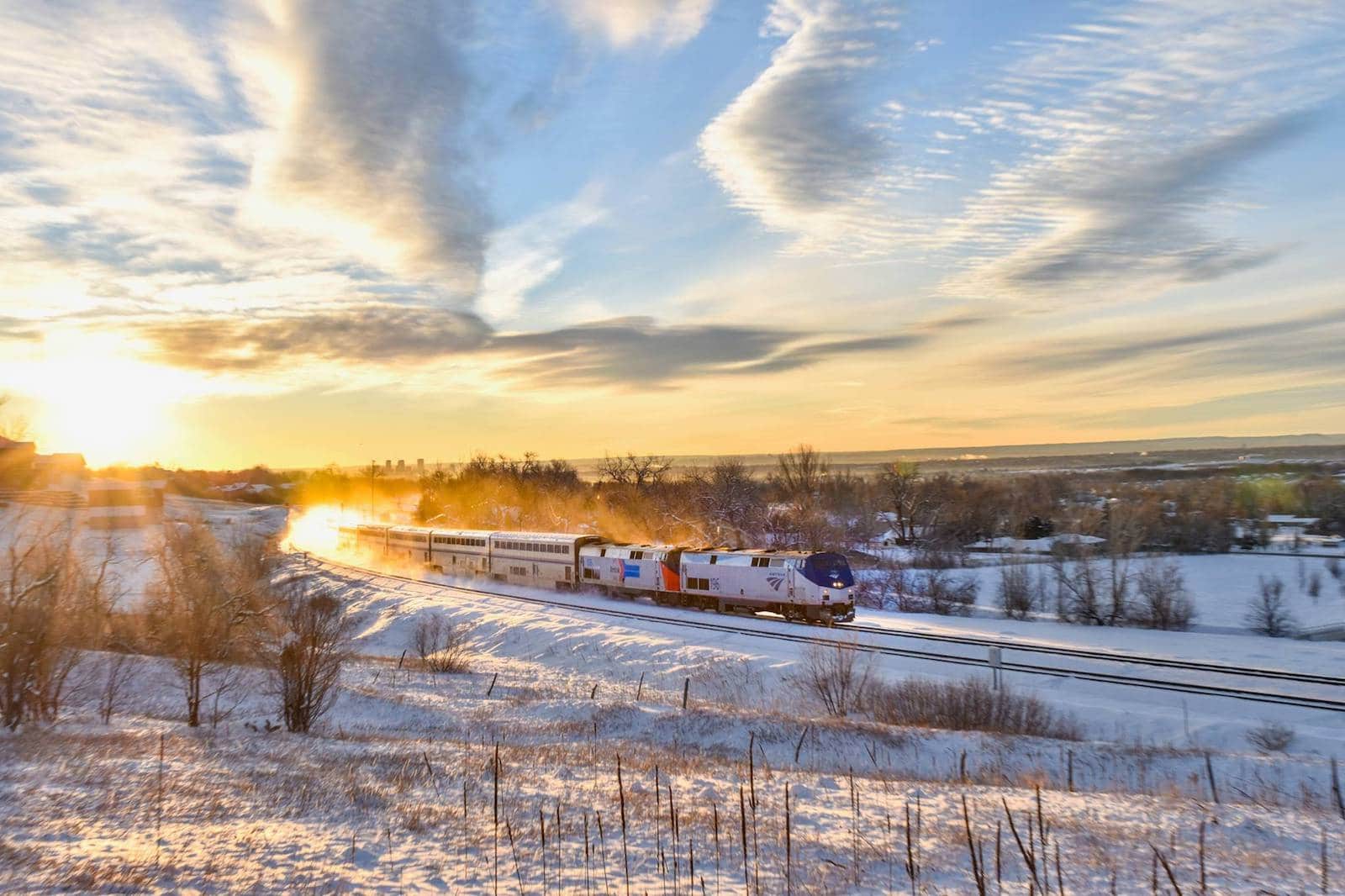 Easily the most scenic way to get from Denver to Winter Park, Amtrak's Winter Express train usually runs after the holidays through early April. With low fares and lots of stellar views of snow-covered peaks and evergreen forests, this winter train ride experience begins at Denver's Union Station, winds through the mountains and over Berthoud Pass, and ends at the Winter Park Resort.
It's a beautiful way to start your ski trip or a scenic winter excursion to the mountains. This course follows the aforementioned California Zephyr route but makes a special stop early in Winter Park, delivering snowbound adventure seekers to Grand County. If you take the standard California Zephyr train you can depart further north in the county at Granby.
Royal Gorge Route Railroad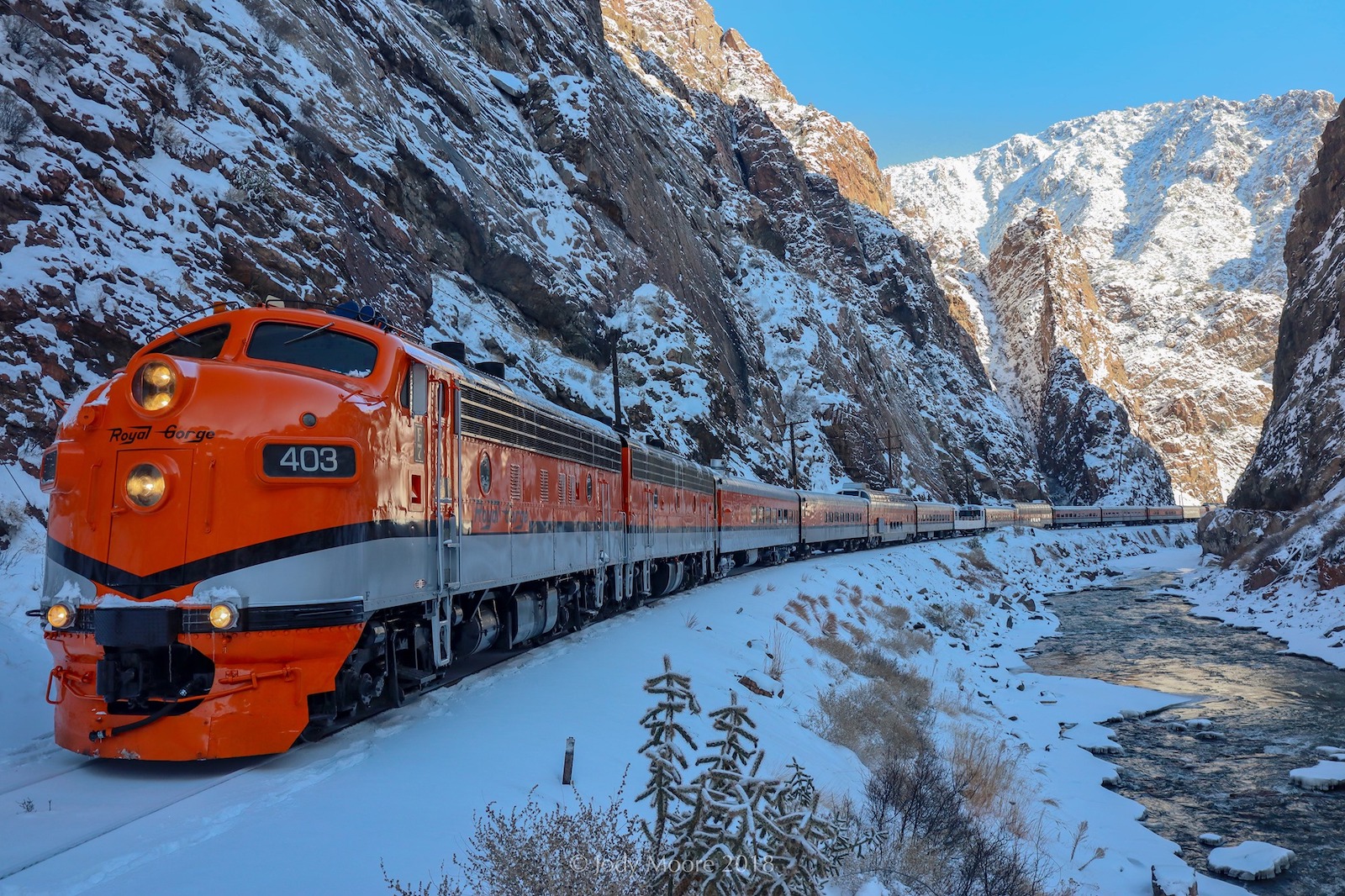 Located in the mountains of south-central Colorado, this thrilling train offers daily trips throughout the winter months as well as three special events throughout the winter: The Santa Express Train, New Year's Eve Train, and Valentine's Day Train. Something special that sets this train apart is its excellent dining service, which is featured during regular trips through the scenic Royal Gorge as well as special winter events.
The Santa Express Train features holiday decor, cocoa and cookies, and a visit with Santa, of course. The New Year's Eve train service offers special prix fixe, three-course dining options, a fully stocked bar, and a glass-domed rail car to ring the new year in. The Valentine's Day Weekend train services feature similar dining and viewing perks but over multiple days.
Durango & Silverton Narrow Gauge Railroad & Museum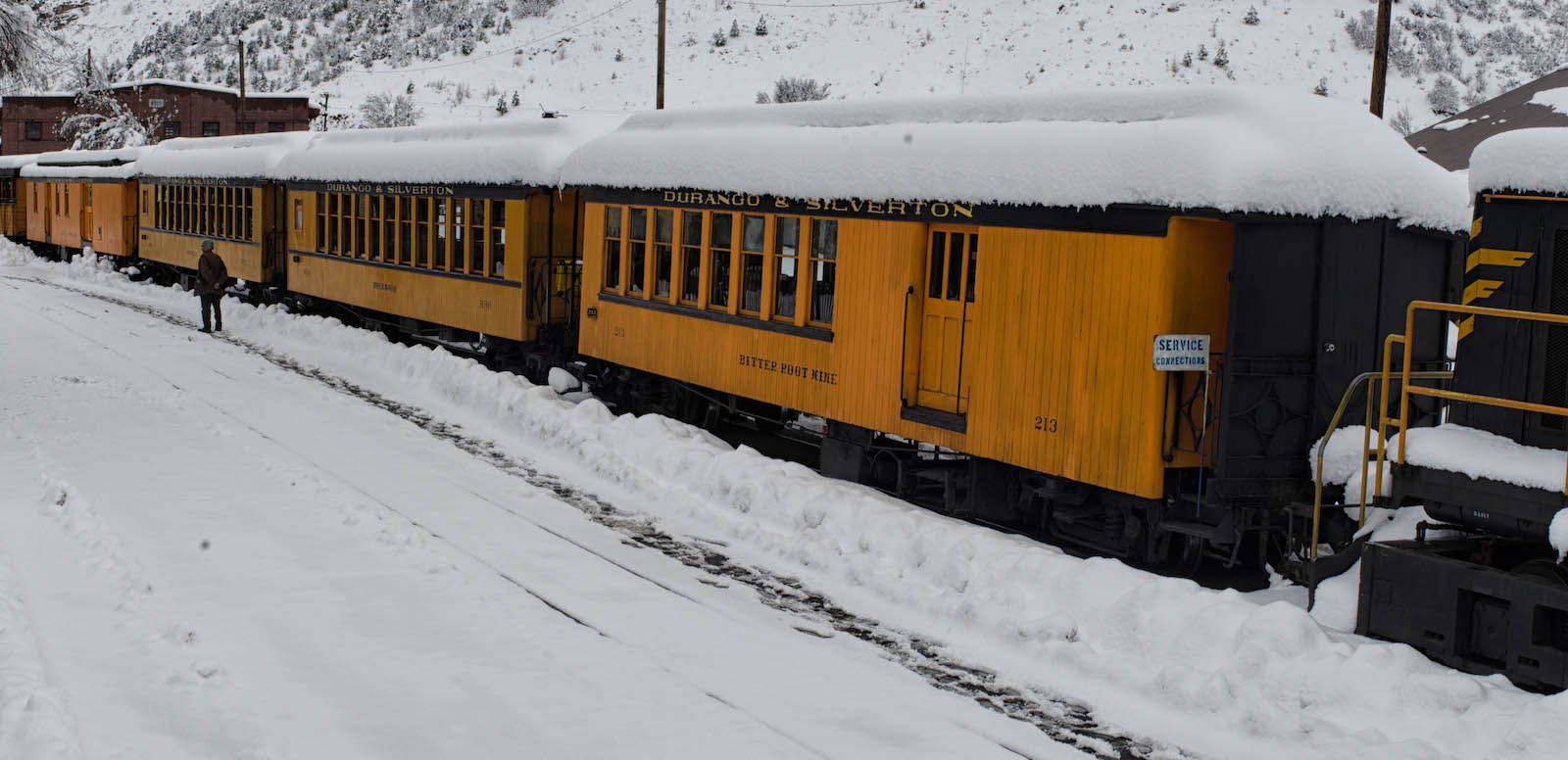 This train ride was voted #1 Best Scenic Train by the USA Today Reader's Choice Awards and is a National Historic Landmark. You'll explore gorgeous mountain canyons and the pristine beauty of the San Juan National Forest on this southern Colorado train that stretches from Durango to Silverton, and the train runs all through the winter and offers special seasonal events.
Inspired by the book and film, the Polar Express Train Ride runs from late November through New Year's Day and features a festive light show, hot chocolate, a special book reading from the train conductor, and a chance to hang out with Santa.
During the annual Romance on the Rails Valentine's Day event, you and someone special will snuggle up together on this classic train as you explore some truly remarkable scenery.  A musician strolls through the cars to serenade you.
The Durango & Silverton Narrow Gauge Railroad & Museum also offers a special winter photography event that gives photographers the chance to capture this iconic and living piece of Colorado history up close and in action.
Leadville Colorado & Southern Railroad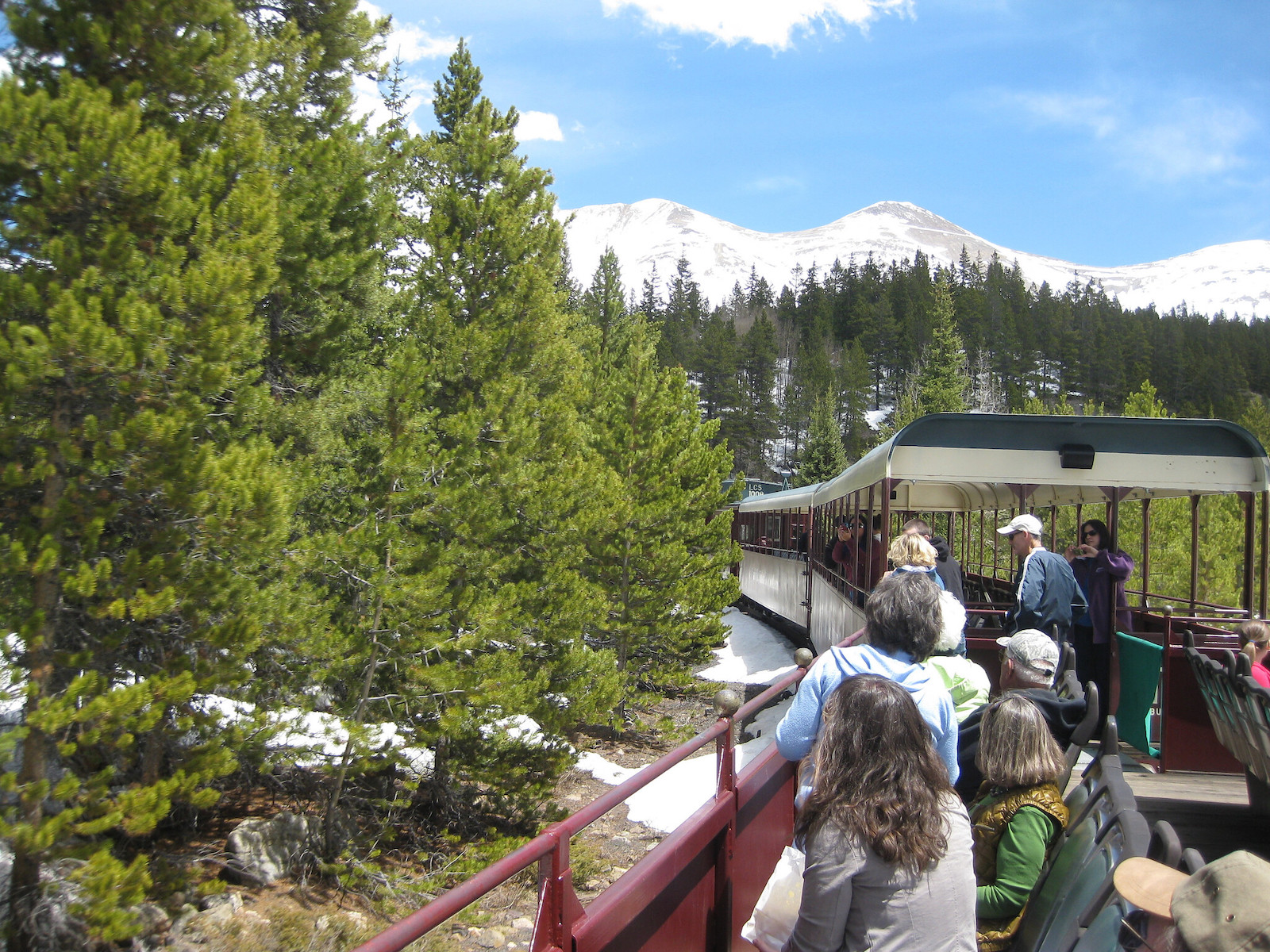 This train is gorgeous any time of the year, but it's truly special when it's decked to the nines with lights as it treks through snowy forests, canyons, and mountains. The Holiday Express train event runs from late November through mid-January and focuses on the gorgeous winter scenery of the majestic Arkansas River Valley.
The entire trip takes about two and a half hours, and snacks and beverages are available to enjoy while you take in the sights from a seat on one of the train's heated cars.
The Broadmoor Manitou and Pikes Peak Cog Railway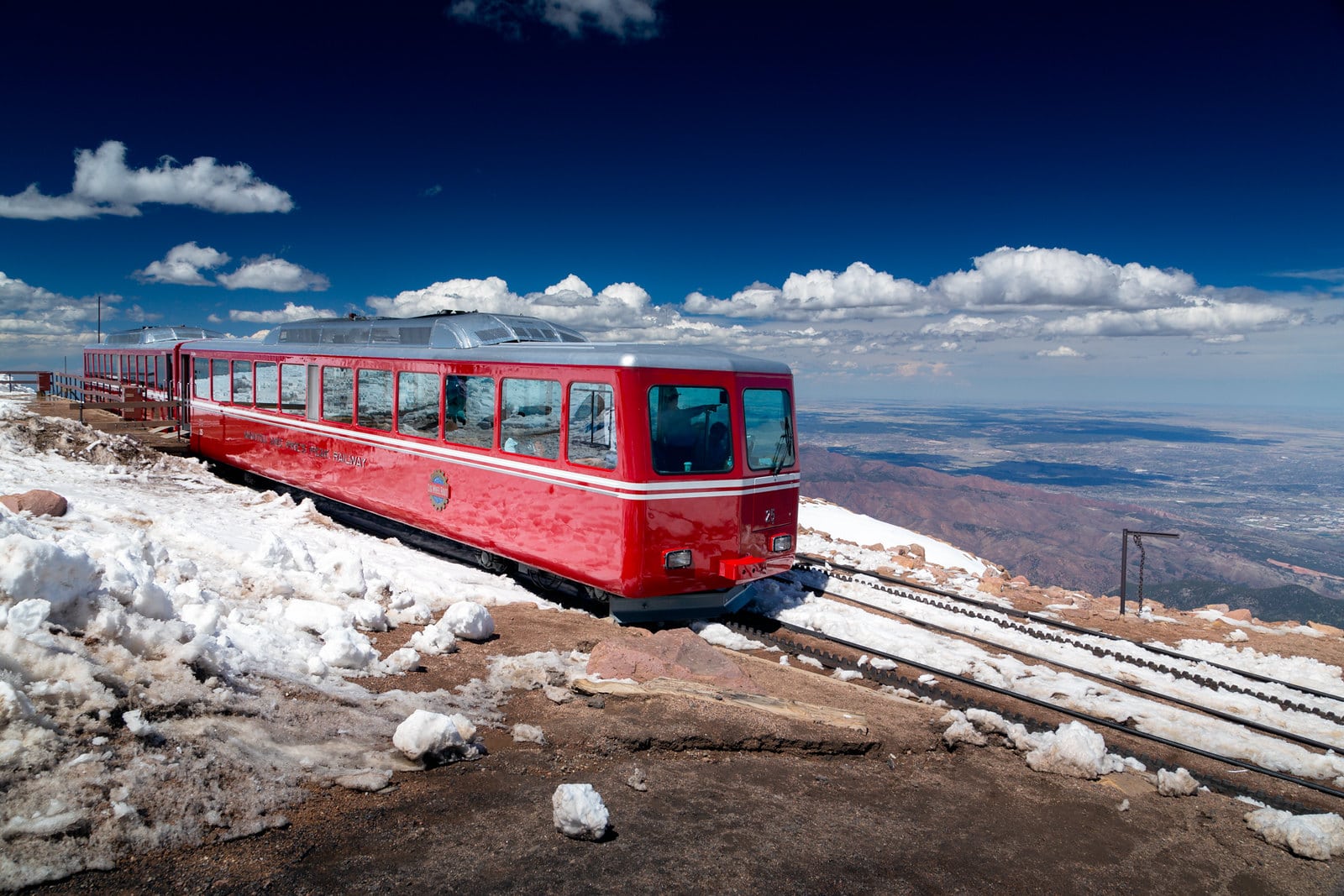 Traveling to the top of Pikes Peak via train on crisp clear cold days has been a Colorado tradition happening for over 130 years. On this nine-mile route, you'll see the majestic Pike National Forest, the steep rock walls of Englemann Canyon, and Deer Park in their wintertime splendor before moving past the timberline of Pikes Peak.
The view from this mountain is remarkable and this exact train ride helped inspire the words for the American patriotic song "America the Beautiful" in 1893.
Between the state's fascinating railroad history and its unmatched natural setting, Colorado is home to some truly unforgettable train rides. From holiday-inspired traditions to long, pleasant trips through the snowy forests, canyons, and mountains, enjoy your trip aboard these rewarding railroads.